It's been a week since the end of the 2012 Olympics and I'm still experiencing symptoms of P.O.S.A. (Post-Olympics Separation Anxiety.)
Going that first Monday after the games completely cold turkey was brutal and begged the eternal, existential question: What the hell am I going to do now?
If competing in the London games was grueling for Phelps and Bolt, watching from my Lazy-Boy recliner wasn't such a snap, either. All those trips to the fridge took their toll. (There's an old joke that goes back to vaudeville, that you're as old as how much noise you make when you get up out of your chair.)
How much of the Olympics did I watch? Put it this way, during the fortnight I had to change the batteries in my remote. Twice.
My initial observation of the games was…gawd, I've gotten flabby! Compared to all those six-pack abs, my stomach looks like the midsection of the Pillsbury Doughboy. (I hate doing sit-ups as it can cause my beer to spill.)
How obsessed with the Olympics was I? At times I imagined myself standing in front of a room full of total strangers. "Hi, my name is Jack and I'm powerless to watching the backstroke."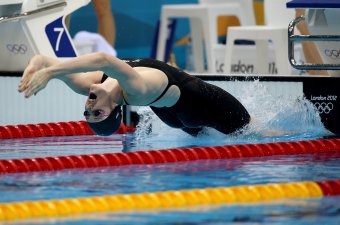 Jeff Gross/Getty Images
The addiction began with the opening ceremonies, which featured the 86-year-old queen of England in a James Bond spoof. However, her highness looked like she'd have preferred to be somewhere else, or anywhere else.
As Barbara Walters critiqued on ABC's The View the morning after Opening Ceremonies, "The queen looked grumpy." Whoopi Goldberg chimed in that her majesty's grimace looked like "her girdle was too tight."
Also appearing in the opening ceremonies was Paul McCartney. I love the Beatles, as a kid I saw "Help" 10 times and I still have "The White Album." (To younger readers, an "album" was a circular piece of vinyl that…never mind.)
But Sir Paul looked disturbingly like Bruce Jenner. ('76 decathlon gold medalist, famous now as the Kardashian's stepfather). The uncanny resemblance between McCartney and Jenner suggests that either they have the same plastic surgeon, or that after a certain number of face lifts everyone tends to look alike.
Speaking of looks, but in a more positive vein, every Olympic sport has its own physique. The gymnasts were short but muscle-bound, the swimmers were giants with humongous shoulders and the sprinters were like piston-powered machines. (Don't get me started on whether or not Usain Bolt uses PEDs.)
As for the swimmers, has there ever been a more adorable Olympian than high-school senior Missy Franklin? All she did in London was win four gold medals, one bronze and set the world record in the 200 meter backstroke. And she just turned 17 in May!
But it's probably more likely the Wheaties cereal box honor will go to gymnast Gabrielle Douglas. At 16, Gabby, nicknamed "The Flying Squirrel," was the first American to win team and all-around gold medals at the same Olympics and the first African-American to win the individual all-around competition.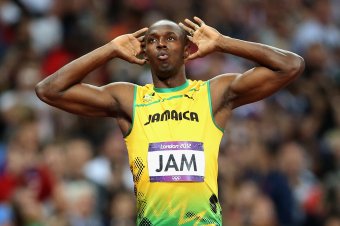 Ronald Martinez/Getty Images
Clearly the games are over-commercialized. They almost have to be when NBC pays $1.2 billion for the broadcast rights. Another indicator is that Gabby may soon have endorsement deals in excess of $10 million.
And it turns out the American Olympic Committee paid athletes who medaled: $25,000 for gold, $15,000 for silver and $10,000 for bronze. (But there's no truth that fourth-place finishers got a set of steak knives.)
Commercialism aside, there were no end to heartwarming stories at the London Olympics. None was more inspiring than "Blade Runner" Oscar Pistorius from South Africa, aka "the fastest man on no legs."
Born without fibula, when Oscar was 11 months old both legs were amputated below his knees. Amazingly, he runs on carbon fiber artificial limbs. Pistorius was eliminated in the 400-meter semifinals and his South African team came in last in the 4x400-meter relay, but in my book he won gold.
American hurdler Lolo Jones also overcame early childhood hardships. Frankly, it still annoys the hell out of me that she was so heavily criticized for finishing fourth...in the world! Shamefully, even her teammates treated her as though all she deserved was a set of steak knives.
One thing I definitely don't miss about the Olympics were the 20 minutes of commercials every hour. (Including endless promos for Matthew Perry's show, which frankly looked like a real stinker.) I also don't miss Ryan Seacrest, who evidently has it in his contract that he has to be on every show NBC produces.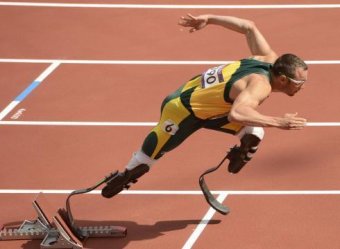 But I continue to miss the commentary from Costas, Carillo and even McEnroe. And more importantly I miss turning on the TV day or night and seeing incredibly gifted athletes from all over the world competing on the greatest stage.
I also miss rooting for the U.S. against China in the medal count. In retrospect, however, we probably should have let them win or they may demand we pay back all the money we've borrowed.
The next summer games are in Rio in 2016. What am I going to do between now and then? Please don't e-mail me suggesting sit-ups.
Jack Neworth is a freelance writer in Santa Monica and co-author of "Men in White," a screenplay about tennis legend Pancho Gonzalez and his tumultuous forty-five year friendship with HOF player Pancho Segura. Jack can be reached at jnsmdp@aol.com .