Tottenham Thoughts: Newcastle, Luka Modric and the Attack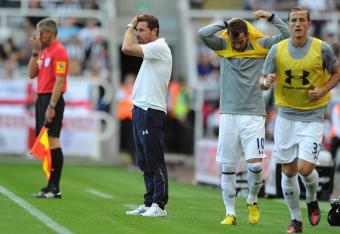 Chris Brunskill/Getty Images
After the opening salvo of the 2012-2013 Premier League campaign was fired to the tune of 19 Saturday goals, Tottenham start the season exactly the way they started last term: with an L on the board.
It would be harsh to compare the two considering the opener last year was at Old Trafford, but it's also a negative point compared to last year's result of a draw against Newcastle.
In real terms, the match was competitive, if not frantic for quite a large chunk of the opening half of play.
Of note were three chances that went missed and some play that showed where the danger in Newcastle's attack would come from.
Demba Ba had a shot deflected by Papiss Demba Cisse that had Brad Friedel wrong footed and beaten, only to roll a couple of yards wide of goal, marking the first let off for either side.
Jermain Defoe whacked the post just after the half-hour mark after the first real one-two combination of the match, something that will be discussed at length later in the column inches.
Gareth Bale also found the woodwork, nailing the crossbar after Aaron Lennon got the better of Davide Santon down the right and slipped in a cross.
Perhaps most telling in the first half, however, was Hatem Ben Arfa's runs that netted a pair of cautions for Jake Livermore and surprise starter Sandro.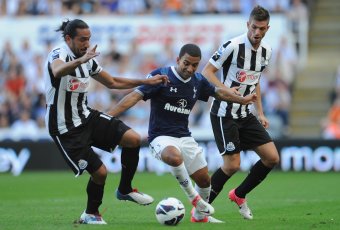 Chris Brunskill/Getty Images
Spurs had difficulty all match long in checking Ben Arfa and this would come into play for the decisive moment of the match, when the Frenchman was hauled down by the combination of Lennon and Rafael Van der Vaart.
Overall, it was not a bad first half for either squad, especially for Newcastle as Cheick Tiote was not injured in the opening few minutes.
One of the telling points of the second half was that Newcastle changed their formation slightly to get a better handle on the middle of the park.
Playing a 4-4-2 to start, the two sides had roughly the same possession but after the break, the Magpies moved Demba Ba back to the left side and began to control proceedings.
Their build-up play did not necessarily aid the first goal, however.
It was an excellent shot from Ba that rippled the net but at the same time one felt that had William Gallas plodded out towards the Senegal hitman quicker, he might have altered the chance a little bit.
Regardless, Tottenham began to turn up the pressure, although they lacked direction until Gylfi Sigurdsson was swapped for Van der Vaart.
While Sigurdsson did not have a bad debut by any stretch of the imagination, the squad as a whole needed a change of emphasis in the attacking third.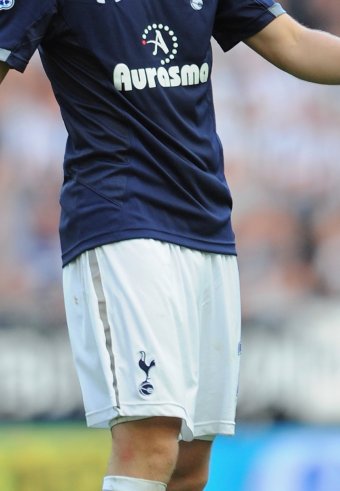 Chris Brunskill/Getty Images
Van der Vaart, by coming deep and spraying passes through the middle of the park, gave Spurs a different dimension in their attack.
It gave them just enough definition to get back into the match, albeit from a corner scramble that Defoe won after several stabs at the ball.
Of course, one issue that Van der Vaart has compared to Sigurdsson is defensive ability.
Considering how Sandro and Livermore faired, there was never going to be a good result when Ben Arfa went on the attack between Van der Vaart and Lennon.
Asking Harry Kane to make a difference late in the contest was a stretch, and Tottenham never really made any headway as the midfield numbers shifted completely into Newcastle's favor.
Overall, Spurs did enough to earn a point but did not get it thanks to the work of Ben Arfa and a lack of goal poaching in the first half.
It was not a bad start to the season, but it did highlight a few things that Tottenham will need to address before the transfer window closes.
Adieu to Modric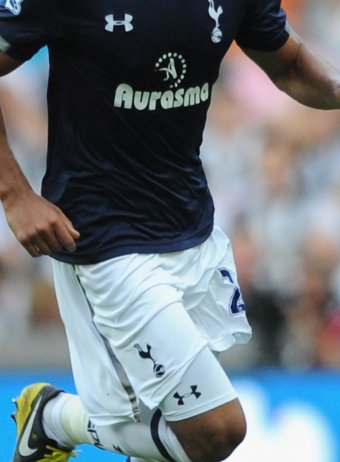 Chris Brunskill/Getty Images
The loss should certainly speed up the transfer of Luka Modric to the "done" stage by early this week.
Considering pretty much any transfer not related to Emmanuel Adebayor will be done after Modric is sold means that Spurs are probably going to pull the trigger soon.
It probably can't be helped at this point that the move will happen, but Tottenham need to get moving in the transfer window rather than sit around and wait any longer.
One thing that Saturday showed is that with Modric not in the line-up, their best attacks came almost solely from the flanks or on the counter, save Defoe's shot off the post.
Spurs rarely were able, even when Newcastle were playing a 4-4-2, to make any sort of passing moves through the middle of the park.
That, unfortunately, comes down to not having a player that is willing and able to make the passes to cut through the defense.
Livermore and Sandro rarely ventured into the attacking third, leaving Sigurdsson and Defoe isolated near the defensive line with Bale and Lennon often trying to come up with the killer pass.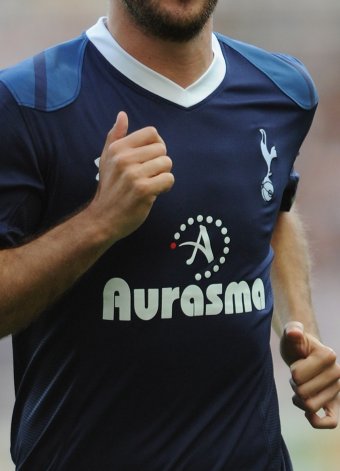 Chris Brunskill/Getty Images
When Van der Vaart came on late, the Dutchman dropped deeper than Sigurdsson ever did to spray passes into the area.
If Tottenham could have gotten Livermore or Sandro to do that, then they would not have needed to sacrifice one attacking player from the front and could have stood a better chance of scoring a late goal.
Spurs are not configured very well currently as the flanks are still the strength of the club, yet in a way that demands a forward that can put himself onto a variety of crosses.
It puts them in a difficult spot as they need to figure out which team they want to be and get the right players to match their playing style.
Two Step Forwards, One Forward Back
Chances are that whenever Tottenham do get around to signing a new forward, they might as well look for two.
One can't imagine that Defoe is going to willingly sit on the bench yet again and probably will make his way to the office of chairman Daniel Levy and ask to be moved on himself.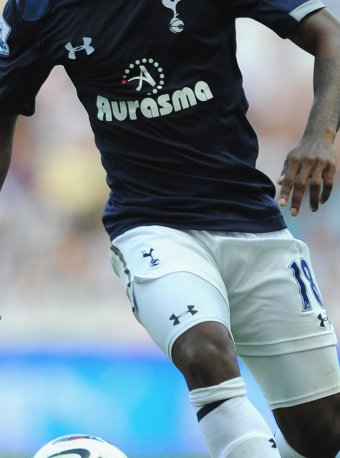 Chris Brunskill/Getty Images
Given the level of interest from at least a couple of other Premier League squads, it probably would not be hard for Defoe to find a new home.
Picking up those new forwards, however, might depend entirely on the point above about which attacking direction Tottenham choose.
If they are not going to find a creative midfielder in time to fill Modric's hole, then they had better find a forward with the ability to head a ball into the net.
Crosses and counters will become the key attacking feature for Spurs and they will do well to find someone who puts them in on a regular basis.
If they do add the creative touch, then they have more flexibility in finding a forward by a finding a more all-around forward who can do a little bit of everything.
The Mail thinks Adebayor finally will drop some of his financial demands to make a move happen before the window closes.
Adebayor would still slot in to the line-up and be effective regardless of what strategy Tottenham go with, but he might have to prove that he's willing to chase as much as the rest of the squad does.
Getting this part of the pitch nailed down would go a long way in settling some nerves around the club, one would imagine.
This article is
What is the duplicate article?
Why is this article offensive?
Where is this article plagiarized from?
Why is this article poorly edited?

Tottenham Hotspur: Like this team?