WWE SummerSlam 2012: Predictions for WWE's Big Summer Event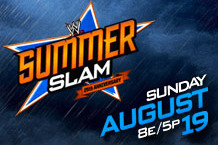 Photo: WWE.com
Tonight, WWE presents the 25th anniversary of one of its biggest pay-per-view events, SummerSlam. For the fourth year in a row, WWE's summer spectacular will emanate from the Staples Center in Los Angeles, Calif.
"The Perfect Storm" has indeed formed, as Triple H will take on Brock Lesnar one-on-one for the first time ever. On top of that, the WWE Championship will be defended in a huge Triple Threat match, while the World Heavyweight Championship will be defended in a match that has been surrounded by controversy over the last few weeks.
With all that having been said, here are my predictions for tonight's event.
Begin Slideshow

»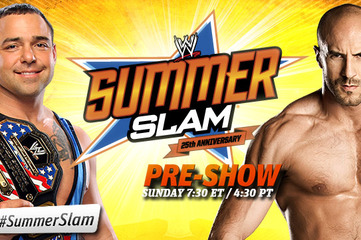 Photo: WWE.com
Before SummerSlam even begins live on pay-per-view, the reigning United States Champion, Santino Marella, will defend his title against the up-and-coming Antonio Cesaro in a special pre-show match.
Santino has held the United States Championship since March 5th, making it the longest title reign of his WWE career. Cesaro, on the other hand, having just debuted on SmackDown shortly after WrestleMania XXVIII, is looking for his first taste of championship gold.
Santino may act silly most of the time, but his skills in the ring should never be underestimated. There's a reason he has been United States Champion for more than five months. He has successfully defended the title against the likes of Jack Swagger and The Miz, both former world champions.
However, Cesaro claims to have Santino's number. Considering the fact that Cesaro has already defeated Santino in multiple non-title matches, he may be right. Cesaro is very good in the ring and he has really shown his more aggressive side lately.
Prediction:
Since winning the United States Championship, Santino has had the best run of his WWE career. I think that his title reign will come to an end tonight, though. Cesaro is hungry and determined to prove himself. He's defeated Santino before, and he'll do it again tonight. This time, though, his victory will earn him the United States Championship.
Winner and NEW United States Champion: Antonio Cesaro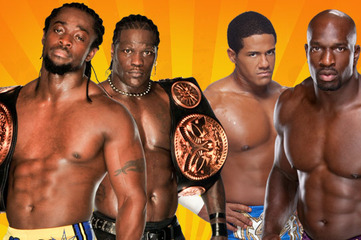 Photo: WWE.com
Kofi Kingston and R-Truth have been the WWE Tag Team Champions since April 30th. For much of their reign, they have found themselves being chased by the young and hungry Prime Time Players, Darren Young and Titus O'Neil.
It should be noted that Kingston and Truth defended the titles against Young and O'Neil once before and defeated them. Still, the Prime Time Players just won't seem to go away, as they quickly became the No. 1 contenders again, earning themselves another shot at the titles tonight at SummerSlam.
This past Monday on RAW, while Kingston was away on an overseas tour, Young and O'Neil took full advantage of the fact that R-Truth was flying solo and attacked him in the middle of the ring. If the young team was looking to gain momentum and make a statement, they succeeded.
However, one has to wonder if their actions will only further anger Kingston, who was unable to help his partner. That anger, coupled with the fact that Kingston and Truth have loads more experience than their opponents, could allow them to successfully retain their titles.
Prediction:
The Prime Time Players have done well at keeping on the heels of the champions in their quest for the titles, but Kingston and Truth will be very motivated. I think their experience will help carry them over their young challengers. I do believe that the Prime Time Players will be WWE Tag Team Champions one day, maybe even someday soon, but tonight will not be their night.
Winners and STILL WWE Tag Team Champions: Kofi Kingston and R-Truth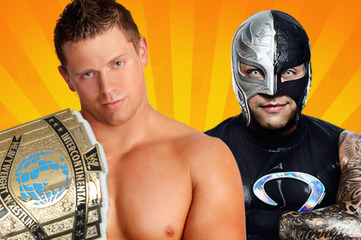 Photo: WWE.com
This is a very interesting matchup, as both of these men have recently returned to WWE after hiatuses. Miz was away filming The Marine: Homefront for WWE Studios. Mysterio, on the other hand, was out of action for nearly a year with injuries.
After losing the WWE Championship in 2011, The Miz lost a lot of his momentum. He struggled to get it back through the early part of 2012. Finally, just a few days after he returned to WWE in July, he defeated Christian on RAW 1000 to become the new Intercontinental Champion and achieve Triple Crown status. Not too shabby.
Now that he has started to gain some momentum back, it is vital that Miz keeps it going. And defeating Mysterio, who is a former WWE Champion and World Heavyweight Champion in his own right, would be a great way to do so.
However, Mysterio also really needs this victory if he is going to try to work his way back up to the top of WWE. He's been Intercontinental Champion twice before and knows that doing it again would help him in that quest.
Prediction:
This is a great matchup. Both men recently returned to the WWE and are looking to make their way back to the top. Both are former World Champions and both really need this victory. With that having been said, I think that Miz has more to prove and I think he'll notch a big victory over Mysterio tonight.
Winner and STILL Intercontinental Champion: The Miz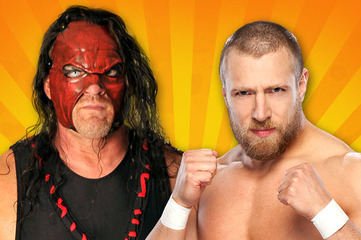 Photo: WWE.com
Ever since AJ Lee left Daniel Bryan at the alter on RAW 1000 to become the new general manager of RAW, she has come to enjoy tormenting her former fiance. As she has done so, Bryan has become more and more unstable, developing an obsession with Charlie Sheen and screaming "YES!" and "NO!" like a lunatic.
As another part of her quest to torment Bryan, AJ has booked him into a match with the demented Kane tonight at SummerSlam.
Since the match was announced, Kane has attempted to get into Bryan's head. This past Friday on SmackDown, Kane created a distraction that caused Bryan to lose a match against Randy Orton.
Even though Kane is a monster of a man, you should never count Bryan out. He's an accomplished wrestler and he's even been World Heavyweight Champion. That having been said, though, is he stable enough at the moment to get a victory over Kane?
Prediction:
Two very different styles will mix in this match. Kane will use his power, while Bryan will have to try to use his speed if he is to have any chance of grabbing a victory. When it's all over, I do think Kane will win the match, but I think it's more likely that his victory will come through a DQ, as Bryan loses his temper and becomes completely unhinged.
Who knows? Maybe even Charlie Sheen will make an appearance?
Winner: Kane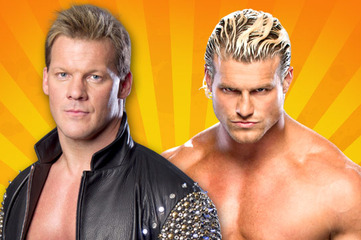 Photo: WWE.com
Chris Jericho has lost his touch. He can't win "the big one" anymore.
At least, that's what Dolph Ziggler thinks. And he may be right. Since returning to WWE in January, Jericho has had multiple opportunities to win a world championship, but he always seems to come up short.
Ziggler, on the other hand, is on his way to winning "the big one," as he carries the Money in the Bank briefcase that guarantees him a shot at the World Heavyweight Championship anytime he wants.
Still, despite the fact that he could become World Heavyweight Champion at any moment, is Ziggler going to be able to defeat Jericho? Sure, it's one thing to say that Jericho has lost his touch. It's another thing to go one-on-one with him.
Recently, Jericho has returned to being the "Y2J" of old and is more determined than ever to prove that he can get the job done in the ring.
Ziggler, not wanting his opponent to get any momentum, has attacked Jericho multiple times, including a vicious attack backstage this past Friday on SmackDown. Ziggler would also cost Jericho a match against Alberto Del Rio.
Prediction:
This is going to be a great match. Both of these guys are very skilled in the ring, making this a strong contender to be match of the night. I believe Ziggler is headed for greatness, but he has Jericho backed into a corner. I think Y2J pulls out the victory, proving that he's "still got it."
Winner: Chris Jericho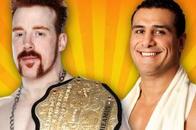 Photo: WWE.com
This match has been mired in controversy from the start. It was on. Then, it was off. Now, it's on again.
For months, Del Rio has been trying to win the World Heavyweight Championship. However, Sheamus, as he has been doing to everyone in his path this year, just keeps knocking Del Rio back. To his credit, though, Del Rio keeps finding a way to get another shot at Sheamus.
The match was called off when Booker T become irate that Del Rio had Sheamus attacked by a bunch of guys dressed in cop outfits on SmackDown.
Despite the fact that Booker called the match off and declared that Sheamus would not have to compete at SummerSlam, Sheamus begged him to reinstate the match. Reluctantly, Booker did so, but one has to wonder if Sheamus will come to regret that decision. Especially now that he is suffering from injuries.
Prediction:
As it looks right now, Alberto Del Rio got what he wanted. The match with Sheamus is back on and the champion is not at 100 percent. Still, I find it hard to believe that Del Rio will be able to overcome the Celtic Warrior. I think Sheamus will battle through his injuries and find a way to retain his title once again.
Winner and STILL World Heavyweight Champion: Sheamus
NOTE: Keep in mind that Dolph Ziggler still has the Money in the Bank briefcase, which is good for a World Heavyweight Championship match anytime he wants. Depending on how things go in Ziggler's match against Jericho, it's very possible that Ziggler could cash in on an injured Sheamus tonight.

Photo: WWE.com
CM Punk has been WWE Champion since November 20th. Since then, he has turned back the likes of Alberto Del Rio, The Miz, Dolph Ziggler, Chris Jericho, Kane and Daniel Bryan. His reign is one of the strongest WWE Championship reigns in a long time.
Still, Punk feels disrespected because, as WWE Champion, he hasn't been getting the chance to close the show. That honor, all year long, has been going to John Cena.
Cena cashed in his Money in the Bank briefcase at RAW 1000, only to have Big Show interfere in the match and cause Cena to become the first man to cash in the briefcase and not win the title.
Cena and Big Show squared off to decide who would face Punk at SummerSlam, but Punk interfered and put both guys down, declaring that nobody was the winner.
That plan backfired on Punk, though, as new RAW general manager AJ Lee announced that Punk would defend his title in a Triple Threat match at SummerSlam against both Big Show and John Cena.
In Triple Threat matches, the champion always stands a good chance of losing his title. He doesn't even have to be pinned. There's a 33.3 percent chance that CM Punk will retain. Not very good odds.
Prediction:
If this were a one-on-one match between Cena and Punk, I'd have to pick Cena. However, with Big Show in the equation, things get a bit more muddled. With that third man in the ring, anything can happen. I think chances are much higher than 33.3 percent that CM Punk sneaks out a victory here.
Winner and STILL WWE Champion: CM Punk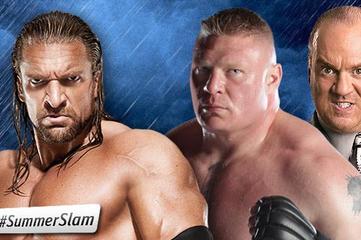 Photo: WWE.com
This is it. This is the big one. This one is very personal.
In 2002, a one-on-one match between Brock Lesnar and Triple H seemed destined to happen. However, due to Lesnar jumping to SmackDown and Triple H becoming the World Heavyweight Champion for RAW, the match never came to be.
Now, 10 years later, Brock Lesnar has made a return to WWE after an eight-year hiatus, making many demands and re-negotiating his contract. One man, though, stood up and told Lesnar "no." That man? Triple H, now in his new role as COO.
In response to Triple H telling Lesnar that he'll continue to compete with the contract he signed when he first returned, Lesnar attacked Triple H and broke his arm.
Following his injury, Triple H desperately wanted to face Lesnar in a match, only to have Paul Heyman, Lesnar's representative, tell him "no." Finally, after multiple attempts, it was Stephanie McMahon who got Heyman to agree to the match.
And thus, the "Perfect Storm" was official.
Originally, it was announced that Shawn Michaels would be in Triple H's corner for the big match, but Lesnar, seeking the opportunity to intensify the situation, viciously attacked Michaels and broke his arm in the same manner in which he broke Triple H's arm months back.
Now, Triple H is aiming to get revenge. Not only for himself, but also for his best friend.
Prediction:
I fully expect this match to be brutal. These two men are going to do whatever they can to literally tear each other apart in their first-ever one-on-one meeting. Though Triple H will give it his all, I do not think he will defeat Lesnar, who has something to prove after suffering a loss to John Cena is his last WWE match.
Winner: Brock Lesnar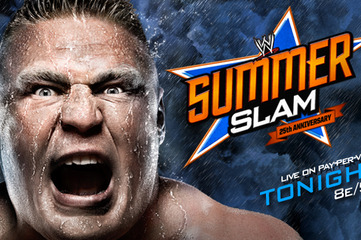 Photo: WWE.com
SummerSlam is always one of WWE's biggest pay-per-view events on the year, and this year's event looks to be the biggest one yet. With so much on the line, it should make for a memorable night of WWE action.
Will Triple H be able to overcome Lesnar? Will CM Punk and Sheamus leave with their world championships? Will Dolph Ziggler cash in Money in the Bank? Will he even be able to defeat Chris Jericho?
All of these answers will finally come in just a few short hours.
Like my predictions? Hate them? Please let me know what you think in the comments section below.
Thank you for reading my thoughts and enjoy the show!