It's finally here!
The long wait through the offseason is all but done, as Madrid kick off their title defense against an always troublesome opponent in Valencia.
With most of the offseason talk around Real centering on the transfer saga of Kaka and Luka Modric, the eve of a meaningful game is a sight for sore eyes.
With expectations for this season's Real Madrid side through the roof, the pressure will be on from the first game as bitter rival Barcelona attempt to reclaim the La Liga crown.
With kickoff against Valencia less than 12 hours away, here are things to look out for.
Centre-Back Pairing
Sergio Ramos and Pepe combined last season to form arguably the best centre-back duo in all of club football, as they became the rock behind Madrid's stingy defense.
With the two of them enjoying stellar performances in the Euro 2012 tournament, Jose Mourinho and Real fans can look forward to an even better season from the two this time around.
Ramos and Pepe both took significant steps forward last season as players and as leaders, as their consistency and maturity grew.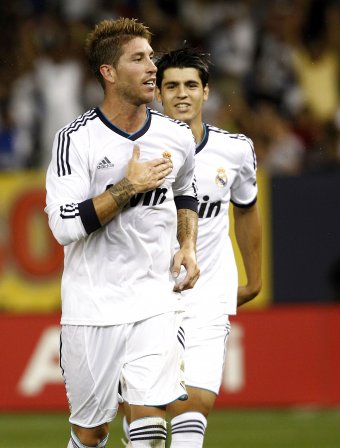 Jeff Zelevansky/Getty Images
If they can eradicate the mental lapses that occasionally plagues their games, the two will undoubtedly be the best centre-back pairing in the world.
Starting Left-Back Choice
Perhaps the most competitive position on the Madrid team is that of left-back, with both Marcelo and Fabio Coentrao fighting for the starting job.
It's a good problem to have when two world-class players are fighting for one job. But ultimately Jose Mourinho will have to select a starter.
With Marcelo being the better option going forward and Coentrao the more complete defender, it'll be interesting to see who Mourinho chooses to start. Valencia is a balanced club, effective both offensively and defensively. So whomever Mourinho picks to start this game will most likely be Mourinho's No. 1 choice going forward.
Higuain or Benzema?
Another super competitive position on Real's starting lineup is that of striker, with Gonzalo Higuain and Karim Benzema vying for the starting position.
Benzema won the job last year and was the starting striker for the majority of the season, and in all of the big games.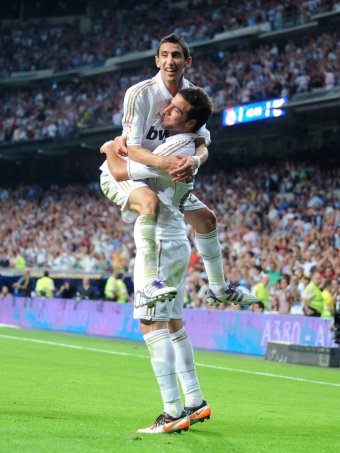 Denis Doyle/Getty Images
Despite scoring more goals in La Liga, Higuain seems entrenched as the second striker, but his recent contract extension suggests he may get another shot at replacing Benzema.
Like the Marcelo-Coentrao battle, having two star strikers compete for a job is not a bad thing.
Form of Angel Di Maria
Di Maria has been an interesting player to follow in his time at Real Madrid. Some days he plays like a top-10 player in the world. Other days he plays like he belongs on the bench.
Along with injury, it's been this kind of inconsistency that has prevented Di Maria from becoming one of the world's premier players. As he showed in his injury-stricken season last year, Di Maria is among the best playmakers in the world as he racked up an incredible 15 assists in just 16 starts.
If Di Maria can stay healthy and be consistent, Madrid's already record-breaking offense could get even better.
Will Kaka play?
Once the most expensive footballer in the world, Kaka has failed to recapture the magical form that made him the best player in the world at AC Milan during his time in Madrid.
With the rumor mill in overdrive about him, with reports linking him with AC Milan, the LA Galaxy and Galatasaray, it'll be interesting to see if he plays.
Mourinho has stated that he wants Kaka to stay but that he will not intervene should he choose to leave. Despite all of that, Mourinho has named Kaka in the 22-man game-day roster, and he should be available off the bench.
Kaka has been among Real's best during the preseason matches. While he has failed to live up to his enormous transfer fee, I still believe he can contribute to Madrid success in 2012-13.