Boise State Football: Broncos Fall Scrimmage Results and Analysis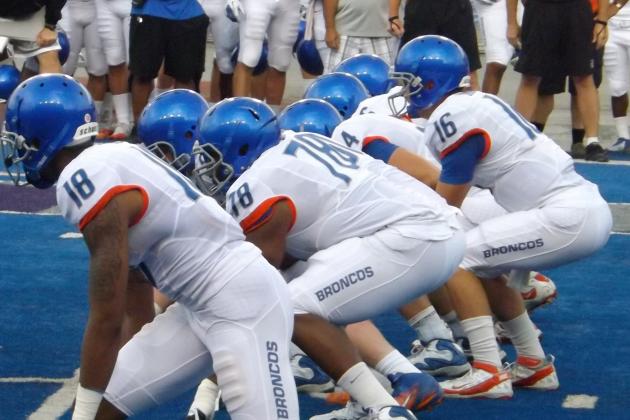 Boise State held its only public scrimmage of the fall on Saturday. It was well attended, and fans were excited to see what the Broncos had to offer.
The contest was dominated by the defense, but that doesn't mean that there weren't some very impressive elements on the offensive side of the ball. However, seven turnovers probably didn't make Coach Petersen happy.
Let's take a look at some of the surprises, disappointments, impressions and questions the Broncos' fall scrimmage of 2012 delivered.
Begin Slideshow

»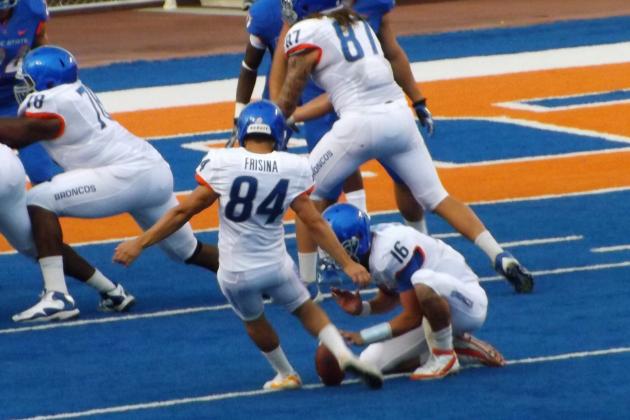 Photo via L.Moebius
One of the biggest questions on the minds of many fans was the kicking game. Well, one of the biggest successes of the fall scrimmage were the kickers and how they performed.
Senior Michael Frisina went 5-for-5 on field goals with his longest being 36 yards. Redshirt sophomore Dan Goodale looked good also. He wasn't quite perfect, but he did make 5-of-6 field goals with his longest being 37 yards. Both of them were perfect on points after touchdowns.
It had to be nice for fans to see the accuracy and power that each kicker displayed. It was no doubt just as nice for fans to see redshirt junior Trevor Harmon punting the ball effectively. During the spring game he didn't look so good, but any doubts fans or coaches had about him have to be all but gone now.
Overall, what a night for the Boise State kicking game. In a season that could see a number of close games, kicking will be more needed than ever.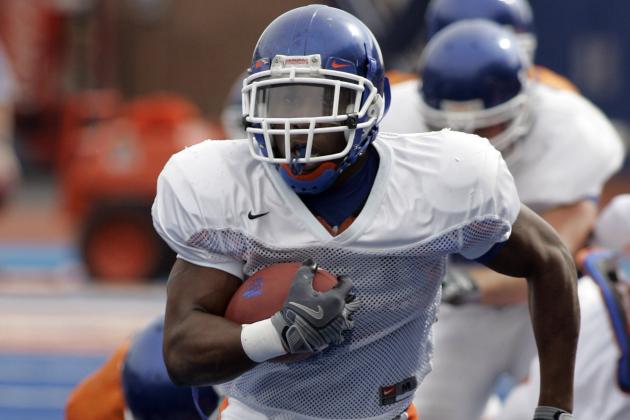 Brian Losness-US Presswire

The three big questions for running backs coming into the scrimmage was first, who would back up the backup to Harper?
Drew Wright is penciled in to the backup role currently, but if he or Harper were to go down, who would be next in line?
Second, would any of the true freshman stand out?
There are several in camp, and you have to wonder if there are any diamonds in the rough.
Lastly, would Jay Ajayi be back to form and healthy enough to give the Broncos another solid go-to-guy?
Well, it seems every one of these questions were answered, and each answer should be encouraging to Boise State fans.
As far as a backup to the backup, there is no doubt the Broncos have some talent in waiting. In fact, there may even be a competition for Drew Wright's backup role.
When it comes to the true freshman question, most probably expected two of them to stand out.
Jack Fields and Devan Demas are both highly anticipated recruits out of the state of Texas. Both of these young men showed that they have some talent, and it wouldn't be surprising if one or both of them end up burning a redshirt.
Jack Fields carried the ball 10 times for a total of 51 yards. His longest was a 10-yard run that displayed his power and toughness. Devan Demas only carried the ball on four occasions but made them count. He gained 24 yards, but one of his runs was an impressive 20-yard gain.
There was another interesting freshman on the field as well: Jamel Hart, a true freshman out of West Covina, California. Hart ran six times for 34 yards with a longest of 11 yards.
All together, it appears that the Broncos have an excellent group of future running backs who could actually contribute this season.
Jay Ajayi was probably the most impressive of the running backs. He looks like he has fully healed from that season-ending knee injury of a year ago. Ajayi ran with patience and power. He looked like a mix of Ian Johnson and Doug Martin. Probably not a fair comparison, but he looked very good.
You may see Ajayi battling it out for the backup spot behind D.J. Harper. Either way, Bronco fans can feel a little better about the condition of the offensive backfield.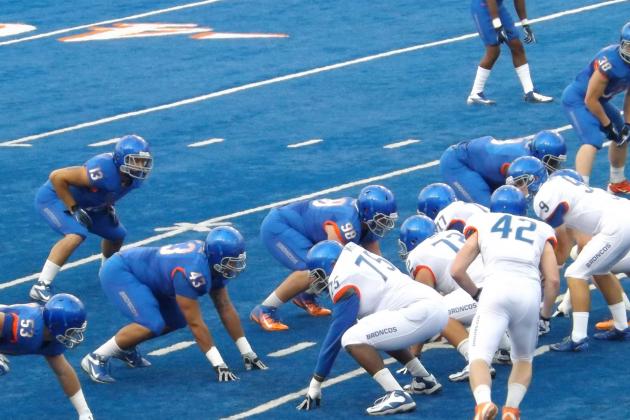 Photo via L.Moebius
For anyone who thinks the Boise State defense is going to be a shell of what it was last year, they might want to clam up, at least for now.
It is hard to tell from a scrimmage if the play of one side of the ball is the result of their own actions or the inability of the other.
However, there were some very impressive plays from the defense, and some of the players on that side of the ball certainly stepped up.
Junior college transfer Demarcus Lawrence looked good finishing with three tackles on the night. True freshman Ben Weaver also looked impressive as he too finished with three tackles. Freshman cornerback Darian Thompson had the most tackles on the team with seven.
Redshirt senior Tommy Smith looked quite veteran racking up five tackles, and several other veterans joined him in looking ready to play. Linebackers J.C. Percy and Dustin Kamper showed up, as did cornerback Jerrell Gavins.
As far as nickel is concerned, Corey Bell played lights out. He had four tackles on the night, but he also scooped up a fumble and ran it 95 yards for a touchdown.
The defense looked very good, and there were several other players that did what they were supposed to do. Overall, if this scrimmage is any indication of future results, Bronco Nation may see another stingy defense take the field in 2012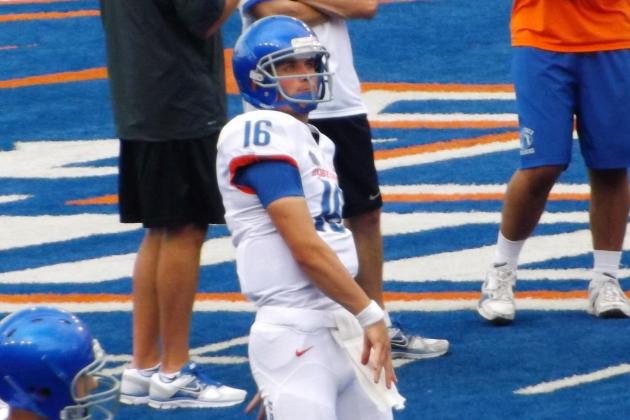 Photo via L.Moebius
For anyone looking for "separation" in the performance of the quarterbacks, it is probably safe to say they got it. Joe Southwick was clearly the best quarterback on the field Saturday night.
Southwick had command of the offense and looked confident. He went 16-of-24 passing for 141 yards with an interception and a touchdown. He wasn't without his struggles, however; he made a unwise pass while being sacked that resulted in an intentional grounding penalty and his one interception was in the red zone.
Overall, it was a decent performance for Southwick, but you can believe he will be working very hard to clean up some issues before the Broncos roll into East Lansing.
The backups looked very much like backups. Hedrick struggled throwing the ball hitting just 6-of-16 passes for 28 yards and threw three interceptions. He did look good when he ran the ball, and perhaps he will be used in that kind of capacity once again this season.
True freshman Nick Patti looked just like a true freshman. Completing just one pass of the 10 he threw, Patti looked like he was struggling with a grasp of the offense. He certainly has a ton of potential, but you can probably expect him to take a redshirt year.
The redshirt sophomore of the group, Jimmy Laughrea, struggled as well. However, his was a bit more painful. After taking off the red jersey, which indicates to the defense that they shouldn't make full contact with the player wearing it, Laughrea rolled out to pass and was met with a hard hit that sent him out of the game.
After watching the scrimmage it seems like Joe Southwick will lead the Broncos' offense in 2012. Unless it was all an elaborate plot of misdirection by Coach Petersen.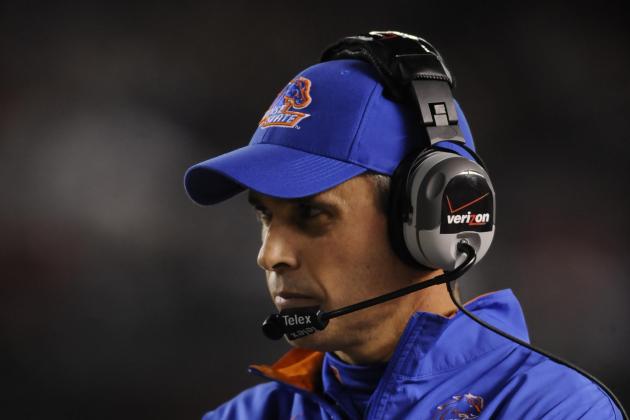 Christopher Hanewinckel-US PRESSWIRE

There were a few surprise performances on the night. As already mentioned, the kicking game looked great, as did Jay Ajayi and some true freshman running backs.
There was also a Hayden Plinke sighting. Plinke is a true freshman tight end out of Hillsboro, Oregon. He grabbed a Jimmy Laughrea pass and stumbled and rumbled 75 yards to a touchdown. It wasn't the prettiest thing, but it was certainly effective.
However, the biggest splash of the night would have to have been wide receiver Shane Williams-Rhodes, or as he will be called from here on out, SWR. This 5'6", 154-lb freshman made some incredible moves and looks like he could be another weapon in the Broncos arsenal.
He looks like a solid return guy and makes moves that shouldn't be legal. He had a 42-yard touchdown that displayed his quickness, agility and speed. However, when he flipped into the end zone and pointed at the stands, the referee threw his flag. With the new rule in place, the touchdown was negated for showboating.
You have to believe Coach Petersen will be spending some extra time with the youngster during the Broncos' next practice.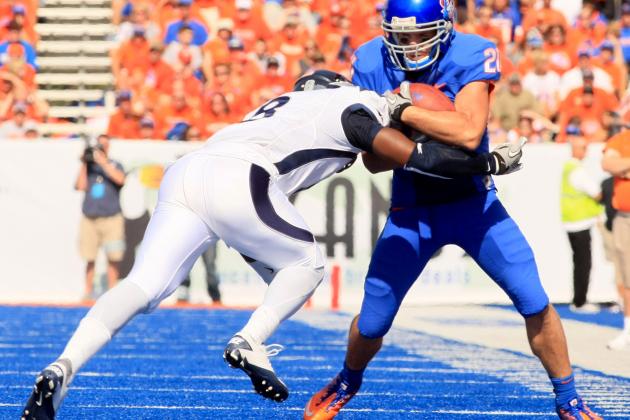 Brian Losness-US PRESSWIRE

When it comes to receivers, the Broncos are loaded. As the scrimmage progressed, it was clear that there are several weapons available at wide receiver. A total of 12 players caught at least one pass during the contest.
Redshirt sophomore and last year's breakout player Matt Miller did not dress. However, it doesn't appear to be anything serious, at least from the chatter at the stadium.
Those that did play looked very good. Mitch Burroughs played like a redshirt senior should. He grabbed seven passes on the night for a total of 70 yards and one touchdown. Redshirt junior Aaron Burks also looked impressive. He brought down three passes for 35 yards.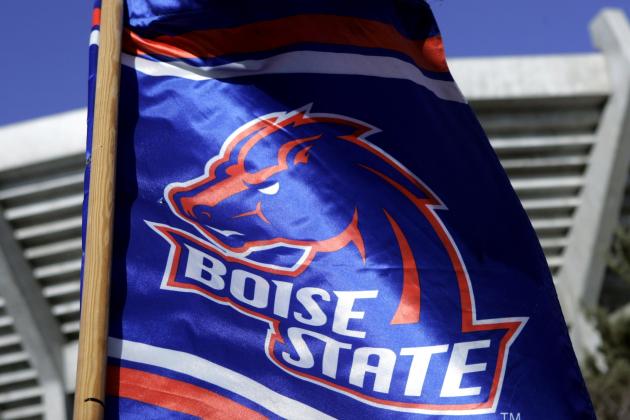 Brian Losness-US PRESSWIRE

The Broncos looked good overall. The offense was inconsistent, but maybe naming a starter will help get things in order. Southwick appears to be that starter, unless there is something Coach Petersen is keeping secret.
The defense looked incredible. When it was all said and done, they had forced seven turnovers and even scored a touchdown. Many new faces were making plays, and veterans were playing like veterans should. If this is a true indication about the defense's ability, then the defense is is fine working order.
The kicking game looks much improved, and it may be a valuable asset as the season rolls on. This includes punting, which will be key when it comes to playing the field position game.
It is an exciting time in Bronco Land, and with all the new talented players on the roster, the future looks bright for the orange and the blue.