Strikeforce Rousey vs. Kaufman: Grades for All Main Card Fighters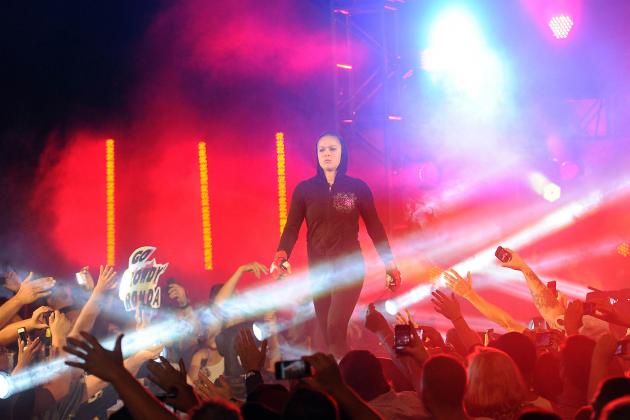 Jayne Kamin-Oncea-US PRESSWIRE

Ronda Rousey's first title defense against Sarah Kaufman ended up answering a lot of questions about the champion.
There were concerns that she wouldn't react well to getting hit by Kaufman. Well, she never really let that happen and finished a tough fighter in the first by another armbar. It's her sixth straight and it's becoming almost a joke in MMA.
Jacare Souza likely earned himself a title shot against Luke Rockhold with his knockout win over Derek Brunson.
The former champion looked very improved, and his stand up is one that should be feared by the rest of the division.
So with the night over, it's time to look back and grade the performances of all 10 fighters on the main card.
Begin Slideshow

»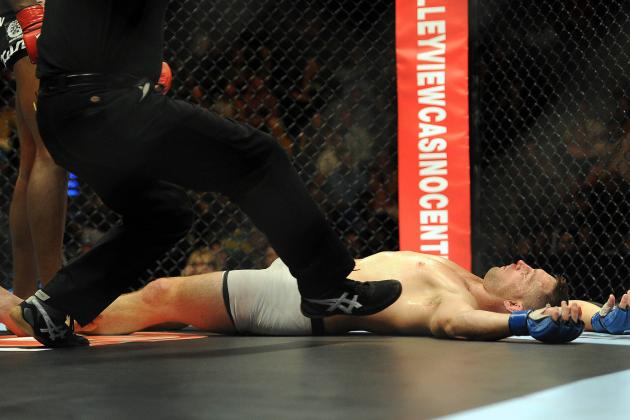 Jayne Kamin-Oncea-US PRESSWIRE

Props to T.J. Cook for surviving the first round. That's really all I have to congratulate him for, as he was able to survive being out on his feet.
He did push Ovince St. Preux a bit more than I expected, but the end result in the second was one that he'll luckily never remember.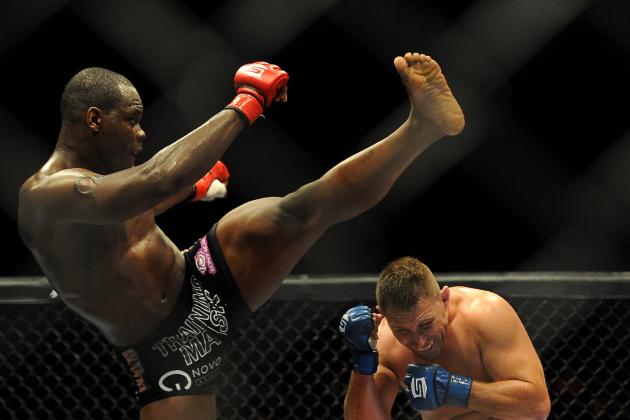 Jayne Kamin-Oncea-US PRESSWIRE

Ovince St. Preux is an absolutely massive man. He also hits ridiculously hard.
He put a beating on T.J. Cook in the first round and many felt that he was close to ending Cook's night early on. Cook was able to survive only to suffer a highlight-reel defeat in the second.
It's a huge win for St. Preux, who needed to show that he still is a force in Strikeforce's light heavyweight division.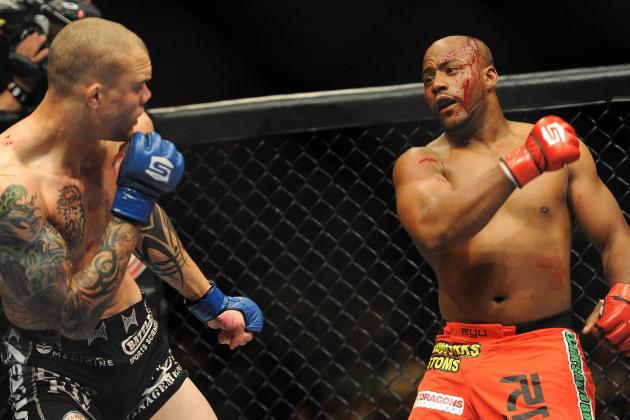 Jayne Kamin-Oncea-US PRESSWIRE

Lumumba Sayers looked pretty bad against a relative unknown in Anthony Smith.
The triangle-choke submission looks even worse as Sayers was working well from the top. It showed that he has real holes in his game and probably wasn't ready for Strikeforce.
Maybe some time is necessary at the regional level until he can become a more well-rounded fighter.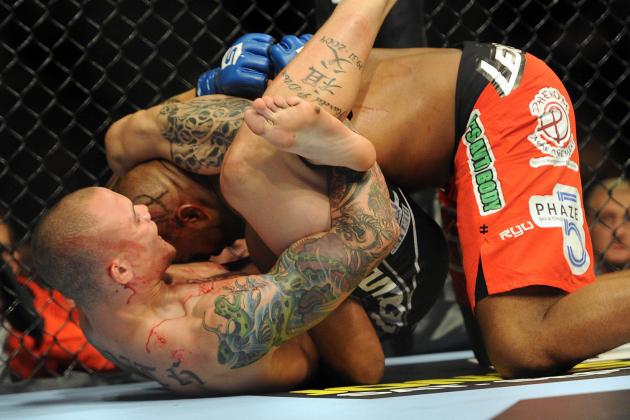 Jayne Kamin-Oncea-US PRESSWIRE

Awesome triangle choke from a fighter that I honestly had never heard of. I don't know much about him, but I look forward to seeing him again.
He showed composure when Sayers was throwing punches from the top.
Really impressed by Anthony Smith.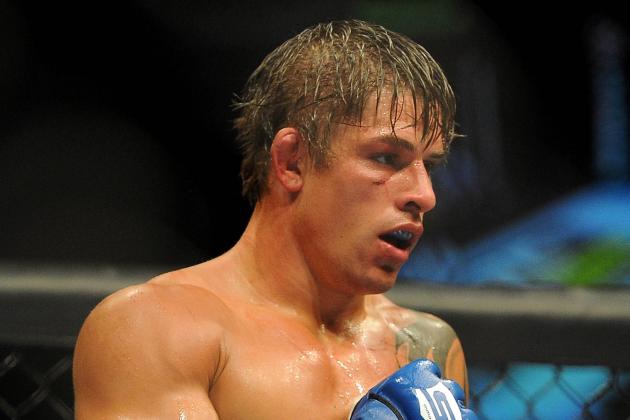 Jayne Kamin-Oncea-US PRESSWIRE

Good for Roger Bowling for coming out early and throwing everything with power. He was looking to finish the fight and do damage to Tarec Saffiedine's legs and ribs.
His endurance is a question mark, as there are concerns that he only has enough in the tank for one round.
It's a shame that he was nearly finished by a rear-naked choke, but it seemed like he was close to just gassing out anyway.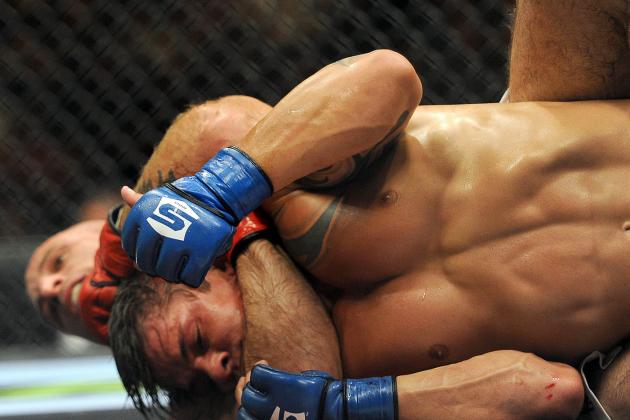 Jayne Kamin-Oncea-US PRESSWIRE

Tarec Saffiedine proved that he's one of the most well-rounded fighters on the Strikeforce roster.
Maybe I'm just really impressed when people throw straight punches, but he definitely showed that he's super technical in his strikes.
The rear-naked choke was impressive, and I hope that it means he'll be facing Nate Marquardt for the welterweight title.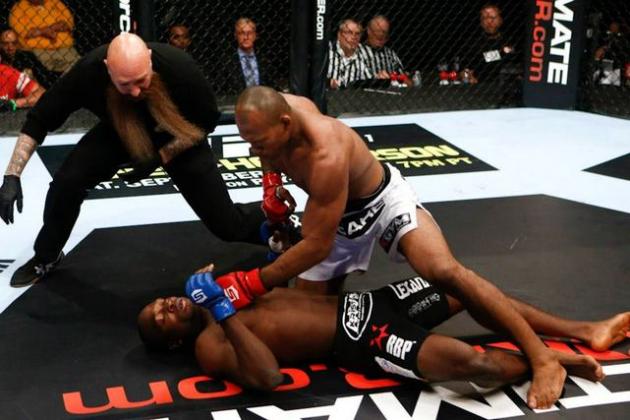 via Esther Lin/Forza LLC/Getty Images
Keeping this slide short and sweet. Derek Brunson was knocked out three times in that fight.
This is after he already lost to Kendall Grove.
Derek Brunson had no business in that cage tonight. I'm sure he's still asleep somewhere in the Valley View Casino Center.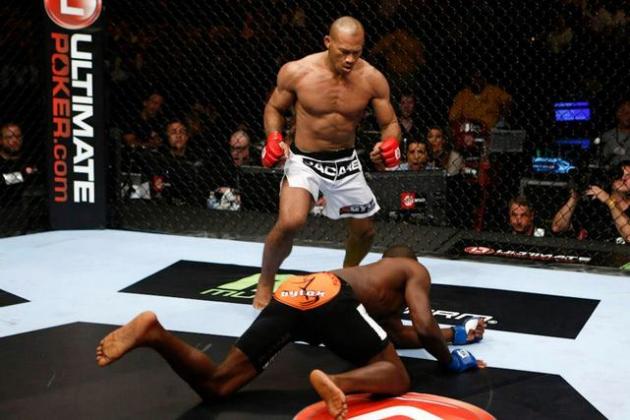 via Esther Lin/Forza LLC/Getty Images
Remember when Jacare was one of the most feared grapplers in the world? It's just not that way anymore.
Not because he's lost a step on the ground, but because he's turned himself into one of the most dynamic strikers in the Strikeforce middleweight division.
Those knockouts (there were three) of Derek Brunson were awesome, and the final one will likely be shown repeatedly on future Strikeforce broadcasts.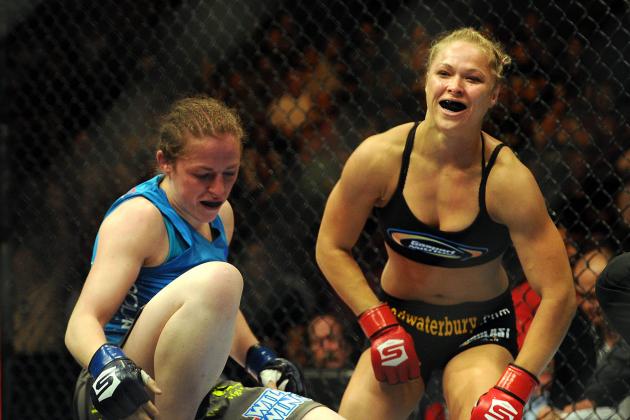 Jayne Kamin-Oncea-US PRESSWIRE

I feel for Sarah Kaufman. She needed to show that she was one of the best women in the division against Ronda Rousey, and she just didn't get to do anything.
At the post-fight press conference, she said that she was embarrassed by her performance.
I will give her props for rolling out of the arm bar three times. It's just that she was was matched up with one of those savants on the ground.
I hope that this loss doesn't dishearten her and she rebounds from it.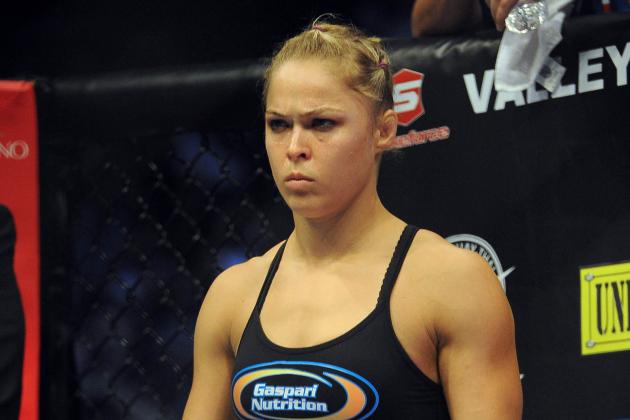 Jayne Kamin-Oncea-US PRESSWIRE

She's crazy good. Really, that's all there is to it, and she is getting better every time out.
I was worried that Rousey would eat some punches and wilt, but she closed the distance fast and really showed that she is unquestionably the best female fighter in the world.
Who's next for her is the biggest question, and the insane thing is that there really isn't anyone at 135 that has any sort of a chance to match her on the ground.