Cowboys vs. Chargers: Dallas' Biggest Winners and Losers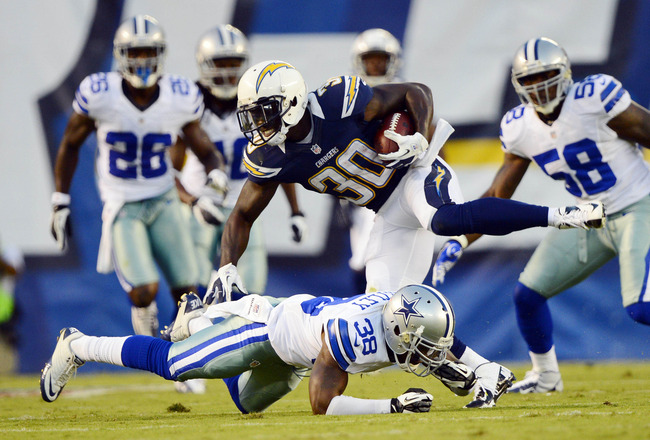 Christopher Hanewinckel-US PRESS
The Dallas Cowboys played their second game of the preseason Saturday night down in southern California against the San Diego Chargers.
This serves as familiar territory for the 'Boys as they hold training camp in Onxard, California ever year.
But being in un-foreign territory did not stop the Cowboys from dropping their first preseason game of the year. Dallas lost 28-20 to the Chargers, but you cannot put this on the starters.
The reserves let this one go and that may spell a little trouble for Dallas moving forward.
Since it's just the preseason, I won't jump off the bridge just yet.
Here are Saturday's biggest winners and losers from Dallas' game against the Chargers.
WINNER: Brandon Carr, CB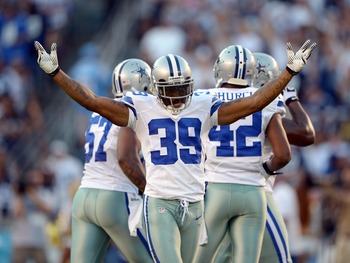 Kirby Lee-US PRESSWIRE
Does Dallas finally have a secondary? That large gasp of air you heard comes from a collective of Dallas Cowboys fans. They finally saw a cornerback play from a position of strength and not weakness.
Carr intercepted two balls and both were things of beauty.
The first one he took advantage of a duck ball thrown by Chargers quarterback Philip Rivers.
On his second pick, he played hot potato with the ball until he finally decided to bring it in.
His presence on the field gives a sense of security, as well as better pass rushing opportunities for the defensive line.
Simply put, Carr looked great on Saturday night.
LOSER: Felix Jones, RB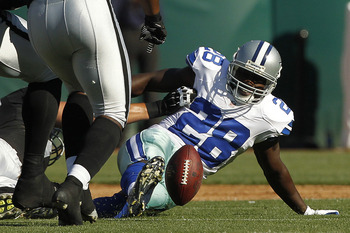 Cary Emondson-US PRESSWIRE
Jones looked lethargic at times on Saturday night.
There are two plays that defined his night and may end up defining his last moments as a Cowboy.
The first was when Jones missed a swing pass from Romo in the first quarter. The ball hit him in between the numbers and Jones simply dropped it.
The second came on a 3rd-and-4 on the Chargers' 43-yard line.
Jones catches a short pass from Romo and is immediately stood up for only a three-yard gain. No first down and the Cowboys are forced to punt.
The Jones that I can remember would have powered his way through for the first down or used his quickness and agility as a weapon.
What's interesting about Jones' situation is that he is in the final year of his contract. He may be fighting for a roster spot and so far his performance does not reflect the desire of a player ready to fight for a position.
If you think I'm being too harsh on the fifth-year player from Arkansas, take the word of Cowboys beat writer Calvin Watkins.
"This isn't a big thing, but Felix Jones hasn't really impressed us this training camp." "Jones seems a little slow this camp not because of injury, but maybe the past leg injuries he's had in his brief career have taken their toll."
WINNER: Jamize Olawale, RB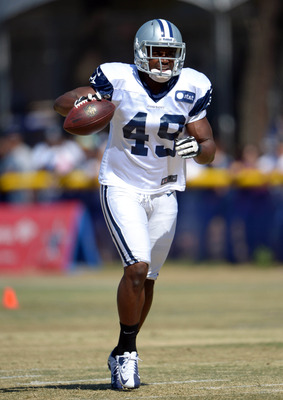 Kirby Lee-US PRESSWIRE
Olawale wants to make this Cowboys team and he's doing everything in his power to make his dream a reality.
On 10 carries, Olawale totaled 30 yards and one touchdown. To make things better for himself, he caught four passes for the same amount of yards.
He looked explosive and quick but for me it was his hunger. You could see the desire in Olawale every time he touched the ball.
I'm not sure if he'll make the final roster, but he most definitely has a practice-squad position waiting for him.
LOSER: Stephen McGee, QB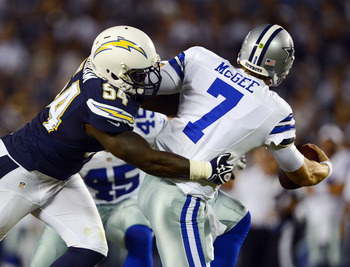 Christopher Hanewinckel-US PRESSWIRE
I've made my feelings known about McGee for a while now. It is time for the Cowboys to move on from this project.
Even in the spirit of development and patience, I just don't see McGee as a long-term option for Dallas.
On Saturday against the Chargers, McGee had a fumble and an interception.
He completed nine of his 16 passes but only averaged a poor 5.4 yards per attempt.
McGee was sacked twice for 30 yards and simply didn't move the offense.
WINNER: Kevin Ogletree, WR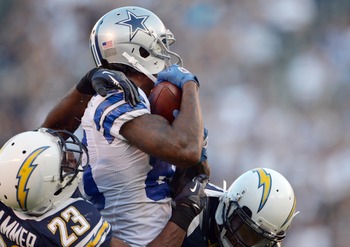 Kirby Lee-US PRESSWIRE
Last week, it was Andre Holmes who "locked" up the slot-receiver position. This week, it's Kevin Ogletree.
Ogletree caught four balls for 60 yards, as his longest reception went for 35.
He made a very nice catch in traffic, maybe his best one as a Cowboy.
But even if Ogletree remains consistent and plays well against the Rams next Saturday in the team's home preseason opener, I feel like this may end up being a committee position.
No player has positioned themselves well enough to be considered a front runner, hence the reason why there is a new "leader" after every preseason game.
LOSER: Andre Holmes, WR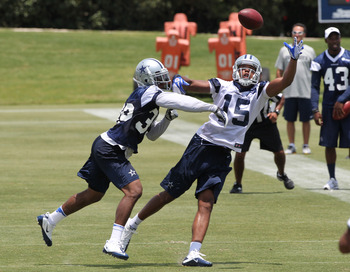 Matthew Emmons-US PRESSWIRE
Holmes played very well in the Cowboys' first preseason game but came up short against the Chargers.
He caught just two balls for six yards and was pretty much non-existent throughout the contest.
Now that may have been by design as Garrett wanted to look at other players.
But I was expecting another solid performance from the player who wants to become the team's permanent slot receiver.
WINNER: Cole Beasley, WR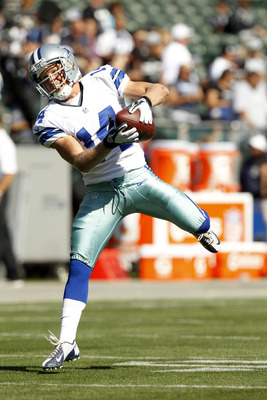 Cary Emondson-US PRESSWIRE
Beasley led the team in receiving with 104 yards on seven catches.
He had no touchdowns and his yards came against the Chargers' second unit, however, he played well enough to turn a few heads.
Gaining 104 yards against any unit for a rookie is enough to make anyone take notice.
Beasley is looking to make the team as a special-teams player or on the practice squad, and his performance on Saturday went a long way in strengthening his position.
LOSER: Chris Jones, P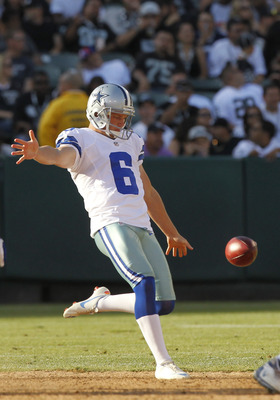 Cary Emondson-US PRESSWIRE
I wouldn't necessarily call him a loser, but he did drop a snap. As soon as it happened, twitter went wild with "Mat McBriar never dropped snaps" comments.
Even still, Jones dropped the ball and made up for it by picking the ball up and running for a first down.
Not something that we will see from him often, as most will be focused on his punting yards and not how he handles the ball.
HONORABLE MENTION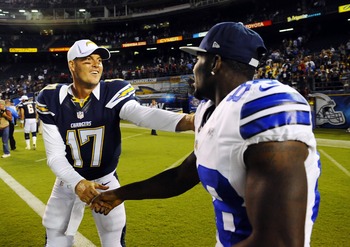 Christopher Hanewinckel-US PRESSWIRE
If Dez Bryant can bring it all together, there is no reason why he cannot dominate the NFL.
He is multi-talented and has all of the ingredients to become a Hall of Fame type of player.
In the first quarter, Bryant caught a touchdown pass with one hand and made it look easy. There was little to no effort on his part and its becoming a part of his routine.
The touchdown was called back due to a penalty, but it was such a thing of beauty that it was worth mentioning.
I must also give notice that the offensive line gave Romo ample time to move around the pocket and throw the ball.
There were some plays where Romo had over five seconds to get rid of the ball.
That is not an expectation from my part as the line is still in flux, but they looked good enough at times on Saturday to quell some fears.
Keep Reading

Dallas Cowboys: Like this team?