Strikeforce: Ronda Rousey vs. Cristiane 'Cyborg' Santos Head-to-Toe Breakdown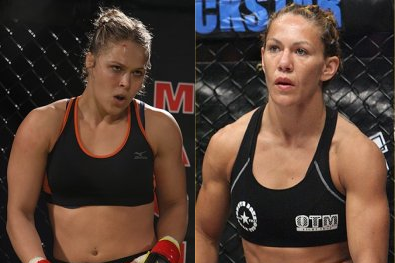 It was business as usual for Ronda Rousey Saturday night as the Strikeforce women's bantamweight champ once again pulled off a first-round armbar win.
In less than a minute, Rousey defeated former champ Sarah Kaufman with her signature submission, advancing her record to a perfect 6-0. After the bout, "Rowdy" made it clear who she wants to fight next, calling out former women's featherweight champ Cristiane "Cyborg" Santos.
Cyborg was stripped of her title after testing positive for a performance-enhancing drug last December and has been serving a year long-suspension from the sport.
When the former title-holder does return, a bout with Rousey may become the biggest fight in the history of women's mixed martial arts.
Here's the head-to-toe breakdown for this possible epic bout.
Begin Slideshow

»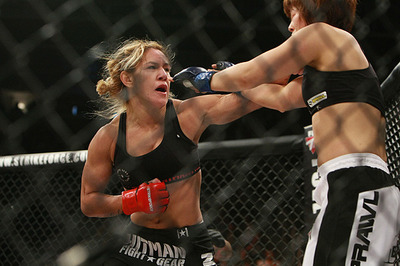 Cyborg has proven herself to be one of the most dangerous strikers in women's MMA, owning eight career knockouts.
A Muay Thai specialist, Cyborg's strikes are fast and powerful. She loves to swarm her opponent with power shots and look for the flurry KO.
Rousey has improved a lot as a striker, but she will still be at a disadvantage against Cyborg.
"Rowdy" showed a lot of confidence in her hands Saturday night, immediately pushing the pace against Kaufman by punching her way into the clinch.
Against a force like Cyborg, however, Rousey will have to be more careful coming in.
Advantage: Cyborg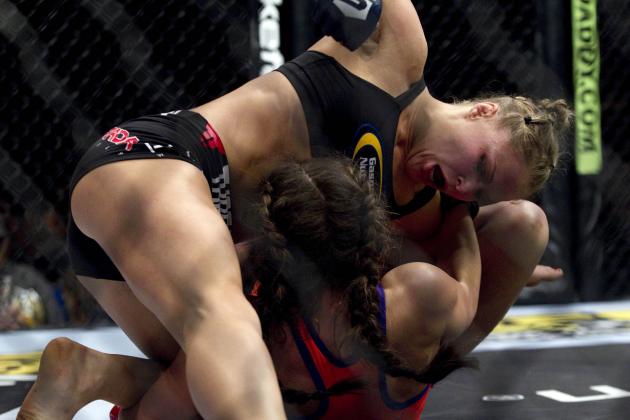 Greg Bartram-US PRESSWIRE

Rousey's Olympic judoka background has been her most dangerous weapon thus far in her career. The 2008 bronze medalist has put every one of her opponents flat on their backs and has proven to be a master of the ground game.
Cyborg has extensive Brazilian jiu-jitsu training and has solid takedown defense, but she's never faced someone with Rousey's caliber of grappling.
If this fight goes to the mats, Cyborg will be in deep trouble.
Advantage: Rousey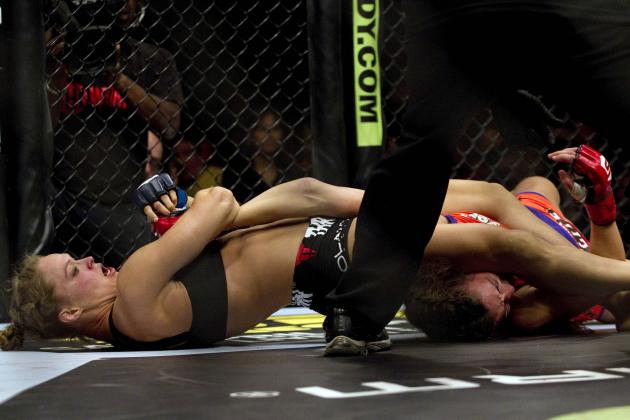 Greg Bartram-US PRESSWIRE

Ronda Rousey fights are like a violent version of Groundhog Day, as the reigning champ continues to take out opponents with first-round armbars.
Kaufman became the latest victim of Rousey's signature finish, reinforcing "Rowdy's" status as one of the biggest submission threats in all of MMA.
Cyborg has never submitted an opponent in her career and actually has a tap-out loss on her record, a good sign for Rousey if the fight goes to the ground.
There's no question who has the edge here.
Advantage: Rousey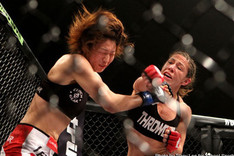 Photo courtesy of Tracy Lee/Yahoo! Sports.
The one area that Cyborg really has an edge is in the strength and conditioning department.
Cyborg is one of the strongest and most explosive women in the game and has proven herself to be an unstoppable force.
Not only is she powerful, but the former champ has experience going the distance. This can prove handy as Cyborg knows how to keep the pace going into later rounds and would likely look to grind Rousey out.
Rousey has never left the first round and could be at a big disadvantage if she's ever forced to fight past Round 1.
Advantage: Cyborg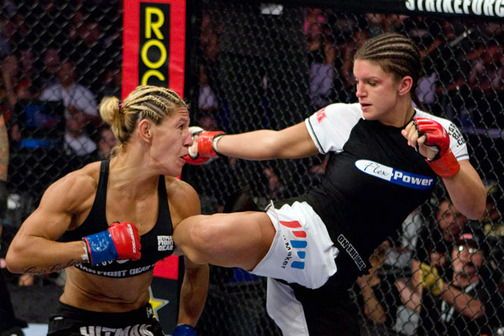 Photo courtesy of Showtime.
The former champ has been fighting professionally since 2005 and is a battle-tested veteran of the cage.
Not only does she know her way around the Strikeforce cage, but Cyborg's also no stranger to the spotlight, having previously fought in one of the biggest women's MMA bouts in history when she defeated Gina Carano.
Rousey, while still relatively young in her career, has proven that her lack of cage experience isn't a hindrance. "Rowdy" has defeated some of the toughest former champions in the division, making them all look like scrubs in the process.
And let's not forget her years of Olympic training.
Despite the difference in cage experience, overall, Cyborg and Rousey are pretty much even.
Advantage: Even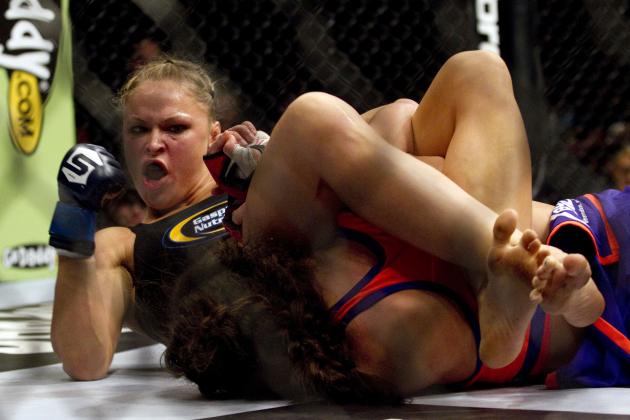 Greg Bartram-US PRESSWIRE

Cyborg
When Cyborg does return to the cage, the first concern will be ring rust.
The former champ hasn't fought since December of 2011 because of her suspension and may not come out as explosive as usual.
The other concern is how Cyborg's body will respond to dropping down to bantamweight if she decides to move down a weight class. If the weight cut is tough, that could be a big problem for the former title-holder.
Rousey
A fight with Cyborg would become an instant classic, so the champ has to stay focused and on her game.
While Kaufman was a decent striker, Cyborg is on another level and won't be as easy to swarm in on for the takedown.
You can never count out the first-round sub, but Cyborg may just be the challenger to take Rousey into the later rounds.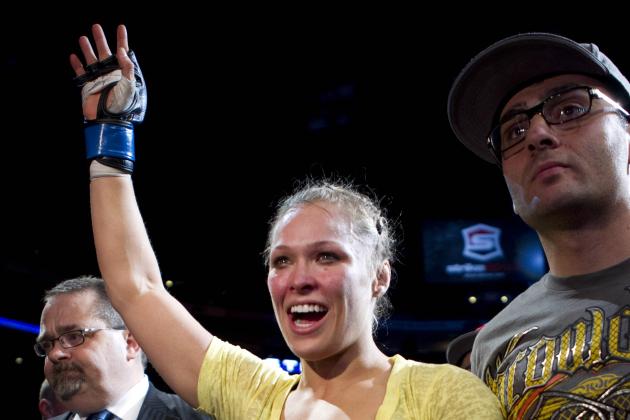 Greg Bartram-US PRESSWIRE

Rousey vs. Cyborg would be the biggest fight in women's MMA history with the likelihood of someone getting finished.
Cyborg would be the toughest test of Rousey's career and is a huge KO threat. If Cyborg can push the pace and muscle Rousey around, the Brazilian may prove to be too much for the current champ.
However, the Rousey train is steamrolling right now, and even Cyborg might not be able to derail it. Rousey continues to impress and is super confident in her abilities—and for good reason.
It's eerie how she keeps pulling out the first-round armbar and, honestly, I think Rousey can do it again against Cyborg.
I just don't think Rousey will relinquish the title anytime soon and is poised to become the greatest female fighter in the sport's history.
Prediction: Rousey via submission (Roun 1, armbar).

Be sure to like me on Facebook or follow @MattJuulMMA.