ACC Football: 2012 Season Preview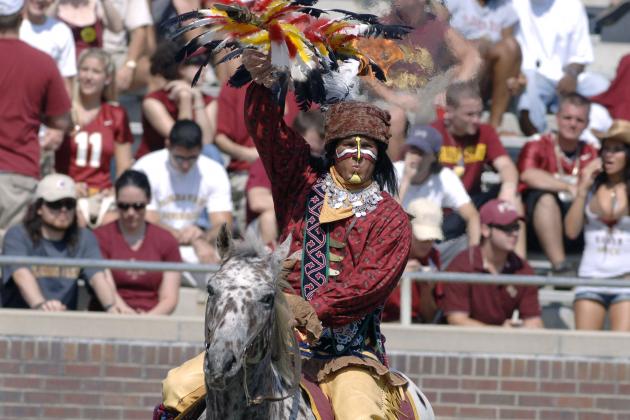 A. Messerschmidt/Getty Images

ACC football hasn't had a representative in the National Championship game since Florida State in the 2001 Orange Bowl. In fact, the ACC has only won two BCS bowl games in 15 attempts, by far the worst winning percentage of any BCS conference.
This could be the year that the ACC gets its third BCS bowl win.
Florida State is the favorite heading into this season following a disappointing 9-4 record last year. The Seminoles' defense figures to be one of the best in the country and the offense is led by an experienced senior quarterback, EJ Manuel, who is looking to make a statement.
After Florida State, Clemson and Virginia Tech look like the only real contenders, but that doesn't mean a team like Georgia Tech or NC State can't sneak into the conference championship game.
Begin Slideshow

»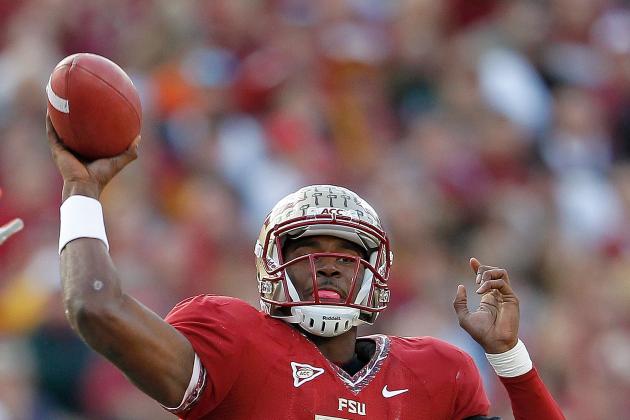 Mike Ehrmann/Getty Images

ACC Atlantic Prediction: 1st
National Rank: 6th
Expectations are once again high in Tallahassee.
Florida State has the talent to win the ACC, but they had the talent last year as well.
EJ Manuel is back at quarterback, and he should be able to improve on his totals of 2,666 yards and 18 touchdowns from last year.
Defense is where the Seminoles are strongest, led by a powerful line featuring Brandon Jenkins and Bjoern Werner.
It doesn't look like there are any holes in this defense, which could mean that the Noles win their first conference championship since 2005.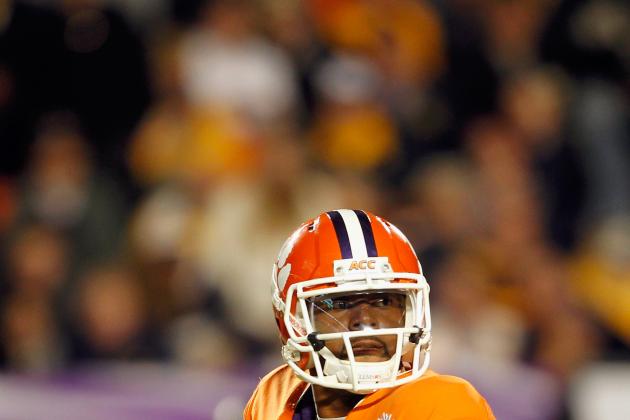 Mike Ehrmann/Getty Images

ACC Atlantic Prediction: 2nd
National Rank: 18th
The reigning ACC champions can become the first back-to-back champions not named Virginia Tech since Florida State in 2002 and 2003.
The Tigers return quarterback Tajh Boyd as well as their dynamic receiving duo of Sammy Watkins and DeAndre Hopkins.
Also returning on the offense is running back Andre Ellington, who rushed for 1,178 yards and 11 touchdowns last season.
Clemson's defensive weaknesses were exposed in their 70-33 loss in last year's Orange Bowl.
The Tigers have an experienced secondary that returns all four starters, but the defensive line only returns one starter, Malliciah Goodman.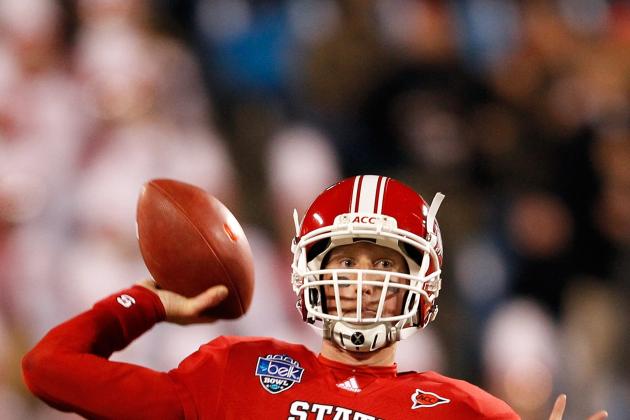 Streeter Lecka/Getty Images

ACC Atlantic Prediction: 3rd
National Rank: 28th
NC State could be a sleeper team in the ACC this year.
The Wolfpack have one of the most underrated quarterbacks in the country, Mike Glennon, returning under center. Glennon threw for 3,054 yards and 31 touchdowns last year.
James Washington returns at running back and he is also the team's leading returning receiver.
NC State had the 41st ranked total defense a year ago, and they return seven starters, however none of them are linebackers.
The good news for the NC State defense is that they have an All-American caliber cornerback in David Amerson, who picked off 13 passes last season.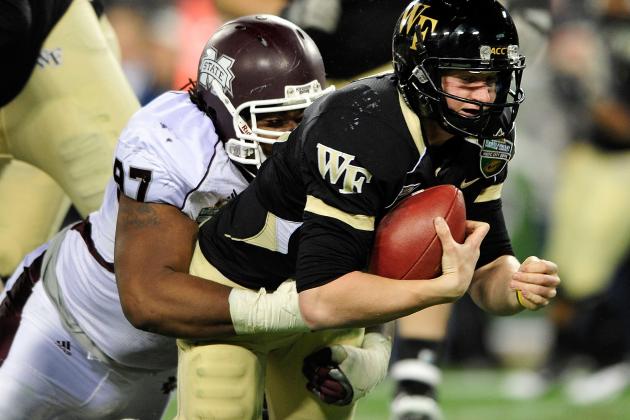 Grant Halverson/Getty Images

ACC Atlantic Prediction: 4th
National Rank: 64th
Wake Forest finished last season with a 6-7 record after a Music City Bowl loss to Mississippi State.
Another bowl game is possible for the Deacons, but the offense will need to step up quickly.
Only three starters return on offense for Wake Forest: quarterback Tanner Price, receiver Michael Campanaro and center Garrick Williams. The other four linemen will need to mature quickly to protect Price and pave the way for running back Josh Harris.
Wake Forest is in pretty good shape defensively, but the defensive line needs to improve against the run, as it ranked 79th in the nation last year in run defense.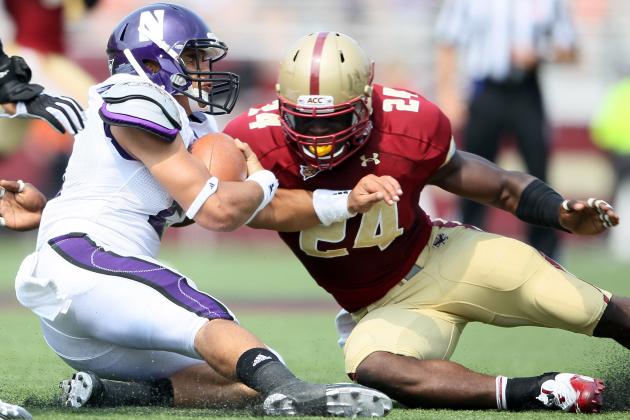 Elsa/Getty Images

ACC Atlantic Prediction: 5th
National Rank: 74th
Last year was the first losing season for Boston College since 1998. This season could make it two in a row, which may mean the end of Frank Spaziani's career with the Eagles.
Boston College is a run-first team, so it's up to Rolandan Finch to lead this offense. Finch rushed for 705 yards and three touchdowns on 157 carries last year; don't be surprised if he rushes for over 1,000 yards this year.
The Eagles defense isn't too bad, but the loss of linebacker Luke Kuechly will be tough to overcome.
Senior tackle Kaleb Ramsey is the anchor of the BC defensive line, and linebacker Kevin Pierre-Louis is the team's leading returning tackler.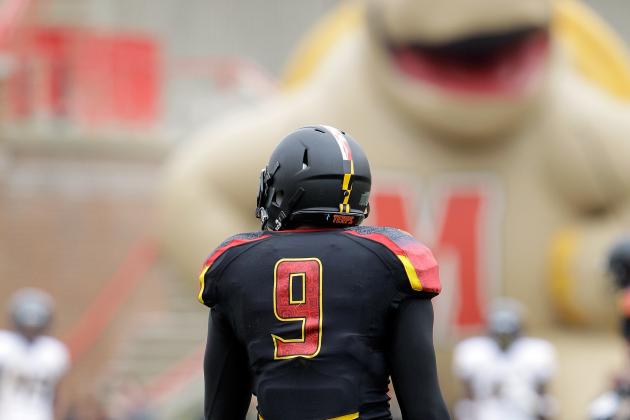 Rob Carr/Getty Images

ACC Atlantic Prediction: 6th
National Rank: 71st
The first year of the Randy Edsall era in College Park didn't go quite as planned.
The Terrapins finished the season with only two wins and the 108th ranked defense.
Maryland returns linebacker Demetrius Hartsfield, who recorded 108 tackles last year, and leads a strong linebacker unit.
The Terps' offense suffered an injury before the season even started, as quarterback CJ Brown went down to a season-ending knee injury during practice.
With Brown out, it will be up to one of two freshmen to lead the offense: Perry Hillis or Caleb Rowe.
Chris Graythen/Getty Images

ACC Coastal Prediction: 1st
National Rank: 13th
Once again, the Hokies have a team with the talent to make a BCS bowl game.
The offense is led by one of the most lethal weapons in college football, quarterback Logan Thomas. Thomas threw for 3,013 yards and 19 touchdowns last year and also ran for 469 yards and 11 touchdowns.
Replacing running back David Wilson will be a challenge for Virginia Tech, but freshmen running backs Michael Holmes and Drew Harris are capable of carrying the load in the rushing game.
Virginia Tech should once again have a solid defense, with eight starters returning.
The defensive line is the strongest part of the Hokies' defense, as all four starters return, including James Gayle who recorded seven sacks last season.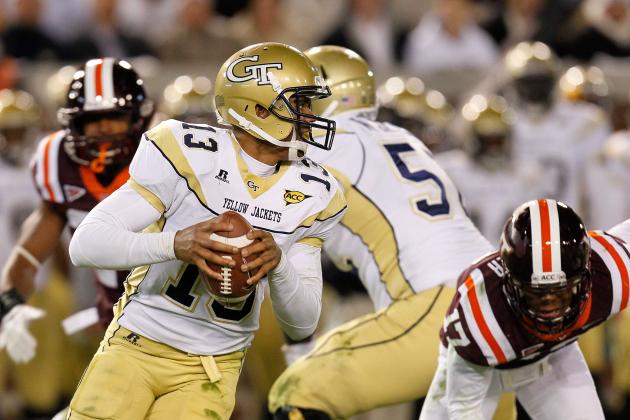 Kevin C. Cox/Getty Images

ACC Coastal Prediction: 2nd
National Rank: 25th
In each of the last four seasons, Georgia Tech has finished in the top five in the nation in rushing yards thanks to their explosive option attack; don't expect anything different this year.
The Yellow Jackets return their top-three rushers who each ran for over 600 yards last year. Quarterback Tevin Washington ran for 987 yards and 14 touchdowns, and running backs David Sims and Orwin Smith ran for 698 yards and 615 yards respectively.
Georgia Tech is solid defensively, especially in the secondary where cornerback Rod Sweeting and safety Isaiah Johnson bring experience and toughness to the secondary that led the Jackets to the 28th ranked passing defense.
This will be Georgia Tech's best team since the 2009 team that won the ACC.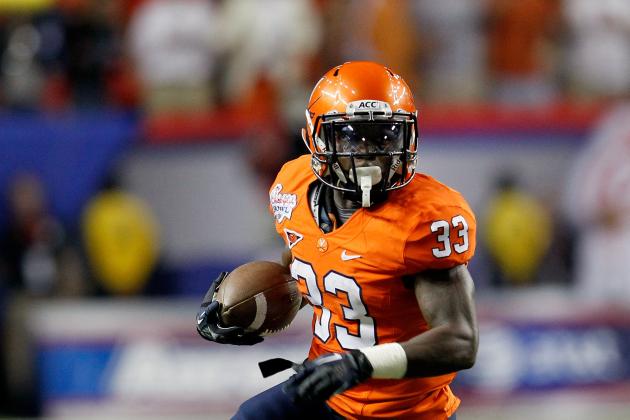 Kevin C. Cox/Getty Images

ACC Coastal Prediction: 3rd
National Rank: 44th
Virginia won eight games last year, a total that may not be matched this year, but one that is a realistic goal to strive for.
The Cavaliers return running back Perry Jones, who ran for 915 yards on 184 carries last season. Jones should be able to surpass 1,000 yards as a senior.
Virginia's offensive success will depend on how quarterback Michael Rocco performs. Rocco threw 12 interceptions last year and threw only 13 touchdowns.
Defensively, the Cavs were much improved last year, but they only return five starters. Luckily, one of those starters is linebacker Steve Greer, who is the team's leading returning tackler with 103.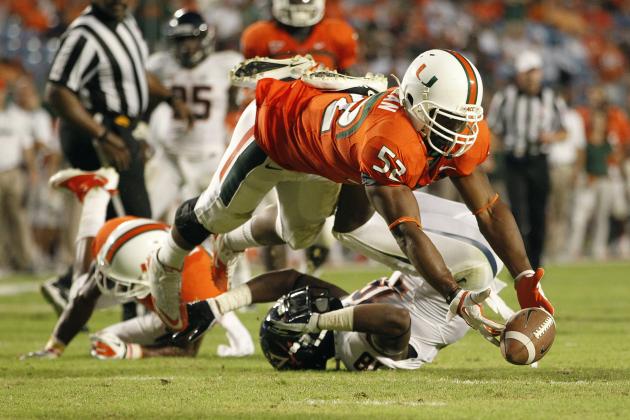 Joel Auerbach/Getty Images

ACC Coastal Prediction: 4th
National Rank: 52nd
When will Miami start playing like Miami again?
The Hurricanes finished last season with a 6-6 record and that looks like a best-case scenario for this year's team.
Stephen Morris will be playing quarterback, and Mike James will be the top back on the team. James only had 275 yards last year, but he found the end zone seven times.
Defensively, Miami should be pretty strong if the line can recover from some key losses. Anthony Chickillo is a sophomore this year and should be one of the better pass-rushers in the ACC.
Miami had one of the better secondaries in the ACC last year and they should once again have a solid pass defense.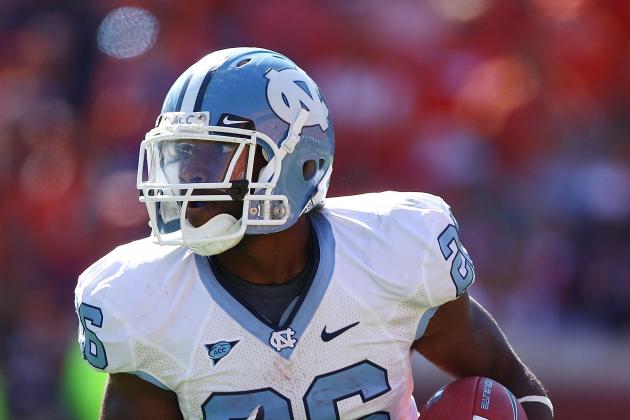 Scott Halleran/Getty Images

ACC Coastal Prediction: 5th
National Rank: 33rd
Talent wise, North Carolina could be a top 25 team. However, NCAA sanctions have made the Tar Heels ineligible for postseason play this season. Can a team with nothing to play for stay focused enough to win against tough opponents?
The Tar Heels offense is full of talent. Junior quarterback Bryn Renner threw for 3,086 yards and 26 touchdowns last year and senior receiver Erik Highsmith had 726 receiving yards on 51 receptions.
But, the best player on this offense is running back Giovani Bernard, who rushed for 1,253 yards and 13 touchdowns last season. Bernard is one of the best backs in the country and helps create a very balanced offense.
North Carolina's defense has lost a ton of talent to the NFL, so it will be interesting to see how this year's team does.
The line is solid, led by defensive end Kareem Martin, who recorded four sacks last year, and tackle Sylvester Williams.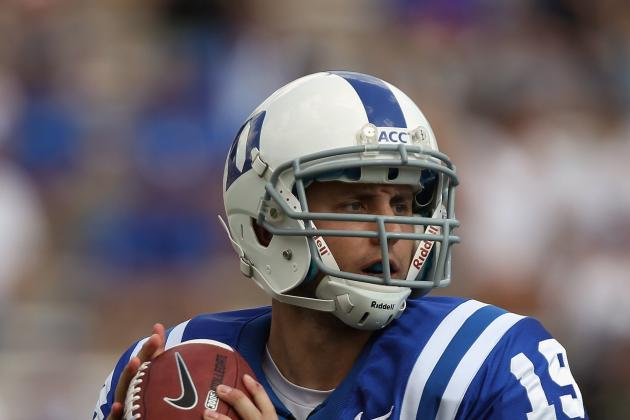 Streeter Lecka/Getty Images

ACC Coastal Prediction: 6th
National Rank: 76th
The Blue Devils can throw the football, but they can't run or stop anybody defensively. The result? Another losing season.
Duke ranked No. 2 in the ACC in passing offense last year, thanks to quarterback Sean Renfree and his favorite receiver Conner Vernon. Vernon, now a senior, has 2,675 receiving yards in his first three seasons in Durham and this could be his first year with over 1,000 yards.
Duke's defense returns six starters, but those starters were on a team that ranked in the bottom two in the ACC in scoring defense, rushing defense, passing defense and total defense.
The Blue Devils very easily could have won six or more games last year, but they were unable to come through in the clutch. If the seniors on their offense can step up late in games, Duke could go bowling.
Follow @TimStoeckle on Twitter