Washington Redskins vs. Chicago Bears Live Blog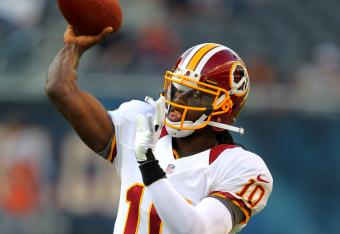 Welcome to the Bleacher Report live blog for the Week 2 preseason game between the Washington Redskins and the Chicago Bears. This should be an exciting game as we will most likely get to see more action out of opening day starters today.
Kick off is scheduled for 8 pm, but stay with us as we take you through all the pregame news and all the action throughout the game.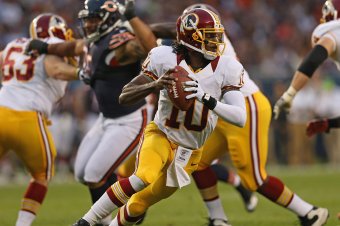 Jonathan Daniel/Getty Images
Play ends on a screen pass. Exciting preseason game. Some final thoughts:
Cutler looked great, has a good season ahead of him
RG3 struggled but it was nothing that shouldn't be expected from a rookie with a bad o-line
Orakpo was injured, hopefully it's not serious
Idonije is a man among boys out there, give him a raise already (or I promise you Dan Snyder will)
These announcers sucked
Cousins & Campbell performed well as backups.
Brandon Banks's spot is safe as a return man
Jeremy Lin doesn't want us to hit girls (fair enough)
Robbie Gould is better than either of the Redskins' kickers (news flash!)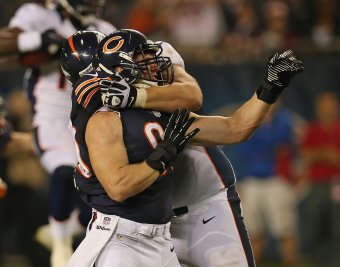 Jonathan Daniel/Getty Images
Shea McClellin is looking like an early player in the hunt for Defensive Rookie of the Year
Announcers should learn the rules of football, all of them!
Thanks again for tuning in. Feel free to leave any questions
24 seconds left, can Cousins pull off another Hail Mary win
57 yard field goal nailed by Robbie Gould.
Bears 33 - Redskins 31.
Turning out to be one of the more exciting preseason games so far.
Evan Rodriguez making a pair of catch and runs to bring the Bears close to field goal range.
Another touchdown pass but there's a flag down. Looks like this one is coming back. Either way that was a great pass to Josh Morgan.
Roughing the passer call so the TD is good.
Kick is good
Redskins take the lead, 31 - 30
Kirk Cousins showing good chemistry with Aldrick Robinson. Wonder if the Redskins keep Robinson as one of their last receivers because of that connection.
FUMBLE!!! Reed Doughty forces a fumble and the Redskins defense stops the Bears offense.. Cousins now trying to put up his third touchdown.
Announcers are now talking about how the Bears NEED to start burning the clock. This is preseason the record does not matter. These players need to take advantage of every opportunity they can to impress while on the field, and the coaches need to give them that chance. There should be no concern with what the final score is.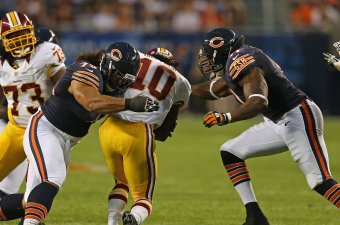 Jonathan Daniel/Getty Images
Israel Idonije being interviewed right now and he is seriously one of the most underrated d-linemen in football. He is a big reason why the Bears d-line is able to do everything they want. Very versatile player with great size and surprising mobility.
Not sure what McCown was thinking there. He saw Crawford blitzing him from about 7 yards away and just allowed it to happen. Unacceptable, even for a 3rd string qb
Kick is good
Bears 30 - Redskins 24
Aldrick Robinson with a HUGEE play! Ball got tipped but he made an adjustment and then flashed his explosiveness. Fighting to keep his job and he just made a big statement.
I hate all the talk about a qb controversy between Griffin & Cousins, but I promise you people will use tonight's stats to drum one up this week.
Probably wont be on ESPN though, there's too much Tebow coverage to show I'm sure.
Cousins gets a nice bootaction TD pass to Niles Paul. Kick is good.
Bears 30 - Redskins 17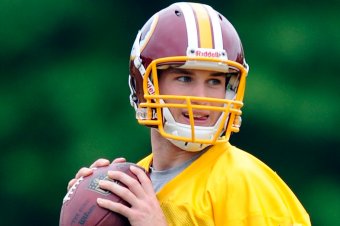 Patrick McDermott/Getty Images
Cousins 7/10 right now. Proving to be quite capable as a backup. Good poise in the pocket, arm strength and mobility. The difference between Cousins and Ryan Tannehill was not 3 rounds, some teams missed out on a quality player.
4th quarter is underway:
Bears 30 - Redskins 10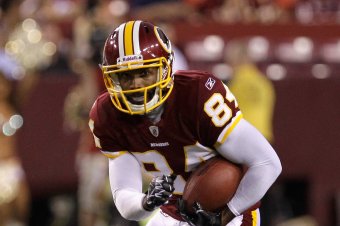 Rob Carr/Getty Images
The Niles Paul/Logan Paulsen competition is certainly not front page news but is quite intense. Both are fighting for the 3rd TE spot behind Davis and Cooley. Paul is the more explosive/dynamic receiver. Paulsen is more reliable and a better blocker.
One man is going to lose his job at the end of August.
These announcers need to learn the rules of football. The five yard press rule does not allow DB's to hit the receiver when the ball is in the air. Embarrassing on their part.
Tom Compton cannot handle McClellin. This is what it like when a 7th rd rookie LT goes against a 1st round DE.
Cousins nearly throws an interception, didn't see Patrick Trahan sitting in perfect underneath spot. That's why you spot the linebackers pre snap.
McClellin still in the game, does he play all 4 quarters? Wonder how many first round picks are doing the same.
Kirk Cousins tellin' Madieu Williams to sit down and focus on the game
Bears hit another FG,
Bears 30 - Redskins 10
Got the Skins/Bears on preseason live on my computer & NFL network on my TV.
My name is Brian and I have a problem.... I only have so many screens
This article is
What is the duplicate article?
Why is this article offensive?
Where is this article plagiarized from?
Why is this article poorly edited?

Washington Redskins: Like this team?