San Francisco 49ers vs. Houston Texans Live Blog: Updates, Analysis and Reaction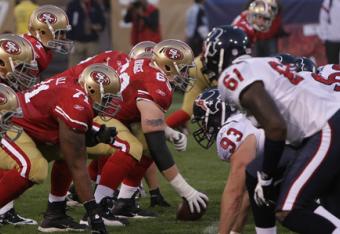 Courtesy of 49ers.com

The Houston Texans pull this one out, 20-9 at Reliant Stadium.
Thanks for visiting and be sure to check out next week's live blog for in-depth live coverage and analysis of your favorite NFL team!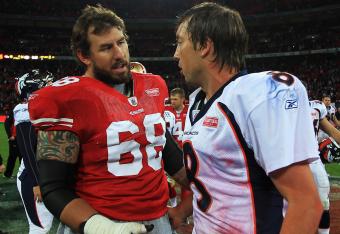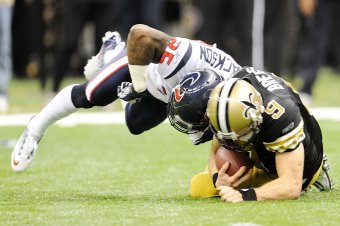 Stacy Revere/Getty Images
Well, that's all for tonight, folks.
The 49ers fall to 1-1 for the preseason, while the Texans remain undefeated at 2-0.
The 49ers will head to Denver to battle Peyton Manning and the Broncos on Sun, Aug. 26, while Houston travels to the Superdome to face Brees and the Saints on Sat, Aug. 25th.
Hope you enjoyed the live coverage and analysis.
See you next week!
Don't forget to follow me on Twitter.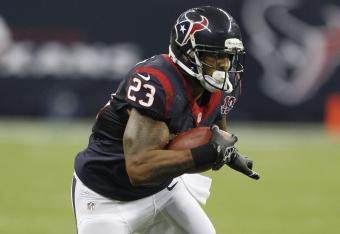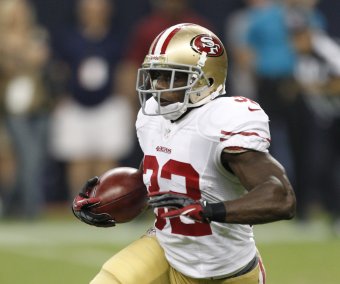 Bob Levey/Getty Images
Rushing totals for each team:
49ers: 24 Car, 118 Yards
Texans: 27 Car, 119 Yards
Interestingly close, if I do say so myself.
Told you these teams have a lot in common.
Annnnnd the Texans are going to run out the clock.
Probably for the best.
Houston is going to come out on top, 20-9.
49ers clearly suffered from the absence of pass-rushers Aldon Smith and Ahmad Brooks, not getting much pressure on the QB outside of Bakhtiari.
We've arrived at the two-minute warning, Texans with the ball.
Looks like this one is all but wrapped up.
Good outing for Houston, but the main headline has to be the two potentially-serious injuries for the 49ers backfield.
Coincidentally, the two RB's San Fran brought in this year. Jacobs (knee) through free agency, and James (ankle?) in the second round of the NFL draft.
James walking to the locker room, but not in a healthy manner. Can't put much weight on that left leg.
Now being carted the rest of the way.
Still hard to tell what happened. Looks like James may have had someone fall on his ankle while pass blocking.
Either way, not good.
Not good at all.
LaMichael James down on the field and in obvious pain, what else can go wrong for the 49ers backfield?
Not sure at this point what type of an injury it is.
In other NFL news....
<blockquote class="twitter-tweet">
The Jets are the only team this preseason that has yet to score a touchdown
— trey wingo (@wingoz) August 19, 2012
For some reason, that doesn't surprise me.
Houston's drive stalls out, will have to punt.
5:05 remaining in the 4th.
Undrafted rookie QB Case Keenum at the helm for Houston now.
For those who weren't aware, Keenum played his college ball at Houston, too.
First pass is a big first down, followed by another first down run by Justin Forsett.
Texans are rolling in front of the home crowd tonight.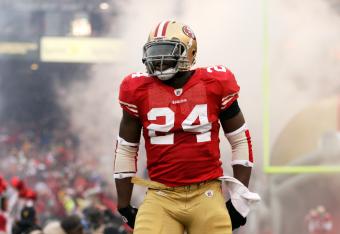 Houston D is swarming. 49ers O isn't making it easy on themselves.
"Boobie" Dixon looked good on that drive for San Fran, good catch for first down and excellent pass block.
Other than that, all Houston.
Texans ball now, seven minutes remaining in the final quarter.
Another holding penalty on Wiggins.
Hasn't had an impressive camp so far.
Scott Tolzien takes the field for San Fran. Needs at least two TD's for the comeback win.
I believe in you, bro.
<blockquote class="twitter-tweet">
Texans punt returner Trindan Holliday might be the smallest player in the NFL.He's 5-5 170, and might be closer to 155.
— Kevin Lynch (@klynch49) August 19, 2012
Good to know, Kevin Lynch.
Surprisingly terrible punt coverage by the 49ers on that TD. Very uncharacteristic for a Brad Seely-led special teams unit.
Commercial break.
Johnson misses Jenkins, yet again. Bad throw, but good stop by the Texans forcing Johnson to his second read.
87-Yard Punt Return for TD For Trindon Holliday!
That dude is fast.
20-9 Texans.
One play, and this game is no longer a close one.
Johnson JUST overthrows Jenkins on a deep ball, again.
Holding by Kenny Wiggins on the play, anyway.
1st-and-20 for San Fran.
Who said LaMichael James can't run between the tackles in the NFL?
First down run for the former Oregon Duck on 2nd-and-1.
Looks like it'll be Johnson for one more drive.
Close game, as expected!
Battle of the backups now. Who's going to come out on top?
Looks like Tolzien is warming up and ready to come in for the 49ers.
Prediction: "Baby Drew Brees" leads the 49ers to a 16-13 comeback win.
Joe Holland, the former Purdue Boilermaker, for the sack! Nice play for a guy with little shot of surviving training camp cuts.
3rd-and-16 now for Houston as the 3rd quarter comes to a close.
A 16-yard run followed by a 10-yard (estimate) reception for Houston, they get the unlikely first down.
49ers defense doing a lot of bending tonight.
Bad throw by Yates, visibly frustrated about the pass he threw behind James Casey.
Now, false start for the Texans.
2nd-and-23 now, from the 7-yard line.
David Akers getting some serious work in tonight, not that he needs it.
Akers Boots a 55-yard field goal in effortless fashion.
13-9 Texans lead, commercial break.
Big pass from Johnson to A.J. Jenkins down the sideline!
49ers fans have to love that 34-yard gain.
Johnson goes right back to Jenkins again, but overthrows him in the end zone.
So close!
This article is
What is the duplicate article?
Why is this article offensive?
Where is this article plagiarized from?
Why is this article poorly edited?

San Francisco 49ers: Like this team?