Serge Ibaka recently inked a four-year, $48 million extension with the Oklahoma City Thunder. So what does this mean for the future of OKC?
Although the Thunder made it all the way to the NBA Finals last year and have improved dramatically each year since moving from Seattle, many believed that the window of opportunity for this squad was closing.
The Thunder sport some of the youngest stars in the NBA, including a trio of gold medalists in three-time scoring champion Kevin Durant (23), All-Star point guard Russell Westbrook (23) and reigning Sixth Man of the Year James Harden (22). Factor in Ibaka (22), who led the league in blocks, and you have quite a dynamic core to build around.
So how could this team possibly falter?
The summer of 2013 could have potentially shaken up this young core, with two of their young stars, Harden and Ibaka, set to hit free agency, where both could command plenty of money as restricted free agents.
This summer, we've seen a common theme of overpaying for restricted free agents. Players like backup center Omer Asik (three years, $25 million) and Nicolas Batum (four years, $45 million with incentives that could push the deal to $50 million) commanded far more than their market value because their old teams could potentially match any offer.
In these two situations, this tactic of overpaying worked for Houston, who will be paying $15 million two years from now for someone that averaged 3.1 PPG and 5.3 RPG in 14 minutes a game for the Bulls last season.
Players such as Brook Lopez and Eric Gordon commanded max contract extensions as well, despite the fact that both of these players were hurt for the vast majority of last season, with Gordon playing just nine games for the New Orleans Hornets and Lopez participating in just five games for the then-New Jersey Nets.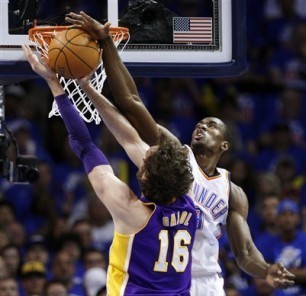 Clearly, players that are restricted free agents can command much more than they are worth on the open market simply because their old team can match any offer.
Based on this year's free-agent crop, it is clear that Ibaka and Harden could both command very large contracts on the open market. If Gordon, who barely played last season, could score a max contract, surely James Harden could demand the same after the high-caliber year he had last season coming off the bench for the Thunder.
Likewise, Ibaka could likely have gotten a larger sum of money in free agency from teams desperate for a defensive presence and a shot-blocking machine. Factor in his improving mid-range jump shot, and Ibaka would certainly be a hot commodity, especially if he has a breakout year this season with the Thunder.
Many believed that due to their small market, Oklahoma City would surely have to choose between the two if they intended to avoid the luxury tax. However, now that Ibaka has re-signed for $12 million a year, it is conceivable that they could keep both "Iblocka" and "The Bearded One," allowing this young core to continue to develop together.
The Thunder could free up even more money by trading or using the amnesty clause on struggling center Kendrick Perkins. Although getting rid of a defensive presence like Perkins is not in any way ideal, it could be beneficial if it allows OKC to retain both Harden and Ibaka.
Now that the Thunder have locked up an elite shot-blocker in Ibaka, GM Sam Presti has the opportunity to retain the leader of their second unit in Harden, allowing them to contend for several years as all of their young assets hit their prime at the same time.
Despite the hype surrounding LeBron James and the Miami Heat and Dwight Howard and the Los Angeles Lakers, this is not a team to sleep on for the next five years and potentially more.