The U.S. Open: Ranking the 10 Best Courses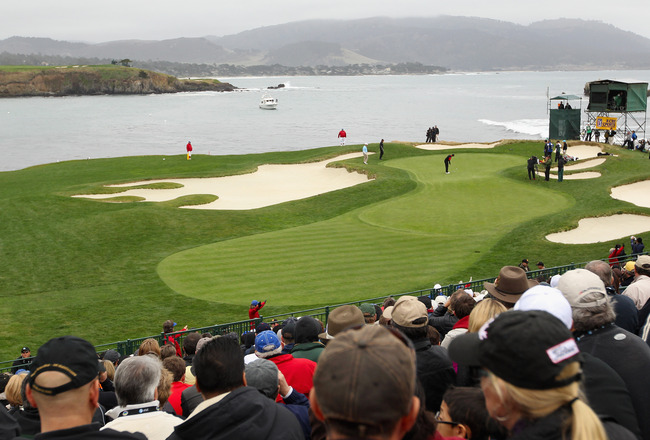 Pebble Beach is a beautiful place but isn't the best U.S.Open venue
Ezra Shaw/Getty Images
It's like being asked to pick the prettiest face in the Miss America Pageant.
Or the best athlete in the Hall of Fame.
Certainly not an easy task, but one that can be done and has been done.
Compiling a list of the 10 best U.S. Open venues is a subjective thing, but one that requires the same elements in all 10 courses: great history, great events, great greens and courses that test every aspect of a golfer's game.
Sure to inspire comment and/or criticism, here is my top 10 list.
It's Great to Be the King and Oakmont Is the King of U.S. Open Venues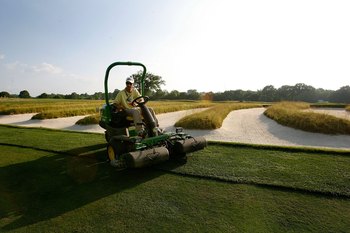 The famous church pews at Oakmont Country Club get special treatment each day
Getty Images/Getty Images
There's a reason Oakmont Country Club has hosted the most U.S. Open championships in history.
The historic club opened in 1903 and has hosted eight national championships, with a ninth coming in 2016. The last championship held there was in 2010, when Angel Cabrera overpowered the course to win his second major title.
This is a true test of golf from the time you step onto the practice green until the last putt falls on the 18th green. Difficult driving holes, devilish putting surfaces, some of the most penal bunkers in the history of bunkers are everywhere on a golf course on which 5,000 trees were removed prior to the 2007 U.S.Open.
One of the unique aspects of Oakmont is the Pennsylvania Turnpike separates holes two through eight from the rest of the course.
Oakmont's greens are the most feared in the game and have been critical factors in all of the many championships there.
Shinnecock Hills Should Host More Often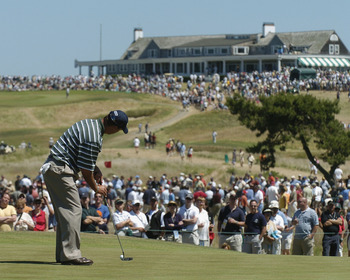 Shinnecock Hills clubhouse as viewed from the seventh green in 2004
A. Messerschmidt/Getty Images
Don't be fooled by what you read as the location of Shinnecock Hills Golf Club.
It says it's Southampton, Long Island, but it's actually tucked into the eastern-most tip of Long Island—far from the hustle and bustle of New York City. And that's a big part of its allure.
It's also one fantastic Open venue, having hosted three of the nation's championships with a fourth scheduled for 2019.
The last was held in 2004, a historic championship in that the USGA made a major miscalculation on course setup for the final round and nearly lost the day to high temperatures and winds. Retief Goosen won the Open with a sparkling display of putting.
Shinnecock has it all—great vistas, windswept grounds and a great collection of challenging holes.
It can't host the Open enough times.
Pebble Beach: Always a Great U.S. Open Venue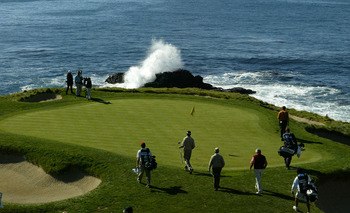 Perhaps the most picturesque hole in golf, the par 3 seventh at Pebble Beach Golf Links
Justin Sullivan/Getty Images
Pebble Beach Golf Links is often referred to as the most spectacular meeting of land and sea in the world.
And there's no doubt the five U.S. Opens (not to mention the annual PGA Tour event held there every February) provide some of the greatest scenery in golf.
But there's more to Pebble Beach than the scenery. It is a strong test of golf, where winds, fog and pressure always seem to build through the tournament. The greens are rarely perfect because of how close it is to the Pacific Ocean, but that's part of the allure: the winner has to figure the greens out and do so quickly.
The Open returns to Pebble Beach in 2019.
Pinehurst No. 2, an American Classic, Will Host Two Opens in 2014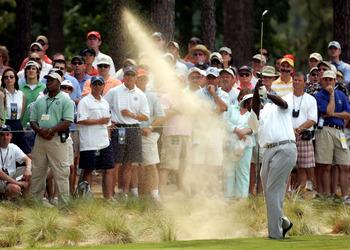 Vijay Singh hits a shot from one of Pinehurst No. 2's famed waste areas
David Cannon/Getty Images
Architect Donald Ross designed more than 400 golf courses in his lifetime, but there was only one he called home, and only one that he continued to tweak in an effort to make it perfect.
That one would be the one and only Pinehurst No. 2, the jewel of the sand hills of North Carolina.
But it's more than that. It's viewed as the birthplace of golf in America. It has a reciprocal relationship with St. Andrews, the birthplace of golf across the Atlantic Ocean.
The course has the famous Donald Ross dome-shaped greens, plenty of waste areas and the rolling Carolina terrain.
Just how good of an Open host has it been in its past two championships?
Good enough for the USGA to make it the first venue to host the men's and women's Opens in back-to-back weeks. That will take place in 2014.
It's a classic U.S. Open site.
Winged Foot Will Always Be a Classic U.S. Open Layout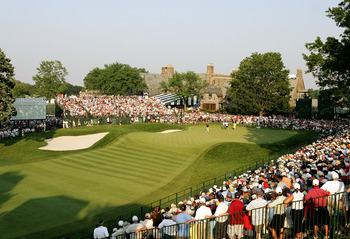 The 18th green at Winged Foot will always be remembered for what happened in the 2006 Open
Richard Heathcote/Getty Images
Winged Foot Golf Club, located north of New York City in Mamaroneck, N.Y.
It has hosted five U.S. Opens and can proudly point to the fact that the winning score of five-over par by Geoff Ogilvy in 2006 and the seven-over by Hale Irwin in 1974 were both recorded on the West Course. Those are two of the highest winning scores ever in relation to par.
Those were just two of five Opens held there. The West Course is typically configured to a par of 70, with the 514-yard par five ninth hole, becoming the longest par four in major championship history.
Winged Foot has everything the United States Golf Association could want from an Open course. Plenty of tree-lined fairways, tight fairways, confounding green complexes and a strong finishing stretch of holes that make for great final-round drama.
Oakland Hills Country Club: A Great Venue That Time Has Passed by
Steve Jones became a most unlikely Open champion at Oakland Hills in 1996
Doug Pensinger/Getty Images
Oakland Hills Country Club has hosted six U.S. Opens since it was founded in 1916 and has a major championship pedigree that's second to none.
The last Open was in 1996 when Steve Jones got into the event on the club's South Course through sectional qualifying. Jones hadn't won since 1989 and had suffered damage to various ligaments and joints in a 1991 dirt biking accident. He didn't get back into a PGA Tour event until 1994.
Few clubs have the history of Oakland Hills. Donald Ross designed the South Course, Walter Hagen was the first pro and it was redone in later years by Rees Jones.
As more and more tournaments were played on the South Course, it gained the name the "Monster" because of how difficult it played.
This is a course that has proven to be a true test of golf over the years, but hasn't hosted an Open for 16 years.
Medinah Country Club's Course 3 Is Tough but Not in the Loop Anymore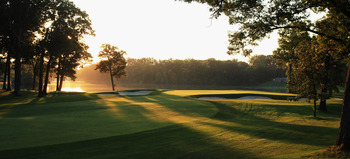 Medinah Country Club's Course 3 will be the site of next month's Ryder Cup competition
David Cannon/Getty Images
Medinah Country Club's No. 3 course is a reflection of the brawny, hard-working reputation built by Chicago and the Midwest.
It plays to a distance of 7,657 yards from the tips and will have four par-fours over 450 yards (including one over 500) when it hosts the Ryder Cup in late September.
Medinah has hosted three U.S. Opens, the last coming in 1990 when Hale Irwin outdueled Mike Donald in a playoff. Irwin, then 45 years old, sank a 45-foot birdie putt on the 18th hole on Sunday to take the clubhouse lead. He proceeded to do a lap around the green, giving high-fives to spectators. Donald, playing a few groups behind Irwin was able to finish in a tie.
The two entered into the traditional 18-hole playoff, but were remained tied after at 74. They went to an extra hole, and Irwin made birdie to win.
It's been 22 years since that Open, a sign the event has gotten too big physically for the site—or it's been forgotten by the USGA.
Baltusrol Golf Club: A Good, Hard Test of Golf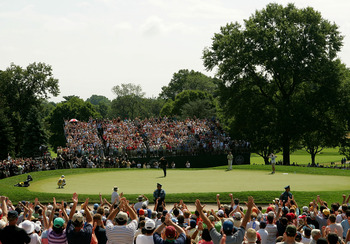 Baltusrol has always been a fan favorite for a U.S. Open
Ezra Shaw/Getty Images
Baltusrol has hosted seven U.S. Opens, the most recent in 1993 when Lee Janzen won the first of his two titles.
Baltusrol's Lower and Upper Courses have long been recognized as fair tests.
Jack Nicklaus is quoted on the club website as saying, "it is certainly one of the finest in the world." Part of its greatness is its extreme fairness, which has made the course such an accurate test of golfing ability.
A.W. Tillinghast is the designer of record at Baltusrol, which is still regarded as a major championship course. But the fact that the club hasn't hosted an Open since 1993 tells you it's not quite good enough.
Southern Hills: A Major-Worthy Midwest Test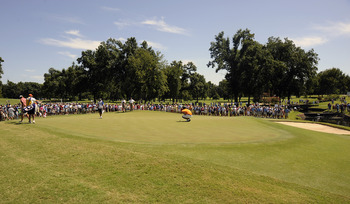 A typical sunny, hot day on one of Southern Hills' big putting surfaces
G. Newman Lowrance/Getty Images
Southern Hills Country Club, located in Tulsa, Oklahoma, has hosted seven major championships on the Perry Maxwell design, including three U.S. Opens. The most recent of those was in 2001 when an 18-hole playoff was required to crown Retief Goosen the champion. That was made necessary when Stewart Cink missed a short putt on the 72nd hole.
Southern Hills features a fairly flat layout, but also has some elevation changes, starting at the first hole—a straight-ahead par-4 that drops significantly from the tee to the fairway below. Its location in Oklahoma means there's usually considerable heat to deal with, as well.
Southern Hills is a stout, traditional test that features a difficult par-4 that crosses a creek and leaves an uphill approach shot to a crowned green sitting at the base of a hill.
Bethpage Black Is Definitely a Long Island Beast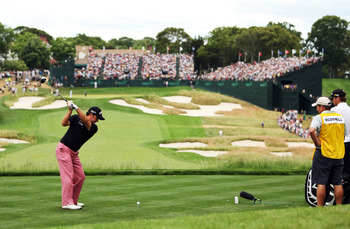 Teeing off toward a sea of bunkers on the 18th at Bethpage Black
Ross Kinnaird/Getty Images
Prior to 2002, Bethpage Black was the best of five golf courses in a state park system in Long Island.
Then Rees Jones, the Open Doctor, came in and did a major makeover that turned the course into the kind of beast that would host an Open in 2002 and again in 2009.
Big yawning bunkers, plenty of length (7,376 yards from the tips) and complex greens befuddled the players from all over the world.
Through no fault of its own, Bethpage was dampened by rain on both occasions. Tiger Woods won in 2002 and Lucas Glover won the more soggy event in 2009.
It's a good test, but still ranks as No. 10 on this list.
Keep Reading