Barcelona vs. Real Sociedad: 6 Things We Learned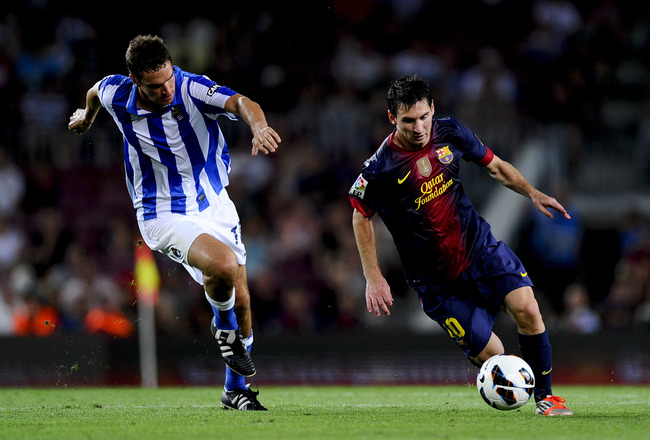 David Ramos/Getty Images
Your move, Real Madrid
Wow, not a bad start to the season for Barcelona I'd say.
La Blaugrana dominated Real Sociedad for almost 90 minutes with a final score of 5-1.
Lionel Messi scored a brace, Tello had a couple of assists and David Villa got a welcomed return.
But not all was perfect on the night. There were still some minor concerns for the team, and Tito's squad selection deserves evaluation.
When looking at Real Madrid's draw with Valencia, what does the day's results mean for the title race?
Read on to see all of these points discussed as I show you six things we learned in Barcelona's 5-1 route of Real Sociedad.
Man of the Match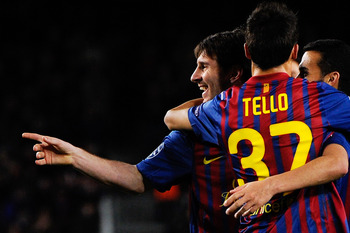 David Ramos/Getty Images
While Barcelona thoroughly outplayed Sociedad, two Barcelona players shone out above the rest.
Lionel Messi
Any concerns about Messi's slightly underwhelming preseason were laid to rest in the opener.
The Argentinian was near his very best as he tore through La Real's defense all night. He scored two quick goals in the first half and could have had a few more on the night.
Beyond his goals, Messi was constantly creating space for his teammates and his passing was superb as usual.
Cristian Tello
The other player who stood out was someone many thought was going to Arsenal as part of the Alex Song deal.
Against Sociedad, the youngster was a menace on the left flank. He abused Dani Estrada all night and was almost unmarkable at times.
Tello finished with two assists and almost scored a goal in the second half.
What won't show up on the stat sheet is his work rate and the number of times he got around his marker inside the box.
Solid start for both of these players.
Messi Finally Has Help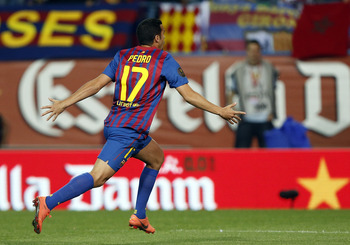 Angel Martinez/Getty Images
One of the major problems with Barcelona last season was the enormous pressure laid on Messi's shoulders.
The forward had to deal with the loss of David Villa, Ibrahim Afellay and Pedro for most of the season.
Even Alexis missed significant time, which left Messi with a couple of youth players and two makeshift forwards.
Welcome Change
It was just one match, but this problem already seems to have been solved.
Pedro was dazzling on the ball and linked up well with Messi. Tello's great match has already been discussed.
Oh, and let's not forget David Villa, whose emotional return ended with a beautiful goal. If he can come back in top form, he will be as good as any new signing for the club.
Since it was just one match against a mid-table team, responses have to be controlled. Nothing is proved after the season opener.
But if the other forwards can play this well all season, Barcelona could be much stronger than last season.
New Signings Already Making an Impact
David Ramos/Getty Images
For both teams, the new signings are already making an impact for their clubs.
Real Sociedad
Chori Castro was spectacular in the opening minutes, and while he faded in the last hour, that was mostly due to the domination of Barcelona's midfield.
The former Mallorca player made a couple of great chances in the first few minutes and was the man who leveled the score at one.
Castro received Asier Illarramendi's world-class pass and took a brilliant first touch before sliding the ball past Victor Valdes.
He also worked very hard in midfield, fighting for the ball and doing his best to start the counterattack.
Barcelona
Jordi Alba was Barcelona's only new signing before Alex Song arrived, and he already fits right into the team.
The former Valencia star was a major part of Barcelona's attack and made two interceptions on the evening with a 94 percent pass completion rate, according to WhoScored.
Unfortunately, he was not perfect on the defensive end and that leads me to my next point.
Barcelona's Defense Still a Concern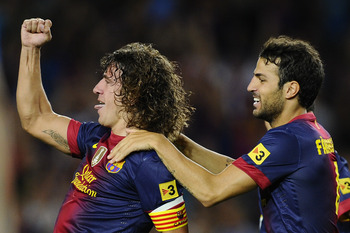 David Ramos/Getty Images
Let's get one thing out of the way first—Barcelona's defense was solid on the night.
Everyone did their job. The full-backs were key in the attack, the central defenders held Sociedad tight, Busquets dispossessed early.
But that doesn't mean there were not signs of weakness. At least three defenders provided reason to worry.
Full-backs
Dani Alves was great in attack and had little to do defensively, but what was he doing on the lone goal allowed?
The right-back got caught far out of position when Illarramendi gave the night's best pass before Castro made Alves pay for his mistake.
It was just one lapse, but imagine if Real had more possession on the evening. Imagine if that had been Cristiano Ronaldo instead.
At the other end, Jordi Alba was often caught too far forward and he will need to rein in his attacking tendencies a bit.
It was great seeing them take part in the attack, but having both full-backs so far forward left huge amounts of space out wide.
At times, there was just one defender back and Busquets shielding another defensive midfielder (Mascherano) against the counterattack.
Centre-Backs
In the middle, Javier Mascherano didn't have much to do, but he was caught out of position at least twice. One of those times he was forced to foul just to prevent a goal-scoring opportunity.
Last season we saw how poor Masch's positioning can be and how vulnerable he makes the team on the counter and against crosses.
Overall, the mistakes were minimal and the overall performances of all four defenders was great, but there were enough mistakes to at least need a closer look going forward.
Vilanova Got the Lineup Right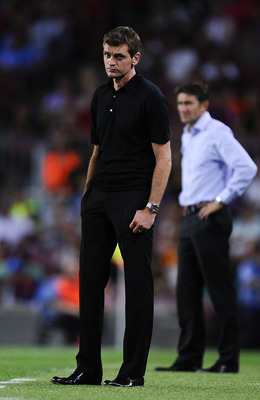 David Ramos/Getty Images
When Barcelona's starting XI was first announced, it was clear that Tito Vilanova was not just thinking about Real Sociedad.
By leaving Andres Iniesta, Gerard Pique and Alexis Sanchez on the bench, the new manager was looking forward to his club's mid-week encounter with Real Madrid.
Initially fans were worried with Cristian Tello getting the start after a disappointing finish to his season—perhaps they forgot how well he played against Real Sociedad last time around.
Having Mascherano start was also questionable since Gerard Pique was fit. Then, of course, there is the question of leaving El Ilusionista on the bench.
In the end, Tito's decisions were proved perfect.
Starting the less-fit Puyol resulted in the opening goal and awarded Pique rest, and Tello turned ended up having a man-of-the-match performance.
Now Iniesta, Sanchez, Pique, Puyol and Villa will all be fit and rested for the upcoming Clasico.
Perhaps Tito knows what he's doing after all.
Looking Toward El Clasico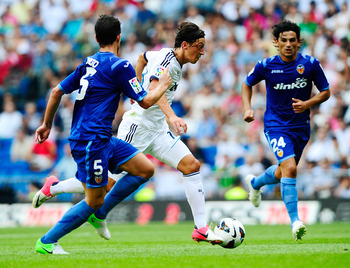 Gonzalo Arroyo Moreno/Getty Images
Barcelona dominated Real Sociedad. There were some concerns, but overall, they were a level above their opponents.
Their rivals, Real Madrid, dropped their first two points of the season to a weakened Valencia team at home.
Not only that, Lionel Messi was Man of the Match while Cristiano Ronaldo went missing for much of Real's match against Valencia.
Even worse, if Roberto Soldado's goal had not been incorrectly called offside, Valencia could have taken the full three points from Madrid.
Proof of Superiority?
Clearly this proves that Barcelona are the better team at the moment, right?
Wrong. Let's keep things in perspective.
All that the first matches proved was that Barcelona played a mid-table club while Real Madrid met the third-best team in the league.
If Barcelona had been playing Real Madrid, having both full-backs get so far forward would have ruined Barcelona against the likes of Ronaldo and Angel di Maria.
Barcelona will be more confident heading into Thursday's match, but any advantage they have from a two-point advantage will be forgotten as soon as the first whistle blows.
In the first week of La Liga action, Madrid faced the first real test and failed. A Valencia team without its starting midfielders, keeper and central defender got the better of them.
Thursday will show us how Barcelona handles its own when they welcome the reigning champions to Camp Nou. Until then, nothing is settled between the two.
Also check out "5 Observations Made from the Real Madrid vs. Valencia Match."
Keep Reading

FC Barcelona: Like this team?