Boston Red Sox: Henry, Werner and Lucchino Need to Open Their Eyes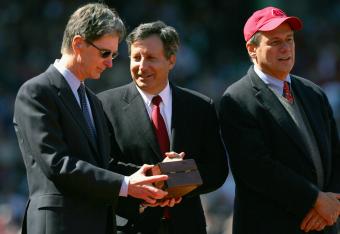 Ezra Shaw/Getty Images
The 2012 Boston Red Sox are a charade upon themselves.
Everything about this team is disingenuous and borderline alienating to its otherwise loyal fans. Ownership is biting the hand that feeds, expecting not to have any scars left behind.
Unfortunately, they're tearing flesh.
While attempting to lay on a full-blown PR campaign to try and save face for the franchise, using smoke and mirrors to try and distract the media and fans alike, John Henry, Larry Lucchino and Tom Werner are taking the intelligence of, well, the City of Boston for granted.
A quick show of hands: how many of you believe a word that John Henry wrote in his August 15th email to the media, dispelling the Yahoo! Sports story written by Jeff Passan?
Bueller? Bueller?
Precisely.
Even more compelling was Larry Lucchino's appearance on WEEI's Dennis & Callahan Show the following morning. It was there that Lucchino tried to sweep the whole situation under the carpet.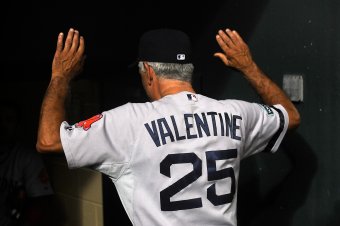 Patrick McDermott/Getty Images
According to Lucchino, manager Bobby Valentine will unequivocally remain the Red Sox manager through the remainder of the 2012 season.
Despite the fact that the players are obviously frustrated and rising up against their manager; that is only one issue this team is facing. Lucchino knows it just as well as you and I do.
He stated that fans that called in to sports radio stations are not indicative of the true Red Sox fan base.
That leaves one to wonder: what then would you call a fan that would take time out of their day to call a radio station and voice their opinion? This is Boston. These are the passionate fans that love their team.
No, really, they LOVE their team.
Perhaps they are not the same fans that buy the pink hats, buy bricks and buy the rhetoric the front office is selling.
Following Lucchino's performance in the parade of propaganda, Tom Werner appeared with Jerry Remy and Don Orsillo on the Thursday night NESN broadcast of the Red Sox game to further try and dispel any of the rumors surrounding the team.
What this media frenzy by the brass has done recently only makes the team look foolish and desperate.
No fan with half a brain is buying the "everything is fine internally" publicity push.
Players, who previously shared adoration from fans, are coming across as petty, whiny and irreverent. Dustin Pedroia, Adrian Gonzalez and David Ortiz know just what that means.
This team is terminally fractured, from its impervious front office to its surly players to whomever is leaking information to the media.
From a situation that was somewhat repairable a few weeks back, it appears that the 2012 Boston Red Sox have reached the point where a blow-up is inevitable to change the course of the future for the franchise.
The brass needs to give up on the façade that a sell-out streak is continuing. TV ratings are dropping and fans are both angry and revolting.
Henry, Warner and Lucchino need to stop feeding the monster, also known as their collective egos, and start to do what is right for the future of this team.
This article is
What is the duplicate article?
Why is this article offensive?
Where is this article plagiarized from?
Why is this article poorly edited?

Boston Red Sox: Like this team?