Tottenham vs. Newcastle United: Player Rating from Spurs' 2-1 Loss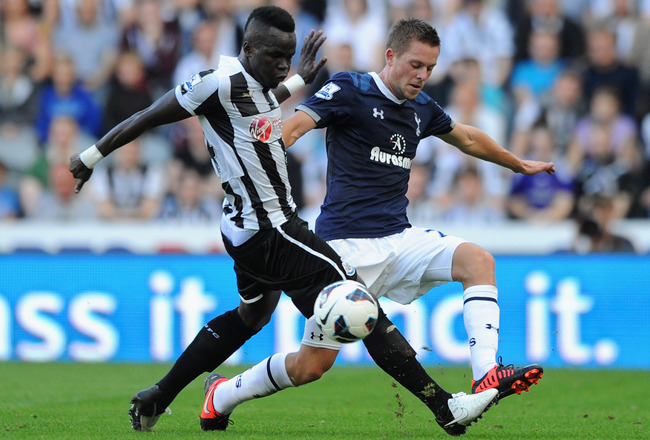 Chris Brunskill/Getty Images
Hey, Tottenham fans, remember all the uncertainty surrounding your club coming into this year?
You know—Harry Redknapp up and leaving the club? Luka Modric's transfer saga? Emmanuel Adebayor's contract disputes? Scott Parker's absence? The undisputed lack of forwards at White Hart Lane?
Well, for the majority of the match, Tottenham looked like they'd put all of that behind them as they were the better side for 80 minutes away from home against a top club like Newcastle United.
Jermain Defoe had just equalized and Andre Villas-Boas looked like he was going to earn an away draw in his first match as Spurs manager.
But then a clumsy challenge by Aaron Lennon and Rafael van der Vaart conceded a late penalty that allowed Hatem Ben Arfa to score a penalty kick and put Newcastle United up 2-1, a score that would hold until the final whistle.
It was an unfortunate set of circumstances for a new-look Spurs side that is better than they were at this point last year. In my mind, most players have improved and the club's tactics are better than ever.
Tottenham may have lost 2-1, but how did the individual players do in the blowout win?
Check out my ratings and let me know if you agree.
Goalkeeper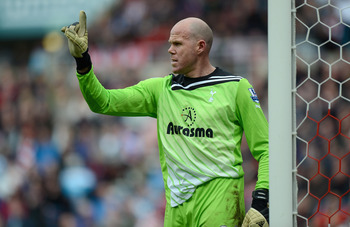 Gareth Copley/Getty Images
Brad Friedel: 7.0
In the first half, he looked to be collecting his first clean sheet of the year—starting his campaign to be the oldest goalkeeper to win England's Golden Glove off right.
But whereas Tottenham's defense protected Friedel and made it so the American didn't face a single shot on target the entire first half, within minutes of the second half Newcastle United's Demba Ba turned a beautiful shot that hooked inside the opposite end of the net.
Everyone watching knows there's very little Friedel could have done to stop Demba's goal in the 56th minute or the late penalty given up by Aaron Lennon and Rafael van der Vaart.
Shame, really. He looked solid otherwise.
Defenders
Chris Brunskill/Getty Images
Benoit Assou-Ekotto: 8.0
Physical, energetic, intelligent—how is Benoit Assou-Ekotto so good at what he does?
He supported the attack superbly, taking several good shots at range on Tim Krul, and was always ready to come back and play defense. Superb play from the left-back.
William Gallas: 7.5
I'm usually critical of the veteran centre-back's play, and usually rightly so, but tonight he was solid in replacement of Jan Vertonghen who apparently isn't ready to be slotted in yet.
He stayed true to his position and was always a tall, physical option in the box when Tottenham had a set-piece in Newcastle's territory.
Younes Kaboul: 7.5
Paired well with Gallas and cleared several chances away from Newcastle. Like Gallas, a physical player who protected Friedel well.
Kyle Walker: 8.0
Was supporting attacks alongside the right sideline the entire night and was quick to come back and diffuse any Newcastle attacks. Great, physical play and headed away several mounting attacks.
Midfielders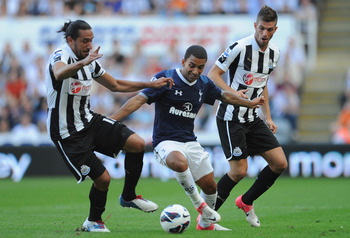 Chris Brunskill/Getty Images
Gylfi Sigurdsson: 7.0
A few good chances in the opening minutes that didn't come to fruition but did gel well with his new teammates throughout. Were this a match in October, I'd expect Sigurdsson would have collected an assist or two.
Came out in the 68th minute for the more experienced Rafael van der Vaart who is the better passer and taker of set-pieces.
Sandro: 7.5
Dispossessed several Newcastle men when attacks were mounting. Very physical play and covered gaps made when Assou-Ekotto and Walker went up the flanks to support the attack.
Sensational play as he seems to be picking up right where he left off with his solid Olympics campaign.
Gareth Bale: 7.0
As quiet a night as there can be for the Welsh standout. He was able to string together several attacks for Spurs early in the match and always looked the threat along the left flank, but his best opportunity came right before halftime when six inches was the difference between his header going between the posts and hitting the crossbar.
Jake Livermore: 6.0
The rarely used midfielder showed why he's rarely used. Clumsy challenges when he fell back into defensive-midfielder and poor touches in the few offensive opportunities he had. Rough night that is making everyone in North London hope for a speedy recovery from Scott Parker.
Aaron Lennon: 7.0
He proved a problem along the left flank for Newcastle United and kept good possession throughout. His flip to fellow winger Gareth Bale nearly opened the scoring in the 40th minute and he never seemed to get tired.
Rafael van der Vaart: 6.5
Came on in the 68th minute for Sigurdsson and made his presence known right away. Provided a pinpoint pass to a sprinting Jermain Defoe that nearly tied the game 1-1. He and Lennon had the clumsiest of challenges and gave up a late penalty.
Forwards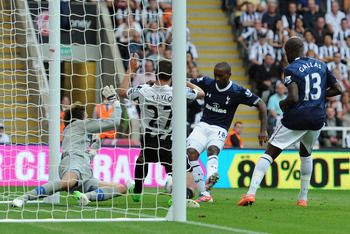 Chris Brunskill/Getty Images
Jermain Defoe: 7.5
Finally got the start he's been clamoring for, but didn't make anything of several good chances early in the match before hitting the woodwork in the first half.
But Defoe stayed hungry then scored a beautiful equalizer in the 76th minute.
Pity for the penalty given up by Spurs late in the match—Defoe would have been the story line in every English newspaper.
Harry Kane: 6.5
The clever 19-year-old came on in the 86th minute as Villas-Boas' side looked for a late equalizer. Nothing of note except a few spirited runs at goal in the waning minutes of the match.
Keep Reading

Tottenham Hotspur: Like this team?