50 MLB Players Who Will Underachieve Down the Stretch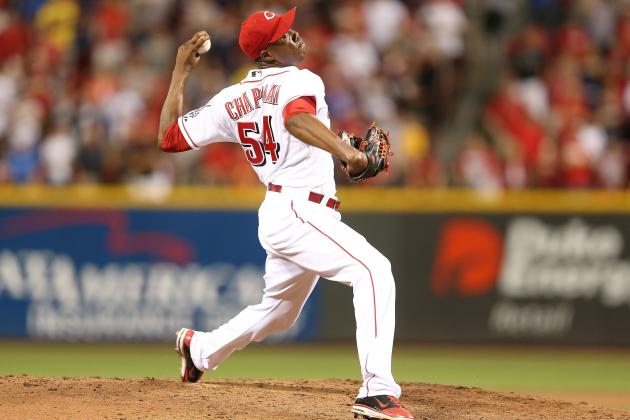 Andy Lyons/Getty Images

The 2012 MLB regular season is now down to its final six weeks, and while all fans will have their eye on the compelling divisional races and wild-card chase in each league, players will be working hard to finish the season on a high note.
However, not all players finish strong.
Throughout a long 162-game season, each player goes through lulls and streaks—some start slow in the cooler months and heat up with the weather. Others are prone to streaks at different points, and still others literally break down at the end of the season after performing at consistent levels through the spring and early summer.
We will take a look at 50 MLB players who could experience a downturn in performance over the final six weeks. Some of the analysis will be based on historical data, but a simple hunch might be thrown in as well.
Note: All statistics are current as of games played through Saturday, Aug. 18.
Begin Slideshow

»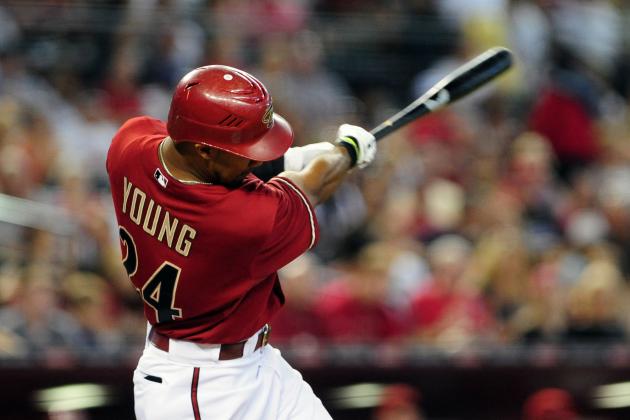 Jennifer Stewart-US PRESSWIRE

The 2012 season for Arizona Diamondbacks center fielder Chris Young could certainly not be described as fun or productive.
Entering play on Sunday, Young is hitting .223 with 13 HR and 34 RBI, with a .198 average against right-handed pitching.
Historically, the month of August has been dismal for Young, with a lifetime .221 average. Young padded his stats against the Houston Astros on Saturday, going 4-for-5 with a homer and three RBI, raising his August average to .250 with two home runs and five RBI.
However, with the D-Backs facing NL West foes another 28 times in their next 43 games—17 of them on the road—it isn't likely that Young is going to find a hot streak in the remaining six weeks.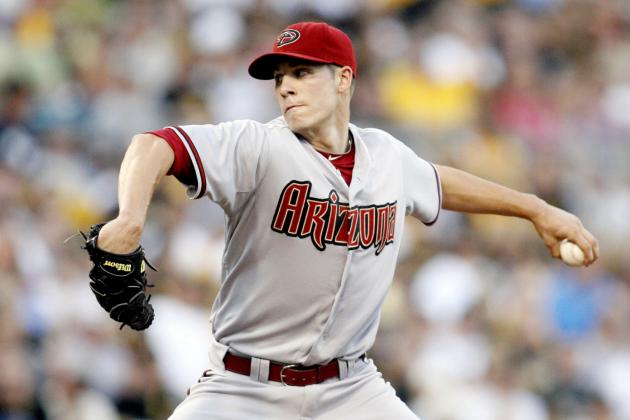 Charles LeClaire-US PRESSWIRE

The Arizona Diamondbacks are fighting to stay alive in the NL West and the wild-card race, and they'll be doing it with a starting rotation that includes a couple of youngsters who will be thrown into pressure-packed situations.
Wade Miley has been terrific all season, posting a 13-8 record and 2.96 ERA, and 23-year-old Patrick Corbin has been thrown into the mix as well, posting three straight quality starts in the month of August entering Saturday's game against the Houston Astros. Corbin got the win against the Astros, allowing four runs on seven hits in seven innings to raise his record to 5-4 with a 3.60 ERA.
Corbin could very well surprise down the stretch, but considering the strength of schedule for the D-Backs, it's going to be a lot to ask the youngster.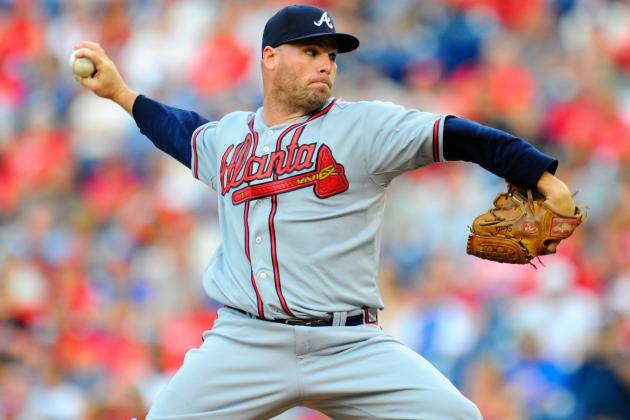 Dale Zanine-US PRESSWIRE

Atlanta Braves starter Ben Sheets has certainly been a feel-good story in 2012.
Pitching for the first time in nearly two seasons, Sheets has excelled thus far, posting a 4-3 record and 3.07 ERA after his start against the Los Angeles Dodgers on Saturday.
Sheets only gave up four hits in six innings against the Dodgers, but every one of them was a home run, accounting for six runs.
The health of Sheets has always been a major concern, with a right elbow that has been re-constructed, with two torn flexor tendons in the past four years.
I'm on Sheets' side, hoping he can continue the magic for the Braves down the stretch. Whether the elbow holds up is a different matter entirely.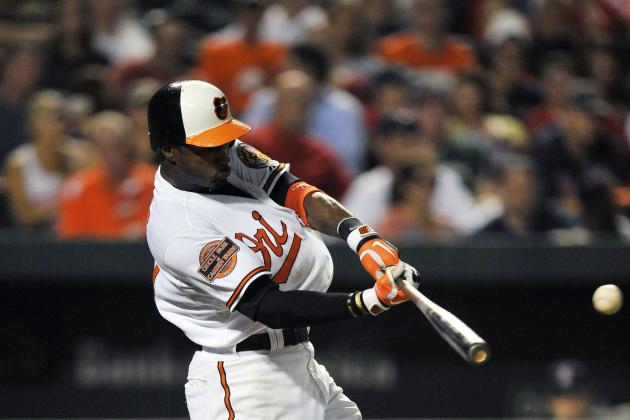 Joy R. Absalon-US PRESSWIRE

The Baltimore Orioles are in the thick of the hunt for one of two wild-card slots in the American League, and in order to qualify for the playoffs, they need the big bats in the middle of the lineup to produce.
Center fielder Adam Jones has hit .301 in the second half he has just four homers, with no homers and only four RBI in the month of August.
Throughout his career, Jones has seen a drop-off in production in the months of August and September—hitting 62 home runs in the months of May, June and July combined, but only 18 in the final two months of the season.
Hitting for average is great. But in the meat of the order, the O's will need Jones' production if they hope to have a chance in the final six weeks.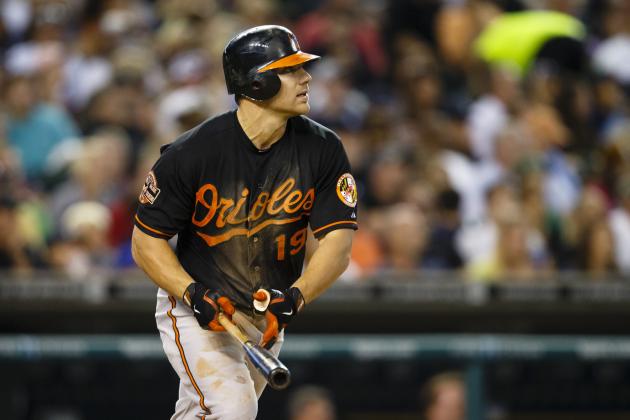 Rick Osentoski-US PRESSWIRE

Chris Davis has been flexible this season in his efforts to help out the Baltimore Orioles, filling in at first base, right field, left field and designated hitter. Despite moving around, Davis was productive in the first half, hitting .271 with 14 HRs and 40 RBI.
Since the All-Star break, however, Davis has struggled, hitting just .215 with five homers, now largely serving as the DH. The month of August has been truly abysmal for Davis. Entering play on Sunday, he was hitting just .200 with one homer in 14 games.
Look for that trend to continue. While Davis has shown the ability to hit in the month of September—a career .308 average for the month—he has looked completely out of sorts at the plate over the past several weeks.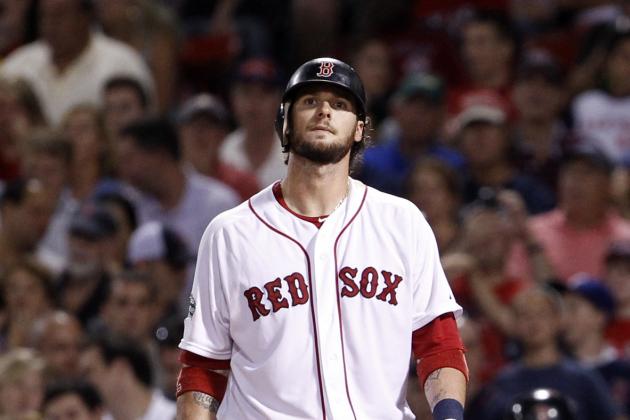 David Butler II-US PRESSWIRE

Catcher Jarrod Saltalamacchia was one of the offensive leaders for the Boston Red Sox in the first half, with 17 HRs, 41 RBI and an .807 OPS.
The second half has been an entirely different story—a .190 average with just three homers and six RBI thus far.
That has been a trend for Saltalamacchia throughout his career. The month of September in particular hasn't been kind to him, with a .190 average lifetime in the final month of the season.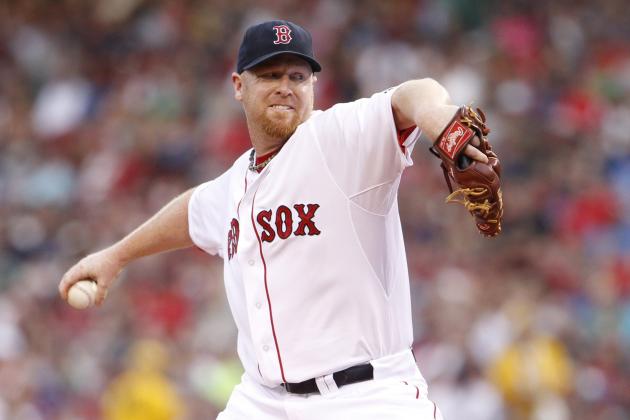 David Butler II-US PRESSWIRE

The Boston Red Sox starting rotation has struggled mightily in 2012. It is ranked 11th in the American League with a 4.84 ERA.
Their two aces—Jon Lester and Josh Beckett—have combined for an 12-20 record, with Lester bouncing back in a nice effort on Saturday against the New York Yankees, allowing just one run on five hits in seven innings.
Facing a 6.5-game deficit in the race for one of two wild-card berths, the Sox need their rotation to deliver down the stretch, including 11-year veteran Aaron Cook.
However, Cook has never been one to finish strong. Throughout his career, Cook has posted a lifetime 4.98 ERA in the final two months of the season, almost a half-run higher than his career 4.53 ERA.
That trend has continued, with a 4.76 ERA this month. Cook has been thrown into the fire that is the AL East, and with his career numbers in the final months of the season, it doesn't bode well.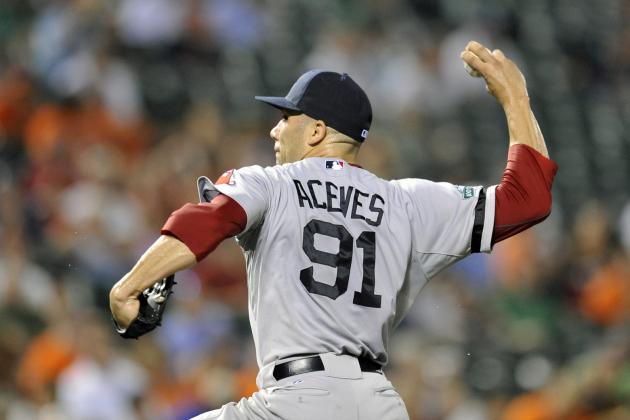 Joy R. Absalon-US PRESSWIRE

The Boston Red Sox bullpen, much like the starting rotation, has experienced ups and downs this season.
Alfredo Aceves had already appeared in 56 games heading into Sunday's game with the New York Yankees, and the workload may be beginning to take its tool. He collected his 25th save in a scoreless ninth inning on Saturday.
Aceves has posted an 7.04 ERA thus far in August. With closer Andrew Bailey finally back after missing the first four months of the season following thumb surgery, manager Bobby Valentine may want to dial it back a bit for Aceves.
The months of August and September tell two different tales for Aceves throughout his career—a 3.65 ERA in August followed by a stellar 2.20 ERA in September. But if he continues carrying the current load, those numbers may not matter much.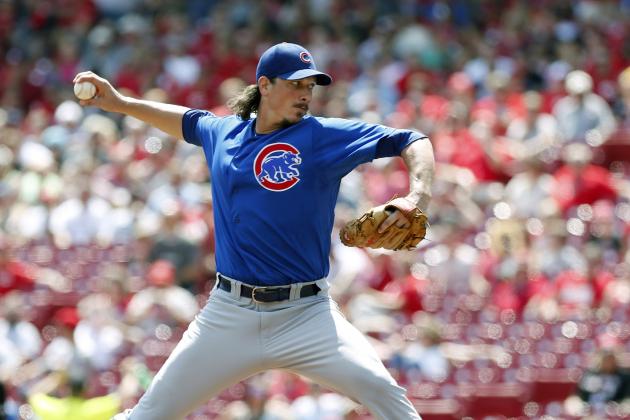 Joe Robbins/Getty Images

With his most recent outing on Saturday against the Cincinnati Reds, Chicago Cubs pitcher Jeff Samardzija has now pitched 144.2 innings this season, by far the most in his major league career.
Samardzija has not pitched badly at all in the second half, with a 2-3 record and 2.91 ERA in seven starts. However, as the final weeks loom and Samardzija continues posting career highs in innings pitched, he may well suffer as the innings pile up.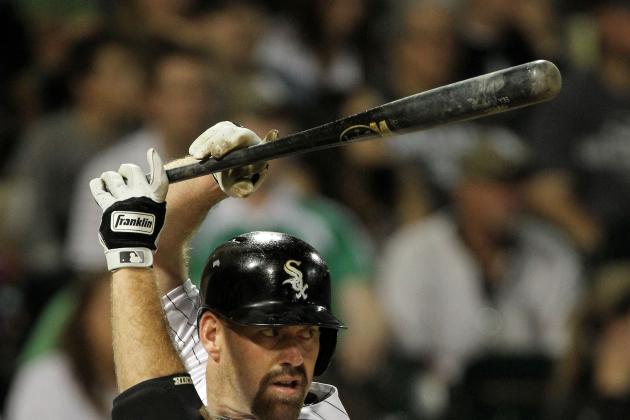 Tasos Katopodis/Getty Images

When Kevin Youkilis changed Sox, so to speak, he was a welcome sight in Chicago. Brent Morel clearly wasn't the answer at third base, and with Youk the Sox had another potent bat in the lineup to fight it out with the Detroit Tigers in the AL Central.
However, while Youk has been more productive in the Windy City with 10 HRs and 29 RBI in 44 games, he is still hitting only marginally better than in Boston—.241 to .233 before the trade.
The month of August hasn't been kind to Youk, either. He's hitting just .231 through Saturday night. The Sox clearly need Youkilis to deliver on the promise he provided when they traded for him in late June.
In an article earlier this month, I had Youkilis pegged as a guy who could overachieve based on his rough start to the 2012 season. However, I reserve the right to change my mind.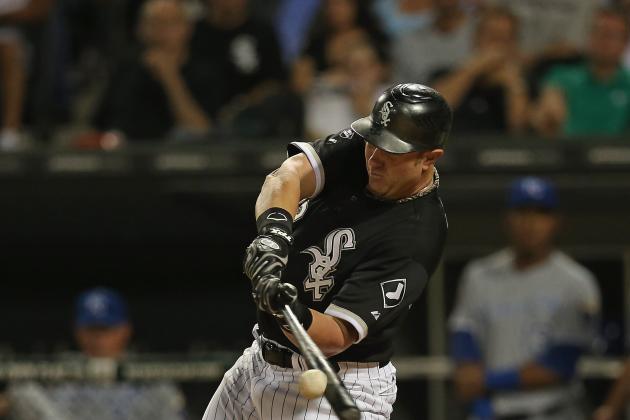 Jonathan Daniel/Getty Images

Throughout the career of Chicago White Sox designated hitter Adam Dunn, his two worst hitting months happen to fall at the end of the season—August and September.
Dunn has just a .226 average in August, followed by an even-worse .217 average in September.
He's certainly followed suit thus far, hitting just .186 in August through Saturday night.
Dunn did collect his 400th career home run on Saturday night in the eighth inning of a 9-4 loss to the Kansas City Royals.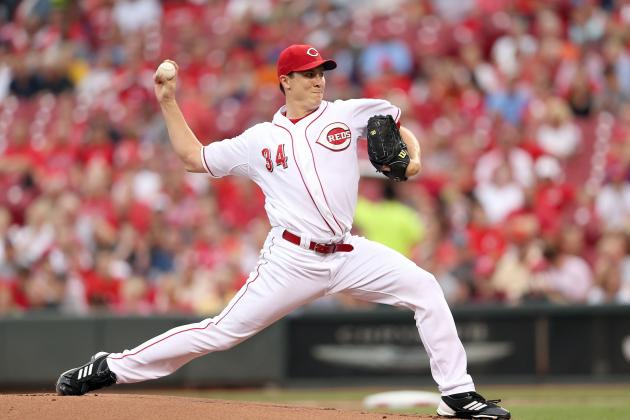 Andy Lyons/Getty Images

Cincinnati Reds starting pitcher Homer Bailey has scuffled in the month of August, getting roughed up again on Thursday night against the New York Mets for six runs on eight hits in 5.2 innings.
Now with a 6.75 ERA in August, Bailey needs to work out of his funk, as the Reds have used the same starting five in their rotation all season long.
Bailey has already surpassed last year's previous career high of 132 innings, so he'll need to push through the expected fatigue and figure out the issues that have plagued him for the past four starts.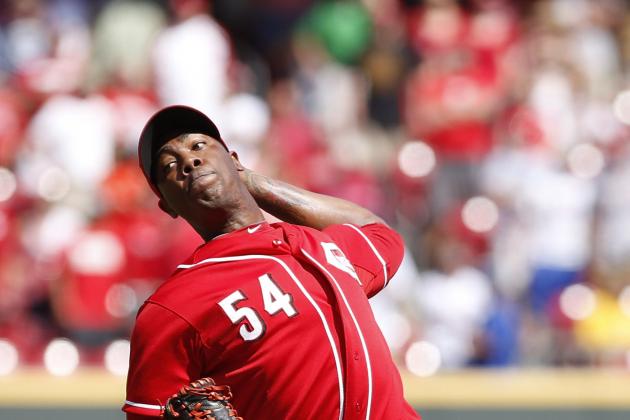 Joe Robbins/Getty Images

If the season were to end right now, Cincinnati Reds closer Aroldis Chapman would absolutely have my vote for the National League Cy Young Award.
The dominance shown by the 24-year-old Cuban missile thrower has been nothing short of astounding.
However, can he really keep it up?
Up until Saturday, Chapman had yet to give up a run since June 24, finally ceding a run against the Chicago Cubs in notching his 29th save in the first game of Saturday's doubleheader.
I'm by no means saying that Chapman will tank at all. But given what he's done in the last two months, even giving up just a few runs over the final six weeks of the season would be underachieving based on his performance thus far.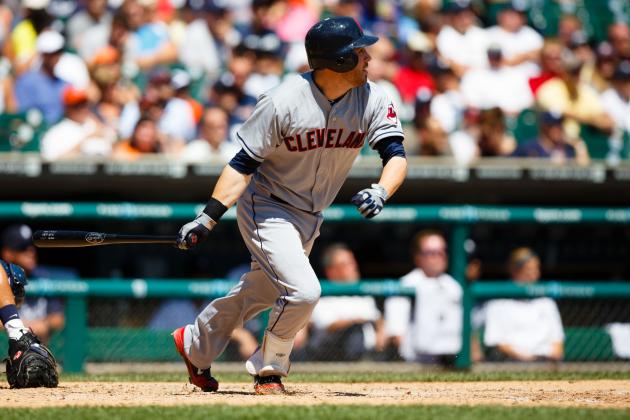 Rick Osentoski-US PRESSWIRE

Cleveland Indians second baseman Jason Kipnis has definitely hit a wall in his rookie season.
Kipnis garnered All-Star attention in the first half, hitting .277 with 11 HRs and 49 RBI. Since the break, however, Kipnis has managed just a .183 average.
It's been even worse in the month of August. He was hitting a paltry .113 in 13 games entering Sunday.
The Indians have played themselves out of playoff contention in the second half, and with stars like Kipnis breaking down, it's really no wonder at this point.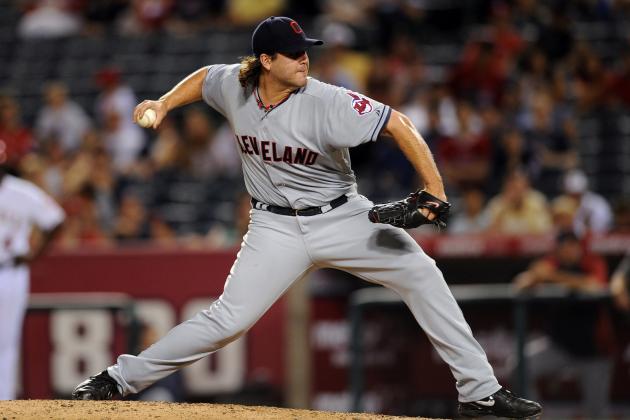 Kelvin Kuo-US PRESSWIRE

The month of August has not been kind to Cleveland Indians closer Chris Perez.
With a 10.13 ERA in seven appearances and two ugly blown saves, Perez is easily suffering through the worst month of the season.
September has always been Perez's worst month statistically as well. He has a career 4.85 ERA in the month, so things may not get much better.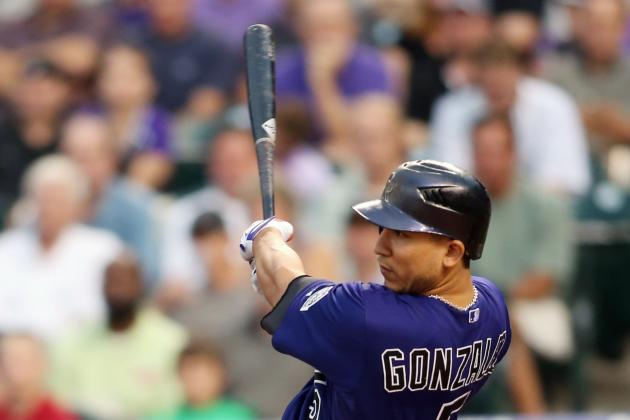 Chris Humphreys-US PRESSWIRE

Colorado Rockies left fielder Carlos Gonzalez is really starting to feel the pinch now that he's not surrounded with his normal protection.
After a stellar first half in which he hit 17 HRs and had 58 RBI, Gonzalez has cooled considerably in the second half, launching just three homers with 21 RBI.
Without the presence of Troy Tulowitzki and Todd Helton in the lineup, Gonzalez is seeing pitchers approach him carefully. Look for that trend to continue.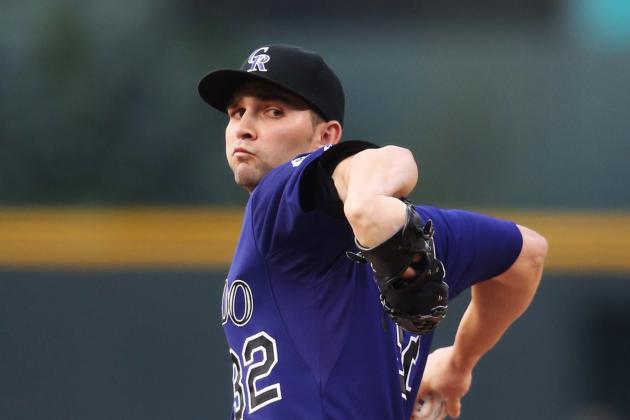 Chris Humphreys-US PRESSWIRE

If you really want to throw a pitcher's fragile psyche into even more disarray, throw a Project 5183 at them.
That's what the Colorado Rockies have done to their beleaguered pitching staff, going with a four-man rotation with a 75-pitch limit.
For a young man like 22-year-old Tyler Chatwood, who has come through the minors with a five-day mindset, it can't help but mess up a young career.
That was likely the reason that pitching coach Bob Apodaca walked away from his job, and likely why GM Dan O'Dowd had his job re-structured.
Chatwood lasted just four innings on Saturday night against the Miami Marlins, giving up six runs on nine hits in four innings, raising his ERA to 5.46. Chatwood is a solid young pitcher with a sharp arsenal, but expecting him to deliver everything he has every fourth day on just 75 pitches is a non-win situation.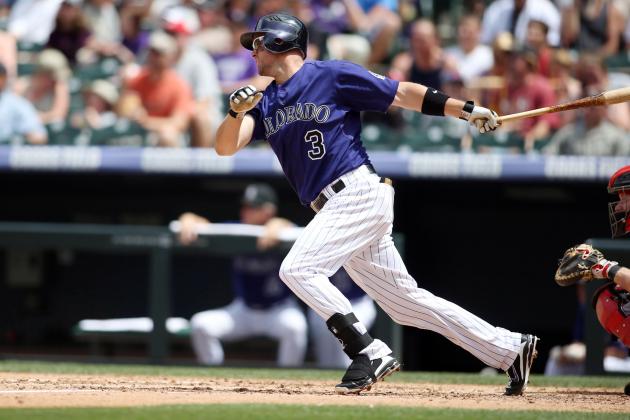 Chris Humphreys-US PRESSWIRE

Colorado Rockies right fielder/first baseman Michael Cuddyer was already suffering a bit of a power outage when he was felled with an oblique strain for the the first two weeks in August.
Cuddyer was likely suffering from the loss of protection from teammates Troy Tulowitzki and Todd Helton as much as his corner outfielder mate, Carlos Gonzalez.
Cuddyer hit three homers in the month of July before hitting the disabled list, and while he could well reach the 20 HR/80 RBI levels he's averaged through much of his career, it's still a far cry from what it could have been.
Update: Cuddyer was placed back on the 15-day disabled list by the Rockies on Sunday.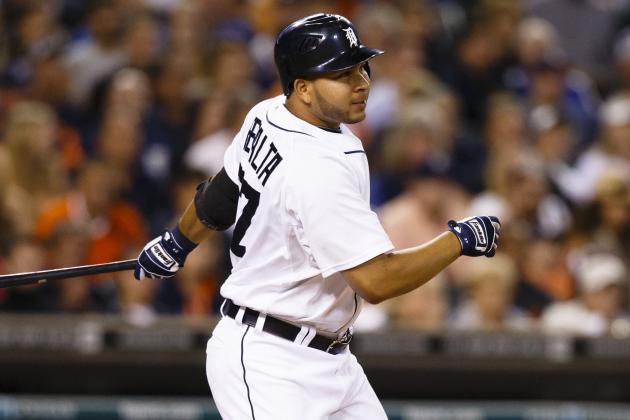 Rick Osentoski-US PRESSWIRE

Thus far in 2012, Detroit Tigers shortstop Jhonny Peralta is nowhere near the numbers produced in 2011, when he hit .299 with 21 HRs and 86 RBI.
The culprit has been the off months, so to speak.
The numbers tell the story:
April: .236 BA, 0 HRs, 5 RBI
May: .241 BA, 4 HRs, 10 RBI
June: .299 BA, 0 HRs, 9 RBI
July: .253 BA, 4 HRs, 13 RBI
August: .278 BA, 0 HRs, 9 RBI
The power production has been there every other month, which leads one to believe that Peralta could break out in the month of September.
However, Peralta hasn't exactly been lights-out during his career in September, with just 17 career homers and a .680 OPS, his lowest of any month.
I'm not expecting Peralta to break out in September.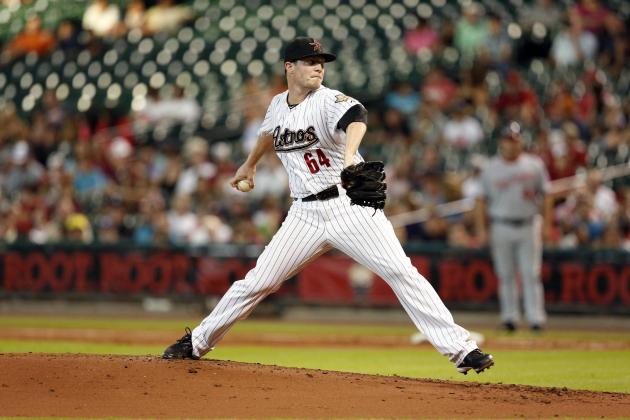 Thomas Campbell-US PRESSWIRE

Houston Astros starting pitcher Lucas Harrell deserves a lot of credit for the job he's turned in thus far in 2012. Despite his team's 39-82 record heading into Sunday, Harrell has posted a 10-8 record and 3.81 ERA in 24 starts.
That luck could run out in September.
Harrell has already thrown more innings than any other season in his professional career, including the minors. While he has shined in August (2.37 ERA in three starts), the innings and added workload could catch up to him.
Ironically, the Astros have lost all six of Harrell's no-decisions in 2012, and with the ineptitude of the offense lately, it doesn't bode well for future decisions, either.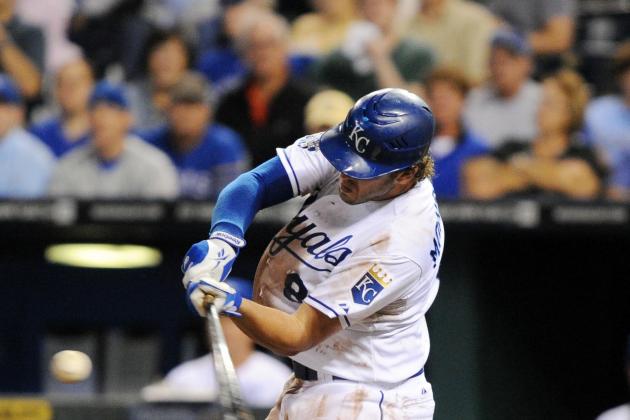 John Rieger-US PRESSWIRE

Playing in his first full season in the majors, Kansas City Royals third baseman Mike Moustakas has put up solid numbers, hitting .254 with 19 HRs and 58 RBI.
But Moustakas has stumbled somewhat in August, hitting .216 with three homers and eight RBI, including a four-RBI performance on Saturday in a 9-4 win over the Chicago White Sox.
Moustakas did hit .352 last September for the Royals, so I'm clearly going against the grain with this prediction. This is one of the hunches talked about in the introductory slide.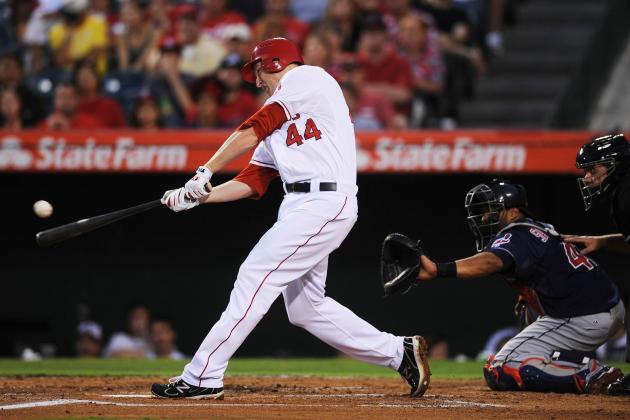 Kelvin Kuo-US PRESSWIRE

For the first four months of the season, Los Angeles Angels left fielder Mark Trumbo helped carry the offense, hitting .301 with 27 HRs, 69 RBI and a .947 OPS through July 31.
Since then, Trumbo has struggled, hitting just .212 with two homers in August.
Trumbo struggled last September, hitting .208 in the final month of his rookie season. It would be nice if history didn't repeat itself, especially if the Angels are to have any shot at a postseason berth.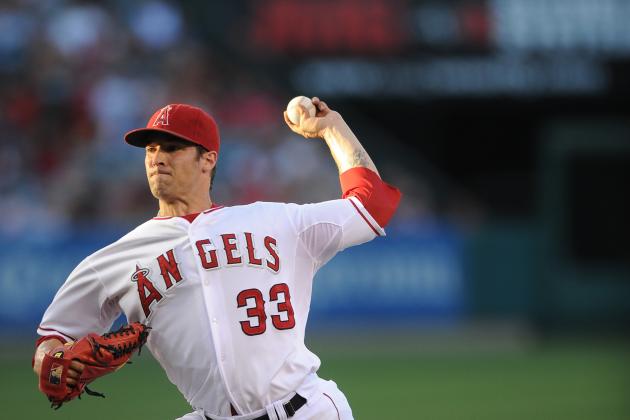 Kelvin Kuo-US PRESSWIRE

C.J. Wilson has not won a game since June 26, and while he hasn't received much support from an embattled bullpen lately, he hasn't much helped his own cause, either.
Wilson has followed up a tough month of July (4.23 ERA in six starts) with an even worse month of August, posting an 8.31 ERA in four starts after getting roughed up for seven runs in 4.2 innings on Saturday night against the Tampa Bay Rays.
Wilson has always been solid in the month of September, with a 3.53 lifetime ERA. However, if his current struggles continue, historical data won't matter much.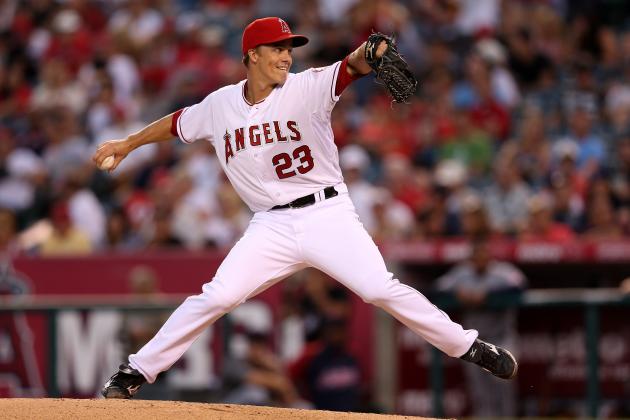 Stephen Dunn/Getty Images

Following Sunday afternoon's loss to the Tampa Bay Rays in which he gave up six runs in six innings, Los Angeles Angels starter Zack Greinke is now 1-2 with a 6.19 ERA in five starts since his trade from the Milwaukee Brewers.
Not exactly what GM Jerry DiPoto had in mind when he dealt away three top-20 organizational prospects for Greinke.
The Angels now find themselves nine games behind the Texas Rangers in the AL West and a full 4.5 games out of the wild-card race as well.
Greinke had been expected to provide relief for a beleaguered starting rotation that has seen only Jered Weaver pitch effectively over the past several weeks.
However, Greinke's latest effort didn't give Angels' fans much hope that he's the answer.
Greinke has always been solid in the final month of the season, with a 19-10 lifetime record and 3.08 ERA. Given Greinke's struggles in Anaheim thus far, I'm not convinced that history can repeat itself at this point.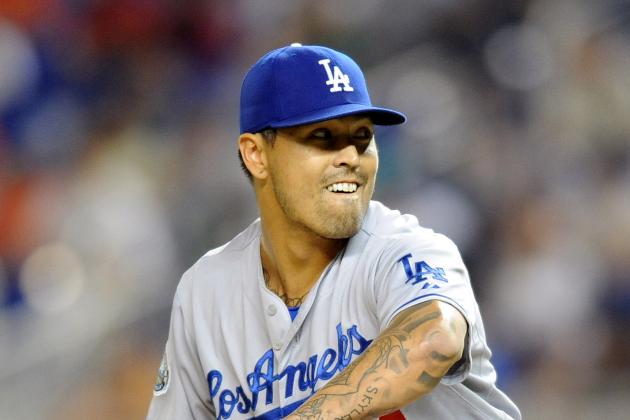 Steve Mitchell-US PRESSWIRE

Thus far, the two relievers brought in by the Los Angeles Dodgers before the non-waiver trade deadline—Randy Choate and Brandon League—have not done much to make an impact on their new team.
League has posted a 10.80 ERA in just seven appearances, giving up six runs on nine hits in just five innings of work.
Granted, it's a small sample size, but League appears to be struggling in adapting to his new role as a middle-to-late innings support man in the bullpen.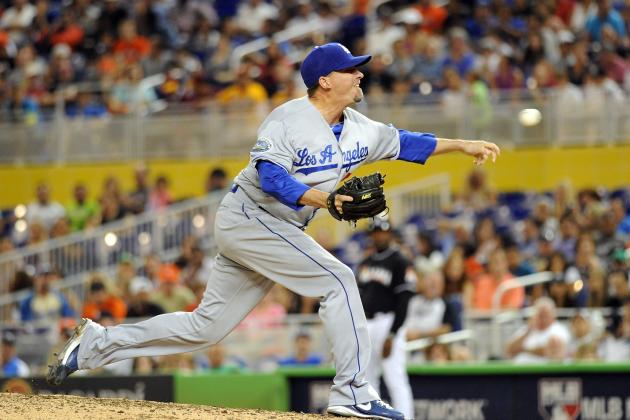 Steve Mitchell-US PRESSWIRE

One of the reasons that left-hander Randy Choate was included in the trade that brought infielder Hanley Ramirez to the Los Angeles Dodgers was Choate's ability to retire left-handed batters.
Holding lefties to a .160 average in 2012, Choate has largely struggled to get anyone out in the month of August.
Choate has a 9.00 ERA in the month of August, giving up three runs on four hits in three innings with a .333 batting average against him.
Choate's primary role is to retire left-handed batters when called upon—he needs to do just that to have any impact in the Dodgers' pen moving forward.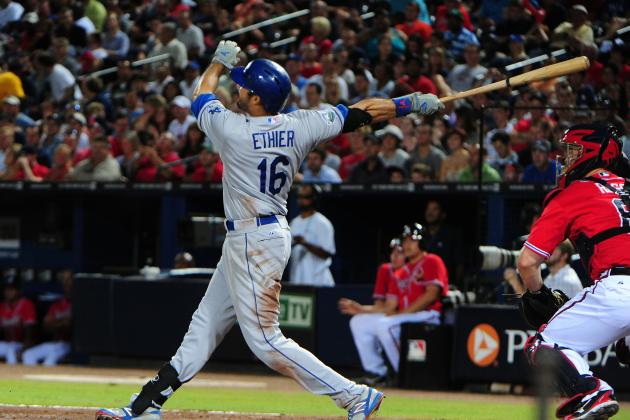 Scott Cunningham/Getty Images

Los Angeles Dodgers right fielder Andre Ethier started the 2012 season on fire, hitting .325 with nine homers and 44 RBI in the first months.
Since that time, Ethier has cooled considerably, hitting only three homers with 25 RBI, including just one homer with a .233 batting average in August.
Ethier had knee issues that led to a disappointing second half last season as well. Are there physical issues impeding Ethier now?
Sarah Glenn/Getty Images

Mark Buerhle has to be re-thinking his decision to leave the Chicago White Sox.
With the mini-fire sale conducted by the Miami Marlins already, combined with the team's last-place standing in the NL East as of Saturday night, he would be justified in thinking exactly that.
Beuhrle delivered in the first half, posting a 3.25 ERA, but only had an 8-8 record to show for it. Since mid-July, however, Buehrle has a 5.13 ERA in seven starts.
Considering the season-ending injury to Logan Morrison, the departure of Hanley Ramirez and Omar Infante, and injuries to Emilio Bonifacio, the Marlins' offense is indeed challenged. Buehrle and the rest of the staff will be challenged to deliver in the final six weeks.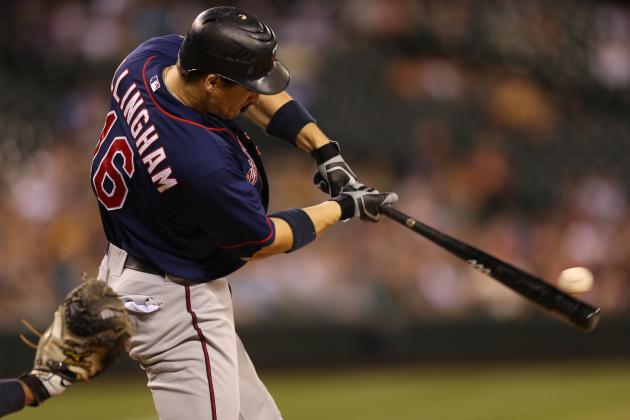 Otto Greule Jr/Getty Images

The Minnesota Twins likely won't finish just one loss shy of the century mark like they did last year. Unless they happen to lose 31 of their remaining 43 games, that is.
Their offensive force this season, left fielder Josh Willingham, is showing signs of slowing down, however. Willingham has hit just .175 in August with four HRs and 10 RBI. Historically, September has been his worst month as well, with a .231 lifetime average.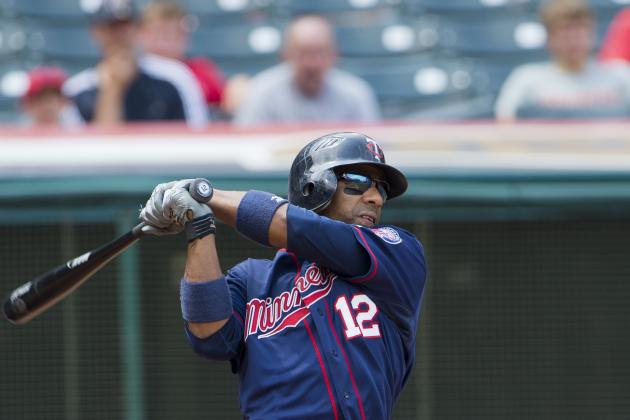 Jason Miller/Getty Images

Considering the struggles faced by Minnesota Twins second baseman Alexi Casilla this year, it might be hard to imagine he could be listed as an underachiever for the rest of this season.
However, he is working on doing just that.
Hitting .236 at the All-Star break, Casilla has managed just a .181 average in the second half, including a .176 average in the month of August.
Casilla has already had playing time taken away from him, with Jamey Carroll picking up more time at second base in recent weeks.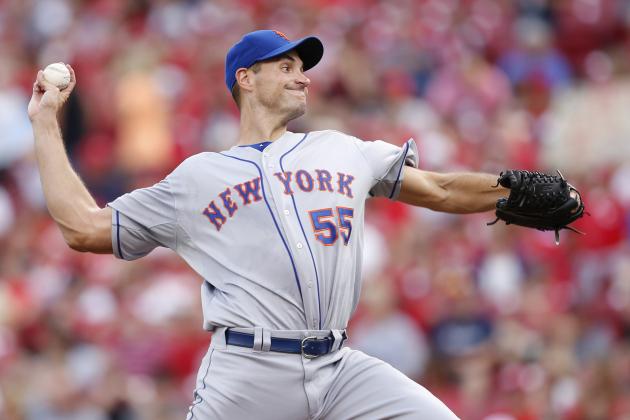 Joe Robbins/Getty Images

With the New York Mets moving to a six-man rotation for the rest of the season, oft-injured pitcher Chris young and fellow surgically repaired Johan Santana won't be stretched beyond what their semi-bionic shoulders can absorb.
Both have had major surgeries to their throwing shoulders and long recoveries as well. And both have had their share of struggles as a result.
Young is 3-6 with a 4.50 ERA in 13 starts since returning to the mound in early June, and while he has only tossed 74 innings, it's the most he's logged since 2009.
Young will likely only see about six more starts, but he might be hard-pressed to match what he's done thus far, even with the diminished workload.
A full offseason of rest without the worries of rehab should greatly benefit Young.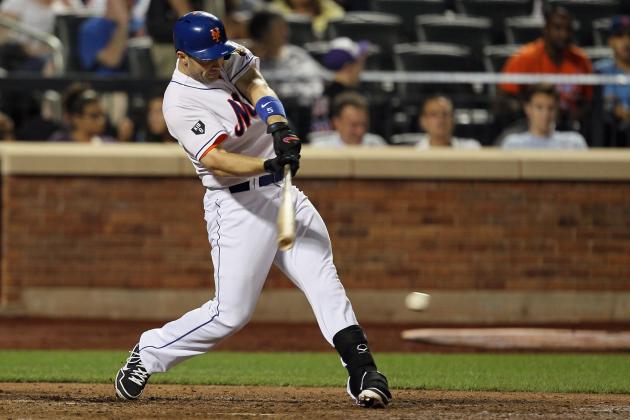 Mike Stobe/Getty Images

New York Mets third baseman David Wright spent much of the first half of the season near the top of the NL in batting average
However, Wright has seen a regression every month since April.
Month BA OBP SLG OPS

April .389 .584 .569 1.064

May .347 .439 .561 1.000

June .340 .426 .563 .989

July .255 .333 .520 .854

August .259 .358 .425 .765
The power numbers have dropped too. Wright is homer-less in August with just four RBI.
Wright has always finished strong, with a .292 career average in September, but one can't but think the pattern shown above shows a man being worn down by a long season.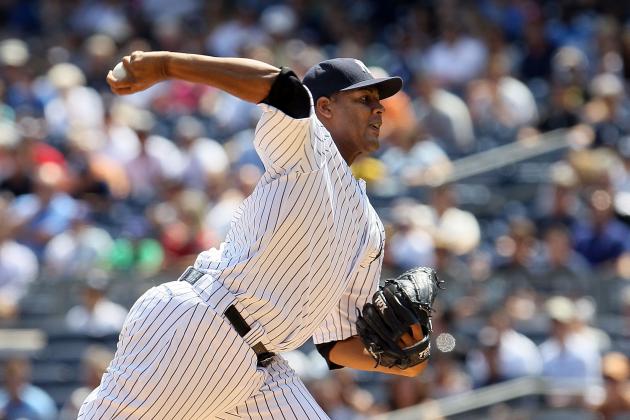 Jim McIsaac/Getty Images

The New York Yankees had a five-game lead over the surging Tampa Bay Rays as they headed into Sunday night's nationally televised game with the Boston Red Sox. However, chinks may showing up in the Yanks' armor.
The starting rotation has already taken a hit with CC Sabathia on the disabled list and possibly returning next Friday, and Andy Pettitte unsure of his return from a fractured bone in his leg.
Ivan Nova has struggled as well. After lasting only 5.2 innings in Thursday's game with the Texas Rangers, Nova has only one quality start in his last four outings. The 11-6 record is great, but the 4.76 ERA, 1.454 WHIP and giving up 10.2 hits every nine innings is not what the Yankees' rotation needs right now.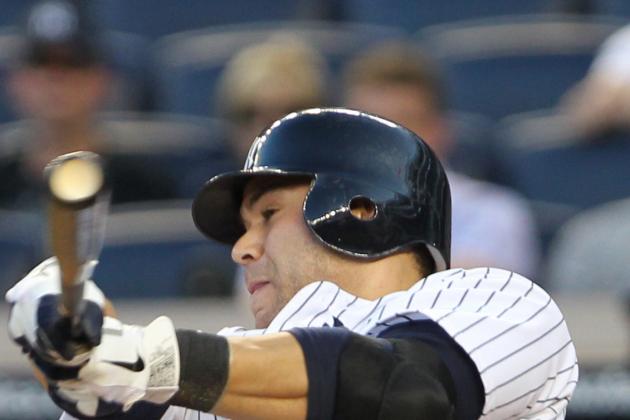 Anthony Gruppuso-US PRESSWIRE

I am still perplexed at the downturn in the career of New York Yankees catcher Russell Martin.
In his first few years with the Los Angeles Dodgers, Martin was on his way to becoming a perennial All-Star with the defensive ability to challenge for a Gold Glove every year.
Martin started suffering a downturn in production in 2009 and 2010, suffering a torn labrum in his right hip that ended his 2010 season in August.
Martin somewhat rebounded last year in his first season with the Yankees, hitting .237 with 18 HRs and 65 RBI. But this entire year has been a struggle for Martin, now hitting just .195 with 13 HRs and 33 RBI.
It would appear that Martin is just playing out the string with the Yankees, who have prospects Francisco Cervelli, Austin Romine and Gary Sanchez waiting in the wings.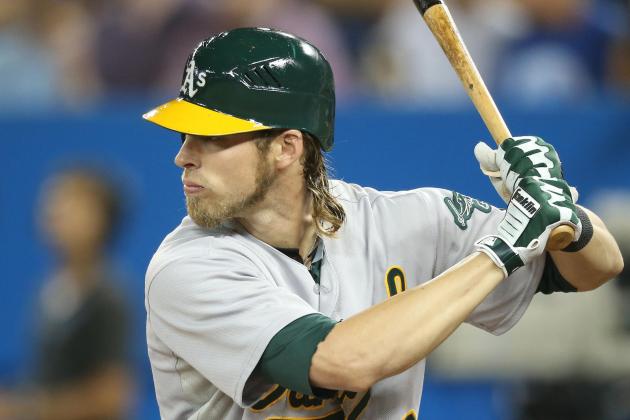 Tom Szczerbowski-US PRESSWIRE

Right fielder Josh Reddick has certainly been a nice surprise for the Oakland Athletics this season after his trade from the Boston Red Sox. With 25 HRs and 61 RBI, Reddick leads the A's in both categories.
But the second half has seen Reddick slowed considerably, hitting just .217 with five homers since the All-Star break, including a .194 batting average in August.
The A's have been one of the pleasant surprises of the 2012 season, just a half-game behind the Baltimore Orioles for the second wild-card slot in the American League.
However, without the continued solid production of Reddick in the middle of the order for a team already challenged offensively (13th in AL in runs scored), it becomes even more of an uphill climb for the A's.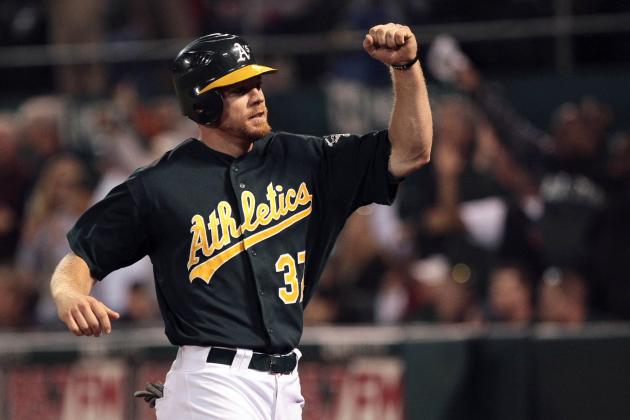 Kelley L Cox-US PRESSWIRE

You have to give Oakland Athletics GM Billy Beane a lot of credit for the success of the team thus far in 2012.
Beane has taken a group of youngsters along with a rag-tag group of players and has them just a half-game out of a wild-card slot entering play on Sunday.
However, can journeymen players like Brandon Moss continue to help drive the team toward the playoffs?
Moss has been used by manager Bob Melvin at first base, right field, left field and designated hitter at various times since his call-up in early June. Moss has 12 HRs and 25 RBI, but is only hitting .200 with one homer in August thus far.
Moss will never be confused with Albert Pujols, but a .201 career average in the month of September doesn't bode well for a team desperate to score runs in the middle of a playoff hunt.
Update: Moss collected his 13th homer of the season on Sunday afternoon in the A's 7-0 victory over the Cleveland. Moss' 2-for-4 afternoon raised his August average to .227.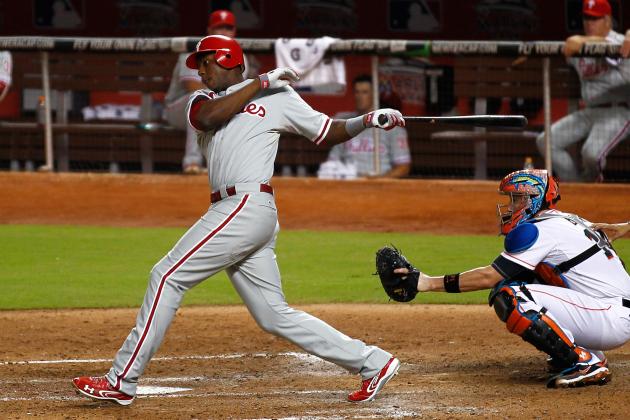 Sarah Glenn/Getty Images

If there was ever a time for John Mayberry to prove that he can be a productive everyday player in the majors, now would be that time.
Mayberry has taken over as the primary center fielder for the Philadelphia Phillies since the trade of Shane Victorino to the Los Angeles Dodgers, and Mayberry hasn't done much to further his cause.
With just a .208 average in the month of August entering Sunday's game with the Milwaukee Brewers, Mayberry will need to pick it up considerably at the plate to convince GM Ruben Amaro Jr. that he can handle the everyday duties.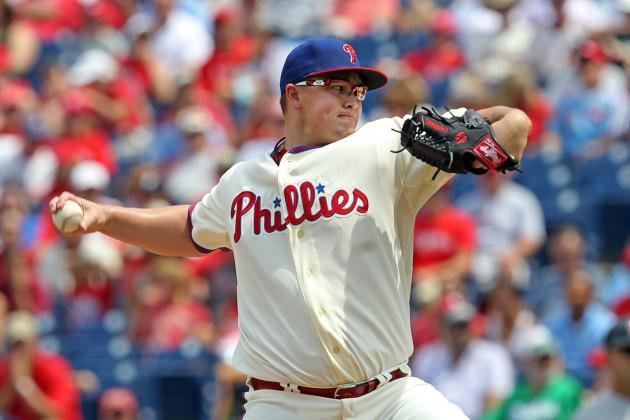 Hunter Martin/Getty Images

In 2011, Vance Worley shined in the starting role for the Philadelphia Phillies, finishing third in balloting for NL Rookie of the Year with a 3.01 ERA and an 11-3 record.
Worley started out well in 2012 with a 3.54 ERA in 14 starts before the All-Star break, but the second half has been nothing but a struggle.
Worley was unable to get out of the fifth inning on Friday night against the Milwaukee Brewers, allowing four runs on seven hits with three walks. The outing raised Worley's season ERA to 4.11, and he has only two quality starts to his credit in seven appearances after the All-Star break.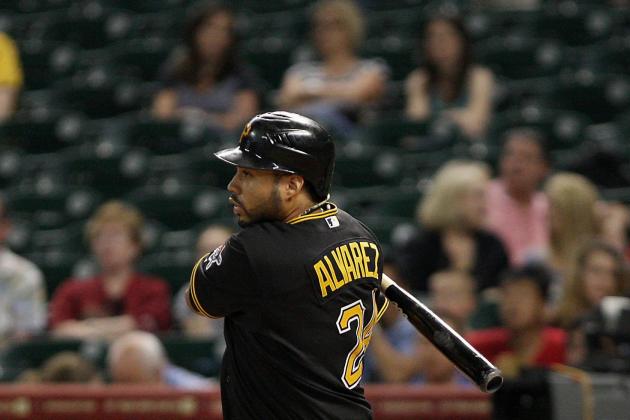 Troy Taormina-US PRESSWIRE

Much like the Oakland Athletics in the American League, the Pittsburgh Pirates are the feel-good story of the National League this season.
While they've been slumping of late, losing seven of 10 games prior to Sunday afternoon's contest with the St. Louis Cardinals, the Pirates currently hold down the second wild-card slot with a slim half-game lead over the Los Angeles Dodgers.
However, in order to finish off that feel-good story, the Pirates need the bat of third baseman Pedro Alvarez.
Alvarez has just one home run in the month of August thus far with three RBI. His offense will be critical to the success of the Pirates over the last six weeks of the season. Without it, the Pirates may break their streak of 19 straight losing seasons but will be on the outside looking in as far as the postseason is concerned.
Update: Alvarez hit his 23rd home run of the season on Sunday afternoon, breaking a 3-3 tie in the top of the 19th inning and leading the Pirates to a 6-3 victory over the St. Louis Cardinals.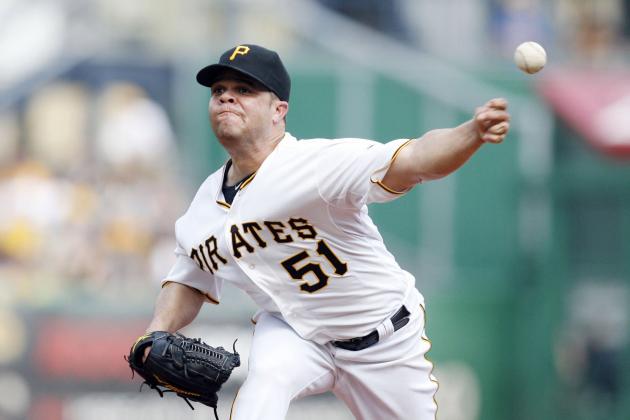 Charles LeClaire-US PRESSWIRE

Throughout his seven-plus seasons with the Houston Astros, starting pitcher Wandy Rodriguez never had the opportunity to be given the ball in pressure-packed situations.
Now with the Pittsburgh Pirates in the middle of a playoff hunt, Rodriguez has yet to show he's up to the task.
Rodriguez is 0-3 with a 5.47 ERA in four starts since his trade from the Astros in late July, with all three losses coming against teams with winning records.
Rodriguez was thought to be a man that could add a quality arm to the Pirates' rotation for the stretch run. Rodriguez needs to start displaying that quality now.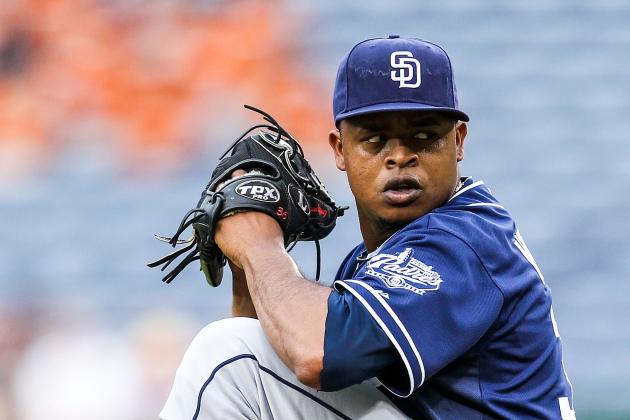 Daniel Shirey-US PRESSWIRE

San Diego Padres starting pitcher Edinson Volquez is playing for a contract next season, but based on his last four starts, it may not be with the Padres.
Volquez's struggles continued last Wednesday, failing to get out of the fourth inning in a loss to the Atlanta Braves.
Volquez now has a 16.62 ERA in three August starts, and while the high number of walks has been a concern (he leads the majors with 86), his inability to pitch out of trouble of any kind is an even more pressing issue.
Volquez has a career 5.34 ERA in 25 September starts, so if history repeats itself, Volquez will be on the market this offseason.
Jake Roth-US PRESSWIRE

After inking center fielder Cameron Maybin to a five-year, $25 million contract, the San Diego Padres were convinced they had locked up one of the talented young players in the game.
Thus far, they're still waiting for that talent to appear.
Maybin has suffered through a less-than-stellar season at the plate, providing a .211/.287/.316 slash line.
The month of August has been even worse, with Maybin hitting .176/.259/.275. There's still a chance for Maybin to turn things around—he's hit .259 in the month of September throughout his brief career—but he's looked lost at times at the plate for much of the season. So unless hitting coach Phil Plantier can work wonders with Maybin's swing, expect more of the same.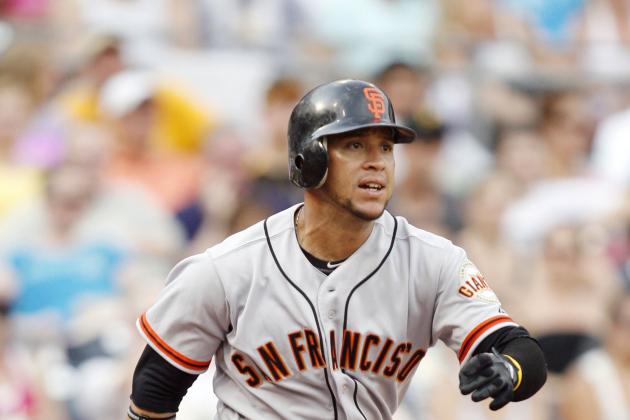 Charles LeClaire-US PRESSWIRE

The San Francisco Giants will be moving on in the wake of the 50-game suspension to left fielder Melky Cabrera, and for now, Gregor Blanco will likely get the bulk of at-bats in his place.
Justin Christian was called up from Triple-A Sacramento to replace Cabrera on the roster and will likely see time in left as well.
Blanco has always been considered a late-inning defensive replacement, partially because he's a very streaky hitter offensively.
The combination of Blanco and Christian is unlikely to match the offensive production of Cabrera, PED-enhanced or not.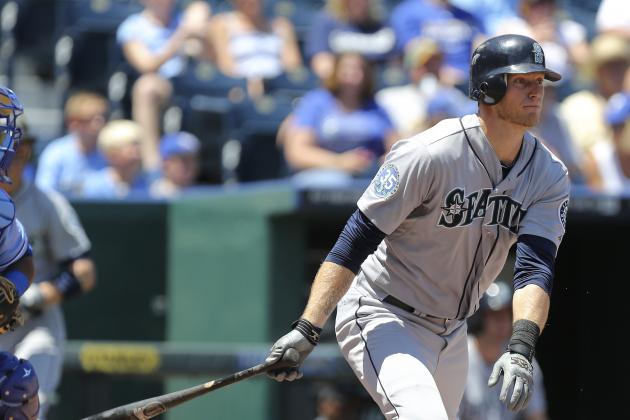 Ed Zurga/Getty Images

With the chest, foot and concussion problems that have sidelined center fielder Franklin Gutierrez for much of the season, Michael Saunders has patrolled the middle outfield position for most of the season for the Seattle Mariners.
Thrust into an everyday role after spending parts of three seasons as a backup, Saunders appeared to flourish, hitting .257 with eight HR and 25 RBI in the first half.
However, the month of August has been absolutely abysmal for Saunders, who entered Sunday's contest against the Minnesota Twins with a .130 batting average for the month.
If history repeats itself, expect Saunders' issues at the plate to continue—he's a career .168 hitter in the month of September.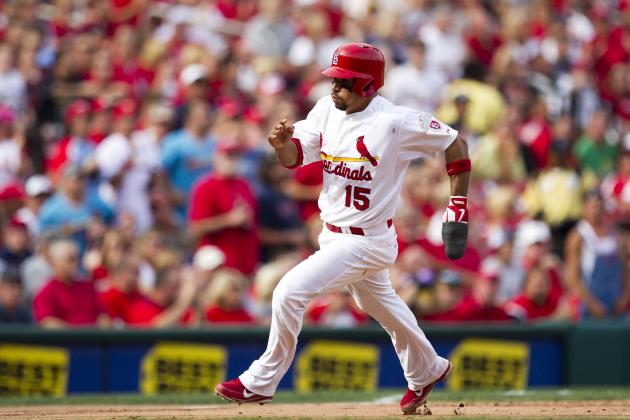 David Welker/Getty Images

For much of the season, Rafael Furcal served as a catalyst at the top of the batting order for the St. Louis Cardinals, providing a steady on-base presence and solid production.
Then the back pains started.
Furcal has been dealing with back pain for several years, so much so that the one-time stolen base threat no longer has great speed to rely on.
Furcal received an epidural shot last week to help alleviate the pain and has been dropped down to the eighth slot in the batting order by manager Mike Matheny to help remove some of the offensive pressure as well.
Furcal is currently hitting .240 in the month of August, and while he's a career .288 hitter in the month of September, will the back hold up under the pressure at this point?
Considering the many injuries that the Cards have dealt with already this season, they can only hope so.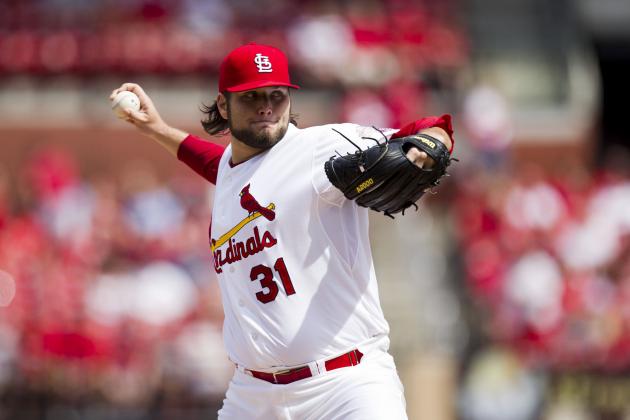 David Welker/Getty Images

Pitcher Lance Lynn played a major role for the St. Louis Cardinals last postseason in the NLCS, but it was as a reliever
Can he step up and meet the challenge as a starter down the stretch?
Lynn has struggled in August, posting a 5.48 ERA in four starts, and his control has let him down, with 12 walks in 21.1 innings thus far.
Along with Kyle Lohse, Lynn was a rock for the Cardinals in the first three-plus months of the season. With their playoff hopes hanging in the balance, Lynn will need to battle through and find his command once again. With no history to speak of as a starter, the next six weeks will show exactly what Lynn is made of.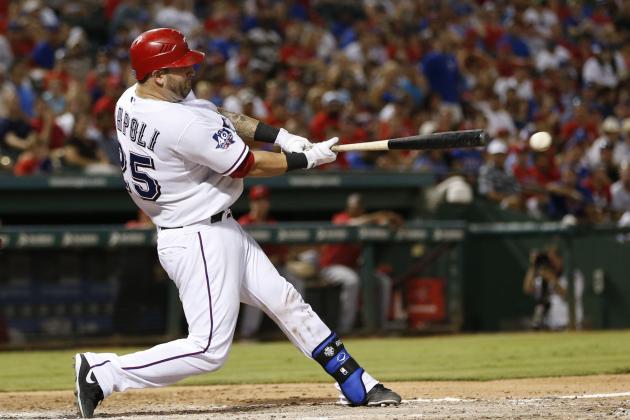 Jim Cowsert-US PRESSWIRE

After achieving career highs in home runs, RBI and batting average in 2011, Texas Rangers catcher Mike Napoli has found the road a bit tougher in 2012.
Currently on the disabled list with a strained left quad, Napoli's recovery is going well. He could return to the Rangers' lineup when his DL stint ends on Aug. 26.
Napoli also revealed to ESPN Dallas last week that he's been hobbled by various injuries throughout the season, including a sprained ankle suffered during spring training. Napoli also said he had been playing with pain in his left quad for a month before hitting the DL.
The Rangers need Napoli to return to last year's form, considering that the .200-hitting Geovany Soto is the only other viable option behind the plate for the Rangers.
Napoli's quad will likely prevent him from regaining much of a power stroke and could well prevent him from extended squatting if not fully healed.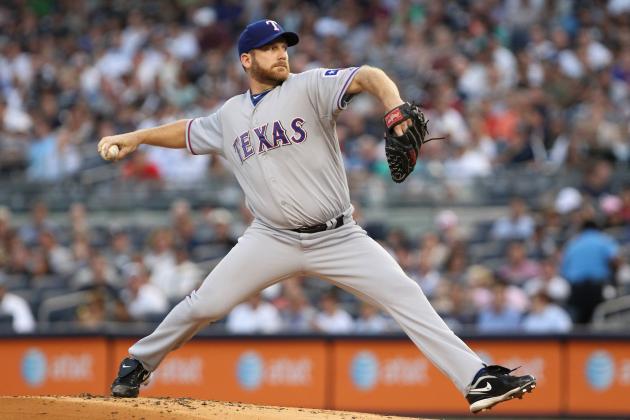 Anthony Gruppuso-US PRESSWIRE

Does anyone else feel like the Texas Rangers "settled" for starting pitcher Ryan Dempster at the trade deadline?
The Rangers had tried and failed to land other elite starters before the July 31 deadline, and they clearly wanted to make a move after the Los Angeles Angels landed Zack Greinke just days earlier.
Dempster has struggled, giving up eight earned runs in two of his three starts since joining the Rangers. Without the services of Colby Lewis and Neftali Feliz for the rest of the season, Dempster absolutely needs to show that he's up to the challenge.
Otherwise the "settled" phrase will have been appropriate.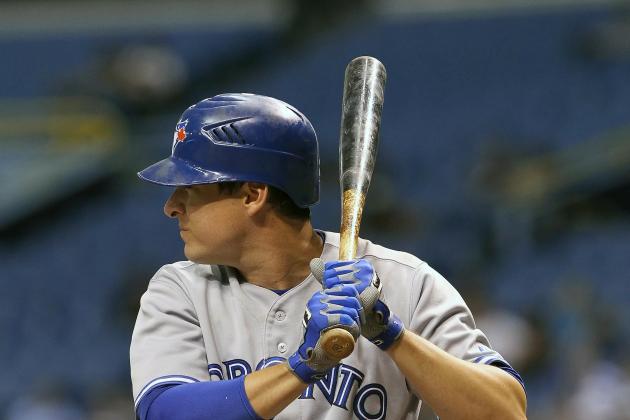 Kim Klement-US PRESSWIRE

When the Toronto Blue Jays swapped second basemen with the Arizona Diamondbacks a year ago, GM Alex Anthopoulos thought that Kelly Johnson would be an upgrade over the slumping Aaron Hill.
Thus far, it's been the other way around.
The D-Backs' patience with Johnson finally ran out last year after he struggled mightily, hitting just .209 before his trade to the Blue Jays. Johnson showed promise, however, hitting .270 with Toronto in the final weeks of the season, prompting them to re-sign him to a $6.38 million contract for 2012.
However, Johnson has seemingly reverted back to last year's form after a decent start to the season. With his .175 average thus far in August, Johnson has dropped his season average to .228 with 126 strikeouts.
Can hitting coach Dwayne Murphy come up with some answers to Johnson's struggles? He hasn't as of yet, so don't expect a turnaround in the final six weeks of the season, either.
Brad Mills-US PRESSWIRE

With ace Stephen Strasburg fast closing on an imposed innings limit, the rest of the Washington Nationals starting rotation will be expected to help pick up the slack.
However, at least one fellow starter falls short of the mark when it comes to the month of September—Edwin Jackson.
Jackson's worst statistical month is the final month of the season, one in which he carries a 12-14 lifetime record, a 5.65 ERA and 1.603 WHIP.
Strasburg will indeed be missed in the Nats' rotation if GM Mike Rizzo indeed follows through with his plan to shut him down. Jackson needs to step up and be a leader in the rotation when that happens.
Based on historical data, that's not likely.