Ronda Rousey vs. Sarah Kaufman: Head-to-Toe Breakdown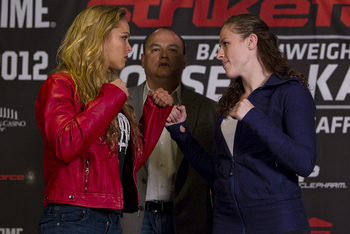 Photo by Esther Lin/Strikeforce
Ronda Rousey will attempt to defend her title for the first time in the main event of Strikeforce's event Saturday night against top contender Sarah Kaufman. Rousey has become Strikeforce's biggest star since winning the title and also has become a polarizing figure for MMA fans.
Some fans like her while others despise her. No matter your feelings about the woman, she gets eyeballs to tune into whatever she is doing. For Strikeforce, that's an invaluable quality, as the promotion doesn't necessarily have a ton of stars to market around at the moment.
In the past week, the focus on Rousey has shifted a bit toward a potential fight with Cris Cyborg. Although that sounds like a great matchup for fans, Kaufman plans on playing the part of spoiler.
Kaufman is a talented fighter and will no doubt be Rousey's toughest test. It is set up to be a classic clash of styles, with Rousey being the grappler and Kaufman being a striker. That may mean one of the two women might attempt something nobody is predicting in order to gain an edge in the fight.
Who will have the advantage on the ground or on the feet? Who walks away with the belt and becomes the new women's bantamweight champion?
Striking Breakdown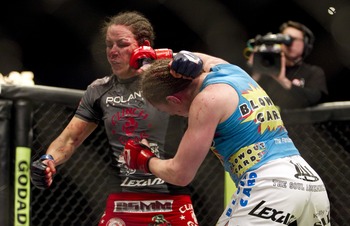 Greg Bartram-US PRESSWIRE
The striking game will clearly be Sarah Kafuman's area of advantage in the fight. She's perhaps one of the best, if not the best technical boxer in all of WMMA. Her hands are very crisp and she does a good job of keeping her chin tucked.
Also, as we saw in the Alexis Davis bouts, Kaufman also has a good chin that's capable of withstanding some punishment. The problem with Kaufman's striking game is that it's very predictable in that she mainly uses her hands. She may throw a kick or two, but they're not a huge part part of her repertoire.
She may not need a wide arrange of strikes to take out champion Ronda Rousey, as the striking game appears to be the Achilles heel of the champion. Rousey is solely focused on getting the fight to the mat, which often means she doesn't have to worry about someone punching her in the face or showing off her own striking skills.
Rousey appears to have that competitive nature where she will respond well under fire, but it will be interesting to see how she deals with Kaufman if the two engage in a prolonged striking battle.
Kaufman will have the big edge here, but it's a matter of her takedown defense being capable of keeping this fight where she can win.
Grappling Breakdown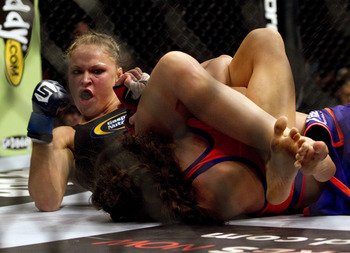 Greg Bartram-US PRESSWIRE
Just as Sarah Kaufman had the big advantage in the striking department, Ronda Rousey will enjoy a huge advantage in grappling. Rousey's Olympic accomplishments in judo have been well documented, which has translated into great MMA success.
The most shocking part of Rousey being undefeated thus far is that every one of her opponents knows exactly what she's going to do, yet they can't stop her. We've seen Rousey use the formula of "initiate clinch, takedown, armbar" to perfection.
It's a strategy that has yet to fail her thus far into her career. Miesha Tate was able to fend her off for a little while in their contest, but ultimately, she fell victim to Rousey.
Kaufman will have a tough task ahead of her if she wants to avoid being sucked into Rousey's world. Kaufman has been submitted before against Marloes Coenen and doesn't appear to be too comfortable when having to fight off her back.
If Rousey can get the fight to the ground, she should be able to secure another submission victory.
Prediction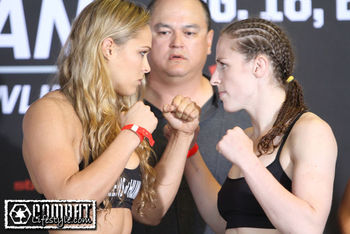 Photo by Tracy Lee/CombatLifestyle.com
This fight will depend on which competitor can keep the fight where they have the advantage. Obviously, Sarah Kaufman will look to keep it on the feet while Ronda Rousey will attempt to take the fight to the mat.
There are two areas of concern for me going into this fight, one for each fighter.
For Kaufman, what will she do if Rousey gets the takedown? We've seen everyone succumb to Rousey's grappling game with only Miesha Tate being able to provide minimal resistance. We've seen other fighters with less-accomplished ground games achieve some success against Kaufman, so it will be interesting to see how she handles an Olympic-caliber grappler.
For Rousey, the concern is, what happens if her strategy doesn't work the first time? Against all of her opponents, Rousey was able to secure a takedown and slap on an armbar. Against Tate, we saw Rousey be put into a bad position but eventually fight out of it and secure another tapout.
It's easy to run through people when everything goes according to plan, but it will be intriguing to see how Rousey handles some adversity, something Kaufman is sure to provide.
As far as a prediction goes, I'm going to have to side with the champion. Kaufman will have a puncher's chance, like always, but I don't see her defensive grappling skills being enough to stop Rousey's prolific grappling offense.
Keep Reading