Minnesota Vikings: Who's In, out or on the Bubble After Preseason Game 2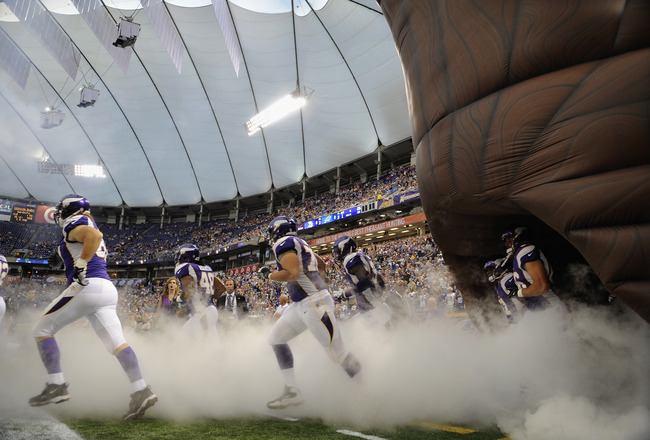 Minnesota Vikings vs. Buffalo Bills
Hannah Foslien/Getty Images
Winning and keeping a job at the NFL level is no easy task, and after two preseason games, the competition for starting gigs is fierce, and some players are starting to distance themselves.
The Minnesota Vikings suffered through one of their most disappointing seasons in recent history, but this rebuilding team is not void of talent.
A rash of injuries to the secondary and its star running back derailed any hopes of contending for NFC North title, and head coach Leslie Frazier is hoping that new defensive coordinator Alan Williams (Colts) and a full offseason to implement offensive coordinator Bill Musgrave's offense will help the Vikings rebound in 2012.
After two preseason games, here is how the roster is shaping up with first roster cuts quickly approaching (August 27).
Legend
IN = predicted to make 53-man roster
Bubble - In = predicted to win one of the last 53-man roster spots
Bubble - Practice Squad = predicted to be one of eight selected to practice squad. One of the last few out
Bubble - Out = challenging for a roster spot, but just missed out on both the final roster and practice squad, if eligible
Out = Didn't do enough to earn a roster spot or practice squad invite, basically a camp body
Quarterbacks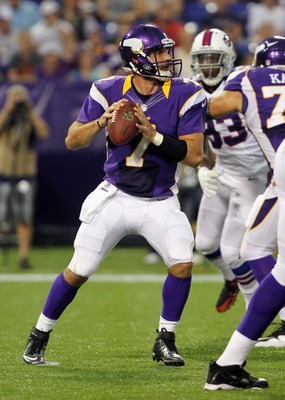 Brace Hemmelgarn-US PRESSWIRE
Christian Ponder: IN
Ponder and the Minnesota Vikings' starting offense was productive again on Friday night.
Ponder was 10-of-13 for 136 yards and one touchdown in three drives that all put the Vikings in scoring range in the first half of their exhibition against Buffalo.
He has been a model of consistency in the first two preseason games, which shows marked improvement from 2011, where he threw 13 touchdowns to 13 interceptions.
He has been much better at progressing through his reads and finding second and third reads.
Joe Webb: IN
Webb did not show any improvement in the pocket on Friday from the first preseason game. He relied on his greatest asset, his athleticism, to make plays. While he is still the No. 2 QB for the Vikings, the team have now seen two solid performances from the other two quarterbacks on the roster, Sage Rosenfels and McLeod Bethel-Thompson.
Webb isn't in danger of losing his roster spot but I wouldn't blame the Vikings for checking his trade value. There is no doubt Webb has a unique skill-set, but he now has two below-average performances and seems better suited to be a receiver.
Webb finished 7-of-15 for 73 yards and was sacked once with two scrambles for 64 yards against the Bills.
He was 4-of-11 for 20 yards and two sacks with two carries for nine yards against the 49ers.
Sage Rosenfels: IN
Rosenfels made his preseason debut on Friday and was very efficient, leading the mostly third and fourth-string players.
If the Vikings keep Webb at QB despite his inconsistent performances the veteran Rosenfels has to make the team as third quarterback regardless of how Bethel-Thompson performs.
Rosenfels was 4-of-8 for 63 yards against the Bills.
McLeod Bethel-Thompson: Bubble - practice squad
MBT did not play against the Bills, as coaches gave Rosenfels snaps instead. He will need to keep turning heads on 11-on-11 drills with hopes of impressing next week against the Chargers.
He has been the buzz of camp with his cannon arm, but unless he can break out in game three, the Vikings may have to try and sneak him onto the practice squad.
Against the 49ers, he was 3-of-7 for 49 yards with an interception and two sacks.
Running Backs and Fullbacks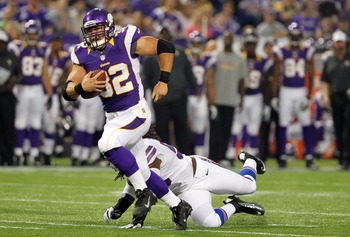 Brace Hemmelgarn-US PRESSWIRE
Adrian Peterson: IN
While Peterson's recovery from reconstructive knee surgery has been nothing short of a miracle, until he can face live action, it is difficult to know how much the Vikings can count on him.
With a good week of practice, there is a chance that Peterson could see action on Friday against the Chargers
Toby Gerhart: IN
Gerhart looked plenty capable of replacing star running back Adrian Peterson in his two preseason performances.
Gerhart had six rushing attempts for 30 yards and caught one pass for a 19-yard gain versus the Bills. Against the 49ers, he had five carries for 31 yards. That is good for a total of a 5.5 yards-per-carry average over two preseason games.
Lex Hilliard: Bubble - IN
Hilliard has a great chance to earn the third running back position for the Vikings. He entered training camp in what was suppose to be a battle with scat back Jordan Todman for the third spot. Todman has been hampered by an ankle injury, leaving Hilliard in what should have been a runaway win.
In two preseason games, Hilliard has accumulated three carries for six yards. He also has had three receptions for six yards. Hardly stats worthy a roster spot at this point.
If Todman or another back can show any significant strides in the third game, Hilliard could be cut.
The Vikings could look for a replacement off of waivers as well once cuts happen.
Derrick Coleman: Bubble - Out
Coleman was the third running back to appear on Friday night and was mostly unimpressive. He ran for 12 yards on five carries for a 2.4 yards-per-carry average. Last week against the 49ers, he had six carries for 23 yards.
He may be on the outside looking in at running back, even with a fluid competition for the third spot.
Matt Asiata: Bubble - Out
Asiata was one of the pleasant surprises of the the Bills game. While he may be the last running back to see action, the fullback-turned-halfback seemed very explosive. Asiata had seven carries for 43 yards for a 6.1 yards-per-carry average.
Asiata could have just jumped Coleman and may be challenging Hilliard at this stage of the preseason.
Jordan Todman: Bubble - practice squad
Todman has been hampered by an ankle injury during training camp in Mankato. While he offers a unique skill set to this unit as a scat-back type runner, he has yet to see game action.
If Todman can't get reps in the third preseason game, he may not survive the first round of roster cuts, let alone challenge for a final roster spot.
Fullback
Jerome Felton: Bubble - IN
Felton continued to work as the team's first-team fullback. Felton has been a good lead blocker so far in camp, but made his presence known in the passing game on Friday.
He had the first touchdown of the 2012 preseason on a one-yard pass from Christian Ponder.
Felton ended the night with no carries and the one pass for a touchdown.
If the Vikings keep a true fullback on the roster, that job seems to be Felton's to lose. His main competition may be rookie H-back Rhett Ellison, as Ellison seems to be a very good lead blocker as well.
Ryan D'Imperio: Bubble - practice squad
D'Imperio played a lot of special teams the past two games, where he continues to be a solid player. Felton seems to have a hold on the starting job if the Vikings keep a fullback. D'Imperio could be a candidate for the practice squad.
Wide Receivers and Tight Ends
Brace Hemmelgarn-US PRESSWIRE
Wide Receivers
Percy Harvin: IN
Harvin made his 2012 preseason debut on Friday and had a very good game. Harvin should finish the 2012 season as the top option in the Vikings passing game.
Harvin had one catch for 21 yards on the second play from scrimmage. Harvin had only one target on the night through two series.
Jerome Simpson: IN (suspended for first three games)
Simpson showed Vikings fans how explosive he can be after a disappointing first preseason game that saw him drop his only target.
He had a reception for 33 yards on the first series, where he leaped over a defender in the open field. He ended the night with three catches for 43 yards on five targets.
He needs to show that he can finally be a consistent weapon in back-to-back games.
Michael Jenkins: IN
Jenkins had a solid performance on Friday and seems to be a lock for a roster spot.
This past week, Jenkins accepted a salary restructure that may have significantly helped his chances of making this team.
After dropping passes last week, Jenkins hauled in his one target, which was a 43-yard connection from Ponder.
Devin Aromashodu: Bubble - IN
Aromoshadu picked up where he left off last week with another underwhelming game. He was targeted twice deep along the sideline and failed to make adjustments to secure the attempts. For a receiver that earns a paycheck by being a deep threat, he is squarely on the roster bubble.
He was targeted a total of six times and did not catch any of the passes. After Harvin and Simpson, the rest of the roster spots are very fluid and Aromashodu's stock is falling.
Because he is a veteran on a young team, he could earn a longer look while Simpson is suspended.
Stephon Burton: IN
Last week, Burton was very hot and cold, but seemed to settle in against the Bills. Despite the dropped passes, the Vikings worked him in early on Friday.
Burton has had a strong camp and finished the night by catching both of the passes thrown to him for 32 yards. The long play was a 26-yard catch, but Burton was stripped off the ball.
Burton has made good progress and seems to have a earned a spot on the 53-man roster.
Jarius Wright: IN
Wright, a rookie, has not made the most of his chances this preseason. After an average performance against the 49ers, Wright did not receive a target on Friday against the Bills.
He was used a lot in the return game, but was never able to return a kickoff due to touchbacks. He did return one punt for 15 yards.
Wright's spot isn't in jeopardy but it would be nice to see some glimpses of the talent that made him a fourth-round pick.
Emmanuel Arceneaux: Bubble - IN
After seeing little action in the first preseason game, "Manny-tron" finally showed some flashes.
His performance from last year to this year in practices led Vikings receivers coach George Steward to say that Arceneaux (via 1500 ESPN) "improved more than any player in one year that I've ever coached."
"That's in (all my) years of coaching and in every facet. He's going to be a player that's going to help us again this year."
That is some pretty high praise, and Arceneaux started to live up to it on Friday with an impressive 48-yard reception.
Arceneaux finished the game with two reception for 50 yards on two targets. He and Kerry Taylor could be pushing Aromashodu for the final roster spot.
Kerry Taylor: Bubble - practice squad
Taylor was a standout player in the first preseason game, but was quiet on Friday. He ended the night with one reception for nine yards, but had two catches for 35 yards last week.
He will need to step up over the next two weeks to earn a roster spot.
AJ Love: Out
Love was resigned when the Vikings waived Greg Childs after he suffered a season ending injury to both knees. Love did not receive a target on Friday after missing the first preseason game. Love may not have enough time to even push for a practice squad spot.
Kamar Jorden: Out
Jorden (hand) has now missed both preseason games and should be among the first roster cuts.
TIGHT ENDS
Kyle Rudolph: IN
Rudolph is emerging as the No. 2 option in the passing game for Christian Ponder.
While he only had a catch for nine yards on Friday, there is a high level of comfort between the tight end and quarterback.
John Carlson: IN
Carlson has been sidelined from an MCL sprain and hasn't appeared in a preseason game yet.
While the veteran is on solid ground with the team with a targeted return by first regular season game, he is missing extra reps with Ponder.
Rhett Ellison: IN
Ellison has shown his value as an H-back the past two games. He has shown a great ability to catch out of the backfield, operate as a lead blocker and be a force a special teams.
Ellison had one catch for eight yards on two targets.
Allen Reisner: Bubble - IN
Reisner is battling Shuler for a spot as the fourth tight end.
Reisner had two catches for 22 yards on both targets that he saw on Friday night.
Mickey Shuler - Bubble - Out
Shuler had one catch for 14 yards on his only target.
While both tight ends are not likely to unseat either Carlson or Ellison, they could find a role with great special teams play.
I think Reisner still has the edge in the matchup. During the Friday night broadcast, GM Rick Spielman said that all five tight ends are NFL quality and will be on someone's roster. This battle could come right down to the wire.
Offensive Line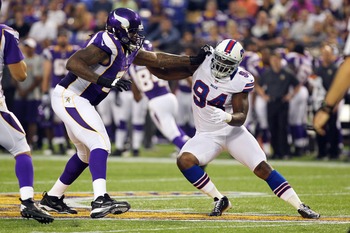 Brace Hemmelgarn-US PRESSWIRE
Starting Offensive Line
T Matt Kalil: IN
The rookie left tackle Kalil was pretty good against the pass and rush on Friday night. The one play that looked like Kalil gave up a sack in the red zone was actually DT Kyle Wiliams using Kalil's man as a pick while he was being blocked by Charlie Johnson.
Against the 49ers, he played very well overall, missing only one block against Aldon Smith. His play was solid, as he and the other first-string players played the first two series with Ponder.
T Phil Loadholt: IN
Phil Loadholt did a great job in both the run and pass on Friday. He has not allowed a sack in either preseason game and seems to be improved in the run game. Loadholt is in a contract year and should be motivated to play the best football of his young career.
G Charlie Johnson: IN
Johnson was not as good this week against the Bills, as he allowed one, possibly two sacks, in the passing game compared to the 49ers game. Overall, he has done a good job with the run and opening up holes for Toby Gerhart. He doesn't have a challenger to his starting position, so the Vikings need him to be a steady performer all season.
G Brandon Fusco: IN
Fusco was very impressive on Friday. He did a great job holding his blocks and opening lanes in the running game. There is very little doubt right now that he has won the starting right guard position battle.
C John Sullivan: IN
John Sullivan is the starter and leader of the offensive line. He could finish as one of the top-five centers by the time this season is over.
Backup Offensive Line
G/T Geoff Schwartz: IN
Geoff Schwartz (sports hernia) has missed both preseason and a lot of training camp and OTAs. He is still expected to be a major contributor with his ability to play both right guard and right tackle. If either Loadholt or Fusco struggle in the season, he could earn some starts.
T DeMarcus Love: Bubble - IN
Love (pectoral) is still the second-team left tackle behind Kalil despite missing both preseason games. Love has a lot of potential, and the play behind him has been disappointing.
T Patrick Brown: Bubble - Out
Brown is likely the backup to Loadholt at right tackle with Schwartz out, but he hasn't done enough yet to secure a roster spot. While he was better against the Bills, he was consistently beat in the pass-rush versus the 49ers.
G Chris DeGeare: Bubble - practice squad
DeGeare worked as the second-team left guard in both preseason games and did a solid job but wasn't outstanding in either game. The veteran Berger can play center and both guard positions and could bump DeGeare to the practice squad.
G Austin Pasztor: Out
Pasztor worked as the second-team right guard with good results, but is fighting a battle with two veterans (Berger and Schwartz) and a now-healthy DeGeare. He has a strong chance to land on the practice squad.
C Joe Berger: Bubble - IN
Berger was the backup to Sullivan at center in both preseason games. The versatile veteran again did a great job. Berger is in a position to win one of the final roster spots because he can play three positions on the line and help on special teams.
T Kevin Murphy: Out
Kevin Murphy held up much better against the Bills than he did last week. Murphy is third on the left tackle depth chart behind Kalil and the injured DeMarcus Love. Murphy was overmatched against the 49ers and should be one of the first cuts.
G/T Tyler Holmes: Out
Holmes saw snaps at tackle with the third team but is only a candidate for the practice squad. After Murphy failed last week at left tackle, he received reps at left tackle in practice, but still played behind Murphy on Friday. Holmes did a good job at guard in the first game of the preseason.
C Quentin Saulsberry: Out
Saulsberry was the third-team center for the second straight week. He was good, but he is likely on the outside looking in for a roster spot.
G Grant Cook: Out
He is only a camp body at this point.
G Bridger Buche: Out
He is only a camp body at this point.
T Levi Horn: Out
He is only a camp body at this point.
Defensive Line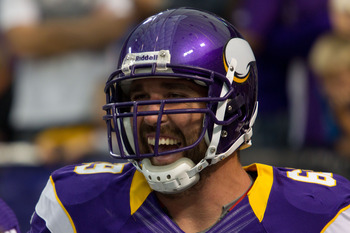 Brad Rempel-US PRESSWIRE
Starting Defensive Line:
DT Kevin Williams: IN
Williams made his preseason debut on Friday with Jared Allen and held the Bills rushing attack to six total yards. He played in only one series, but as usual, he was drawing double-teams, allowing others to make plays. He didn't make a tackle on Friday, but his presence alone makes this line much better.
DT Letroy Guion: IN
Guion missed the second preseason game with a minor knee injury. He recorded two tackles and did okay up the middle last week before leaving with the injury. He could possibly return for the third preseason game.
DE Jared Allen: IN
Allen made his preseason debut on Friday playing in one series. He had one tackle for a loss. The reigning NFL sack leader is expected to produce big again this year, and if Friday was any indication, the defensive line will be improved from 2011.

DE Brian Robison: IN
Robison has started each of the past two preseason games. Robison is expected to improve on his pass-rush. Known as a very good run-stopper, it will be a work in progress this season.
In two preseason games, Robison has not recorded a sack and has one tackle in limited snaps.
Overall, the Vikings surrendered 260 rushing yards to the 49ers last week on 42 carries. The Bills had 68 yards on 20 attempts.
Backup Defensive Line
DT Fred Evans: IN
Evans drew the start in the second game with Guion out with a minor injury. Evans was solid at nose tackle opposite of Kevin Williams. He should work in a rotation with Guion throughout the season.
DE Everson Griffen: IN
Griffen returned to his natural defensive end position after the coaches attempted to move him to outside linebacker. Griffen did marginal in the role in the first preseason game, where he played all but one snap from the OLB position. Griffen replaced Jared Allen after the first series and provided a good burst from the end position.
DT Christian Ballard: IN
Ballard was the starter at under tackle for the Vikings as Williams sat out in the first preseason game. He, along with the rest of the defense, struggled stopping the run.
He recorded two tackles against the 49ers and one tackle against the Bills and is cemented in as the backup to Williams.
DE D'Aundre Reed: Bubble - IN
Reed drew the start in the first preseason game with Jared Allen being inactive. He held up well, providing flashing some pass-rush abilities.
Reed played quite a few snaps on defense and saw some action on special teams as well. Reed would seem to have the edge should make the team as a backup DE.
DE Nick Reed: Bubble - Out
Reed did not have his best game against the 49ers. The lowlight of the night was being sucked inside on the Colin Kaepernick 78-yard touchdown option run.
Reed had one tackle.
DE Jeff Charleston: Out
Charleston played quite a few snap, but was unable to generate any pass-rush.
He did not do enough on Friday to earn a spot.
DT Trevor Guyton: Bubble - Practice Squad
Guyton was a seventh-round pick that worked with the third string, but didn't register a tackle.
DT Anthony Jacobs: Out
Jacobs is an undrafted free agent out of the University of Minnesota. Jacobs recorded a sack, two tackles for loss and a quarterback hit in his first preseason game, but only registered one tackle on Friday.
He is a candidate for the practice squad, but seems to be on the outside for a roster spot..
DT Tyreke Powell: Out
The undrafted tackle did nothing to set himself apart with the fourth-string defense. Powell did not record a tackle. Powell has great size for a nose tackle, but hasn't done enough to this point.
DE Ernest Owusu: Out
He is only a camp body at this point.
DT Chase Baker: Out
He is only a camp body at this point.
Linebackers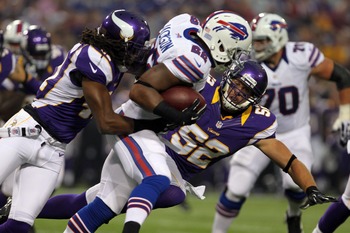 Brace Hemmelgarn-US PRESSWIRE
Linebackers:
OLB Chad Greenway: IN
After only playing one series in the preseason opener, Greenway played the first four series on Friday. Greenway will look to be the leader of the defense in 2012 after going to the Pro Bowl in 2011.
MLB Jasper Brinkley: IN
Brinkley at times showed some flashes of being a solid run-stopper for the Vikings, but other times, has been caught out of position.
As expected, he was replaced on passing downs with Henderson and Greenway remaining in the game.
He did perform better on Friday night compared to last week, but they need to see more from Brinkley.
OLB Erin Henderson: IN
Henderson was rather disappointing last week in containing the run, but was much better this week.
Henderson had a very nice tackle for a loss on Friday against the Bills.
Backup Linebackers
OLB Marvin Mitchell: IN
The veteran Mitchell had four tackles last week and seemed to be around the ball often. He has been the replacement for Henderson and played well in passing downs.
He ended the Friday night against the Bills with three tackles.
MLB Tyrone McKenzie: IN
McKenzie has been a solid backup to Brinkley all through OTAs and the preseason. He displays solid tackling skills and a nose for the ball.
McKenzie seems to be a favorite to win a roster spot.
McKenzie tied for a team-high six tackles against the 49ers and tied for a team-high five tackle against the Bills.
OLB Larry Dean: Bubble - IN
Dean is the special teams standout that seems to have taken a step at linebacker. He worked a lot with the second team unit and was around the ball all night.
He finished the night with three tackles.
MLB: Audie Cole: Bubble - IN
Cole, a rookie seventh-round draft pick, has shined in his first two preseason games.
Last week, against the 49ers, he had a quarterback sack and finished with three tackles (one for a loss), one QB hit and a sack.
He ended up one-upping himself by returning interceptions of 20 and 30 yards for touchdowns in a span of 13 seconds in the fourth quarter. The interceptions, though so close apart, did come off of two different quarterbacks (Tyler Thigpen and Brad Smith).
OLB Solomon Elimimian: Bubble - Practice Squad
The CFL's hardest hitter did a fair job at linebacker last week against the 49ers. He had a big interception in the fourth quarter after fourth-string quarterback Scott Tolzien was hit as he released the ball by Nick Reed.
Elimimian did play a lot on special teams and finished the night with two tackles, one interception and one pass defended.
He was a curious late scratch against the Bills with what is reportedly a hamstring injury.
OLB Tyler Nielen: Out
The undrafted free agent did not stand out with the fourth-string defense.

OLB Corey Paredes: Out
The undrafted free agent did not stand out with the fourth-string defense.
Defensive Backs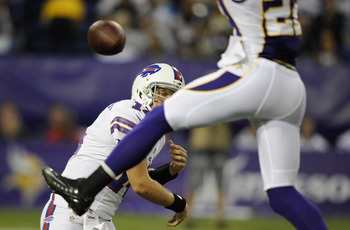 Hannah Foslien/Getty Images
Defensive Backs:
CB Chris Cook: IN
Cook did well in both preseason games and the Vikings, hope he progresses enough to leave him to defend the opponents to receiver as much as possible.
CB Antoine Winfield: IN
Winfield made his 2012 debut on Friday and is locked in as the starter next to Cook. While the Vikings hope to limit his snaps to keep the 35-year-old fresh, they will need some depth to emerge to do so. So far, the competition for the third cornerback is very fluid.
S Harrison Smith: IN
Smith is a first-round pick who was the first safety off the bench, but outplayed the starter last week, earning a start against the Bills.
He seems to be the solid, fundamental safety that the Vikings hoped they found. He has demonstrated great skills against the run, and maybe some of that finally rubbed off Mistral Raymond.
S Mistral Raymond: IN
Raymond started last week against the 49ers, but struggled in both coverage and the run.
Raymond took poor angles on many plays.
He bounced back on Friday with two great plays on the opening series that led to a punt. After being caught out of position and taking bad angles last week, this is a step in the right direction.
Backup Cornerbacks:
Chris Carr: IN
The veteran had a tough game last week against the 49ers. He gave up a touchdown pass to the 49ers' fifth receiver in the first half.
He did start and lined up in the slot quite often when a third cornerback was needed.
He did better this Friday against the Bills, but didn't make any big plays.
Josh Robinson: IN
Robinson made his rookie debut after not playing last week. He seemed very comfortable with the schemes and played tight coverage in his limited snaps. Now that the electric corner is healthy, he could start stealing snaps in the return game.
Zack Bowman: Bubble - IN
Bowman found his way into the rotation early and did well in coverage in both games.
He hasn't stood out in either game, but he hasn't got beaten either.
Marcus Sherels: Bubble - IN
Sherels saw a lot of snaps on defense and special teams against the 49ers.
He has shown solid tackling abilities and improved coverage skills.
In the return game, he was solid, which will help his chances to make the roster.
Brandon Burton: Bubble - IN
Burton saw a lot of balls thrown his way against the 49ers, but didn't give up any big plays. He had four tackles and saw some action on special teams in the first game, but didn't record a tackle in the second game.
Bobby Felder: Bubble - practice squad
Felder saw surprisingly very few snaps in the secondary.
He played some on special teams with the punt return team, but replaced Jones in the fourth quarter.
Hopefully, we get to see the skills that had camp buzzing against the Bills this Friday.
Reggie Jones: Bubble - practice squad
Jones was one of the most talked-about players as a sleeper coming into the game, but Showtime did not show up for the most part.
Jones did have three tackles, but didn't stand out. He did get some action on kickoff coverage as well.
Corey Gatewood: Out
Gatewood was undrafted and didn't play well. He is far behind the other corners at this point.
Backup Safeties
Jamarca Sanford: IN
Sanford started, but was torched even more than Raymond on the run. His lowlight was the Kaepernick option run that resulted in a 78-yard touchdown run where Sanford took an awful angle.
Sanford shines on special teams, where he uses hit hard-hitting abilities and mentality to succeed. Those skills are recognized by the coaches and should make him a valuable piece to the puzzle.
Sanford finished with two tackles.
Sanford was demoted to a backup, but seemed to improve when he was on the field. He did a solid job on special teams as well.
Robert Blanton: Bubble - IN
Blanton (Hamstring) has missed both preseason games. He has some work to do to earn a spot on the active 53-man roster. He entered the season with some expectations to start opposite Harrison Smith, but now must get healthy to hold off Frampton and Sendejo.
Eric Frampton: Bubble - IN
Frampton is a special teams standout who led the team in special teams tackles in 2011. On Friday, he did another very good job on special teams, but didn't show much in the way of improvement at safety.
A favorite of the coaches, he will get more opportunities to show that he belongs.
He finished with three tackles.
Andrew Sendejo and Eric Frampton rounded up the group. Both players are fighting to earn a spot that will be won on special teams.
Andrew Sendejo: Bubble - practice squad
Sendejo played a lot on special teams and did very well. The Vikings used him on a blitz, and he recorded a QB hit.
He showed solid tackling skills and finished tied for a team-high with six tackles.
.
Special Teams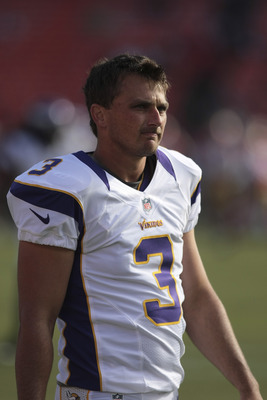 Kelley L Cox-US PRESSWIRE
K Blair Walsh: IN
Walsh has done a great job in the kicking game. He made both of his field goals (26 and 39) in very windy conditions against the 49ers.
He received a lot of reps on Friday night against the Bills. He was 5-of-6 on field goals with a long 49 yards. He also connected on all three of his extra-point attempts.
He has also shown a tremendous leg strength on kickoffs.
P Chris Kluwe: IN
Kluwe has been solid in both preseason games. He punted six times with an average of 40.6 yards per punt against the 49ers. Versus the Bills, he had three punts for an average of 40.7 yards per punt.
LS Cullen Loeffler: IN
Loeffler is a very solid long snapper and will make the roster once again. He and Kluwe will provide some veteran guidance to rookie kicker Walsh.
Keep Reading

Minnesota Vikings: Like this team?