Rousey vs. Kaufman Predictions: Final Main Card Predictions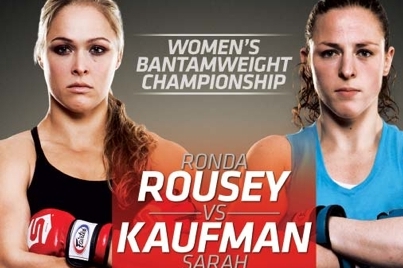 MMAweekly
Strikeforce rolls in Saturday night headlined by a women's title match between Olympic judoka Ronda Rousey, the popular champion, and Sarah Kaufman, the game challenger.
This may be the best current women's matchup the sport has to offer currently. With Cris "Cyborg" Santos still serving suspension, Miesha Tate coming off the loss of her title and Gina Carano off doing other things, this bout serves to be a great contrast of styles.
Here are the full main card predictions for Saturday's Strikeforce event.
Begin Slideshow

»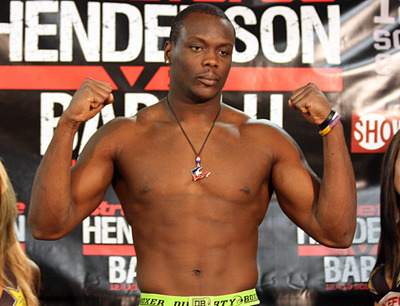 mmajunkie.com
Kicking off the main card is a light heavyweight bout between budding prospect Ovince St. Preux and T.J. Cook.
St. Preux is 11-5 in his career, but has become an intriguing prospect since joining Strikeforce. The former collegiate football player is heavy handed and has a solid ground game.
He is coming off his first loss in a while against established star Gegard Mousasi. Previous to that, he was undefeated in Strikeforce, owning a four-fight win streak in the process (three decisions, one submission to strikes).
Cook (12-4) will be more than willing to engage in a striking battle with St. Preux. The scrappy vet owns nine wins by knockout, including his Strikeforce debut over Lionel Lanham.
The chink in Cook's armor is submission defense and ground game, which St. Preux can exploit with his solid submission attack.
Prediction: St. Preux def. Cook via submission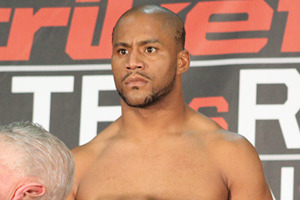 mmajunkie.com
Next up is a middleweight affair between powerhouse Lumumba Sayers and 24-fight veteran Anthony Smith.
With a record of 6-2, Sayers can easily be considered a prospect. But, with recent victories over notables Antwain Britt and Scott Smith, many can point to Sayers as a dark horse in the middleweight division.
After dropping his Strikeforce debut against Derek Brunson, Sayers knocked out Britt in 28 seconds and submitted Scott Smith in under two minutes. Those type of performance easily get you noticed.
Smith (16-8) has been a very busy fighter since the beginning of 2011. In that time, the well-rounded Smith has gone 7-1, finishing all of his wins.
On the feet, Sayers has the power to knock out Smith, but Smith possesses the same power. Smith is a smaller light heavyweight, which will give a size and speed advantage (yes, speed) to Sayers, who will finish the fight.
Prediction: Sayers def. Smith via knockout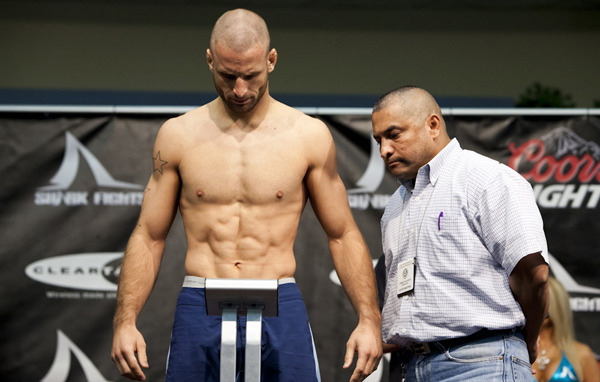 mmajunkie.com
In an intriguing welterweight showdown, Team Quest's Tarec Saffiedine looks to move toward in a title shot against the relentless (pun intended) Roger Bowling.
Saffiedine has proven to be one of Strikeforce's best prospects in his tenure. He is currently on a two-fight winning streak since his loss to Tyron Woodley, besting Scott Smith and Tyler Stinson in the process.
The Belgian has never been finished in 15 career fights (12-3).
Meanwhile, Roger Bowling also finds himself on a two-fight win streak. After losing his rubber match to Bobby Voelker, Bowling came back strong with knockouts of Jerron Peoples and neo-Nazi Brandon Saling.
Bowling is a strong striker, much like Saffiedine. The only difference is that Bowling has been finished in both of his losses.
Prediction: Saffiedine def. Bowling via knockout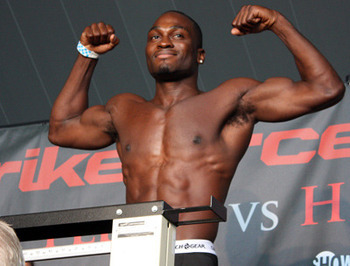 mmajunkie.com
In the co-main event, former middleweight champion Ronaldo Souza meets up-and-comer Derek Brunson in a potential No. 1 contender's bout.
Souza has fought some of the best men in the world with success, owning a 15-3 record. In that time, the jiu-jitsu ace has submitted 12 men.
Coming off his title loss to Luke Rockhold, Souza came back strong with an arm-triangle choke win over Bristol Marunde. Previous to the Rockhold loss, Souza was on a four-fight win streak.
Brunson is the definition of dark horse in MMA. The 9-1 Greg Jackson product has looked dominant in all of his wins, and didn't look bad in his razor-thin loss to Kendall Grove.
He owns seven career stoppages, including a submission over Lumumba Sayers.
I am going to call the upset special here, as I think Brunson's wrestling and ground and pound will be enough to earn the judge's nod.
Prediction: Brunson def. Souza via decision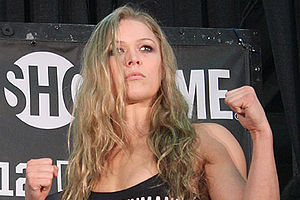 MMAweekly
The main event seems to be a good one, as the face of women's MMA, Ronda Rousey, meets the criminally underrated Sarah Kaufman.
Not much needs to be explained about Ronda Rousey. All of her wins, including her amateur bouts, have come by armbar in the first round. This includes wins over notable females Miesha Tate, Julia Budd and Sarah D'Alelio.
Kaufman, a former champion in her own right, is not getting the respect of MMA media going into this fight. She is a great striker with a more experienced record (15-1 to Rousey's 5-0).
Her only loss resulted in the loss of her title against Marloes Coenen. Since then, she has won three straight over Megumi Yabushita, Liz Carmouche and Alexis Davis.
Expect Kaufman to try and strike from a distance. She will get over-zealous and Rousey will get a takedown. Expect a tapout from the Canadian striker.
Prediction: Rousey def. Kaufman via submission