Stock Up, Stock Down for Every Carolina Panthers Positional Unit This Preseason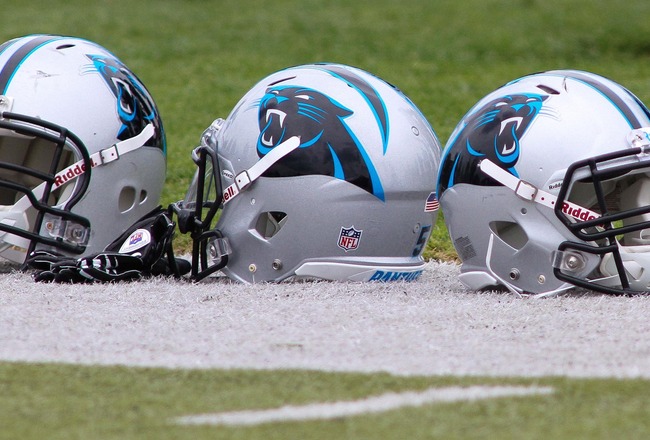 Jeremy Brevard-US PRESSWIRE
The Carolina Panthers are two games into their preseason schedule sitting at 1-1. So far, we have learned what areas they have improved upon, which they have excelled in and those that have left many wondering if there will ever be a solution.
A team's positional units, much like their players, always see a flux in their stock. One moment it can be high among the league's elite, and the next, it finds itself nose diving into an abyss of non-production and underachievement. Sometimes, that stock maintains a steady balance and does not really experience much change.
Carolina has seen a little bit of everything from its different positional units, and it's worth exploring which of them are on the rise and which have yet to make any kind of noticeable improvement after plummeting over the past couple of seasons.
Quarterback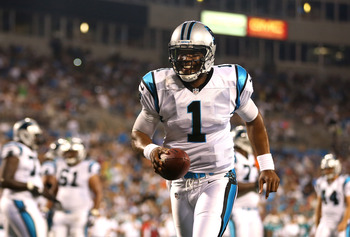 Streeter Lecka/Getty Images
After poor quarterback play in 2010, the Panthers' fortunes made a turn for the best the following season and looks to get only better.
Cam Newton was unimpressive in his first preseason game, but made up for it the second one against the Miami Dolphins.
The young man has taken steps to be one of the best quarterbacks in the game, and his performance this past Friday was excellent. As long as Newton has the reigns of the offense, the Panthers are in good hands. However, if he isn't, they still have this guy named Derek Anderson.
Anderson has proven himself to be a capable backup, and while he may not need to be as elusive or mobile as Newton, he can manage the game and complete the necessary passes. His showing in the first two games of the preseason have shown that.
Between these two and what they can do with the offense, the woes of Jimmy Clausen are not even an afterthought. Carolina's quarterback unit is very much sound to the point where his presence is unnecessary.
Stock: Very High
Running Backs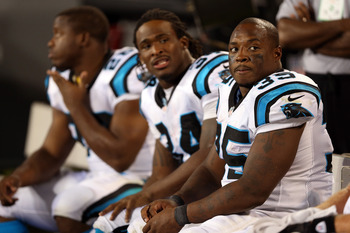 Streeter Lecka/Getty Images
The rich only get richer, and Carolina is basking in the wealth it has in its backfield. Adding Mike Tolbert just gave the Panthers another weapon to light up the scoreboard after posting a top-five offense in 2011.
Against Miami, Jonathan Stewart leaped over the mass of bodies into the end zone, DeAngelo Williams had a receiving touchdown and Tolbert just bulldozed the Dolphins' defensive line. The only real miscue amongst the three was Tolbert's fumble, but this guy has sure hands so it should not be foreseen as a future problem.
Tauren Poole was absent from the last game, but made quite an impression in the first against Houston. Josh Vaughn has struggled, but had a decent performance Friday night. These guys are most likely competing against each other for the last running back spot, but so far, Poole is making a strong case for himself. The missed game will not hurt him.
Whoever wins the backup spot will not see too much action given the depth ahead of them. The Panthers find themselves with a problem that everyone would like to have, and so far, it seems as though it will be distribution. If Newton is the heartbeat of the offense, the running backs are the arteries.
Stock: High and climbing
Receivers/Tight Ends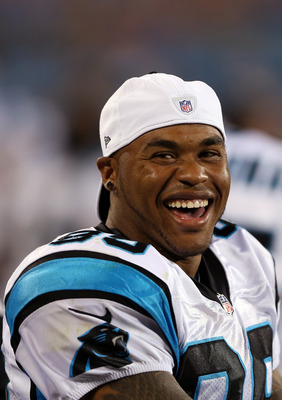 Streeter Lecka/Getty Images
The Panthers have an established 1,000-yard receiver in Steve Smith. Behind him, they have many promising options. Brandon LaFell looks to have a lock on the second-receiver spot, but he did have a few miscues against the Dolphins. Louis Murphy found himself to be a favorite target for a second week in a row and looks to be separating himself from Seyi Ajirotutu.
Speaking of which, he hasn't helped himself as of late and could find himself on the upcoming chopping block when the first round of cuts are made. He will have to impress big time in camp and hope to see action in a third game.
The combined efforts of Kealoha Pilares, Greg Olsen, Ben Hartsock and Gary Barnidge were impressive Friday as they each had a big reception. There ability to make the big play will help open the offense and allow Newton to be more comfortable throwing them the ball. There is still a lot of work to be done within this unit, but they look to be a promising bunch.
Steve Smith's Stock: Very High
All others: Slowly rising from the middle
Offensive Line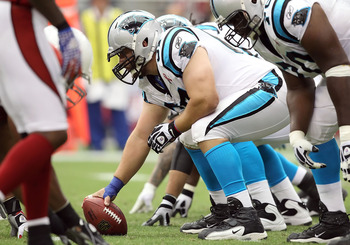 Christian Petersen/Getty Images
The big uglies up front have been one of the better units for the Panthers and have great veteran leadership which should be complemented by young, talented rookies and veterans looking to establish themselves.
The men assigned to protect Newton did just that as the first team played solid and kept him on his feet. Additionally, they were able to open holes, and after the first team sat down, the second-stringers were just as effective in that department, allowing Tolbert to net a couple of big gains (despite one being called back).
It looks as though the starting line will consist of Jordan Gross, Amini Silatolu, Ryan Kalil, Geoff Hangartner and Byron Bell. Bell looks to keep improving while Silatolu will make the occasional rookie mistake.
Bruce Campbell, Garry Williams and Jeff Byers should serve as quality backups, though Campbell could be making a case for a starting spot with his strong play. The line, as a whole, only gave up two sacks against the Dolphins, and compared to their last game with Houston, that is a great improvement.
Stock: Steady
Defensive Line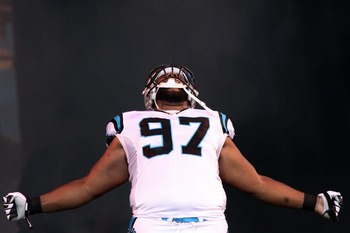 Jeremy Brevard-US PRESSWIRE
At one point, the defensive line was one of the best in the NFL. Then, something happened in 2011 that made it one of the worst.
Sure, it can be attributed to multiple injuries and untested youth, but the end result was the same. After a terrible showing in the first preseason game and a tongue lashing from coach Ron Rivera, the line looks to turn things around.
Charles Johnson is motivated. He accepted Rivera's challenge and stepped up his game Friday, harassing Ryan Tannehill all night. He ended his night with two tackles, one being a sack. However, on the other side, Greg Hardy is not doing much of anything and was shown up by backup Thomas Keiser.
Hardy was suppose to be a great complement, and thus far, has been anything but. Keiser recorded his second straight game with a sack and could find himself in a position to challenge for the starting spot.
Hardy will need to play out of his mind in both practice and the last two games if he values his spot, otherwise, he may be revisiting his 2010 role as a rotational/situational player.
The interior still has its question marks, but there seemed to be an improved push from the defensive tackles. Ron Edwards had a nice a nice tackle in which he took away the running room and took down his man. Frank Kearse and Terrell McClain didn't play bad, but they haven't done anything to make anyone feel good about this line as a whole.
The defensive front looked improved as opposed to their showing in the first game, but an accurate depiction of the unit will not be known until the end of the last preseason game.
Stock: Fluctuating
Linebackers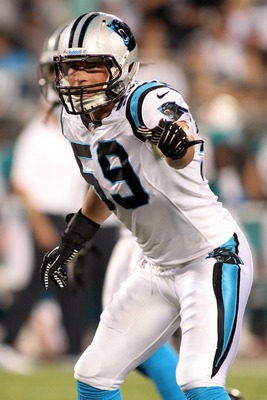 Jeremy Brevard-US PRESSWIRE
The linebackers for the Panthers have usually been one of the most sound and efficient units on the team. Then, injuries and lack of leadership brought them down a bit. Now, the corps looks healthy, and the new added youth looks to right the ship.
While the Panthers wait to put Jon Beason and Thomas Davis out on the field, they will just have to get the most out of rookie Luke Kuechly, Jason Phillips and James Anderson. Both Jordan Senn and Phillips are having a quality preseason and should be able to fill in for an extended amount of time if called upon.
Kenny Onatolu and Kion Wilson have been alright, but they are not the long-term solution the Panthers need when the season starts next month. Regardless, they are decent backups to play behind talented starters.
This is a unit whose stock dropped dramatically last season, but with addition of Kuechly, has found itself climbing back to respectability. The return of Beason will greatly improve those chances.
Stock: Steady, but slowly on the rise
Secondary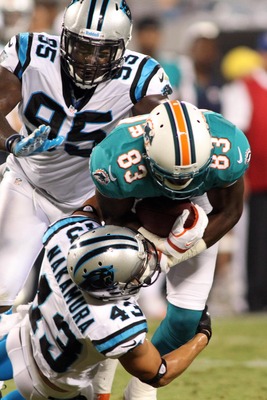 Jeremy Brevard-US PRESSWIRE
The defensive backs have been a question mark since the end of the 2010 season. Trying to find that dependable second corner and a reliable safety have proven to be one of the top focal points of making the defense stronger. Two games into the preseason, they are still looking for a solution at both positions.
Chris Gamble may be underrated as a cornerback, but he needs to work on his tackling. Other than giving up a few unnecessary yards after the catch, his performance has been in line with his reputation.
Josh Norman has yet to make the impact in the game as he has shown in practice, but his time should come soon enough. Brandon Hogan and Captain Munnerlyn are still very much in the other cornerback battle, and the last few games should be interesting.
Haruki Nakamura has been solid so far and could lock up one of the safety spots. Jordan Pugh and Jonathan Nelson are doing enough to keep their spots on the roster. R.J Stanford had an interception against Miami and almost a second one that bounced off his hands.
This unit is still in flux, and it has its moments where it looks good and others where they look bad with missed tackles or assignments. The key to the secondary's success will depend on whether or not the rookies and the acquired free agents can make a statement to lock down their respective positions.
Stock: Even (without Gamble, their stock is low)
Special Teams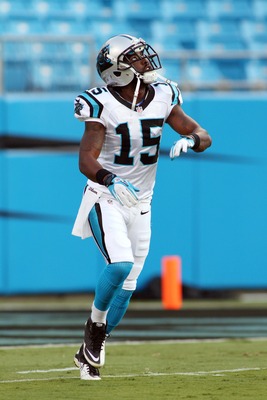 Jeremy Brevard-US PRESSWIRE
Never has one unit fielded so many reasons for fans to suffer from heartburn and frustration more than the Carolina special teams. It seems as though every aspect of the unit has problems without a clear upside. That looks to be changing this year.
The kicker battle and the punter battle are still in full swing with neither man willing to give up. Justin Medlock keeps knocking the down from beyond the 40, and Olindo Mare is keeping pace albeit hitting the shorter-range kicks. Medlock has been lights out and performing better in camp, though Mare is just as perfect on attempts in real games.
Brad Nortman and Nick Harris are both making a statement to be the team's punter. Nortman has the benefit of youth and a ridiculously strong legs working in his favor, so the early edge should go to him. Of the two battles, this one should be decided first.
The abilities of Joe Adams are unquestionable. He has the talent to make the big return, but was unimpressive against Miami. Armanti Edwards hasn't been much better either. The aspect of this game should be improved compared to last year.
The kick coverage team still needs some work. While Mare and Medlock can kick the ball deep for the touchback, there are still moments when the coverage team fails to contain the return man.
The first two kickoffs were promising with the opposition starting at the 16- and 20-yard line respectively. However, for this unit's stock to rise, they need to have better containment on each and every kickoff. Constantly allowing their opponent quality starting field position is unacceptable.
Kicker/Punter Stock: Rising
Coverage-Team Stock: Low
Bonus: Team Discipline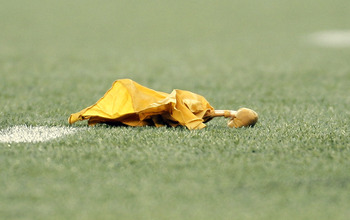 Winslow Townson/Getty Images
This could be dismissed as a preseason growing pain, and that may be the case. However, in the professional arena, more is expected. Penalties were a bit of a killer in seasons past, and for the Panthers to succeed and prevent the big play from becoming nullified, they must find the discipline to stop making mistakes and being flagged for it.
In light of the game against Miami and the fact that penalties were a problem for every unit (especially offense) of the Panthers, this particular area warrants mention.
Penalties are a killer, and it showed Friday night. The Panthers were penalized 17 times for 145 yards. Many coaches will preach that the team with the fewest penalties (and mistakes) will win the game.
While that may not always be the case, the Panthers shot themselves in the foot a few times during the first half which could have resulted in a few more scores or turning field goals into touchdowns. This isn't just a problem limited to the rookies as the veterans need to put themselves in check, too.
Holding is bound to happen because it usually does on every play. Making mistakes on the line will draw either an offside or false-start penalty. The dumbest, and perhaps the easiest ones to avoid, are the unsportsmanlike and unnecessary-roughness penalties.
Stock: Low (145 penalty yards is ridiculous)
Keep Reading

Carolina Panthers: Like this team?