Lions vs. Ravens: Detroit's Biggest Winners and Losers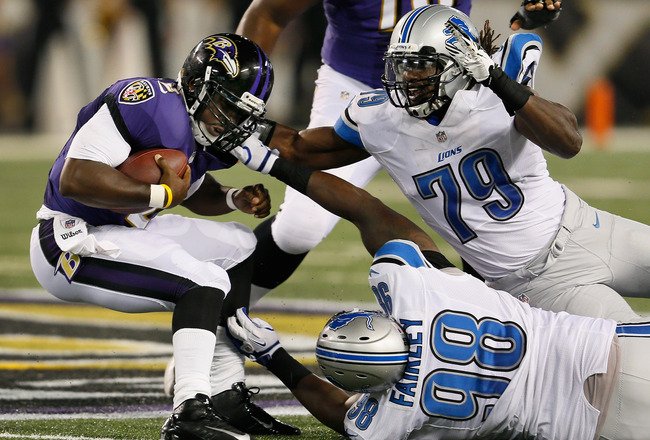 Rob Carr/Getty Images
Another Detroit Lions preseason game is in the books, this one ending in a 27-12 victory.
That final score, of course, is perhaps the least significant of all the stats compiled in this game, but it's also the first one we look for, so there you go.
More significant in this game is that the Lions held the Ravens' offense to four field goals and no touchdowns in this game. Though the Ravens' offense appeared to be in rhythm for most of the first quarter, the Lions defense came up with the big plays that stalled every Ravens drive short of the goal line.
The Lions kept their starters in until midway through the second quarter, perhaps in an attempt to build some momentum as training camp wraps up. If that's the case, it worked. Matthew Stafford and Calvin Johnson hooked up for 111 yards and a touchdown on five receptions in just over a quarter of play.
But it wasn't just the superstars who showed up in this game. The Lions put together a total-roster, total-team effort in this one, and these are the guys who most stepped up...or stepped back.
WINNER: John Wendling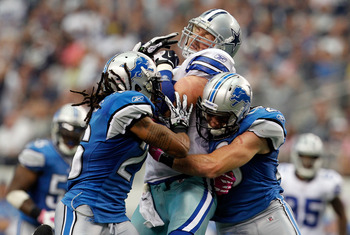 Tom Pennington/Getty Images
If John Wendling can really, truly play safety like this in the regular season, and it's not just a preseason smokescreen against lackluster passing offenses, then I owe the man a huge apology.
You see, for a couple of years, I've been touting Wendling as a special-teams superstar who justifies his roster despite a blatant inability to play defense on even a basic level.
But now, after starting two preseason games at safety in place of the injured Louis Delmas, I am just about ready to retract all of that. Wendling had a pretty solid game against Cleveland, but against Baltimore, he was downright clutch.
His statistics are relatively impressive, considering he played less than half the game: four total tackles, with a sack and a pass defensed. Not bad.
But now consider that the pass deflection was in the middle of the field on the Lions' two-yard line. And the sack came in Lions territory on 3rd-and-1.
That's two huge impact plays in limited playing time. If this is the Wendling we're going to be looking at all season, he might be pushing for a starting job, even when Delmas gets healthy.
LOSER: Amari Spievey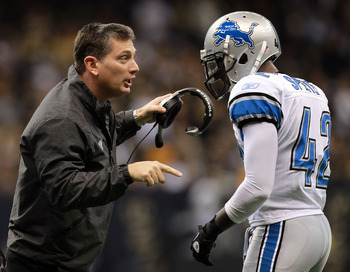 Ronald Martinez/Getty Images
Part of Amari Spievey's bad day was Wendling's good day (Erik Coleman also had some clutch stops).
But Spievey hasn't looked good since the Lions got to camp. After spending the preseason game against Cleveland deactivated, he was given his shot in the second quarter of this game.
The Ravens ran one play, a run fake to screen pass, out of their own end zone. Spievey bit so zealously on the run fake, that he was caught hopelessly out of position in a situation where he should have been the last line of defense.
In two plays to Spievey's side, the Ravens gained 50 yards. The Lions yanked him immediately, and he spent most of the rest of the game on special teams. If his early camp performance is any indication, Spievey is no longer fighting for a starting spot—he's fighting for his roster spot.
WINNER: Carmen Messina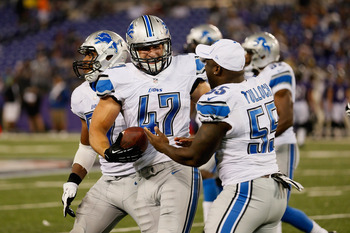 Rob Carr/Getty Images
I considered adding Carmen Messina as a winner in my post-Browns writeup, after he notched seven tackles and had as much of a standout fourth quarter as a guy can in the preseason.
But ultimately, he was part of the Lions defense that surrendered the late lead in that game. Neither he, nor the other 10 guys alongside him could make that play that put away the game.
Messina made up for that here by snatching a Curtis Painter pass in Lions territory, as the Ravens were driving to tie the game from 20-12 with less than two minutes on the clock.
That interception and a tackle are the only stats Messina notched in this game, but a putaway interception is a pretty good thing to have people remember you by.
Ultimately, this may only mean we've found our new frontrunner for the Randy Phillips Award, but Messina will be worth keeping an eye on regardless.
LOSER: Stefan Logan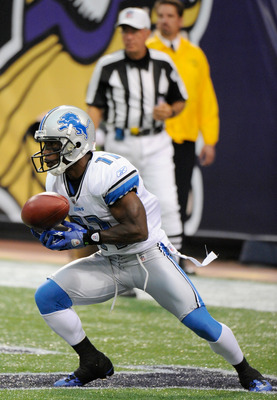 Hannah Foslien/Getty Images
Just so we're clear, I'm not calling Stefan Logan a loser. That is to say, he isn't worthless, and certainly not because of his performance on the field today.
But Logan lost a great deal in this game after buckling in the second half with an ankle injury.
The Lions have been working on ways to work Logan into the offense, and on what appeared to be a designed handoff to him, Logan and Stafford ran into each other in the backfield after Logan apparently took just the right kind of wrong step.
Logan stayed down for a while, eventually rose and walked to the sideline, and was later carted back to the locker room.
Though initial X-rays were negative, Logan could miss some time:
Stefan Logan on crutches after the game. Not a good sign

— Dave Birkett (@davebirkett) August 18, 2012
If that's the case, it's bad news for a guy who was already likely on the chopping block.
WINNER: First-String Offense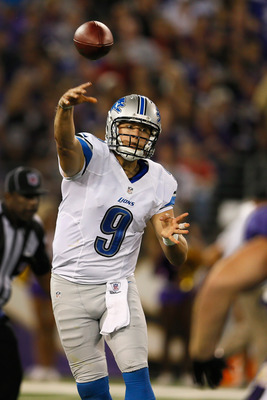 Rob Carr/Getty Images
There was, understandably, some anxiety regarding the Lions' first-string offense after they failed to score against Cleveland in the first week of the preseason.
Sure, it's preseason, but everyone likes to see the first team perform well in any situation, especially when a particular unit is expected to carry the team (like the Lions' offense).
When the first-team offense, a perceived powerhouse unit, failed to post any points against the lowly Browns, some eyebrows went up.
Matthew Stafford went 12-for-17 for 184 yards and two touchdowns to quell some of those concerns.
Now, some of those stats were compiled against second-string defensive players, and the running game remains a concern in at least some form. But if the Lions showed anything today, it's that they can still sling the ball around when they need to.
And they often need to.
LOSER: Special Teams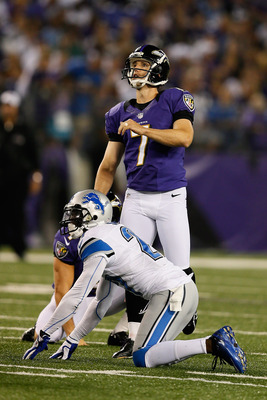 Rob Carr/Getty Images
It wasn't bad enough that Stefan Logan left with injury, but the Lions' kick and punt coverage looked about as bad as it has ever looked in this game.
The damage was limited only because the the Ravens' two (!!!) return touchdowns were called back on penalties (and one of the apparent touchdown returns was blown dead after the returner stepped out of bounds in Lions territory), but that film still exists, regardless.
The Lions did, in fact, let a kick return and a punt return reach the other end of the field in a single game. Had those touchdowns stood, the Lions could very easily have lost this game.
And if this keeps up, the Lions' coverage team will be so poor that it will lose them games, especially in a division with Randall Cobb, Percy Harvin and Devin Hester.
Keep Reading

Detroit Lions: Like this team?