Georges St. Pierre: What We Need to See from the Champ When He Returns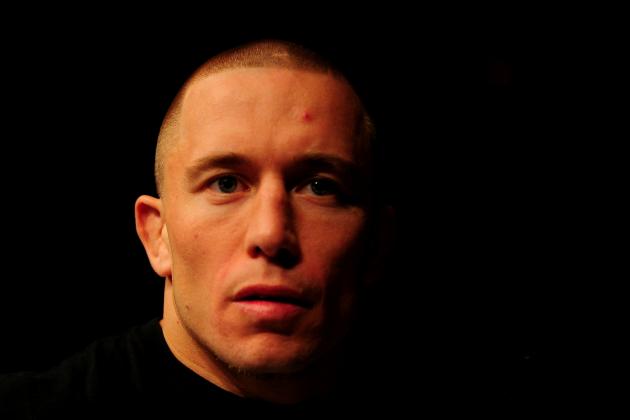 Mark J. Rebilas-US PRESSWIRE

After a very long layoff due to injury, Georges St. Pierre will soon be stepping back into the cage to unify the UFC welterweight title belts and prove that he is still the undisputed champion of the world.
Anytime a long period of inactivity finds a fighter, it usually doesn't come alone. It brings the theory of ring rust: that adage found in the fight game that speaks to the idea that a dulling of the senses and a loss of timing is sure to come with any prolonged period of time a fighter spends out of the ring.
This, of course, is not set in stone. Rashad Evans confounded the notion when he returned to action after a long layoff against Tito Ortiz. Evans looked as if he hadn't missed a step as he dismantled Ortiz, dominating every area the fight took place.
As he faces Carlos Condit in November, GSP will need to look every bit as sharp as Evans did, and more. Condit is in his prime and hungry to keep the title, where Ortiz was on the tail end of a career that had seen far more defeat than victory.
When GSP climbs back into active competition, it will have been 18 months since his last fight—a very long time for a fighter to sit on the sidelines in the sport of MMA.
So, what will we need to see from the champ when the cage door closes and Carlos Condit walks into striking range?
Read on and see.
Begin Slideshow

»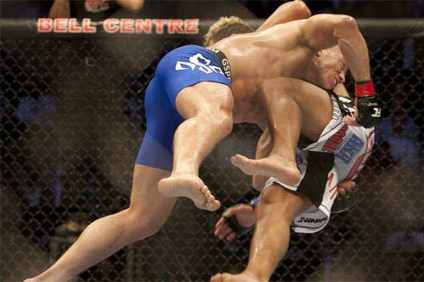 sportsnet.ca
One of GSP's greatest advantages in any fight is his ability to take his opponents down almost at will.
Controlling where the fight takes place is one of the cornerstones of victory in MMA, and GSP has used his elite takedown skills in nearly every fight of his UFC career, and he'll need to use them again against Condit.
Anytime Condit looks to get his game rolling, GSP needs to be able to do what he's always done: secure the takedown. If he can't, then Condit will become increasingly bold with his strikes, and that is something GSP doesn't need in his first fight in over a year and a half.
GSP needs to keep Condit worried about the takedown at all times, and to do that, he needs to get some takedowns with the same power and ease we've come to expect.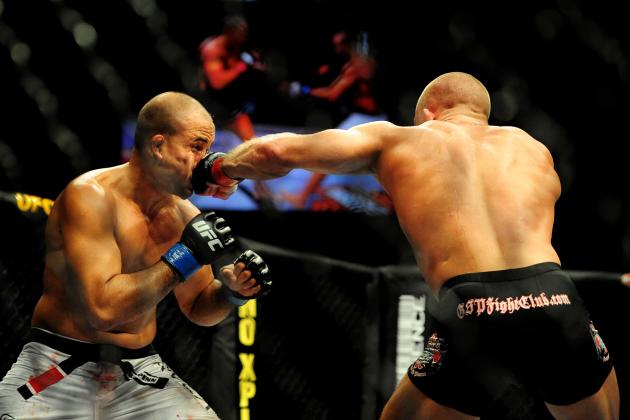 Mark J. Rebilas-US PRESSWIRE

Perhaps the most undervalued offensive weapon in MMA, GSP has shown that his jab is one of the best in the welterweight division; in his last two fights he used his jab to great success and he needs to reestablish that weapon once again.
Condit is a very game fighter who has proved that he can strike with all eight points of contact and he'll be looking to do the same against the champ. If GSP can stick his jab in Condit's face repeatedly, he will find that he can force Condit to spend much of his time resetting, which opens many windows of opportunity.
GSP needs to be pumping that jab into Condit's kisser often, with mean intentions, instead of simply hiding behind it.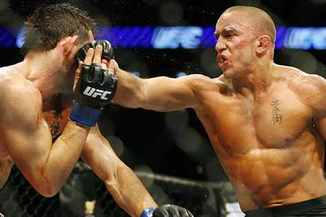 gameitall.com
Like most fighters, Condit finds his greatest success offensively when he can establish a rhythm and control the distance. It's a standard in the fight game that the fighter who can get off first, and can do so at the range that suits them best, is usually going to win.
GSP has proved in the past that his sense of timing and precision was such that he could explode into action right when his opponent began to commit to an attack. This allowed him to knock them off balance with strikes or get the takedown.
GSP needs to prove to himself more than anyone that he still has that timing and accuracy. If he does, odds are that he'll be able to beat Condit to that favorable range and score first, time and again.
If he can't and his timing has slowed, we could see him running into punches he normally would have slipped or knees to the face he normally would have deflected with his chest as he grabbed a deep single or double.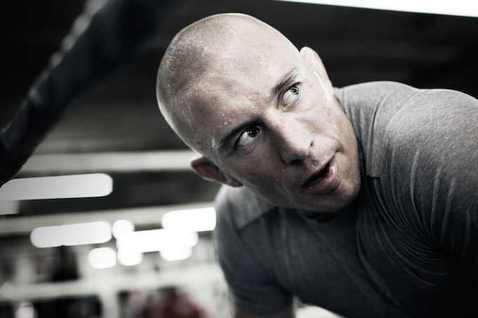 reviewsontherun.com
In the past, GSP has proved he has the conditioning to go five full rounds, equaling or surpassing his opponents when it comes to the energy they are putting into the fight.
This is one of the biggest assets a fighter can have, and after being gone so long, GSP could tire due to the adrenaline dump alone. A great deal of pressure is going to be on his shoulders to prove himself, and he needs to have his cardio up to the levels needed to sustain an aggressive offensive tempo for five full rounds, standing and on the floor.
In short, he needs to have cardio to burn in his first fight back.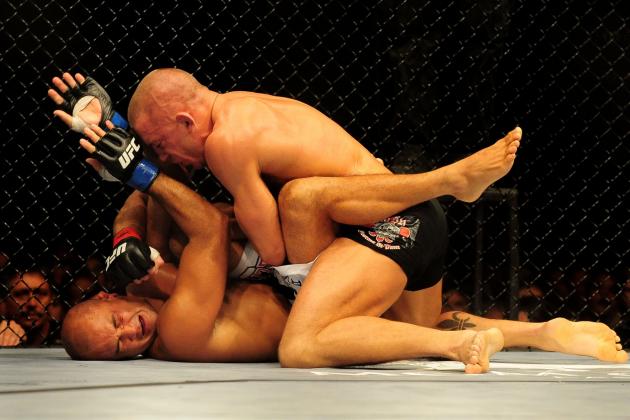 Mark J. Rebilas-US PRESSWIRE

Keeping Condit on his back is no easy task.
The interim champion has shown us that his will to overcome adversity and get the win is so great that he's willing to fight out of bad positions with no questions asked.
GSP has faced men like this, and managed to keep them on their backs where they are the least dangerous, thanks to his dominant top game.
The longer he can stay atop Condit and control the position, the less chance Condit has of scoring a knockout or scoring points on the feet. It also allows him to do damage of his own via ground and pound.
One of the biggest keys to victory for the champ will be keeping Condit on his back for long periods of time, eating away at the clock and piling up the points as he goes for submissions and attacks with fists and elbows.
If GSP cannot keep Condit on his back, there is a very real chance he will lose the fight in a prolonged striking battle.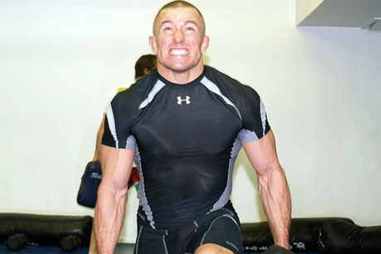 menshealth.com
GSP has shown us time after time that he's one of the strongest welterweight fighters in the history of the sport.
Even after such a long layoff, chances are that GSP has not really lost any of his strength.
In any kind of physical situation against Condit that sees both men striving against each other, GSP will most likely be the stronger of the two, and this should allow him to control Condit in certain positions—especially on the floor and against the cage.
However, if GSP has neglected strength training, his night will be much harder than it needs to be.
GSP must show Condit that he's the stronger one, bullying him around as the situation allows and restraining him when it's needed. If he begins to lose those contests of strength, Condit will no doubt be inspired and from there will be all over the champ.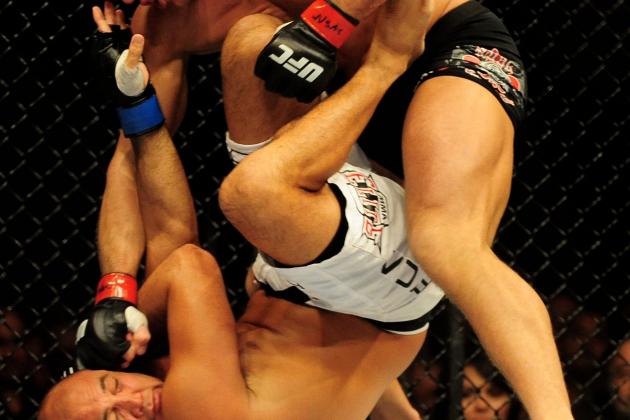 Mark J. Rebilas-US PRESSWIRE

Many people (myself included) talk about the two versions of GSP: the one that was wrecking opponents left and right and racking up wins by way of stoppage, and the current version that is incredibly dominant but lacking that killer instinct of old.
Against Condit, GSP needs to go for finishes anytime the opportunity presents itself.
Condit is one of those rare fighters who's dangerous up until the final bell, and GSP need only talk to stable mate Rory MacDonald to reaffirm this.
By playing it safe, GSP will be allowing Condit five full rounds to end the fight, and that is a very risky thing to do. Make no mistake about it, Condit can finish GSP if the chance presents itself.
GSP needs to remember that he's still the same man that stopped BJ Penn, destroyed Frank Trigg, stopped Matt Hughes on two occasions and ran all over Sean Sherk. He has all the tools to finish fights like he used to, and against Condit he needs to be thinking of stopping the fight instead of simply not losing it.
If GSP can rekindle that destructive fire he used to carry into every fight, he could stop Condit and prevent "The Natural Born Killer" from having countless opportunities to do the same to him.
GSP needs to do his utmost to finish Condit, or else he may find himself on the losing end of one of Condit's come-from-behind finishes.
With the title on the line and the unpredictability of judging in the fight game, GSP needs to take matters into his own hands and show the rest of the division that he's back, better than ever, and nothing does that like a finish.