Dolphins vs. Panthers: Miami's Biggest Winners and Losers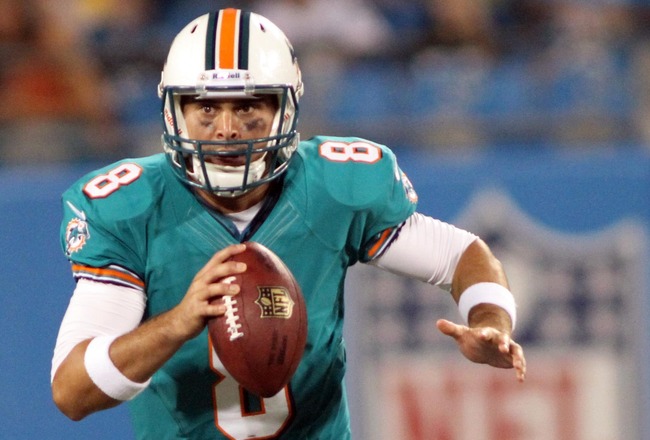 Jeremy Brevard-US PRESSWIRE
Welp, that was ugly.
The Miami Dolphins only lost by a score of 23-17 to the Carolina Panthers on Friday night, but it's tough to find anything positive to take out of this game.
Ryan Tannehill came back down to earth in his second NFL appearance, and Matt Moore didn't look much better against Carolina's second- and third-team defenses.
The right side of the offensive line was manhandled by the Panthers' first- and second-team defensive ends, and the Phins couldn't generate any semblance of a pass rush.
Despite all of this, fourth-string quarterback Pat Devlin marched the team down to the Panthers' four-yard line in the waning seconds of the game. With a chance to win the game and salvage something from a depressing night, he rolled out to his right and tossed an interception.
And that was all too representative of the Dolphins' evening.
Loser: Jonathan Martin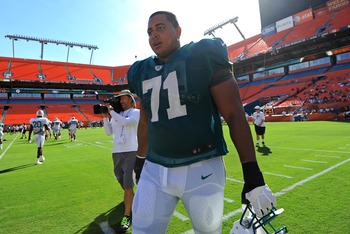 Steve Mitchell-US PRESSWIRE
Jonathan Martin is going to make headlines for all of the wrong reasons.
The rookie had the worst night of any Dolphins player. Panthers defensive end Charles Johnson worked Martin all night long, and even backup Frank Alexander got in on the action, beating the second-round pick enroute to sacking Ryan Tannehill.
Martin also committed another false-start penalty after jumping offsides multiple times last week.
This is not where Martin needs to be his in his transition to the NFL. He's supposed to be anchoring the right side of the offensive line, but he's the source of its struggles right now.
There's still time for Martin to rebound and become a steady starter. The regular season is about three weeks away, which leaves him time to work out the kinks and learn to handle his own against premier pass rushers.
After this game, though, he's a major question mark.
Winner: Paul Soliai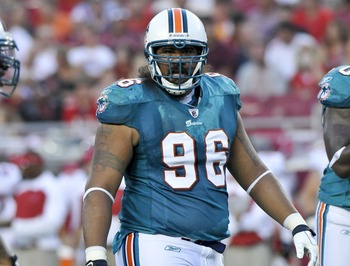 Fernando Medina-US PRESSWIRE
While Miami's first-team defense looked mostly abysmal, there were a few redeeming players—none more so than Paul Soliai.
He consistently created penetration and pressure, and there were multiple plays where he wreaked complete havoc—especially on an early first-quarter passing play where he blew straight through the line of scrimmage and delivered a nasty hit on Cam Newton.
Soliai is going to be a dominant force in the 4-3, and we should get used to what we saw from him tonight. With Randy Starks and Cam Wake generating pressure alongside him, how are offensive lines supposed to tame Big Paul?
Loser: Ryan Tannehill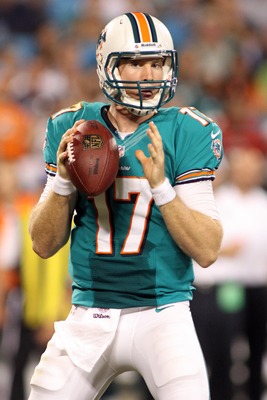 Jeremy Brevard-US PRESSWIRE
Ryan Tannehill completed just 11-of-23 passes for 100 yards and no touchdowns in his second preseason appearance, bringing him back down to earth after his promising debut.
It's clear that Tannehill still needs polishing and refinement, which is exactly what every single scouting report on the guy said. He had at least three passes deflected at the line of scrimmage, and he often locked in on one wide receiver and stared him down—which he did last week as well.
He had a chance to assert himself as a viable candidate for the starting job, and while there's still a chance he starts week one, his chances took a hit on Friday night.
You can't blame everything on Tannehill, though. He received virtually no pass protection as Charles Johnson and the Panthers' front-seven manhandled Artis Hicks and Jonathan Martin, and the running back didn't provide any help either.
On a brighter note, Tannehill looked to be in command of the offense. He was making pre-snap reads and calling out audibles all night, showcasing his mastery of the playbook. Even if he didn't always make the right call, it's nice to see a rookie that poised and confident on the field.
Also, there's this:
Tannehill is going to be a stud. Understands timing, progressions and can beat the D with a uniquely sudden release. Sky is the limit!

— Trent Dilfer (@TDESPN) August 18, 2012
Winner: Derrick Shelby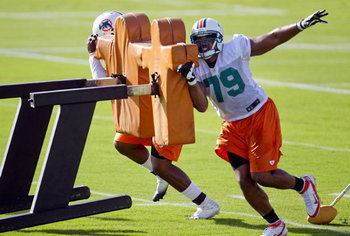 Photo via MiamiHerald.com
The Dolphins gave Cameron Wake the night off, giving undrafted free agent Derrick Shelby an extended look with the first- and second-team defenses.
Shelby is one of the only UDFAs with a legitimate shot at cracking the 53-man roster, and he was even listed as a second-team defensive end on the team's second depth chart.
He made the most of the opportunity, racking up four tackles—two of which were tackles for loss—and a sack. Shelby outproduced and outperformed both Olivier Vernon and Jamal Westerman.
Without Wake, the Dolphins pass rush was completely futile, but Shelby was a lone bright spot.
After Friday night's performance, he's a safe bet for the 53-man roster.
Loser: Matt Moore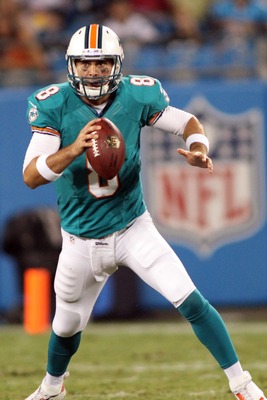 Jeremy Brevard-US PRESSWIRE
Ryan Tannehill's struggles opened the door for Matt Moore to slice up Carolina's second- and third-team defenses and say, "Remember when I went 6-3 down the stretch last season?"
As this team's luck would have it, Moore flopped.
He completed just 5-of-15 passes for 57 yards, posting inferior numbers and performance to both Ryan Tannehill and Pat Devlin. This is a huge misstep for Moore in his pursuit of the starting quarterback job, and Ben Volin of the Palm Beach Post put it best:
If Moore ends up starting in Week 1, it will probably be more about Tannehill not being ready than Moore winning the job

— Ben Volin (@BenVolinPBP) August 18, 2012
At this rate, Moore's job security is unraveling. He needs to turn things around quickly, or risk landing on the trading block.
Winner: Rishard Matthews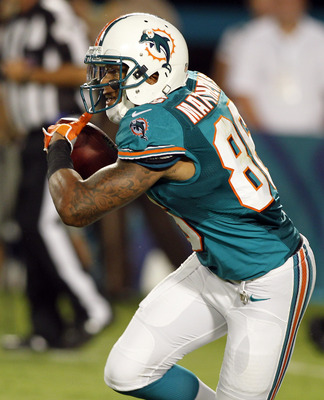 Robert Mayer-US PRESSWIRE
Rishard Matthews surfaced on the radar when he returned a kickoff 46 yards last week. He's now making a very strong case for the sixth wide receiver spot on the 53-man roster.
On Friday night, Matthews reeled in four receptions for 39 yards and a touchdown. Pat Devlin leaned on him as he tried to lead a Dolphins comeback, targeting the seventh-round draft pick four times on the final 10-play drive.
By showcasing his receiving talents, Matthews has intensified his push for a roster spot. Because he can also potentially handle kick-return duties, his value to the team is multiplied.
Matthews still has to show he can do this against a first-team defense. He might've earned the chance to get that opportunity.
Loser: Gary Guyton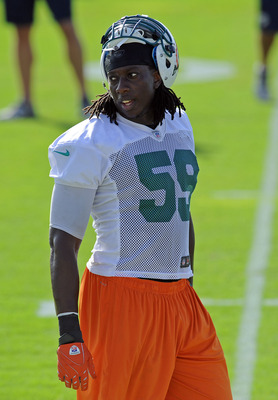 Steve Mitchell-US PRESSWIRE
The Dolphins knew they were taking a risk when they signed Gary Guyton. He was once a pass coverage specialist who could lock down athletic tight ends, but he regressed last season, which is why the Patriots didn't re-sign him.
After two preseason games, it looks like he hasn't regained form.
Guyton was arguably the worst player on the field Friday night. He couldn't contain, he couldn't set the edge against the run, and he got manhandled by Carolina's offensive line. On one play in particular, he got pushed back at least 10 yards, something that should never happen to an NFL linebacker.
Maybe Guyton will perform better in a situational role, but don't get your hopes up. After watching him and Misi struggle, the Dolphins will have to consider bringing in a veteran linebacker.
Winner: Jason Trusnik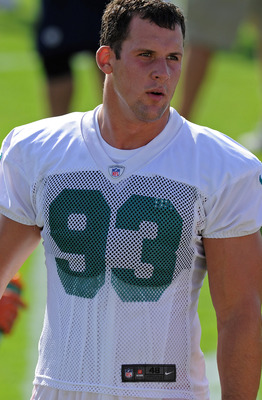 Steve Mitchell-US PRESSWIRE
Jason Trusnik earned a start after last week's standout performance, but he's not a winner for the reasons you might think.
He wasn't nearly as dominant against the Panthers as he was against the Bucs last week. In fact, he only registered one tackle. But, unlike most of the other players on the first-team defense, he didn't embarrass himself.
Trusnik was on the roster bubble at the outset of training camp because of his background as 3-4 outside linebacker. He had to make a seamless transition into the 4-3, and he's done just that.
Loser: Koa Misi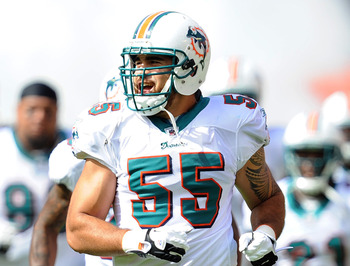 Steve Mitchell-US PRESSWIRE
Koa Misi is folding under pressure.
After a disappointing 2011 season, he must reestablish himself as a viable starting linebacker in Miami's new 4-3 defense, but my patience is wearing thin.
He was on the wrong end of a 27-yard completion to Panthers tight end Greg Olsen, and was drawn way out of position by a play-action fake that led to an 18-yard reception by Ben Hartstock.
After tonight, Misi's stock is on the decline, and his struggles bode terribly for the defense. The linebacker corps was already noticeably thin, and the last thing it needs is for starters to struggle.
Winner: Daniel Thomas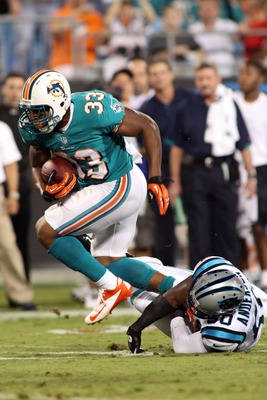 Jeremy Brevard-US PRESSWIRE
Daniel Thomas is still not living up to his second-round billing, but he's carving a role out for himself as Miami's short-yardage and red-zone running back.
The Dolphins turned to Thomas on a 4th-and-1 at the one-yard line, and he delivered. He also tacked on a five-yard reception during that same drive. Thomas gives the Dolphins a favorable red-zone back because he can—or, at least has the potential to—pound the ball in between the tackles and catch passes.
He was 3-of-13 in short-yardage situations last season, but if he can continue converting short-yardage situations and contributing to the passing game, then he'll see an expanded role in 2012.
Losers: Chris Clemons / Reshad Jones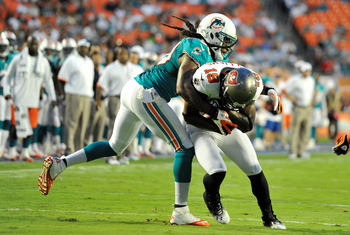 Brad Barr-US PRESSWIRE
After a lackluster preseason debut, both Reshad Jones and Chris Clemons needed to making an impact. They needed to make their presence felt and they needed to make plays.
Instead, both visibly struggled against the pass and the run. Clemons forced a clutch fumble, but that was a rather fluky fumble by Mike Tolbert.
Players including Brandon LaFell, Ben Hartstock and Lois Murphy reel in big receptions in front of Clemons and Jones. And if they can't stop these names, then they'll stand no chance against a formidable wide receiver corps.
Hopefully, Clemons will generate some momentum from his forced fumble and Jones will start living up to the offseason hype, but their outlook is grim as of now.
Winner: Vontae Davis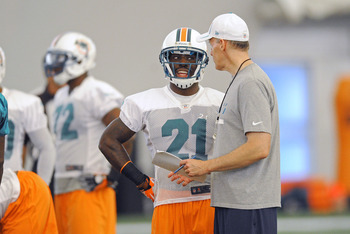 Steve Mitchell-US PRESSWIRE
Vontae Davis watched Richard Marshall in his old starting role against this week, but he started a campaign to get it back on Friday night.
He locked down Steve Smith and finally resembled the budding player he was during the second half of last season.
Davis and Smith got into a scuffle, and the replacement referees handed Davis a 15-yard personal foul. The refs should have most definitely flagged Smith as well, and this isn't any reason to worry.
Joe Philbin left Davis to play with the second-team defense, and he looked like as dominant as he should against a backup unit.
It looks like Hard Knocks may have sent Davis in the right direction.
Loser: Richard Marshall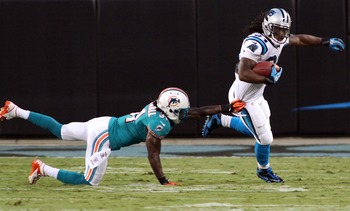 Jeremy Brevard-US PRESSWIRE
Richard Marshall made Joe Philbin look wise for starting him over Vontae Davis last week. He showcased his physicality and lived up to his reputation as one of the league's finer tackling cornerbacks.
On Friday night, he had the opportunity to increase his ground on Davis and perform in front of the franchise he spent the first four years of his career with.
But Marshall struggled instead, most notably against the run. He missed a tackle on DeAngelo Williams' first quarterback touchdown run, and he was forced out of position to make plays on the ball carrier several times.
Marshall should force teams to avoid his side of the field, but the Panthers showed no such hesitation.
Winner: Marlon Moore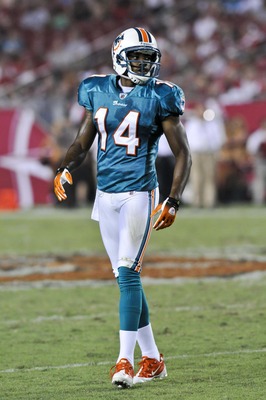 Fernando Medina-US PRESSWIRE
Marlon Moore is entrenched in a tightly contested battle for a spot on the 53-man roster, and up to this point, he hasn't done much to separate himself from the pack.
That changed on Friday night when he reeled in a pair of receptions for 25 yards, including a beautiful diving catch on the sideline that kept Miami's first scoring drive alive.
Moore didn't outproduce all of his main competitors, but he did play against Carolina's first-team defense. Rishard Matthews, Chris Hogan and Jeff Fuller also made strong cases for that final roster spot on Friday night, but Moore just might be the front runner following this game.
However, his work isn't done yet. There are still two preseason games and plenty of practices remaining on the offseason slate, so Moore has to maintain this level of play to fend off his competitors.
Keep Reading

Miami Dolphins: Like this team?