By now everyone will have heard the stunning news that the New England Patriots have reached an agreement with Olympic silver medalist and former Florida Gators tailback Jeff Demps.
Demps, who was a member of the United States 4x100 relay team which placed second behind Jamaica, is yet another weapon for Tom Brady, Josh McDaniels and Scott O'Brien to play with. Demps didn't run in the final, but he still received a medal for his contributions.
At 5'7'' and 175 pounds, Demps is far from the biggest guy on the field, but what he does bring is blazing speed and some terrific open field moves for a "track" guy. Demps has a reported 4.18 40 time and a 100-meter dash time under ten seconds, which would make him the fastest straight-line player in the NFL.
Demps will naturally be a leading candidate to handle kickoff returns, an area in which the Patriots have struggled greatly since the departure of Brandon Tate, and he also figures to receive some running back snaps.
With the Patriots expected to carry four running backs in Stevan Ridley, Danny Woodhead, Shane Vereen and Brandon Bolden, fitting Demps at fifth back would be unlikely.
Belichick most likely would not waste a roster spot on a player who can only return kicks so could that mean that someone as popular as Danny Woodhead is in danger of getting cut?
Demps is essentially a faster version of Woodhead, as they are remarkably similar in stature and both are change of pace backs with return capability.
While Woodhead was one of the feel good stories of the 2010-11 NFL season, he disappeared for the most part in last year's campaign with only one touchdown in the regular season. Factor in bigger roles in the offense for Stevan Ridley and Shane Vereen and it seems as if Woodhead doesn't have a role on the team.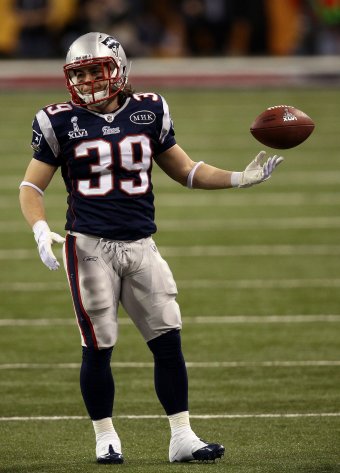 Win McNamee/Getty Images
Unfortunately for Woody, Demps can do everything he does, but a little better.
As mentioned before Demps will most likely be the kick returner, but he also adds tremendous value in the screen game. It's evident from observing the Patriots in practice and from the first preseason game that Josh McDaniels in bringing back the screen game big time this season.
Before the signing of Demps the two most viable candidates to play the "screen-back" were Woodhead and Vereen, thanks to their quickness and shiftiness. With Demps on the roster, he immediately becomes the best option at "screen-back."
During his time in Florida, Demps ran a lot of screen and draw plays so adjusting to the Patriots offense shouldn't be too hard for him. It should also be pointed out that Bill Belichick has implemented several aspects of the Gators' spread offense into the Patriots system, thanks in part to his close friendship with former Gators head coach Urban Meyer. Meyer incidentally is also the same man who recruited Demps to Florida.
All things considered, this was a great move by New England and Bill Belichick. Demps makes what was perhaps the most explosive offense in the league even more lethal and he adds another dimension to the Pats return game.
It's a no-lose situation with Demps for New England, however his inclusion on the team may result in the end of Danny Woodhead's time in Foxborough. Having two marginal players who do essentially the same thing on the roster is simply a waste of one spot and with Demps being the superior player to Woodhead, it could mean goodbye Woody.