WWE SummerSlam 2012 Results: Live Reaction and Review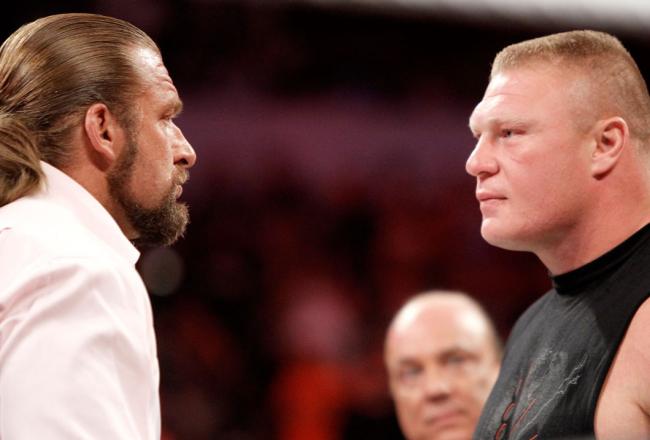 Photo by WWE.com

The day is here, folks. SummerSlam 2012, the second-biggest event of the WWE year, has finally arrived.
The card is stacked with title matches, grudge matches and a musical performance by Kevin Rudolph.
CM Punk will be defending his title against John Cena and Big Show, while Sheamus will be putting his title on the line against Alberto Del Rio.
The Miz will be taking on Rey Mysterio for the IC title, and Santino will be defending the U.S. title against Antonio Cesaro during the free view on YouTube.
The tag titles will get some much-needed pay-per-view love when Kofi Kingston and R-truth defend against The Prime Time Players.
We also have Daniel Bryan facing Kane, Dolph Ziggler vs. Chris Jericho and the highly anticipated Brock Lesnar vs. Triple H.
We encourage readers to engage in discussion and debate in the comments section, so voice your opinion on the action as it happens below.
During the PPV I will be updating the blog every 10 minutes during matches as well as giving updates during the sections between matches.
This night is sure to have a few surprises in store, so make sure to bookmark this page and come back for this live blog, which will begin at the start of the U.S. title match on YouTube.
Trips leaves the ring and interacts with a few fans before walking up the ramp. The crowd cheers as he mouthes ""Ï'm sorry.""
SummerSlam goes off the air with Michael Cole speculating if this was the end of Triple H.
Decent show. I think I went 5/8 in my predictions. I wanted Ziggler and PTP to go over in their matches, but I really thought it was Del Rio's time to win the title.
I was a little shocked that no matches were added at the last minute, but WWE needed every minute tonight since no match lasted less than ten minutes from my estimates.
Cesaro won the only title that changed hands during the pre-show when he beat Santino for the Us title.
Thanks for joiing me for the live blog tonight. Please feel free to keep the conversation going in the comments section below.
Some medics attend to Triple H as Lesnar and Heyman leave ringside. Hunter lays in the ring well after Lesnar has left and his music has stopped.
He slowly gets to his feet, refusing medical attention. A "You tapped out"chant starts up as Trips stands up. As it dies down the fans begin to cheer for him and chant his name.
He looks like he just shot Old Yeller himself. I wonder if Lesnar will attack him again.
Triple H vs. Lesnar part 3
Trips hits several knees to the gut followed by a spinebuster. Trips hits the Pedigree for a very near fall after almost eating an F-5.
Lesnar hits a blatant low blow, but Heyman reminds the ref that he can't call for the DQ. The ref asks if Hunter can continue and Hunter says yes.
Lesnar picks him up and hits an F-5 for another very close fall. Lesnar is dripping sweat as he thinks about what to do. He decides to try the Kimura again and he locks it in.
Triple H grabs the rope but the ref can't ask for the hold to be broken. Triple H works over Lesnar with punches until he breaks the hold.
Trips hits another Pedigree but Lesnar locks in the Kimura again when he goes for the pin. Triple H is fighting but he taps.
Lesnar breaks the hold right away.
Winner: Brock Lesnar
Lesnar vs. Tripls H part 2
Lesnar drags Trips back into the ring and slams him on his arm again. He is softening up that arm for the Kimura.
Lesnar tries to lock it in, but he decides to wrap the arm around the rope and pull on it instead. He starts stomping Hunter as he lays in the corner.
Lesnar throws Trips into the corner by his bad arm to add more punishment. The pace has really slowed now, but Lesnar hits a big German suplex to pick it up again.
Hunter comes back with some big rights and a DDT. AS both men get up, Lesnar grabs HHH and slams him on his bad arm again.
The two go outside and Lesnar throws Hunter into the steel steps. He then throws Hunter over the Spanish announce table.
Lesnar leaps off the table and lands a huge chop down to the bad arm. Brock rolls Hunter back in and gets a near fall off a roll up.
Lesnar hits a big clothesline that looked a bit sloppy. Triple H blocks a suplex and hits a suplex to Lesnar instead.
Trips goes for the Pedigree but Lesnar throws him over the top rope. Lesnar follows him outside but Hunter pulls Lesnar into the announce table right on the corner.
Lesnar is either hurt or selling the injury. My guess is selling. Triple H attacks the injured mid-section.
Lesnar is selling this pretty well. Lesnar almost locks in the Kimura again when the get back in the ring but Triple H takes him down with knees to the gut.
Brock Lesnar vs. Triple H part 1
Lesnar is out first in his MMA-style gear with Paul Heyman following like a pilot fish following a shark.
Triple H is out next. He looks like he still hits the gym pretty hard. Lesnar looks better than he did during the Cena match.
The lights drop during the official ring introductions like a boxing match. The bell rings and Lesnar backs Trips into the corner right away.
Hunter fights out and Brock tries for the Kimura lock right away. Trips breaks out but Lesnar gets it half on again while still standing. Hunter knocks him off and then over the top rope with a clothesline.
Lesnar backs Trips in the corner again but Hunter comes out with the high knee and then he clotheslines him over the top rope again.
Wow! Triple H just yelled "This is my house! Not UFC, this is WWE!"
Lesnar slowly gets back in the ring and he takes off his MMA gloves. Lesnar takes down Triple H and then hits him once in the back of the head with a punch and Hunter rolls out of the ring.
Lesnar meets him on the outside and he slams Triple H on the announce table with his hand behind his back.
The background music in this video package is getting me pumped up.
Who wants to bet that HBK will make some kind of appearance during the match?
It loks like the main event is next. No surprise match additions tonight. The rest of the PPV is Brock vs. Triple H. Who do you want to win?
Did WWE just turn into Glee or am I having a fever dream (AKA nightmare)?
Musical performance=bathroom break
Fred Durst just flipped off the camera. Vince is throwing a fit. David Arquette is also there with his old World Title. Maria Menounos has on a Bob Backlund shirt. I am in love.
Punk celebrates after the match with his title as Cena looks on with disappointment on his face. That was a decent match. I thought the ending was kind of interesting.
Punk vs Cena vs Show part 3
AJ just says to restart the match and leaves. The bell rings and both men turn around into a chokeslam from Big Show.
Show tries to cover each man and both kick out. Show calls for the WMD, but he misses and Cena hits the AA.
Punk throws Cena out of the ring and makes the cover to win and retain his title.
Winner: CM Punk
Punk vs Cena vs Show part 2
Show keeps on punishing both men separately, making it impossible to double team him.
Show catches Punk in a springboard and drops him to the mat. He calls for the WMD but Cena comes in and starts hitting Show with lefts and rights.
Show spears Cena hard and gets a near fall. Show sets up both men in the corner and he climbs the ropes. Show hits a Vader splash on Cena, but Punk rolls out of the way and breaks up the pin.
Show continues to dominate both men for the next few minutes until Punk drops his neck on the top rope and Cena hits a back suplex.
Cena tries to hit the Five Knuckle Shuffle but Punk cuts him off with a clothesline. Punk hits the Macho Man elbow for a one count on Show.
Punk locks in a version of the triangle choke I have not seen in a long time. Show powers out easily.
Cena comes out of nowhere and hits Show with a shoulder block. He locks Show in the STF but Show just stands up with Cena on his back and he backs him into a corner.
Punk comes out of left field with a diving clothesline to Show. Punk hits the high knee on Show three times, but Show pushes him off during the bulldog only to have Cena hit a fame asser from the top rope.
Cena locks in the STF and Punk puts on a submission as well. Show taps and the bell rings, but both men had a hold on Cena when he tapped.
Cena and Punk are asking the ref who wins and AJ comes out.
CM Punk vs John Cena vs Big Show part 1
Cena is out first for the match. Big Show is next, followed by Punk. Punk looks like he used some of Tyson Kidd's old trunks tonight. Very Hart Foundation look to them.
Big Show taks out both men quickly with headbutts. Big Show keeps trading Show hits a couple of shush chops to each man and they look brutal.
Punk and Cena finally team up on Show, but Show turns it around and suplexes ham both at the same time.
Punk takes Show down with a low dropkick and he starts hitting chest kicks. CM Punk tries to lift Show up for the GTS, and he gets him off the ground for all of a second. Show chops him once and he is down.
I would be shocked if CM Punk could pull that off.
After some video packages we see that the WWE title match is next, meaning Trips and Lesnar will close the show. Surprise, surprise.
Kofi/Truth vs PTP part 2
Kofi makes a tag to Truth and Truth hits all his signatures on Young. Kofi low-bridges Titus and hits a cross body on the outside.
Young rolls up Truth for a near fall. Truth hits his finisher out of nowhere and the champs retain.
Winners: Truth and Kofi
And here I was, thinking the Generals could finally beat the Harlem Globetrotters.
Kofi and Truth vs. Prime Time Players part 1
I approve of the Chicago Bears colors Kofi and Truth are wearing. I don't see Little Jimmy anywhere.
Truth tackles Young right after the bell. Truth stays on him with a couple rights and a leap frog in the corner followed by some dancing.
Young picks Truth up and puts him in his own corner as he tags in Titus. Titus stays on Truth with a front face lock.
Truth hits a spinning heel kick and both men are down. Truth tags in Kofi who leap frogs in with a big chop.
Kofi has a head of steam as he hits the Boom Drop. He calls for the Trouble in Paradise, but Young provides a distraction.
They play some cat and mouse with Kofi outside the ring which ends with Titus almost knocking Kofi's head off. Titus gets a near fall after rolling Kofi back in the ring.
Young tags in and stays on Kofi. Titus tags back in and locks in an abdominal stretch on Kofi.
Triple H is shown telling the ref that the match is a no DQ match and it will only end by pin or countout.
Prime Time Players are out next for the tag title match.
Hahaha. Michael Cole points out that it is indeed Piers Morgan behind him. Called it.
They replay the video and Del Rio did indeed have his foot on the ropes. The fans booed the decision when Del Rio was declared the loser.
I guess this gives him an excuse to appeal the decision on SmackDown this week. The next PPV will probably be Del Rio vs. Sheamus 10 or something like that.
Sheamus vs. Del Rio part 2
Sheamus misses a Brogue Kick and Del Rio sends him out of the ring with a kick of his own before sending Sheamus into the steel steps.
They get back in the ring and Del Rio hits a diving axe handle for another near fall. Del Rio keeps the pressure on as he punishes Sheamus with various holds.
Del Rio hit a running stomp to Sheamus' head that looked really cool. ADR mocks Sheamus with the Brogue sign as Sheamus struggles to his feet.
Del Rio runs into a clothesline, but Sheamus runs right into the ring post, shoulder first.
Del Rio locks in the Cross Arm Breaker out of nowhere and Sheamus is in the middle of the ring.
Sheamus powers Del Rio onto his back and he lifts him off the ground, dropping Del Rio on his back. That looked impressive.
Sheamus hits White Noise for a near fall. Decent match considering we have seen about a dozen times this year already.
Sheamus calls for the Brogue Kick, but Del Rio avoids it. He can't avoid the Irish hand grenades though.
Del Rio drops Sheamus into an exposed turnbuckle and then he hits a big running enziguri for a very close two count.
Del Rio is blaming Ricky for some reason. Rodriguez tries to throw his shoe to Del Rio, but Sheamus catches it and hits Del Rio with it.
He hits the Irish curse for a pin and the win, but Del Rio had his foot on the ropes.
Winner: Sheamus
Sheamus vs. Alberto Del Rio part 1
Del Rio is out first with Ricardo Rodriguez doing his intro as usual. Props to the person with the Ryder or Riot sign.
Sheamus comes out to a pretty big pop. I see a lot of Ziggler shirts in the crowd tonight. Too bad he lost.
The bell rings and they lock up, with Del Rio getting the better of Sheamus in the corner. Sheamus takes both men over the top rope and he bounces off the announce table.
They both go after each other on the outside as the ref starts the count. ADR hits a nasty kick to Sheamus'head as he climbs back in the ring.
Del Rio runs into a boot and Sheamus hits a neckbreaker for a two count. Sheamus hits the rolling senton for another two count.
He sets up for the Irish Cross, but Del Rio escapes. Sheamus puts him on the top turnbuckle and he ends up almost hitting ADR with an electric chair.
Teddy Long is backstage with Eve singing the praises of AJ. CM Punk walks up and goes into AJ's office. She is smiling at him as he tries to explain why the match he has is unfair.
She stares off into the distance and Punk takes it as disrespect. He walks out and she continues to stare off into space. Weird.
It looks like the World title match is up next as a promo is airing for it.
Mysterio vs. Miz part 2
Rey hits a big roundhouse for a two count. Rey hits a spinning DDT for another near fall.
Miz cuts Rey off on the top turnbuckle, but Rey knocks him back off and hits a diving headscissors. Rey hits the 619.
Miz moves when Rey goes for the splash but Rey rolls him up when he tries for the Skull-Crushing Finale for a two.
Miz ends up hitting the SKF on the second try and he pins Rey to retain the IC title. That was a really fun match in my opinion.
Winner: Miz
Mysterio vs. Miz part 1
Rey Mysterio is wearing a Batman inspired outfit tonight. Ironic considering he has a Riddler question mark on his chest.
Miz has the big AWESOME balloons for his entrance like he did at WrestleMania against John Cena.
The ears on Rey's costume are going to bother me the whole match.
Miz runs Rey over with a shoulder block right away to get things started. Rey goes behind and pulls Miz through his own legs for a pinning combination and a near fall.
Miz starts stomping on Rey but Rey gets up and hits a running headscissors. Miz and Rey exchange offense on the outside of the ring which ends with Miz catching Rey and slamming him into the barricade, gut first.
Mysterio reverses a slam into a pinning combination, but Miz picks Rey up on his shoulders and drops him for a near fall.
Decent back and forth in this match so far. Miz keeps control by keeping Rey grounded with submissions and stomps.
Rey fights back up to his feet but he runs into a clothesline, which Miz hit while kneeling, something I always find hilarious when people are facing Rey.
Miz postures a bit before hitting his running clothesline in the corner. Mysterio capitalizes on Miz taking too much time and he kicks him through the ropes.
Rey hits a seated senton but Miz catches Rey and hits a huge powerbomb for a near fal..
This article is
What is the duplicate article?
Why is this article offensive?
Where is this article plagiarized from?
Why is this article poorly edited?