Brian Urlacher could be ready for the Chicago Bears' season opener against the Indianapolis Colts on September 9, but after undergoing arthroscopic knee surgery this week, they must take the proper precautions and prepare for that game in the event their veteran leader can't go.
Any time Chicago's defensive leader isn't on the field, it's far from a good thing for the Bears.
After spending three consecutive years in the Top 11 in terms of yards and points allowed per drive, when Urlacher was lost for the season in the first game of the year in 2009, Chicago plummeted to 16th in yards allowed per drive and 25th in points allowed per drive (thanks, Football Outsiders).
In 2010, when a healthy Urlacher returned, Chicago was once again in the Top 11 of those important defensive categories.
Clearly, other variables must be considered, but there's no questioning it—Urlacher's presence is essential to the Bears.
As B/R Lead NFL blogger Aaron Nagler insightfully pointed out in a recent column, "losing both Urlacher's playmaking ability and his ability to quarterback the defense for any length of time would be a serious blow for the Bears."
Here's how they'll "survive" until Urlacher's return.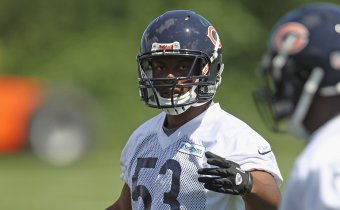 Jonathan Daniel/Getty Images
First, five-year veteran Nick Roach is stepping into Urlacher's spot, which should be encouraging for Bears fans. He's been a situational linebacker for Chicago in every season but one, 2009, when he set career highs in Urlacher's absence.
He'll need to be utilized and ready to take on duties as the "Mike" that covers the deep middle of the field in the Bears' soft Tampa 2.
At 6'1'' and 234 pounds, Roach is nimble enough to backpedal and clog the seam to that area of the field uninviting for opposing quarterbacks.
His experience and speed should let the Bears' coaching staff breathe a little easier.
Chicago can keep its head above water with Roach manning the middle. The Packers in Week 2 may pick on Roach across the middle, but the Rams shouldn't be as destructive offensively.
Most importantly, Lovie Smith has to play control-the-clock football when Urlacher is on the sideline. Though it'll be tempting to let Jay Cutler fire bombs to Brandon Marshall, and test diminutive corners against Alshon Jeffery, eating clock and keeping the defense fresh with a steady dose of Matt Forte and Michael Bush is the recipe for success in the early going.
So, although Urlacher's injury is far from ideal for the Bears, they have decent depth behind him in Roach. If they alter the offensive game plan to control the tempo and keep the defense off the field as little as possible, they should be able to "sustain life" until No. 54 returns.