Toronto Blue Jays: 4 Best Moves Under Alex Anthopoulos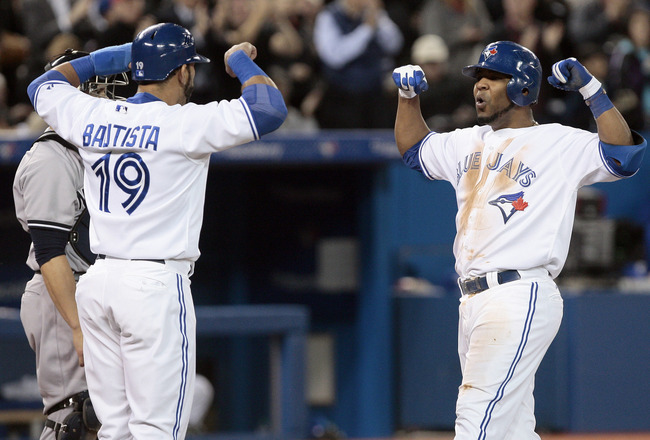 Abelimages/Getty Images
The landscape of the Toronto Blue Jays has changed drastically since Alex Anthopoulos took over as general manager following the 2009 season.
In fact, Casey Janssen, Jason Frasor, Ricky Romero, Adam Lind, Edwin Encarnacion and Jose Bautista are the only players from that year that are currently with the big club.
Anthopoulos has been in charge now for almost three seasons. While he may have missed out on a few moves this year, he has made several great ones during his time as the general manager.
Highlighted over the next few slides are the four best moves made by the Blue Jays front office since Alex Anthopoulos has been calling the shots.
Vernon Wells Trade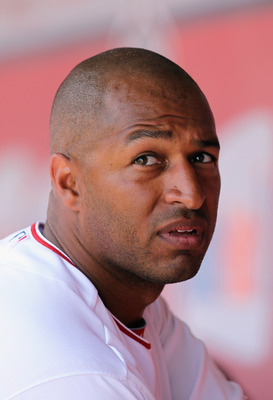 Jeff Gross/Getty Images
One of the best things Alex Anthopoulos has done for Toronto is get rid of the ridiculous contract that Vernon Wells was signed to at the end of the 2006 season. By doing so, the Blue Jays took one of their biggest problems and put it somewhere else.
Wells has played just 48 games this season, hitting .222 with seven home runs. Despite this, the Angels are paying him an annual $21 million between now and 2014, according to rotoworld.
Toronto received Juan Rivera and Mike Napoli in return for Wells. Napoli was later sent to the Texas Rangers for Frank Francisco. While that experiment didn't work out as planned, there is still a lot of upside to the move as a whole.
Rivera and Francisco are no longer with the team, but the deal is successful because they were able to save roughly $80 million.
Carlos Villanueva Trade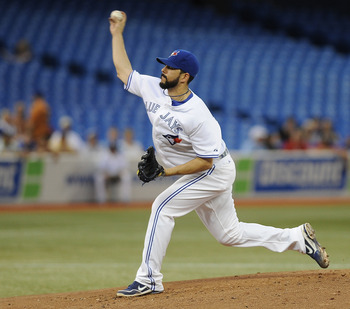 Brad White/Getty Images
On December 3, 2010, Toronto acquired pitcher Carlos Villanueva from the Milwaukee Brewers for a player to be named later. This was the first of two deals the teams would make. The second saw the two teams swap pitcher Shaun Marcum and third baseman Brett Lawrie.
While the second deal featured a bit more star power, the Jays got a steal in the first one.
In two seasons with the team, Villanueva has been very reliable, starting each season off in the bullpen and sliding into the rotation later in the year.
The 28-year-old has a combined 12-6 record since the start of 2011 and is sporting a 3.12 ERA this year.
He has become a very valuable asset for the Blue Jays and could be a big part of their future.
Rajai Davis Trade
Tom Szczerbowski/Getty Images
Following the 2010 offseason, Toronto made a trade with the Oakland Athletics, acquiring Rajai Davis for Daniel Farquhar and Trystan Magnuson.
While he is not your ideal starting fielder, Davis is a player that is great to have off of the bench. The 31-year-old can rotate the outfield, has hit for a high average in the past and has game-changing speed.
Davis has played in 196 games for the Blue Jays over the past two seasons. He struggled in 2011 but has bumped his average up to .260 this year. He has stolen 69 bases since joining the team and has a career-high six home runs in 2012.
This was a solid trade for Toronto, especially when you consider that they have since re-acquired Trystan Magnuson for cash considerations.
It is doubtful that Rajai Davis will be around for the long haul, but he will help the Jays win a few games next year and can be shopped at the trade deadline.
Jose Bautista Contract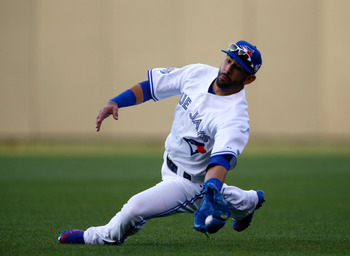 Jamie Squire/Getty Images
One of the Jays greatest success stories over the past few seasons has been Jose Bautista, who went from backup third baseman to superstar outfielder in just two years.
After hitting 10 home runs in September 2009, Bautista started the 2010 campaign as the leadoff batter and starting right fielder.
He played in a career-high 161 games and led the league with 54 long balls. His batting average was only .260, but he did walk 100 times and drive in 124 runs.
Following a breakout season, Bautista was in need of a new contract. He signed a five-year deal worth $65 million. There was a lot of controversy surrounding the contract as some were worried that he was just a one-year wonder.
The move proved to be a great one, however, as Joey Bats hit another 43 bombs in 2011. He bumped his average up 42 points to .302 and drove in over 100 runs for the second straight season.
Toronto has the right fielder locked up until the end of 2014. Let's hope we can say the same for Edwin Encarnacion this time next season.
Keep Reading

Toronto Blue Jays: Like this team?