LSU Football: Power Ranking Each Offense the Stacked Tigers Defense Must Face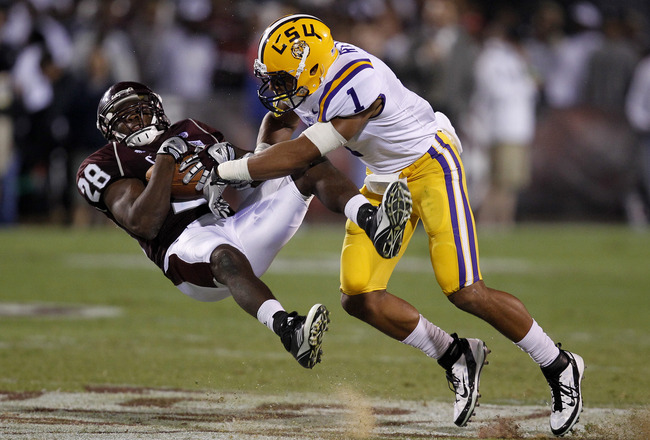 Butch Dill/Getty Images
Even without Tyrann Mathieu making plays in the secondary for the Tigers in 2012, LSU's defense will still be one of the nation's best.
Defense is a way of life for LSU. It always has been, and it always will be. Don't turn the ball over on offense, play solid special teams and dominate your opponent defensively. It's been quite the winning recipe.
But as the SEC transforms itself into a quarterback's league next season, the Tigers will have to face some impressive offenses, including a stellar non-conference opponent in Washington.
But of all the offenses this defense must face, which is the best? Or better yet, which will give LSU the most fits?
12. Towson
Towson might not convert a first down against LSU.
Very little is known about this university from Maryland, but one thing's for sure, they're nowhere near LSU's level.
This game should be reminiscent to LSU's 49-3 victory against Northwestern State last season. In the blowout, Northwestern failed to reach 100 total yards and the Tigers had their way with the Demons throughout the contest.
With the Tigers sporting the best defensive line in college football, expect a feast upfront for Barkevious Mingo and Sam Montgomery.
11. Idaho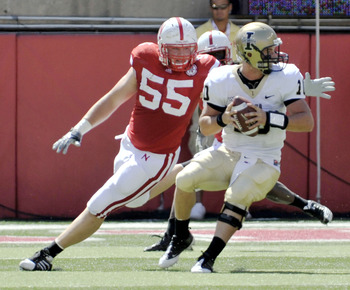 Eric Francis/Getty Images
If Idaho struggles playing in the WAC, they'll struggle in Death Valley.
Let me just throw some statistics out there so you can get a grasp of how bad Idaho's offense was in 2011.
The Vandals were 88th in the nation when it came to rushing the football, 102nd in passing and 107th in points per game with 20.3.
Good luck getting a field goal against LSU. Better yet, good luck taking care of the football against LSU's stingy secondary.
10. North Texas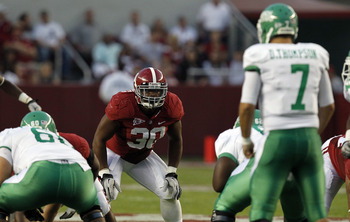 Butch Dill/Getty Images
Like Idaho, North Texas' offense was also pitiful a year ago.
They were 87th in rushing, 66th in passing and 76th in the nation in points per game. So while they weren't as bad as the Vandals, the Mean Green were still in the bottom half of every major offensive statistic.
But when analyzing how they'll fare against LSU's defense in the first game of the season, look no further than the Mean Green's game against Alabama last season.
The Crimson Tide rolled over North Texas 41-0 and only allowed 169 total yards. Look for LSU to shut down North Texas in a very similar fashion.
9. Ole Miss
Wesley Hitt/Getty Images
Ole Miss is at the bottom of the SEC West, and a large reason why is their poor offensive production.
Though they have playmakers like Donte Moncrief and Jeff Scott, they're absent of a true quarterback that can lead this team to victories against the giants in the SEC.
Heck, Barry Brunetti and Bo Wallace combined for four interceptions and only one touchdown in the team's first preseason scrimmage.
The Tigers forced three turnovers against the Rebels in their 52-3 victory in Oxford last season, and if neither quarterback can get their act together, it could be even worse in 2012.
8. Florida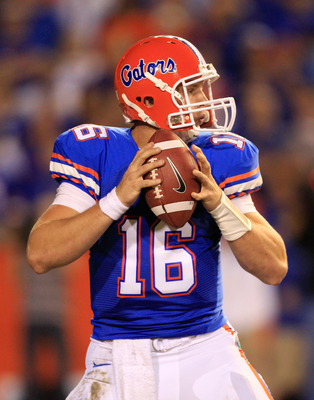 Sam Greenwood/Getty Images
Florida's defense will have to carry them in the SEC in 2012.
The Gators lost key playmakers Chris Rainey and Jeff Demps, and while Jacoby Brissett and Jeff Driskel both gained playing experience last season, it's relatively unknown how good they'll be.
Better yet, nobody knows how healthy Driskel will be after he bruised a bone in his non-throwing shoulder at practice.
It could be another long season for the Gators offense, and LSU could reenact their dominant defensive performance in a 41-11 route against the Gators in 2011.
7. Auburn
Kevin C. Cox/Getty Images
Like Florida, Auburn is still searching for a starting quarterback.
And while many Auburn fans believe Kiehl Frazier to be the guy, Auburn has seemingly more problems to overcome than the Gators.
Not only will the Tigers have to replace their starting running back, Michael Dyer, they'll have to maintain the same offensive productivity without offensive genius Gus Malzahn calling the shots. And while LSU beat them 45-10 last season, Auburn was able to total 248 yards against them.
Auburn will be more experienced and they still have great playmakers like Emory Blake, Onterio McCalebb and Philip Lutzenkirchen returning to the offense. For that very reason, they'll give LSU more of a fight than they did in 2011.
6. Mississippi State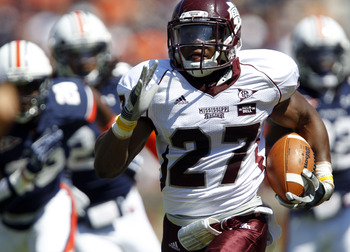 Butch Dill/Getty Images
This is the year Mississippi State moves the football down the field. There's no reason it shouldn't.
The team is Tyler Russell's now, and with LaDarius Perkins, Chad Bumphis, Chris Smith, Arceto Clark, Dillon Day and Gabe Jackson returning, this offense should be pretty good.
The real question is if Russell will live up to the hype. So far he's been shaky in his career. He's thrown for 1,669 yards, 13 touchdowns and 10 interceptions.
If Russell competes at a higher level and gets the ball to Bumphis, Smith and Clark on the outside efficiently, the Bulldogs could easily surpass their 25.3 points per game in 2011.
5. Texas A&M
Bob Levey/Getty Images
Too high?
Before you go on a tantrum about the placement of the Aggies on this list, look at this offensive unit closely.
Sure, they don't have an experienced quarterback returning, but they do have one of the better offensive lines in the SEC, and believe me, they're going to need it.
To go along with their studs up front like Jake Matthews and Luke Joeckel, the Aggies will have Christine Michael running the football and Ryan Swope and Uzoma Nwachukwu catching passes. This is a very capable unit, and overlooking them wouldn't be wise.
4. Washington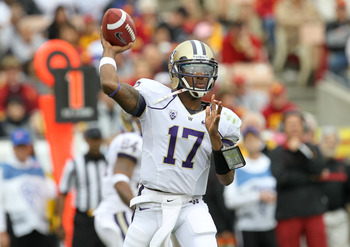 Stephen Dunn/Getty Images
Keith Price and Washington could really benefit from LSU being Honey Badger-less.
Let's not sit here and pretend that LSU lost Mathieu early in the summer and were given an ample amount of time to adjust their defensive schemes accordingly. They weren't.
Rather, LSU will try to find a player that's able to roam around the field in LSU's 4-2-5 package and create havoc just like Mathieu did.
And lucky for Washington, they get LSU in the second game of the season. Price is thought to be one of the nation's best quarterbacks, especially after his 438-yard, four-touchdown performance against Baylor in the 2011 Alamo Bowl. Don't be surprised to see Price and the Huskies move the football on the Tigers.
3. South Carolina
Mike Ehrmann/Getty Images
Connor Shaw and Marcus Lattimore...enough said.
South Carolina could be one of the premier offenses in the SEC with Shaw handing the ball to Lattimore, so expect the Gamecocks to give LSU all they can handle on Oct. 13.
However, LSU will still prevail simply because of the strength of their defensive line, and more specifically the skills of their defensive ends.
Having a mobile quarterback in Shaw and a Heisman candidate in Lattimore will tempt Steve Spurrier to run a spread-option attack more often than not. Option attacks won't phase LSU's defense, though.
2. Alabama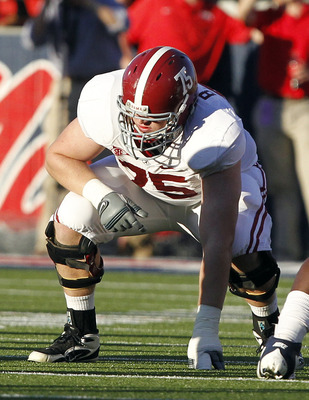 Butch Dill/Getty Images
Where are games won?
If your answer is anything other than the trenches, than you are mistaken. Games are won and lost at the line of scrimmage, and considering the Alabama Crimson Tide has the best offensive line in the nation, they should be just fine in 2012.
Though they'll be without Trent Richardson, they'll still sport an incredible rushing attack with Eddie Lacy and Jalson Fowler following the blocks of All-American offensive linemen Barrett Jones, D.J. Fluker and Chance Warmack.
AJ McCarron returns to lead the offense after an impressive 234-yard performance against LSU in the 2012 BCS National Championship Game. This sets up quite a showdown between the Tide and the Tigers on Nov. 3.
1. Arkansas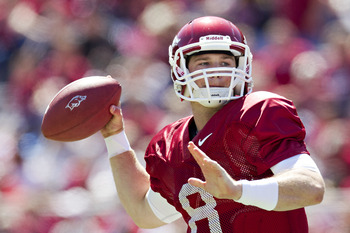 Wesley Hitt/Getty Images
Allow me to step out on a ledge and say Tyler Wilson is the best quarterback in college football.
In fact, the only argument that can truly be made against Wilson is Matt Barkley. But after watching both quarterbacks perform at the 2012 Manning Passing Academy, I'm convinced Wilson is just one small step better than the USC quarterback.
And because Wilson is such a tremendous talent at the quarterback position, the Hogs are going to be just fine without Bobby Petrino.
Arkansas and LSU have close contests more often than not, and with Wilson poised to have a Heisman-like season, the Hogs could easily pull off the upset against the Tigers. Oh yeah, and the Razorbacks return one of the best running backs in the league in Knile Davis. Arkansas will be LSU's toughest challenge defensively in 2012.
Keep Reading

LSU Football: Like this team?