5 Electric NFL Players Guaranteed to Become Household Names in 2012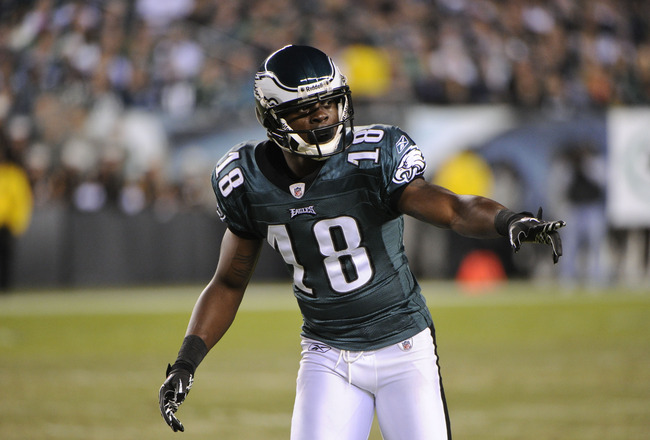 Howard Smith-US PRESSWIRE
When NFL fans think "electric playmakers," guys like Victor Cruz, Calvin Johnson and Adrian Peterson come to mind.
Guys like Greg Jennings, LeSean McCoy and Reggie Bush are others synonymous with on-field electricity and who are known in nearly every football-watching household in America.
In 2012, those players should once again be among the most dynamic stars in the league, but a new wave of explosive athletes will garner major attention as well.
Here's a look at the five electrifying players who'll break out this season.
Jeremy Maclin, Philadelphia Eagles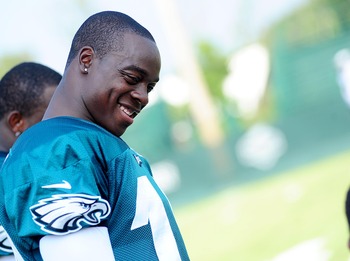 Evan Habeeb-US PRESSWIRE
Maclin began his career with the Eagles in the shadow of DeSean Jackson, once the most dynamic wideout in football.
Last year, a season filled with disappointed in Philadelphia, Jackson struggled and complained about his contract situation and Maclin dealt with injuries. Appearing in 13 games, the relatively underrated Maclin caught 63 passes for 859 yards with five receiving touchdowns.
The former Missouri Tigers star recently strained his hamstring, but is otherwise fully after mono-like symptoms caused him sit out until two weeks before the season opener.
Sure, if the hamstring strain lingers, it'll be worrisome, but in the Eagles' vertical passing offense alongside a happy Jackson, Maclin should break out in his third season.
At 6'0'' and 200 pounds, he's got adequate size and his acceleration down the field is tremendous.
NFL.com's Daniel Jeremiah sent out this tweet regarding Maclin's offseason and what to expect of him in 2012:
MT @prosb4hos: Bigger year, Maclin or Jackson?>I was told that Maclin looked outstanding in offseason workouts. Expecting a huge year

— Daniel Jeremiah (@MoveTheSticks) June 26, 2012
Maclin has a legitimate chance to emerge as the go-to guy for Michael Vick this season.
Kendall Hunter, San Francisco 49ers
Ed Szczepanski-US PRESSWIRE
Hunter played as the change-of-pace complement to Frank Gore during his rookie season in 2011. He racked up 473 yards rushing and two touchdowns on 112 carries. He also caught 16 passes for 195 more yards.
The former Oklahoma State speedster has deceptive speed, good quickness and the ability to sudden change directions as he carefully skirts around defenders in the open field.
Although he'll share the backfield with Gore, Brandon Jacobs and rookie LaMichael James, Hunter's easily the second-best runner on the team and will garner plenty of touches in 2012.
According to CSNBayArea.com, head coach Jim Harbaugh said the following about Hunter's potential this season: "I think he really has a chance to have a big year."
If he gets more than 150 total touches, compared to the 128 he received last year, Hunter should have a huge season and will be well known in more places than San Francisco, California.
Brandon LaFell, Carolina Panthers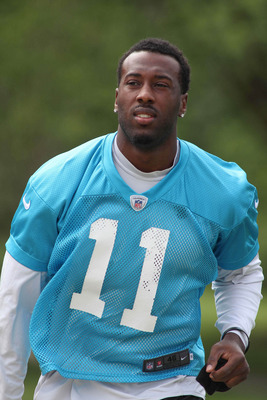 Jeremy Brevard-US PRESSWIRE
LaFell is probably the most unrecognizable player on this list, but he's set to have a huge year with Cam Newton throwing him passes in Carolina.
For those who wouldn't necessarily label him as an electric player, the former LSU Tiger did average 17 yards a catch in 2011, though he only managed 36 receptions.
He's the unquestioned No. 2 wide receiver on the Panthers and should see his fair share of one-on-ones with the majority of secondary attention on Steve Smith.
According to NFL.com's Daniel Jeremiah, who visited Carolina's training camp in early August, Newton and LaFell are "developing a very good chemistry." He went on to say "the young receiver was more fluid as a route-runner than he's been in the past and he was attacking the ball in the air."
With the team invested in three running backs and Newton's running prowess, the Panthers could be more of a run-heavy team in 2012 then they were last year, but they'll still take their shots down the field.
Expect a breakout campaign for the 6'2'', 210-pound wideout.
Julio Jones, Atlanta Falcons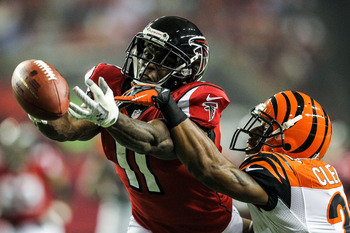 Daniel Shirey-US PRESSWIRE
OK, I'm cheating a little bit.
To many, Jones is already a household name after an illustrious career with the Alabama Crimson Tide. During his rookie campaign, he caught 54 passes for 959 yards with eight touchdowns. However, he still played second fiddle to veteran star Roddy White.
That should change in 2012.
Jones has looked spectacular in two preseason outings and has the natural physical abilities to emerge as an elite wide receiver who often overpowers smaller cornerbacks.
A quote from another NFL expert isn't needed here – everyone is on the "Jones Train" this season.
Randall Cobb, Green Bay Packers
Jeff Hanisch-US PRESSWIRE
Cobb made a name for himself with a thrilling kick return for a touchdown in the NFL opener last season, but amongst a crowded Packers' receiving corps, he finished the season with only 25 receptions for 375 yards and one touchdown.
Although Green Bay has the same assortment of talented pass-catchers, Cobb should move into a more prominent role with aging Donald Driver in the twilight of his career.
B/R Featured Columnist and Packers expert Zach Kruse lent some insight on Cobb's potential in 2012:
There are a lot of mouths to feed in the Packers' offense, and you know Greg Jennings, Jordy Nelson and Jermichael Finley are going to get fed. That said, I think Cobb is the receiver who gets the third most snaps in 2012, ahead of James Jones and Donald Driver. He's too talented in the slot and too electric with the ball in his hands to keep him watching from the sidelines.
Though it won't be easy for Cobb to become a household name playing alongside Greg Jennings, Jordy Nelson, Jermichael Finley and James Jones, his big-play capabilities will lead to significant recognition this year.
Keep Reading