Penn State Football: Devon Smith's Transfer to Marshall Is Actually Brilliant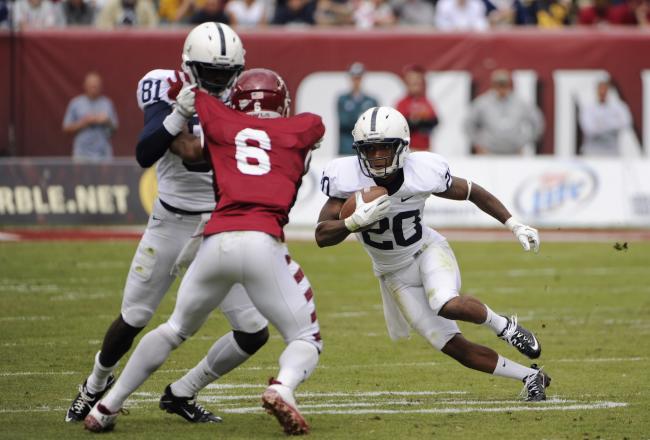 Howard Smith-US PRESSWIRE
The transfer train keeps chugging along for Penn State, as wide receiver Devon Smith has been cleared to play for Marshall starting this season. Smith was granted the waiver of the one-year transfer eligibility ban as part of the NCAA's sanctions against Penn State.
Here's more on Smith's transfer from ESPN.com:
Former Penn State wide receiver Devon Smith has been cleared to practice at Marshall.

Marshall coach Doc Holliday announced Smith's transfer Thursday.

Smith started last season for the Nittany Lions and recorded 25 receptions for 402 yards, ranking third on the team in both categories. He was projected as a starter on Penn State's depth chart released after spring practice, although he missed much of the spring with a foot injury.
Now, let's back up here, because this transfer isn't quite like the others—for a lot of reasons.
For one, it wasn't related to the Penn State sanctions. Per ESPN.com, Smith left the team "for personal reasons" back in June after an offseason arrest for possession of marijuana, so this wasn't Smith fleeing the program after the NCAA dropped the hammer.
But here's the thing, and whether or not this was planned isn't exactly clear. Smith wasn't officially kicked off the team (though 247Sports.com's initial report days earlier indicated that he was). He wasn't even suspended by Bill O'Brien, even though he was arrested. Moreover, he didn't announce plans to transfer until after the sanctions came down.
So from the NCAA's perspective, here's a guy who left the program for personal reasons (i.e. can say that he wasn't dismissed) and now has a decimated program to return to when he does want to play football again.
And clearly, by indicating that he wants to go to Marshall, he does want to play football again.
So of course the NCAA's going to waive his one-year ineligibility period just like everyone else who's leaving Penn State over this offseason. It would have been more surprising if it hadn't waived it.
And that, considering where we were in this saga back in March—after the drug raid on Smith's house—is a rather extraordinary result. If he had just said he was transferring back then, there's probably no way on earth the NCAA would have given him this free pass to Marshall or any other FBS school.
But owing to the charity of Bill O'Brien and some remarkable foresight, Smith's career continues in Huntington this season.
Now, if only all football players had the freedom to pursue their best interests as freely as Smith is doing. But that's a fight for another day.
This article is
What is the duplicate article?
Why is this article offensive?
Where is this article plagiarized from?
Why is this article poorly edited?