25 Things We Learned from Week 2 NFL Preseason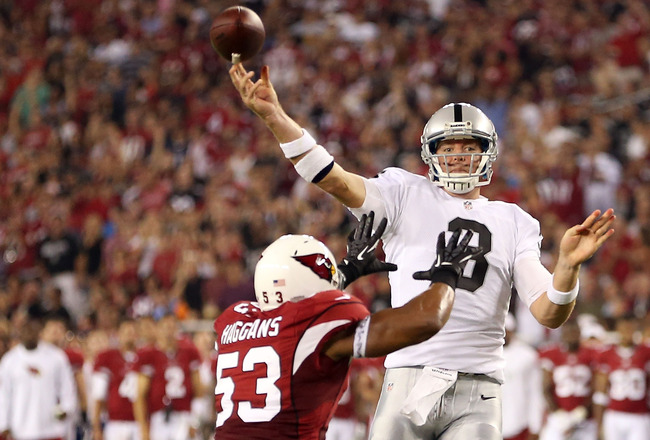 It wasn't a great night for the Raiders in Arizona on Friday
Christian Petersen/Getty Images
Another week and another attempt to put into proper perspective what we see during the NFL preseason on the field. In some instances, it may not be as hard as you think, as coaches kept their starters playing a little deeper into this second (or third) outing this summer.
Still, the lack of game-planning on teams' parts as well as ever-changing lineups on both sides of the ball makes some of the team analysis a moot point. But these are still important times for certain players, especially for those looking to make a better second impression this time around as coaches look to trim their rosters.
Again, we'll try not to put anyone into the Hall of Fame nor declare someone a rookie or free-agent bust with a few weeks to go before the regular season. But time is running out for those looking to make sure they have a steady job this fall and winter, while there is obviously some exciting young talent, perhaps, blossoming in front of our eyes.
1. Blaine Gabbert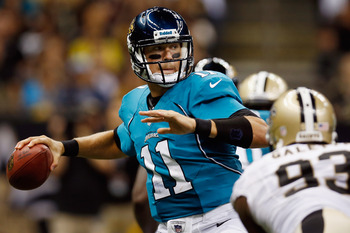 Jaguars quarterback Blaine Gabbert seemed unfazed by the Saints defense
Chris Graythen/Getty Images
Apparently, the confidence we saw from the 2011 first-round pick in the preseason outing vs. the Giants was not an aberration, as Blaine Gabbert looked even sharper in the team's win at New Orleans.
The Jaguars' second-year quarterback completed 13 of 16 passes for 112 yards and a pair of touchdowns, one of those scores to rookie wide receiver Justin Blackmon, and wasn't sacked in the Superdome.
Gabbert has fumbled in each of his first two outings this summer, but there's little doubt of the strides he has made this offseason.
2. Packers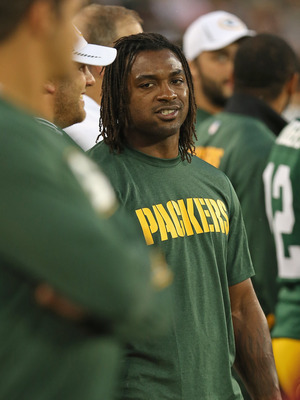 We're still waiting for Cedric Benson to make his Packers debut.
Jonathan Daniel/Getty Images
League MVP Aaron Rodgers turned in one of the greatest single-season performances by a quarterback in league history in 2011, throwing 45 touchdown passes and just six interceptions in his 15 starts.
But the imbalanced Packers were 27th in the NFL in rushing yards a year ago, one factor that came back to haunt them in the playoff loss to the Giants. In that game, Rodgers led the team with 66 yards rushing, just as he did Thursday night vs. the Browns with 24 yards on two carries.
We haven't seen Cedric Benson yet, but a revitalized ground game could help that defense.
3. Brandon Weeden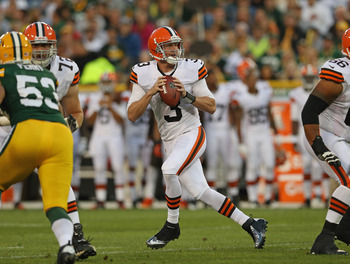 It was a good night for Brandon Weeden and the Browns at Lambeau Field.
Jonathan Daniel/Getty Images
One week after the first-round signal-caller had just one more completion (three) than turnovers (two) against the Lions, Weeden, once again, appeared to be poised.
But this time around, he hit on 12 of 20 throws for 118 yards, wasn't sacked, didn't throw an interception and didn't fumble at Lambeau Field.
Safe to say there were plenty of positives for the Browns, and while the 35-10 win over the Packers doesn't count, it certainly did when inspiring a little confidence to a program, perhaps, in search of some.
4. Saints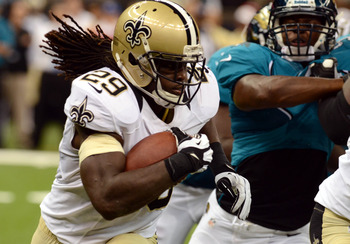 New Orleans fell short against the visiting Jaguars.
Chuck Cook-US PRESSWIRE
They say a suspect defense can make any offense look good, and perhaps that was the case a few days ago at the Superdome, when Jacksonville's usually lackluster attack had few problems moving the ball against New Orleans.
Granted, the Saints are learning a new system under coordinator Steve Spagnuolo, but that doesn't explain everything, like the inconsistent tackling that has plagued this unit the last two seasons, as well as this game.
There's still time to fix things before the season opener vs. the Redskins, and I wouldn't bet against Spagnuolo's chances. But the performance against the Jaguars was surprising nonetheless.
5. Cam Newton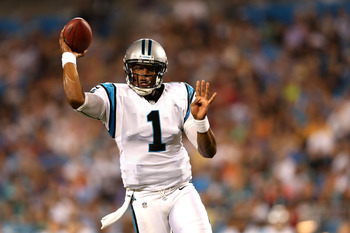 Cam Newton was on-target against the Dolphins.
Streeter Lecka/Getty Images
Many are expecting last season's Offensive Rookie of the Year to top his impressive debut performance of 2011, and that certainly won't be easy, considering he threw for 4,051 yards and 21 scores, plus ran for 14 touchdowns.
But Newton came out humming against the Dolphins on Friday, his first pass attempt a 27-yard completion to tight end Greg Olsen that was a thing of beauty, and you couldn't help but notice the zip on his throws.
The Panthers have so many ways to hurt you on offense, but it's the defense that will dictate the team's playoff aspirations.
6. A.J. Green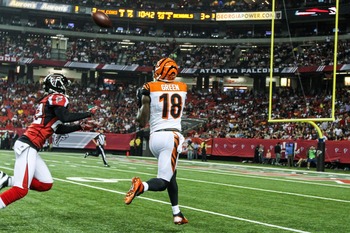 A.J. Green pulls in a pass at the Georgia Dome against the Falcons.
Daniel Shirey-US PRESSWIRE
In 2011, Green was just the 16th rookie in league annals to total at least 1,000 yards receiving, and his debut performance earned him a spot in the Pro Bowl.
His rapport with fellow rookie Andy Dalton last season was one of the reasons behind the Bengals' resurgence, and when you see the duo in action, you can't help but be impressed by both players, witnessing their 50-yard touchdown connection in the win over the Falcons.
It wouldn't be shocking to see the former Georgia standout elevate his game to All-Pro status this season.
7. Buccaneers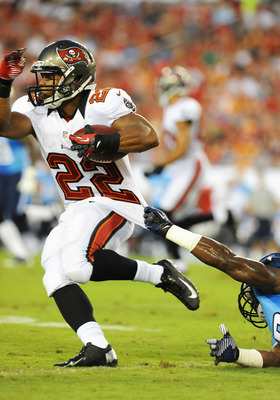 The Buccaneers were slowed down by the Titans on Friday night.
Al Messerschmidt/Getty Images
Besides last season's NFL-high total of 40 turnovers, the biggest issue with the Buccaneers was a defense that couldn't stop the run or rush the passer.
Last week vs. Miami, the Dolphins dropped back 50 times and didn't allow a sack. On Friday night against the Titans, Tampa defenders surrendered 216 yards rushing on 37 carries and totaled only a single sack.
There's a lot of promise on the offensive side of the ball, but it won't mean much if Greg Schiano's defenders can't stop anyone.
8. Kevin Kolb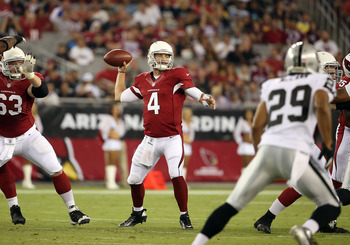 It was another rough outing for Cardinals quarterback Kevin Kolb.
Christian Petersen/Getty Images
Last week, we pointed out that the Cardinals' pass protection in recent seasons (104 sacks allowed since 2010) has left a lot to be desired and that all Arizona quarterbacks were under siege in the team's first two preseason games.
That may still be the case, but Kevin Kolb's hesitancy when facing the Raiders was very noticeable, as he completed just three of six passes for 22 yards while being sacked three times, once for a safety.
John Skelton gets the start Thursday night for the team at Tennessee, but how Kolb plays later in the game may be more significant.
And be it Kolb, Skelton or whoever lines up behind center, things won't get any easier now that left tackle Levi Brown is on the mend with a torn triceps.
9. Chris Johnson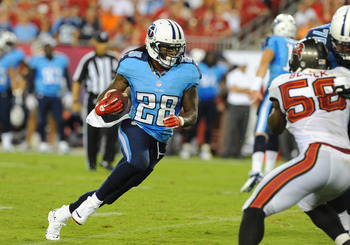 Versus the Buccaneers, Chris Johnson looked like...Chris Johnson.
Al Messerschmidt/Getty Images
Likely due to last year's holdout, the Titans' home-run threat just wasn't his usual self.
Chris Johnson was held to less than 50 yards rushing in six games in 2011, something that occurred just seven times in his first three seasons combined. However, the former Pro Bowler showed plenty of burst in Tennessee's preseason rout of the Buccaneers.
If he's back to All-Star from, so are the Titans' chances of not only reaching the playoffs, but winning the AFC South.
10. Russell Wilson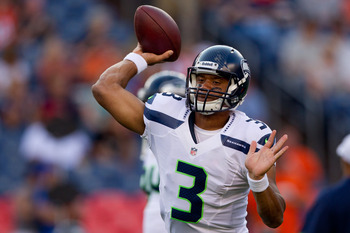 Russell Wilson has been fun to watch so far this preseason.
Justin Edmonds/Getty Images
For the second consecutive week, the Seahawks' third-round draft choice put up good numbers when he was called upon, and it will be interesting to see if head coach Pete Carroll gives him a start in one of the final two preseason games.
The rookie signal-caller played the second half vs. the Broncos and would throw for 155 yards and a pair of touchdowns (both in the fourth quarter), adding 33 yards rushing on five carries.
While it would still be a bit of a surprise to see Russell Wilson start the regular season, it would not be shocking to see him involved in the offense on a weekly basis…for now.

11. Vikings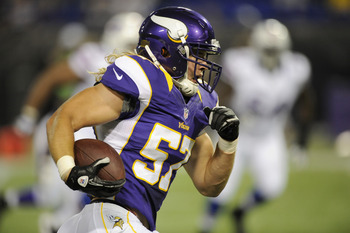 Seventh-round draft choice Audie Cole made a name for himself against the Bills.
Hannah Foslien/Getty Images
After a lackluster performance at San Francisco, Leslie Frazier's team comes off a 36-14 thrashing of the Bills. But that final score is quite deceiving, considering Minnesota's offense managed its one and only touchdown of the preseason in the first quarter against Buffalo.
The good news is that a pair of draft choices have made the most of their chances, placekicker Blair Walsh connecting on 7-of-8 field goal attempts and linebacker Audie Cole returning a pair of interceptions for touchdowns against the Bills.
It's safe to say that quarterback Christian Ponder and company need to step it up (and a now healthy Adrian Peterson will help).
12. Philip Rivers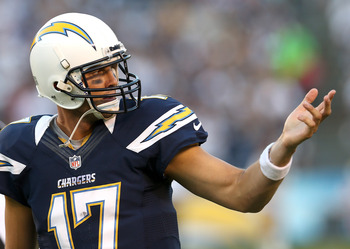 Can Philip Rivers bounce back from a disappointing season?
Stephen Dunn/Getty Images
The Pro Bowl quarterback was at it again vs. the Cowboys on Saturday night. That is, at it again as in 2011.
A year ago, the Chargers signal-caller served up a career-high 20 interceptions, picked off two or more times in eight of his 16 starts. In his previous 32 games (2009-10), Rivers served up multiple-interception games just five times.
Against the Cowboys on Saturday night in what was eventually a San Diego win, Rivers was picked off twice. It's safe to say that neither he nor Norv Turner (nor possibly general manager A.J. Smith) can afford to have their star quarterback, again, be frequently bitten by the interception bug throughout the season.
13. Terrell Owens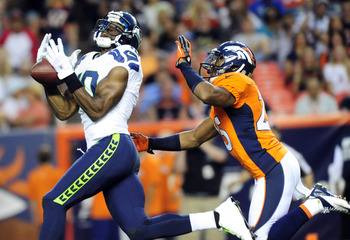 Terrell Owens couldn't hold on to the ball against the Broncos.
Byron Hetzler-US PRESSWIRE
The talented wideout (now sporting No. 10) certainly had his opportunities on Saturday night.
Targeted five times by Seahawks quarterback Matt Flynn in Denver (more than any other Seattle player), Owens failed to come up with a reception and let a sure touchdown catch slip through his hands in the second quarter.
One game does not make a disappointment, so it will be interesting to see how the well-traveled receiver fares in Kansas City on Friday. It's safe to say that Owens may have been a bit rusty against the Broncos, but he probably can't afford another such performance against the Chiefs.
14. Jake Locker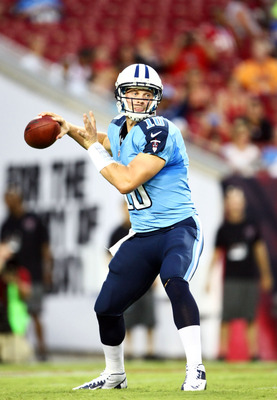 Jake Locker had his issues against the Buccaneers.
Douglas Jones-US PRESSWIRE
Lost in Tennessee's rout of the Buccaneers on Friday night was the play of Mike Munchak's starting quarterback as the eighth overall pick in 2011 got the start.
On the evening, Jake Locker managed to hit on just four of 11 passes for a mere 21 yards, the latter figure equaling his longest run of the evening. The second-year passer also served up a first-quarter interception to Bucs safety Ahmad Black, a late and careless throw over the middle that made for an easy turnover.
Munchak may or may not have his mind made up on who will open the season against the Patriots, but Locker certainly didn't help himself with his play this week.
UPDATE: Jim Wyatt of The Tennessean reported on Monday morning that the Titans have selected Locker as their starting quarterback for the opening game of the regular season.
15. Jets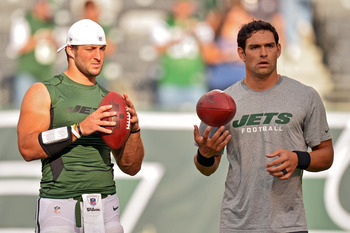 Tim Tebow (left) and Mark Sanchez were sacked a combined seven times vs. the Giants.
Drew Hallowell/Getty Images
In their two outings this summer, the most discussed team in the league is probably talking to itself these days.
While Mark Sanchez and company are in the midst of learning a new offensive system, the fact that the team has totaled 321 yards and zero touchdowns of any kind in losses to the Bengals and Giants has to have Rex Ryan at least a little concerned.
In a display of the kind of offensive balance no coach would like to see, the Jets have scored only nine points while giving up 12 sacks in their two preseason performances. It has been a long, hot summer, but New York's offense appears ice-cold these days.
16. Robert Griffin III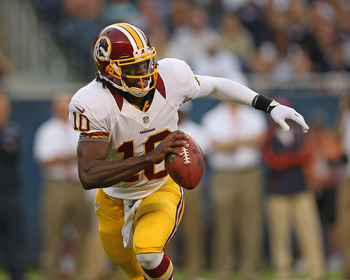 Robert Griffin III was on the move against the Bears.
Jonathan Daniel/Getty Images
Following a promising few series in the preseason opener against the Bills in which he and wideout Pierre Garcon enjoyed a moment or two, it was a much different story in the Windy City for April's second overall pick.
Although he wasn't intercepted, Griffin felt the heat of the Chicago pass rush, completing five of eight passes for 49 yards while being sacked three times, one of those resulting in a fumble and turnover. It was the second straight week Griffin lost a fumble, something he needs to rectify sooner than later.
One will remember that Washington committed a whopping 35 turnovers last season, 30 of those via quarterbacks Rex Grossman (25) and since-jettisoned John Beck (five).
17. Andrew Luck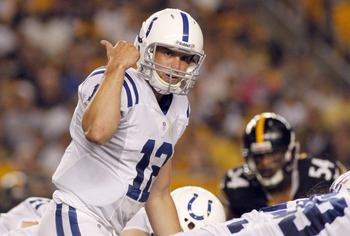 After a slow start, Andrew Luck played well vs. the Steelers.
Justin K. Aller/Getty Images
After having his way with the Rams defense last Sunday afternoon, it was a different kind of start against the Steelers on Sunday night.
But the first overall pick settled in well after completing just two of his first eight passes for only 16 yards and an interception that was returned 49 yards for a score.
Luck finished the evening 16-of-25 for 175 yards, and while he was picked off a second time (a ball off the hands of T.Y. Hilton and into the arms of Cortez Allen), he also ran for a score on fourth down and led the team to a field goal at the end of the half.
You had to be impressed with the way not only he but Chuck Pagano's team as a whole bounced back after a rough start, regardless of the final result as well as who was on the field for Pittsburgh.
18. Giants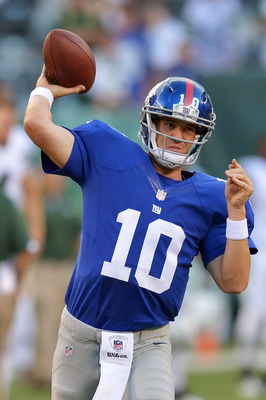 Eli Manning and the champion Giants handled the Jets.
Drew Hallowell/Getty Images
After a narrow loss at Jacksonville in their opener, a game in which Tom Coughlin's defending Super Bowl champions led 24-7 in the second quarter (ah, the preseason), the Giants stifled the struggling Jets, 26-3, courtesy of seven sacks of quarterbacks Mark Sanchez and Tim Tebow.
More importantly, is Coughlin's club prepared to defend its NFL championship? The pieces appear to be in place, and while getting out of the NFC East is tough enough, this organization has proven it can catch fire at any time.
While the Jets have in essence taken Big Blue off the back pages in New York, teams like the 49ers and Packers have been mentioned as the NFC favorite in some circles. That probably suits Coughlin and company just fine.
19. Bears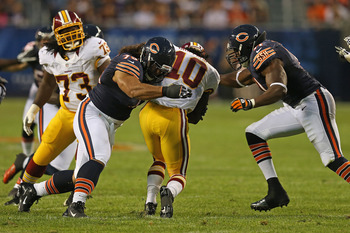 The Bears defense harassed Robert Griffin III whenever he dropped back.
Jonathan Daniel/Getty Images
We didn't get to see Jay Cutler last week against the Broncos, but the Redskins got to see him and his old friend Brandon Marshall play pitch and catch on the Bears' first play from scrimmage Saturday night, the duo combining for a 41-yard gain.
More importantly, Rod Marinelli's defensive unit got after Redskins rookie quarterback Robert Griffin III, and a lot of it was defensive end Israel Idonije, who totaled five tackles, 2.5 sacks and a forced fumble by night's end.
Even with Brian Urlacher on the mend, Chicago appears, at least for now, to have the best defense in the NFC North. That will go a long way toward winning a division loaded with young and live arms.
20. Calvin Johnson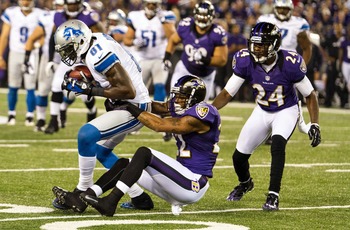 The Ravens struggled to cover Calvin Johnson.
Paul Frederiksen-US PRESSWIRE
It's an understatement to call the former Georgia Tech star's 2011 campaign that of the breakout variety.
But in some ways, it was because it was the first time Johnson and quarterback Matthew Stafford were able to team up for an entire season. The result was 96 receptions, 1,681 yards and more than one-third (16) of Stafford's 41 touchdown connections.
Friday night in Baltimore, Johnson caught five passes for 111 yards, and his 18-yard scoring grab in the second quarter might wind up being one of the best catches of the 2012 season when it's all said and done.
And could "Megatron" threaten Randy Moss' single-season record of 23 touchdown grabs with the Patriots in 2007? It's certainly worth suggesting.
21. Rams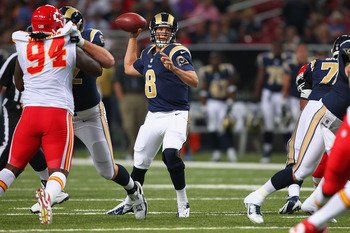 Sam Bradford had his way with the Chiefs defense.
Dilip Vishwanat/Getty Images
It's rhetorical to remind everyone that this is only the preseason, but the fact is you can't read too deeply into results. However, a 38-3 loss in any forum is certainly hard to swallow, and that's what head coach Jeff Fisher had to deal with after his team was humbled by the Colts a week ago.
But the Rams came out strong against Kansas City as quarterback Sam Bradford threw a pair of first-quarter scoring passes in the team's 31-17 win. Keep in mind that this is a St. Louis team that has finished last in the league in scoring two of the last three seasons, and a year ago, Bradford suffered through an injury-shortened campaign.
Baby steps, but necessary ones.
22. Antonio Brown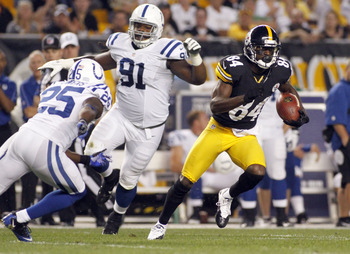 Antonio Brown weaves his way through the Indianapolis defense.
Justin K. Aller/Getty Images
The Steelers are still waiting for explosive Mike Wallace to show up, but his fellow Pro Bowler Antonio Brown impresses every time you see him play.
While the former sixth-round pick earned a trip to Hawaii as a kick returner last season, he also somewhat quietly had over 1,000 yards receiving as he and Wallace both averaged over 16 yards per catch.
On Sunday night vs. the Colts, Brown showed why he's so dangerous every time he gets his hands on the ball, taking a short pass and weaving his way through the Indianapolis defense for a 57-yard score.
Is the Steelers wideout capable of a return to the Pro Bowl in a different role in 2012?
23. Trindon Holliday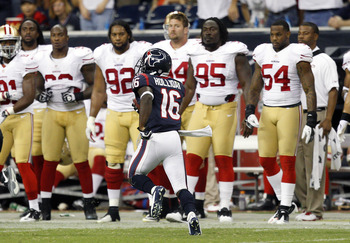 There's already been numerous happy returns for Houston's Trindon Holliday.
Bob Levey/Getty Images
Two preseason games and a pair of touchdowns for the lightning-quick Holliday, as he followed up his 90-yard kickoff return vs. the Panthers with an 87-yard punt return for a score in Saturday's win over the 49ers.
The Texans were seeking a replacement for Jacoby Jones and do have Danieal Manning to handle kickoffs. But if the former sixth-round draft choice from LSU (who has played in just one game in two seasons) can handle double duty, Gary Kubiak's team could enjoy an added dimension that will make the defending AFC South champions a little more dangerous.
24. Colts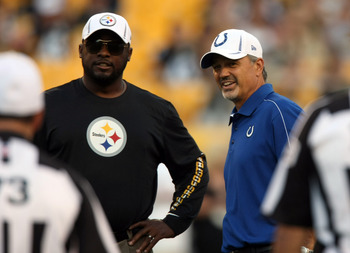 Head coaches Mike Tomlin (Steelers) and Chuck Pagano (Colts).
Jason Bridge-US PRESSWIRE
With all of the attention being given to Andrew Luck, there are other aspects of the Colts offense that warrant some acknowledgment.
Case in point is the Indianapolis ground game, which now features former first-round pick Donald Brown (who led the team in rushing yards in 2011) as the main man in the backfield via Joseph Addai's release this offseason.
But enter fifth-round draft choice Vick Ballard, who totaled 10 of the team's 24 carries (for 34 yards) in the loss at Pittsburgh. The bottom line is that Luck can't afford to be forced into being a one-man show, and Chuck Pagano's rushing attack must play a big role this season.
25. Steelers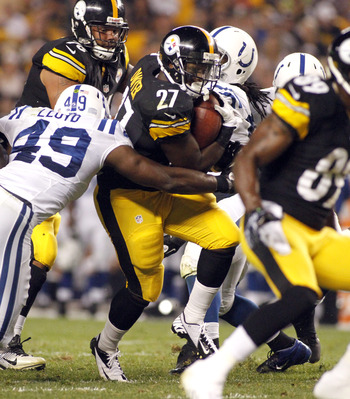 Steelers running back Jonathan Dwyer ran for 43 yards in the win over the Colts.
Justin K. Aller/Getty Images
It was pretty obvious that Mike Tomlin and offensive coordinator Todd Haley wanted to work on the ground game, as the Steelers ran the football on their first five offensive plays of the evening and a total of 36 times in the prime-time win over the Colts.
Playing without Isaac Redman, as well as starter Rashard Mendenhall (who was activated from the PUP list this past week), Haley gave reserve tailbacks Jonathan Dwyer, Baron Batch and Chris Rainey, as well as new backup fullback Jason Ford, plenty of work.
And as the Steelers' new-look offensive line continues to take shape (although injuries forced several lineup changes against the Colts), it will be interesting to see the sudden versatility of the Pittsburgh backfield.
Keep Reading