Dallas Cowboys and the Enemy Within: 5 Internal Threats to Watch for in 2012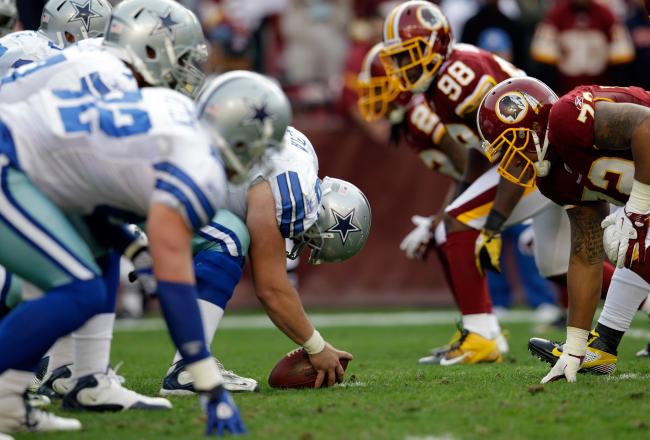 Rob Carr/Getty Images
The Dallas Cowboys are often celebrated as a talent-laden team on the verge of greatness. They are also perennial targets for scorn and ridicule when they don't meet expectations. This year's team may be the most talented roster in 16 years. Yet, five internal threats are looming with the potential to derail yet another season.
Confusion on Defense
Rob Ryan is a certified mad scientist of NFL defense. His theory of defending starts with confusing the enemy. This is a great strategy. The only problem with it is when it creates confusion among your own players.
The downside of highly complicated systems is that the players running those systems may suffer from mental errors at critical times. The gamble is simply this: my system will confuse my opponent into more critical errors than it confuses my own players.
If Ryan isn't capable of winning this bet, he will be taking a talented defense and putting it at a disadvantage by being too complicated.
However, now that Ryan has more talent to work with, he may decide to simplify things so that the talented players can play faster and use their skills, rather than relying upon a baffling array of schemes that might backfire.
Which way will this go? If Ryan is one thing, he's hard to predict, so I won't attempt a guess.
Stubbornness on Offense
Jason Garrett started his coaching career in Dallas with a bang. In 2007, his offense was ranked third in the NFL behind only the Patriots and the Packers. In 2009, they were ranked second. Only the Saints were more prolific in rolling up yards.
In 2010, Romo was injured and the team finished seventh in offense. In 2011, the team finished 11th, despite Romo having a career year, statistic-wise.
The trend is clearly not heading in the right direction. Garrett's basic offense is still sound. It's based upon the Coryelle system that has influenced countless offenses throughout the NFL over the years.
However, after five years of studying Garrett, it's safe to say his NFC East rivals have figured out how to defend his tendencies. Dallas managed only two division wins last year, both of them coming in close games against the Redskins.
The time is now for Garrett to adapt and change. The addition of Bill Callahan to the coaching staff can bring some much needed fresh ideas for the Cowboys offense.
Signs of Callahan's influence to watch for early in the season are:
more passes to running backs
more crossing patterns and slants
surprise passes to the full back (think Tom Rathman, 49ers)
more misdirection
Callahan is a West Coast guy. All of these plays are prominent in the system he comes from.
If we don't see more of these kinds of plays, it will be clear that Garrett is sticking with his usual plays and is not incorporating what Callahan has to offer.
This would be a negative on two fronts. First, the offense is unlikely to progress, given that the division has Garrett's old stuff figured out. Second, Callahan won't be happy here if he doesn't feel appreciated. Although he would never admit it publicly, it would be insulting to Callahan to have offensive coordinator in his title and have his ideas dismissed.
The message would be "fix the offensive line, I don't need anything more from you." Callahan has far more coaching and life experience than Garrett, so that would be unacceptable.
This is an unlikely scenario in its extreme. But as with most things in life, there are shades of gray.
If Garrett only hand picks a few plays, or if he utilizes them in the wrong situations, or if Jerry Jones sticks his nose into the situation and messes up the dynamic, any of this could cause tension and strain the relationship.
All of this could be confounded by the third threat.
Back fighting within the offensive line
The lack of investment in blue-chip guards and centers has been well chronicled. Rather than go over that well-trodden ground once again, let's deal with the reality of the line and consider a new threat.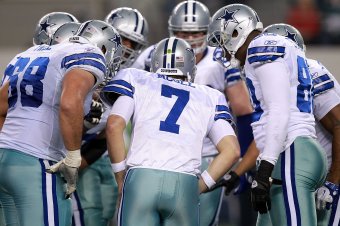 Ronald Martinez/Getty Images
As we have seen with Dallas' out-matched, pre-2012 secondaries, finger pointing and chaos can often result when a critical lack of talent exists within a unit. This compounds the problem immensely as players become more concerned with who is being blamed rather than fixing the problem as a team.
The tone in camp from Witten and Romo is different than in years past. They have both become more vocal and far less tolerant of mistakes among their teammates. This is a positive sign. However, given that it's based in real frustration with years of stagnation, the offensive line's dismal play could become a real source of contention and anger within this team, if they can't improve significantly in the next three weeks.
Romo isn't the same happy-go-lucky guy he was in 2008. He's sick of the critics, the multiple head cases he's been handed at wide receiver and the porous nature of the line that should be protecting him.
Witten has sacrificed immensely for this team and thus far, has gotten very little help from anyone other than Romo.
Owens was a selfish, locker-room nightmare, Roy Williams was inconsistent and flaky, Dez Bryant has been unreliable and downright unstable at times, Martellus Bennett was a joke, Felix Jones hasn't been fully committed and offensive linemen have come and gone. And all the while, Witten has played through injuries and been the most reliable and available member of this team.
If Witten comes back from his lacerated spleen and finds himself on a team that can't protect his quarterback, he's going to have something to say about it this year. After a few weeks of Romo and Witten criticizing their outgunned offensive line, things could get pretty tense.
The potential also exists for bad blood between the offensive and defensive players. If the defense avoids confusion and has plenty of success, but the team is losing games anyway, it will likely be due to the offensive line. This unit could find themselves scapegoated before the season is even half over, which would be a disaster for morale and team unity.
Impulsiveness of Jerry Jones
Many Cowboys fans wrote off Jones' comments as "Jerry being Jerry" when the owner invited fans to come to Cowboys stadium and "watch Dallas beat the Giants' ass."
But this was a strategic blunder and it points to a constant problem with Jones as the owner/GM of this team: his lack of impulse control. We have seen this over the years in bad trades and contracts: Joey Galloway, T. O., Roy Williams, Quincy Carter...the list goes on and on. And in comments like this gem: "All I can say right now is that he looks good in the shower," referring to Troy Aikman.
Defending Super Bowl teams have been known to start their year slowly as they move on from all of the book deals, endorsements, contract negotiations, interviews and hero worship and focus on the reality that everyone is coming at them harder than ever. The NFL is still a violent, grueling place to work and nothing they did last year helps them this year.
Because of this, if you're the first team slated to take on the defending champion, your best strategy is to publicly downplay the game and speak in glowing terms of the strength of your opponent. Internally, far from the leering press, you tell your players that the champs aren't as hungry as they are and to go out and knock the crap out of them, etc.
The last thing you want to do is awaken a sleeping Giant. Which of course, is exactly what Jones did.
This impulsiveness has been an internal threat for years and his latest gaffe shows that he certainly belongs on this years list.
Lack of Home-Field Advantage
Amazingly, after spending over $1 billion on Cowboys Stadium, Dallas has failed to create an environment that creates a distinct advantage for their team. Eli Manning not only won his first game there and then signed the wall in the locker room, he has won every game he has played there since.
Dallas officially ranks 16th in home-field advantage over the last 10 years according to NFCNblog.com.
I've heard many different theories about why this is. Some say it's the high ticket prices that bring in a quieter, less passionate type of fan. Others have said it's the design of the stadium that prevents crowd noise from building on the field. Still others have said that Dallas residents are just too polite. Having lived here for 15 years, I don't buy that one.
The most obvious reason is that their team hasn't been dominant enough to take advantage of the small edge that home field gives a team
Whatever the reason, until the Cowboys can find a way to develop the kind of home-field advantage that teams like the Patriots enjoy, they will struggle to win the NFC East, let alone advance deep into the playoffs.
So there you have the five internal threats. Some, all or none of these may manifest themselves this year. Time will tell. But if I was a betting man, my money would be on Jerry continuing to be Jerry.
This article is
What is the duplicate article?
Why is this article offensive?
Where is this article plagiarized from?
Why is this article poorly edited?

Dallas Cowboys: Like this team?