Lessons Learned from Baltimore Ravens' Training Camp This Week
See you next year, Ravens training camp.
Evan Habeeb-US PRESSWIRE
The Baltimore Ravens training camp ended this week with preparations for Friday's game against the Detroit Lions.
With the first round of roster cuts looming and on-the-bubble players slowly approaching their final chances to make an impression, this was a tense week in Owings Mills. Here are the three biggest takeaways from the final days of the Ravens' 2012 camp.
Kelechi Osemele Remains with the First-Team Offensive Line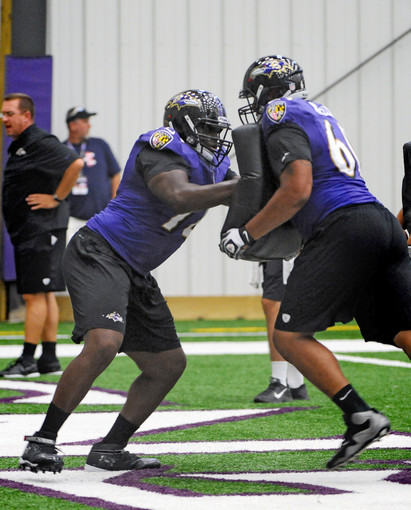 Osemele is still the first-team right tackle (Photo: Kenneth K. Lam/Baltimore Sun).
When left tackle Bryant McKinnie finally reported to training camp and passed the conditioning test, he was relegated to work with the second-team offensive line while he got back up to speed.
What was thought to be a very temporary arrangement, however, has remained in place heading into Friday night's game, with rookie Kelechi Osemele likely to reprise his role as starting right tackle, with Michael Oher shifted to the left.
Osemele had to show off some of his versatility this week. Left guard Bobbie Williams, who struggled in his first preseason outing against the Atlanta Falcons, dealt with a sore ankle and Osemele stepped in to take his job at practices.
Though Williams should be on the field with the starters on Friday, the latest move for Osemele shows how much he's impressed in training camp and bodes well for him to be a long-time contributor to the Ravens' starting offensive line.
Osemele moved back to right tackle on Wednesday when Williams returned to practice and apparently looked strong in pass protection. That's exactly what the Ravens need heading into a game with a defensive front seven as brutal as the Lions'.
Justin Tucker Could Very Well Win the Kicking Battle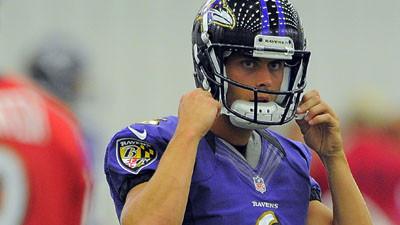 Justin Tucker may edge Billy Cundiff out (Photo: Fox 43 WPMT).
When the Ravens signed undrafted kicker Justin Tucker after giving him a tryout at rookie minicamp, clearly they were sending a message to veteran Billy Cundiff that his job isn't 100 percent safe.
At the same time, Tucker's an undrafted rookie and it didn't seem Cundiff was in all that much jeopardy of being beaten out by someone like Tucker.
Alas, it looks like the winds have shifted in Tucker's favor. By the time camp closed, Tucker had hit 82 of his attempted 87 field goals, a 94 percent success rate. In contrast, Cundiff made 74 of his 89 attempts—for 83 percent success. Cundiff's misses on Monday included 24- and 34-yarders; clearly, that hurts his stock.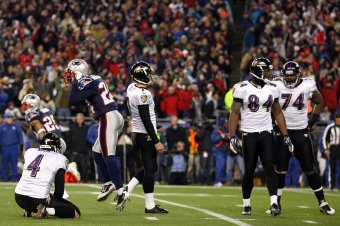 At the very least, replacing Cundiff with Tucker could vanquish this memory somewhat.
Al Bello/Getty Images
Tucker and Cundiff will split kicking duties in Friday night's game against the Lions and a decision about the position's future could come shortly thereafter.
There are reasons to replace Cundiff with Tucker. First, there's that field-goal completion percentage disparity from camp—that simply cannot be ignored.
Second, there's the matter of cost. The Ravens are still looking to make long-term deals with quarterback Joe Flacco and safety Ed Reed and have very little cap space at the moment. Even if the Ravens save a marginal amount of money by cutting Cundiff, it still matters.
And finally, there's that missed field goal in the AFC Championship game; some fans will never let Cundiff live it down. It could be time to start over.
Other Competitions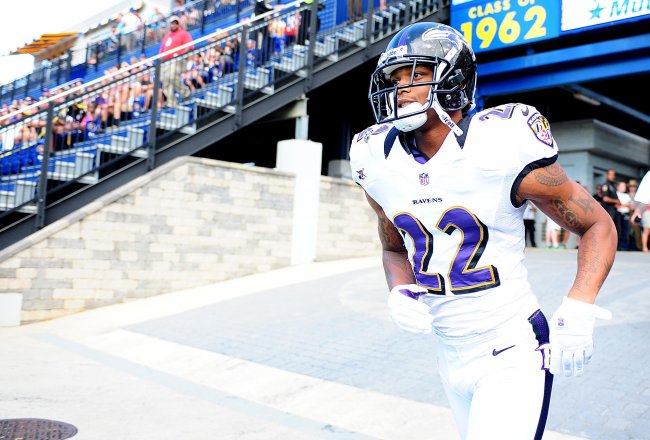 Jimmy Smith hasn't wrested a starting job away from Cary Williams yet.
Evan Habeeb-US PRESSWIRE
When camp began it seemed as though cornerback Jimmy Smith was on the fast track to take the starting job away from incumbent Cary Williams. However, a number of injury-related setbacks has forced the Ravens to continue the competition.
Smith's back locked up on him in practice on Wednesday, and he missed the first preseason game and five days of practice with back spasms, and has dealt with shoulder injuries and cramps. Otherwise, Smith has drawn raves about his work ethic and has the talent level to challenge Williams for his job. Smith will need a good showing against the Lions on Friday, however, to help his cause.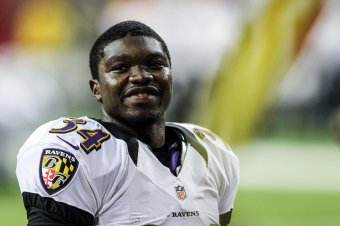 Bernard Pierce was the third-round pick, but undrafted rookie Bobby Rainey has turned heads.
Daniel Shirey-US PRESSWIRE
Tackle Jah Reid hasn't bounced back well from missing the start of camp with a calf injury. Reid was supposed to be in the mix when it comes to the battle that's been brewing between Osemele and McKinnie, but he hasn't looked sharp in practices lately and may be relegated to the bench this season as a result.
At running back, with Bernard Pierce just this week returning to the practice field and Anthony Allen and Damien Berry not stepping up as hoped, it's been undrafted rookie Bobby Rainey who has looked the best in the battle to be Ray Rice's No. 2.
The Ravens are still very hopeful that Pierce can snag that job—they did use a third-round pick on him, after all—but Rainey has held his own, both in the run game and in returns, and he's also proving himself to be adept at catching passes, something he didn't do much in college.
At the very least, Baltimore should be able to hold onto both Pierce and Rainey and cut ties with Allen and Berry.
This article is
What is the duplicate article?
Why is this article offensive?
Where is this article plagiarized from?
Why is this article poorly edited?