Anderson Silva vs. Georges St-Pierre: Head-to-Toe Breakdown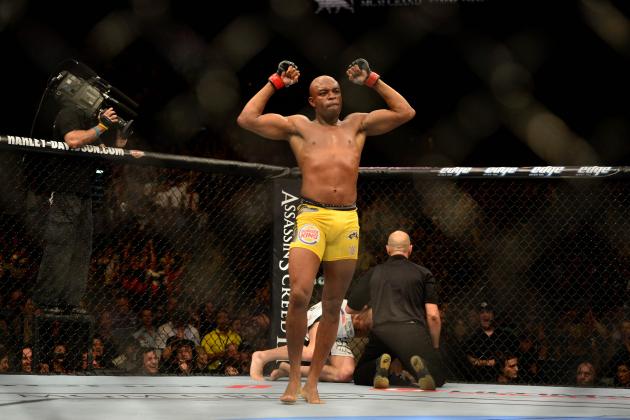 Mark J. Rebilas-US PRESSWIRE

Anderson Silva vs. Georges St. Pierre has been the dream superfight for many fans for years. After Silva's destruction of Chael Sonnen at UFC 148, it may be closer to reality than ever before.
Silva's manager, Ed Soares, told MMAJunkie.com that Silva could possibly make the cut to 170 pounds or that a catchweight fight is possible. Before I break this down, I think we need to settle on a weight for the fight, and 178 pounds seems fair.
GSP is still scheduled to defend his welterweight crown against interim champion Carlos Condit later this year, but for the sake of this breakdown, let's act as if he passes that test with flying colors.
The potential superfight would be an excellent marquee bout for a stadium show in 2013. The fight would sell itself. The two most dominant champions in UFC history squaring off against one another at a catchweight to see who is the more skilled fighter.
If this is the matchup that most interests you proceed for a head-to-toe breakdown of the potential superfight.
Begin Slideshow

»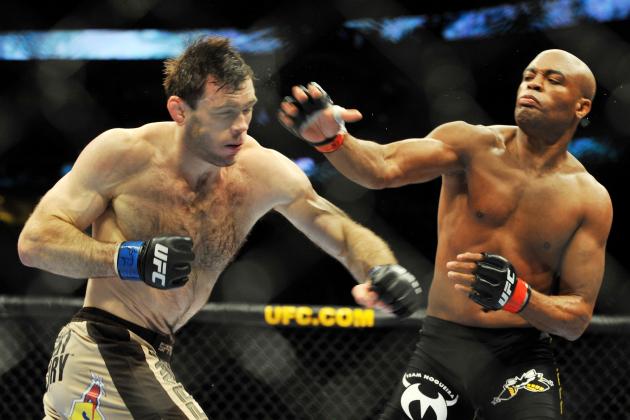 Jon Kopaloff/Getty Images

Silva is the best striker in the sport. Period.
He is devastating on the feet. Silva's precision has led to some of the most beautiful knockouts in MMA history. It is fun to watch.
And none of this is meant to discredit GSP.
GSP brings in some of the best technical boxing and is excellent at mixing his strikes up. Silva is just a notch above him in this category as it stands by itself.
The reach advantage GSP has over many of his welterweight counterparts is gone against Silva. It makes it more difficult for the French-Canadian to utilize his great jab.
GSP has excellent striking, but Silva is the best in the world.
Edge: Silva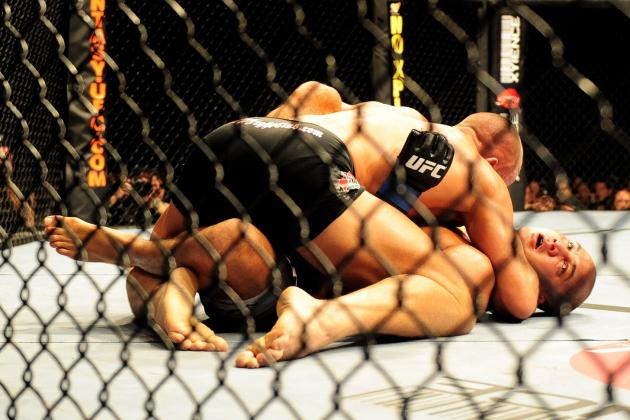 Mark J. Rebilas-US PRESSWIRE

GSP has turned in to one of the best wrestlers in MMA today. Immediately, the needle starts to point in his direction in this category.
However, many fans continue to sleep on Silva's grappling ability. It is actually a lot closer than one would imagine.
Silva has good takedown defense, a masterful clinch, and surprising takedown offense as well. For proof, one can go back and look at the switch he pulled off against Nate Marquardt in their title fight. And we cannot overlook the size advantage he would have in this fight.
GSP is the complete MMA fighter. He mixes up techniques well and always has his opponent guessing, and that gives him his biggest advantage to dictate the fight.
On a purely grappling basis, GSP gets the nod over Silva. He has more tools in his toolbox, and mixes them up too well to grant Silva this category.
Edge: GSP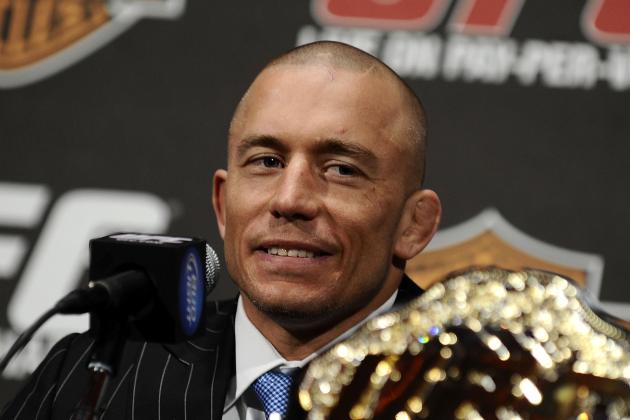 Jeff Zelevansky/Getty Images

Both individuals are extremely skilled in this area, and that makes it the hardest category in which to give one the advantage over the other.
The grappling advantage of GSP plays a big role in the decision to lean in his direction.
It is more likely that GSP will be in the top on the ground, and be able to work for more submissions from the position. His dexterity is very good and allows him to slice through opponent's guards and advance position. A big plus for the welterweight champion.
As we all know, Silva is no slouch in the department either, but it is GSP who is likely going to be in the better position to nab a submission throughout the fight.
Edge: GSP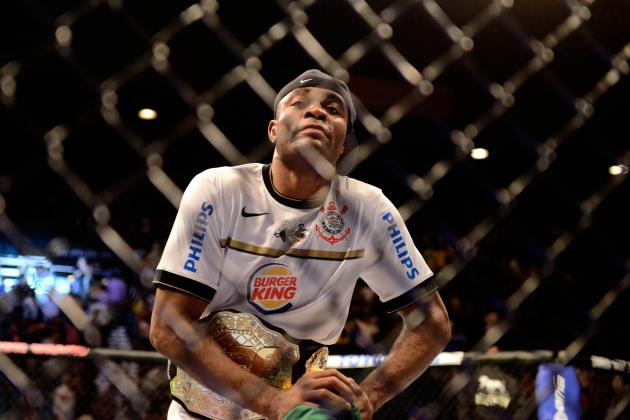 Mark J. Rebilas-US PRESSWIRE

Intangibles. The qualities that are hard to put a finger on and are not able to be measured.
GSP and Silva are the two most dominant champions in UFC history, and the two best pound-for-pound fighters in the world. When you think "champion" you think of these two men.
It is simple to break down the film and see how technically gifted they are, but there is also something indefinable about them.
If pushed to give an edge to one fighter, it has to be Silva. He has the aura of a legend. It is not just supreme athleticism and amazing technique. Watching him orchestrate a performance inside the Octagon is like watching Michelangelo paint.
When he walks through the curtains, you get a special feeling. One that does not come along with every fighter, or even every great fighter. He is the best that has ever graced the sport.
Edge: Silva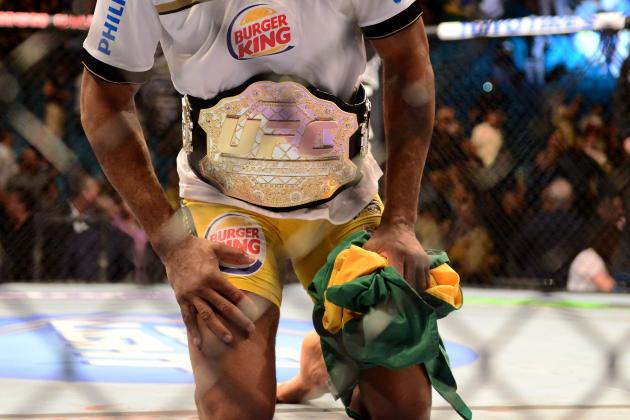 Mark J. Rebilas-US PRESSWIRE

Now that I have built you up, it is time to tear you down.
This superfight looks good on paper, but as I look at how both individuals fight, I can only see this fight going one of two ways.
The first is another highlight reel knockout by Silva. No one would be surprised if he caught GSP with one clean strike and put the night to a quick end. It has a high probability of happening, and that is not what fans should want. It only serves to hurt GSP long-term and would probably not be what you are expecting for $60.
The second probability would be a five-round snoozer courtesy of GSP's phenomenal takedowns and Silva's ground defense.
I do not feel as if GSP can finish Silva on the feet, or catch him in a submission. That leaves ground and pound as his path to victory, but Silva's defense and ability to tie up would lead the fight to a stalemate.
Both fighters are thoughtful and cautious in their approaches. Even in spite of their previous finishes, both men have been criticized for not going in for the kill during their careers. I do not think this will be a back-and-forth, all-time classic.
At the end of the day, Silva has 25 minutes to catch GSP one time. That is a long time to survive against someone of The Spider's caliber with all of the physical and technical advantages he has. He finishes GSP and cements his spot as the greatest of all-time.
Prediction: Anderson Silva defeats Georges St. Pierre by knockout in the second round.