Worst New Additions by Every NBA Team in 2012 Offseason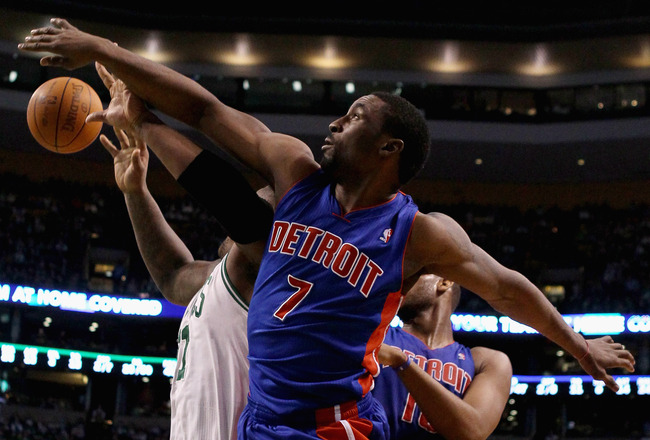 Elsa/Getty Images
Some signings make you scratch your head. Others leave you with an inquisitive look on your face. These are the bottom-of-the-barrel players NBA teams acquired this summer.
Whether it be out of desperation or misused reconnaissance, these signings were questionable at best. Even the best of offseasons was not perfect. Somewhere amidst the shiny new pieces finding homes this summer are some secretly dirty players. These are the newbies that each team could do without.
Still, no player is not completely useless. Many end-of-the-benchers last season were called into action. A few teams were left decimated by injuries by the time the curtains closed on the 2011-12 season.
With a full 82-game slate on deck, it is time to look at the worst new additions across the board.
Atlanta Hawks: Anthony Morrow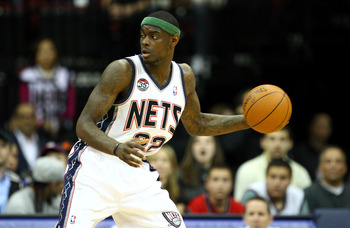 Chris Chambers/Getty Images
The Hawks are going to be boom or bust this coming season. They find themselves in a very precarious position after dealing Joe Johnson to Brooklyn. With an array of new acquisitions, it is a little difficult to pick the worst.
Anthony Morrow gets the selection here because he is not a necessary addition Atlanta is sitting with a depth chart of Kyle Korver and DeShawn Stevenson at small forward, a position that Morrow is unable to play.
The Hawks gave a sizable contract to Philadelphia's Lou Williams to play shooting guard for the next four years and chose John Jenkins in the first round to back him up.
Morrow, at 6'5", is under-sized at small forward and does not rebound well. His career has been stuck in a holding pattern for four years on bad teams. He has had decent contributions to each, but nothing worthy of much mention.
An outstanding three-point shooter with Golden State, he has seen dramatic decline in his percentages in New Jersey.
Boston Celtics: Jason Collins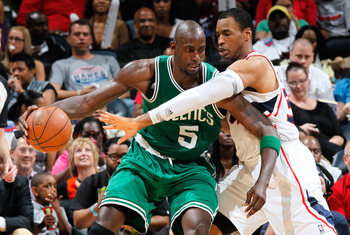 Kevin C. Cox/Getty Images
Picking on a team which had as solid an offseason acquisition-wise as the Boston Celtics is difficult. However, one weakness was not addressed as well as it could have been.
It seems tough to do, but the Celtics got older on the frontline. They have swapped out two players in their mid-twenties in Ryan Hollins and Greg Stiemsma for the soon-to-be 34-year-old Jason Collins.
Collins signed a minimal contract with Boston this offseason to be a backup center. While not normally a position of crazy importance, for a team like Boston with an aging starting center, this is important. Hollins and Stiemsma injected youthful energy into games. Collins doesn't bring much of anything to the table anymore.
He saw action in just 30 games last season for Atlanta. Luckily, his court time will be limited thanks to the return of Chris Wilcox.
Brooklyn Nets: Reggie Evans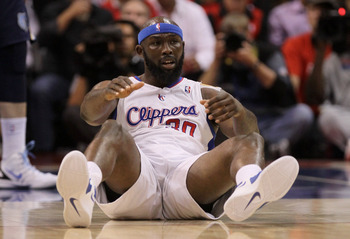 Stephen Dunn/Getty Images
The Nets have a lot of new faces to go along with their new uniforms and new building this coming season. Brooklyn cleaned up in a trade for star Joe Johnson and also added a lot of role players to complement their solid core.
One particular signing left a sour taste in my mouth, though, and it was Reggie Evans to a three-year deal. I understand the appeal that this type of player had for the Clippers, but the Nets seem to be all set in his department.
If they are as high as they say on Mirza Teletovic, the insurance Evans gives them seems minimal with Kris Humphries coming off a career year.
Evans brings toughness and rebounding, but Humphries and Gerald Wallace do the same. And his level of experience is no greater than that of the Nets' two All-Star guards, Johnson and Deron Williams.
The Nets would have been better served adding youthful depth to a roster that is shockingly thin all-around in talent.
Charlotte Bobcats: Ben Gordon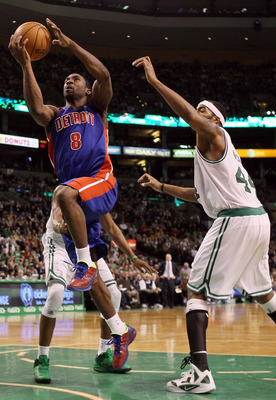 Elsa/Getty Images
The Bobcats made a lateral move in their decision to dump Corey Maggette for Ben Gordon.
Gordon gets them no closer to NBA relevance and can only stall the growing process of Charlotte's young core. He has ridden high mainly on expectation and promise in recent years. recently. After signing a big contract following solid years in Chicago, Gordon has seen his playing time and production dwindle in Detroit.
Now the professional gunner has found himself on a young team with a lot of potential. The issue is that he may wind of swiping playing time from talented youngsters like Kemba Walker, Gerald Henderson and Reggie Williams.
This wasn't the best move Charlotte could have made, and its repercussions may be felt for years to come.
Chicago Bulls: Nazr Mohammad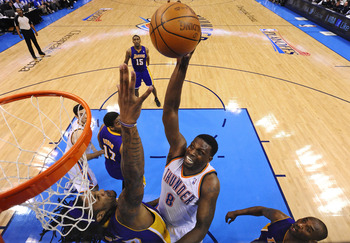 Pool/Getty Images
The Bulls brought in Nazr Mohammed to replace the departed Omer Asik. However, Asik was just at the beginning of his promising career. If he reaches his potential, he could become a very good center in the NBA.
Mohammed, on the other hand, is at the tail-end of his career. The 34-year-old center is a 14-year NBA veteran. While spending the last year and a half with Oklahoma City, it became obvious the game was speeding past Mohammed. His playing time decreased to 11 minutes per game last season.
A move to Chicago won't necessarily help his cause. When Derrick Rose is healthy, the Bulls are a fast-paced team with athletic players at each position. I'm not sure if Mohammed can keep up with his new teammates, just as he struggled to do so with the Thunder.
If he is unable to stay on the court early on next season, that may be it for the veteran big man.
Cleveland Cavaliers: Kelenna Azubuike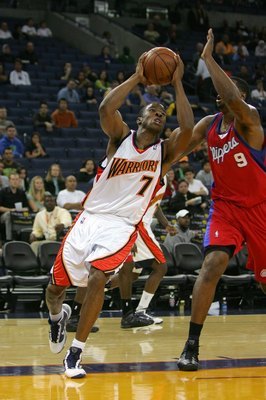 Ezra Shaw/Getty Images
The Cavaliers needed to grab some consistency on the wing this offseason. They start the largely hit-or-miss Omri Casspi at small forward and have now compounded that by adding Kelenna Azubuike to back him up.
Azubuike's NBA career was off to a fast start, averaging 14 points and five rebounds per game with Golden State in the 2008 season. Then early in 2009, he hit an obstacle. A torn patella tendon meant he wouldn't see an NBA court again until the end of the 2011-12 season.
The British-born player has seen just 23 total NBA minutes since November of 2009. Now he is touted as the primary backup to an already shaky Casspi in Cleveland.
A lot is riding on the shoulders of some seriously inconsistent players on the Cavaliers roster.
Dallas Mavericks: Darren Collison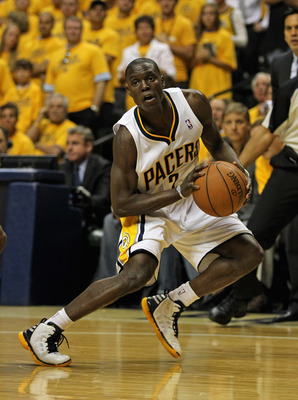 Jonathan Daniel/Getty Images
Chemistry concerns are going to be a problem for the Dallas Mavericks at the start of the 2012-13 season. That is what you get for bringing in an entirely new starting backcourt.
Both O.J. Mayo and Darren Collison are going to need to get along quickly if Dallas is to fight back in the Western Conference. Since Mayo's ceiling is skyscrapers above Collison's, and the importance of Collison's role is so immense, he finds himself on this list.
Collison is one of a few NBA team-changers who has the opportunity to be either the best offseason acquisition or the worst. His control over the new-look offense employed by the Mavericks must be absolute, something that was not always the case in Indiana.
He has massive shoes to fill with Jason Kidd, who brought the city a championship, departing for New York. Collison also cost the Mavericks a talented, young big man in Ian Mahinmi, who was on the verge of blossoming.
Denver Nuggets: Anthony Randolph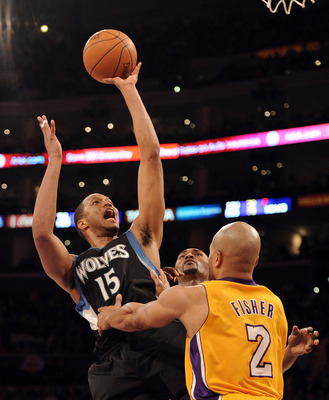 Harry How/Getty Images
Outside of two solid draft picks and All-Star Andre Iguodala, the Nuggets did not acquire a whole lot this offseason. Thus far, Anthony Randolph stands as the only subpar addition.
Randolph, a lottery pick back in 2008, has struggled to live up to his hype. Denver will be his fourth NBA team in five seasons, as the 6'11" power forward has been unable to develop.
An undeveloped 23-year-old is not exactly what the Nuggets needed, especially at power forward. Currently starting in that spot is promising sophomore Kenneth Faried. With little-to-no NBA experience along the frontcourt in Denver, this was not the correct move.
The Nuggets could have used a solid veteran to go alongside Faried and JaVale McGee. Randolph does not solve this problem.
Detroit Pistons: Corey Maggette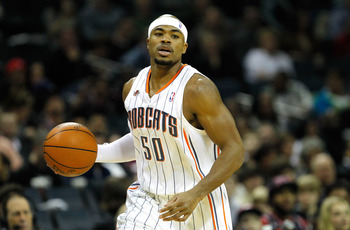 Streeter Lecka/Getty Images
The Pistons are another team that is not teeming with new additions to their roster. An acquisition that stands out is Corey Maggette from Charlotte.
Maggette, who turns 33 in November, shot a career-low 37 percent from the field last season. I don't see that improving.
Despite his struggles from the field, Maggette still scored more than 15 points per game last season. That should give you an idea about his selfish style of play with the Bobcats.
Like Charlotte, Detroit struggled last season but has some solid young pieces. Maggette doesn't mesh with those blossoming stars very well. He also isn't the role model you would hope to have guiding your NBA newbies.
Golden State Warriors: Harrison Barnes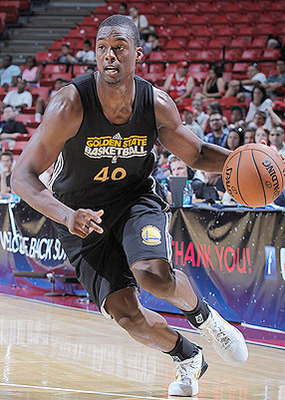 Photo Credit: ESPN.com
There isn't a whole lot to dislike about the Warriors' offseason at this point. They used their late draft picks wisely and picked up a few value-added players and sleepers.
They traded for Jarrett Jack, a solid point guard to spell Stephen Curry, and signed one of the most desirable free agents in Carl Landry.
Honestly, it is hard to say any of these acquisitions were wrong. Therefore, we'll go back to the draft and see if we can second-guess a first-round decision.
While it seems far-fetched that Harrison Barnes will be the least talented of the new acquisitions for Golden State, was he the right pick for the team? At seventh overall, virtually everyone in the draft is still available.
For instance, there were three talented centers still available, all of whom would go in the top-17 picks. All of those players would have been a nice choice to help Andrew Bogut. But the biggest need was probably small forward, where Barnes will play.
However, if Bogut is unable to remain on the court, this team will spiral down again.
Given that the rest of the offseason additions are so perfect, this may be the only spot where some doubt could creep into fans' minds.
Houston Rockets: Omer Asik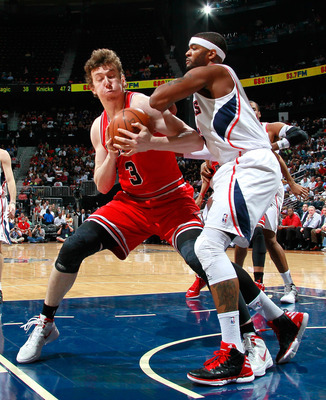 Kevin C. Cox/Getty Images
This has been beaten to death over the past month, but Omer Asik has to be the worst new addition to the Houston Rockets.
Try as I might, I still don't understand why a player with career averages below three points and five rebounds per game is worthy of a three-year, $25 million contract.
Houston has brought him in to be the starting center, something he has done just twice in his two seasons. The Rockets may have over-extended themselves on Asik and his potential promise.
However, on a vastly new and younger team, this is not always the wisest move, especially at a position as important as center in the Western Conference.
Asik is going to have to match up with some very talented players this season. I hope the Rockets are ready to watch him struggle.
Indiana Pacers: Miles Plumlee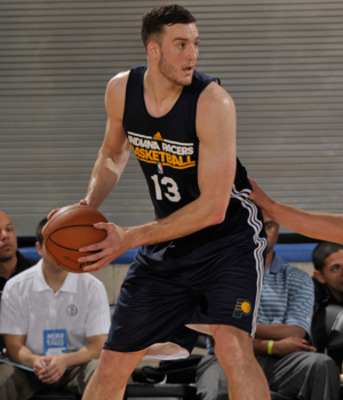 Photo Credit: NBA.com
The Pacers will have a new second unit this year. Newcomers include D.J. Augustin, Ian Mahinmi and Gerald Green.
None of those acquisitions strike me as unnecessary or incorrect. However, the move Indiana made with its first-round draft pick deserves to be second-guessed.
With the No. 26 pick in June's draft, Indiana chose Duke senior Miles Plumlee. The power forward is a high energy player who tries to make up for a lack of talent with enthusiasm and an incredible work ethic. Unfortunately, Plumlee did not score a whole lot at Duke, just 6.6 points per game. He did grab his fair share of rebounds, though.
This is odd because the Pacers are pretty deep in the frontcourt. They have immensely talented starters and more than capable backups.
This pick could have been used to address a more pressing need, as all Plumlee brings you is a fifth big man.
Los Angeles Clippers: Jamal Crawford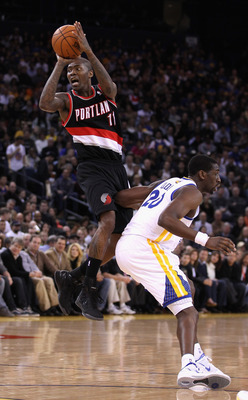 Ezra Shaw/Getty Images
I like the idea of insurance for Chauncey Billups. After what his absence meant to last year's Clippers, this was a necessary acquisition.
However, the choice of Jamal Crawford to be that insurance may not have been wise. Crawford, no spring chicken himself at 32, will be backing up the 35-year-old Billups.
Crawford's stat line of 14 points, three rebounds and two assists doesn't tell the whole story of his season. With Portland, he shot just 38 percent from the field and 31 percent from long range. If there is one thing you don't want to see in your second shooting guard, it is bad shot selection.
The possessions with the second unit are so crucial to keeping your team in the game. Bricking jump shots allows fast-break points in the opposite direction.
Since Crawford's defense has never been his strong suit, that is a very real possibility. With just two postseason appearances in his career, Crawford was acquired for his layoff experience either.
For four years and $21 million, the Clippers could have gone a younger or more promising route.
It seems that Crawford's 2010 Sixth Man of the Year season may be his career highlight.
Los Angeles Lakers: Antawn Jamison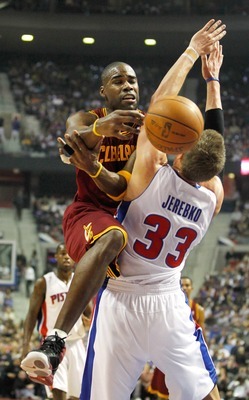 Gregory Shamus/Getty Images
At 36, it is no secret that Antawn Jamison is on the back nine of his NBA career. Still, the Lakers made a trade to bring him to Los Angeles to be their third big man. He will be primarily backing up Pau Gasol, but may wind up being the first man off the bench.
The trouble lies in that last statement, "off the bench." While it shouldn't seem like a stretch for a player of his age and experience to accept a bench role, understand that this is not something he is accustomed to doing.
Jamison has not come off the bench consistently since 2003, his one season with Dallas. Yes, he won the NBA's Sixth Man of the Year prize, but the player was a young man back then. Jamison's adjustment isn't the only concern. There is also the age question.
The Lakers were already counting on three aging stars to contribute major minutes in the starting five. Their biggest bench acquisition is a 36-year-old veteran?
The Lakers had a great offseason, but Jamison has a lot to live up to out west.
Memphis Grizzlies: Wayne Ellington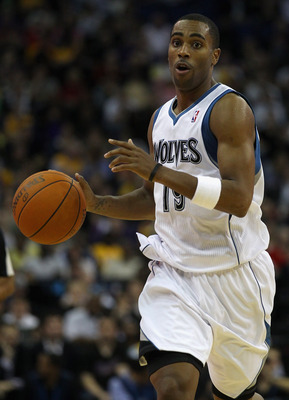 Clive Rose/Getty Images
When the Grizzlies watched O.J. Mayo depart, a hole opened up on their roster. The shooting guard spot can be held down by defensive whiz Tony Allen, but who is making up the points?
Though Mayo had dropped off quite a bit in recent years, he still posted more than 12 points per game last season. Allen is a liability on that end of the floor, increasing the need for his backup to be able to score.
This offseason, Memphis traded for Wayne Ellington from Minnesota. Unless the Grizzlies go with two point guards, Ellington should be Allen's primary backup. The problem is, Ellington doesn't score at quite the clip the Grizzlies need.
The shooting guard posted just six points in 19 minutes per game with the Timberwolves last season. He also connected on just 32 percent of his threes.
For Memphis, that just isn't going to cut it.
Miami Heat: Rashard Lewis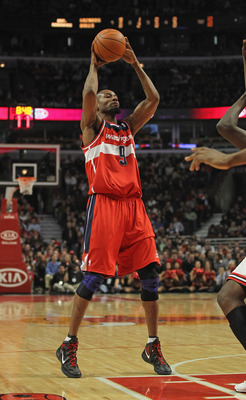 Jonathan Daniel/Getty Images
Last season's NBA champions didn't make a whole lot of moves this offseason, and they didn't need to.
Still, a player must be named. The Heat brought in two aging three-point shooters, the least consistent of which is Rashard Lewis.
Lewis is a 14-year NBA veteran with a career 39-percent three-point clip. However, last season he hit on just 24 percent of his threes while playing just 28 games. His lack of consistency is something that will plague the Heat as Lewis is sure to be one of the first players off the bench.
The Heat work best when their long-range bombers are connecting, like Mike Miller in the NBA Finals. If Lewis can't find his stroke or, worse, can't stay on the court, Miami will be forced to suffer the consequences.
Milwaukee Bucks: Joel Przybilla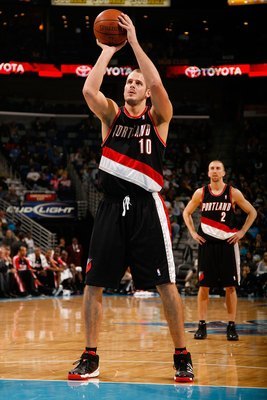 Chris Graythen/Getty Images
The Milwaukee Bucks acquired two veteran centers this offseason to help ease the transition from former starter Andrew Bogut to budding young players Ekpe Udoh and Larry Sanders. Those two, Samuel Dalembert and Joel Przybilla, both have flaws, but it is Przybilla who causes more concern.
Dalembert has been remarkably consistent throughout his career, while Przybilla has been plagued by injury.
The 7'1" center has always had a knack for rebounding. But in recent years, he has been unable to stay on the court long enough to grab those boards. While playing the majority of his career in Portland, he has missed more than half of his games the past three seasons.
Przybilla's career is rapidly coming to a close. It appears as though it may end where it began, in Milwaukee.
Minnesota Timberwolves: Chase Budinger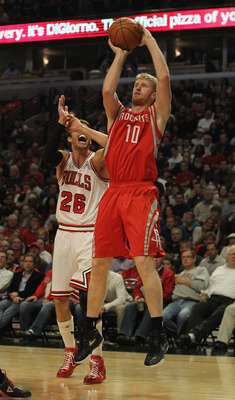 Jonathan Daniel/Getty Images
Minnesota has a decent-sized list of new faces joining the fold for the upcoming season. The Timberwolves made plays for some desired free agents, brought players back from Europe and completed a trade.
The trade was for small forward Chase Budinger from Houston. The Timberwolves sacrificed the No. 18 overall pick in June's draft to acquire him. In a loaded draft, the 18th pick is very valuable. Though the Rockets wound up selecting Terrence Jones, there were a number of talented players available at that spot.
Budinger enters with just one year remaining on his contract, and it remains up in the air whether he will remain with the club past 2012-13. He's a journeyman forward who can score the ball, but he won't bring much else to the table.
In this case, his addition seems a bit unnecessary. Budinger is not an experienced veteran, and that draft pick could have yielded a better player in a stacked draft class.
New Orleans Hornets: Robin Lopez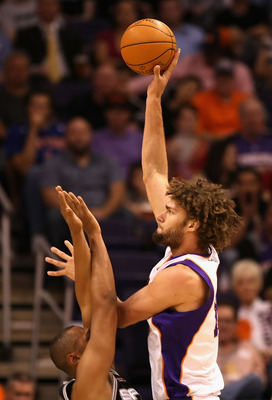 Christian Petersen/Getty Images
It made sense for New Orleans to let Chris Kaman go. The Hornets drafted their starting center in June and needed to clear the spot for him. However, their choice of backup leaves something to be desired.
Robin Lopez was sign-and-traded to the Hornets this offseason to back up rookie Anthony Davis.
With a player like Davis, it would make sense to have an older veteran come in and fill in all the holes in his knowledge. Still just a 19-year-old, Davis is at great risk in the NBA. His stature and talent are things that could wind up working against him without the right guidance.
Lopez is hardly a veteran, with just four years of NBA service. He is signed with the Hornets through the next three seasons, though Years 2 and 3 are not guaranteed. That could mean he is Davis' mentor for the long haul.
With little NBA experience and next to no playoff experience, Lopez is not the ideal candidate to help out the next great NBA center.
New York Knicks: Kurt Thomas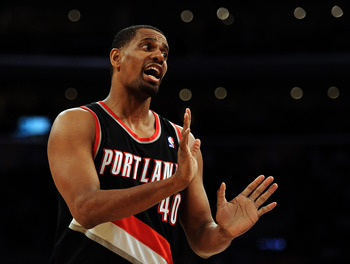 Harry How/Getty Images
The Knicks may have more new faces on their roster than any team in the NBA. This makes it difficult to choose the worst acquisition.
They will have a trio of new point guards, however, it is a nice mix of young, old and unknown. They bolstered depth with Ronnie Brewer and James White. They also signed a pair of very experienced bigs to the frontcourt.
Because of what Marcus Camby has accomplished in his career and what he has been able to do, even at this advanced age, the worst signing the Knicks have made is Kurt Thomas.
The 17-year veteran will turn 40 in October. He has been brought in to provide depth in a frontcourt that features an injury-prone Amar'e Stoudemire and the 38-year-old Camby. On paper, this doesn't seem like the most appropriate use of the Knicks' resources. Thomas is serviceable enough to warrant a few minutes per game, but to be the primary backup power forward?
The Knicks have brought in three almost 40-year-olds, and Thomas is by far the least helpful.
Oklahoma City Thunder: Hasheem Thabeet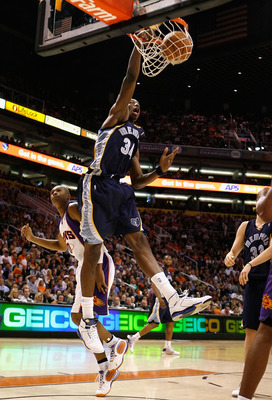 Christian Petersen/Getty Images
Like the Heat, the Thunder did not need to make a bunch of acquisitions this summer. Instead they pieced together a few deals and extended Serge Ibaka.
One signing stands out as a bit odd, though. That is the contract of Hasheem Thabeet. The Thunder signed the young center to an inexpensive three-year deal.
The former second overall pick has been nothing but a bust since entering the league in 2009. Oklahoma City will be his fourth NBA home, as he has failed to impress anywhere in the league.
Some argue that a team as good as Oklahoma City can stand to take on projects or give second chances. However, I disagree with that. A team is never good enough to start absorbing unnecessary risks. That is how potential dynasties, like the Thunder, can fall apart.
Orlando Magic: Josh McRoberts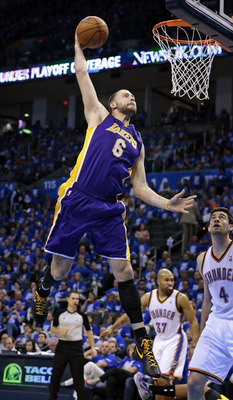 Brett Deering/Getty Images
For Orlando, the major haul of the offseason came in the form of returnees in the Dwight Howard trade. Virtually all of the new acquisitions for the Magic are byproducts of Howard's departure.
Among those players, Josh McRoberts is the worst and makes the least sense on this team.
Al Harrington is still a consistent player who performs at a top level. Nikola Vucevic is dripping with potential, as are both first-rounders drafted in June. That leaves McRoberts coming over from the Lakers. A career 4.6 points and 3.7 rebounds per game won't get you any favors in Orlando.
Not only will he be battling Harrington and Glen Davis for playing time at power forward, but also highly touted rookie Andrew Nicholson.
I would put a lot of money on him seeing the least amount of playing time of anyone on the Orlando roster, especially seeing as though Los Angeles played him in only six postseason games this past year.
Philadelphia 76ers: Jason Richardson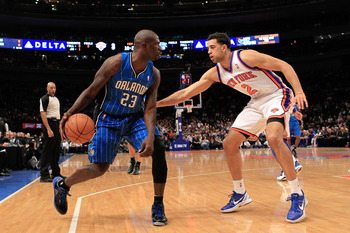 Chris Trotman/Getty Images
This summer, Philadelphia lost its top scorer. The Sixers have done just a so-so job of putting together a new offensive backcourt.
The signing of Nick Young was a big leap in the right direction. However, following up that by bringing in a 31-year-old Jason Richardson was not.
Richardson comes to Philadelphia after the worst season of his career with the Magic. Whether he starts or not is open to interpretation, but I think it would be beneficial to hand the reigns over to Young. The inherent issue there is that Richardson has started all but 12 games in his career.
The rest of the 76ers' acquisitions make a lot of sense. But bringing in Richardson while he is one year into a four-year deal worth $25 million made little sense.
Phoenix Suns: Jermaine O'Neal
Jonathan Daniel/Getty Images
Recently, the Suns opted to bolster their frontcourt with Jermaine O'Neal. After being waived by Boston, I thought O'Neal would be hanging up the sneakers.
O'Neal was almost nothing as advertised when he went to the Celtics, and I find it hard to believe that Phoenix will be much different.
His production fell off a cliff after averaging more than 13 points per game with Miami. In Boston, he fell to five points and five rebounds.
He was brought to Phoenix to back up Marcin Gortat and help out a second unit anchored by a rookie point guard. However, the Suns are fairly thin up front talent-wise, creating a need for O'Neal to stay in the games.
After missing the majority of the past two seasons with injuries, I don't believe he is trustworthy enough to warrant significant minutes on the court.
Portland Trail Blazers: Ronnie Price
Christian Petersen/Getty Images
Prior to the signing of Ronnie Price, the point guard rotation in Portland had one combined year of NBA experience.
Bringing in a rookie in Damian Lillard to start and having him backed up by a second-year player like Nolan Smith can be dangerous. That is why a veteran point guard with some savvy and experience should have been found.
Instead, the Trail Blazers opted for Price on a two-year deal. With seven years in the league and a decent amount of postseason experience, he seems like a good candidate, except for the fact that he can't produce.
In those seven years, Price has show a very limited skill set. In none of his four postseasons was he averaging more than nine minutes per game.
Lillard and Smith are too young to get Portland back to the postseason on their own. A more talented veteran would have been a better choice.
Sacramento Kings: James Johnson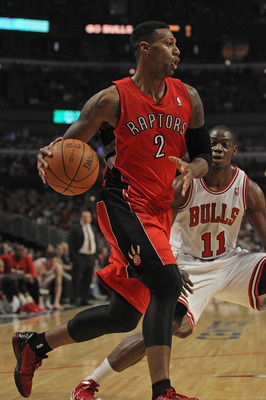 Jonathan Daniel/Getty Images
Sacramento did not do a whole lot of buying this summer, but it did come away with a new contract for Jason Thompson as well as a quality draft pick.
The two moves they did make were for Aaron Brooks and James Johnson. Brooks has proven his worth when given adequate playing time. The question here is Johnson, who the Kings got for almost nothing.
He managed 9.1 points and nearly five rebounds per game while playing for a Toronto team that was going nowhere. Sacramento isn't a team with nothing to play for. This is a team that has playoff potential if some things work out.
Generally the third-string power forward won't have a massive effect on the outcome of a season, but this particular team may come to wish it had gone down a different road.
San Antonio Spurs: Nando De Colo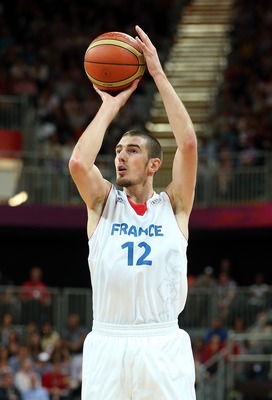 Christian Petersen/Getty Images
The Spurs return roughly the same roster as last season with a couple minor exceptions. One exception is guard Nando de Colo..
He is a 25-year-old Frenchmen who will make his NBA debut for San Antonio.
Team USA players saw his skills in the Olympics, where he played alongside San Antonio teammates Tony Parker and Boris Diaw on Team France.
The shooting guard was drafted by the Spurs back in 2009. He signed a two-year contract worth about $2.8 million, but finds himself three to four players back on the depth chart.
Toronto Raptors: Landry Fields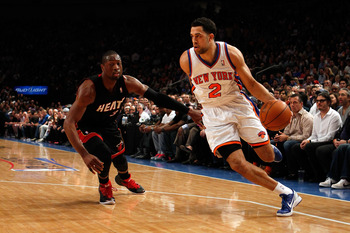 Jeff Zelevansky/Getty Images
Landry Fields' versatility is what makes him an asset for an NBA team. However, it is his versatility that could prevent him from growing as a player.
Fields is much more suited to play small forward, but the Raptors are fairly deep there. Where they are not deep is shooting guard, where Fields played a lot in New York. If he is stuck there to start the 2012-13 season, it could stunt his continued growth into a solid small forward.
Fields' contract is another reason you find him on this list. The Raptors offered him just enough money so that the Knicks would be hard-pressed to match. But now Toronto is stuck with him for three years and $18.7 million. This is on the high side for a former second-round pick who just experienced one of the bigger sophomore slumps in recent memory.
Outside of Fields, a lot of Toronto's newcomers have All-Star potential. But their new shooting guard may be stuck in a tough spot.
Utah Jazz: Randy Foye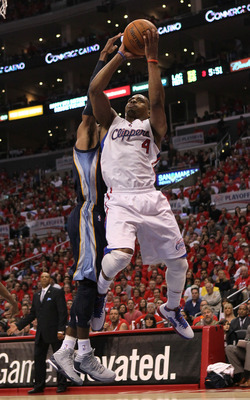 Stephen Dunn/Getty Images
The Jazz have two new starters in Mo Williams and Marvin Williams who could thrive with the change of scenery. So it falls to Randy Foye to be their worst newcomer.
Foye effectively killed a lot of the good vibes about his early performances with his play the past two seasons. He has become the worst thing possible, a shooting guard who can't shoot.
Foye has been unable to connect on 40 percent of his shots in either of the past two seasons. His assist and rebound totals have fallen as well, as he took on a lesser role with the Clippers.
This Utah team needs more offensive firepower on its second unit. That is what Foye was brought in to do. Unfortunately, it is becoming more and more apparent that he is unable to complete that task.
Washington Wizards: A.J. Price
Jonathan Daniel/Getty Images
I like both of the players the Wizards received in return for Rashard Lewis. Emeka Okafor gives them a legitimate NBA center to play with Kevin Seraphin, and Trevor Ariza adds great experience on the wing. The remainder of the offseason brought in A.J. Price from Indiana.
Price could enter and usurp the No. 2 point guard spot from Shelvin Mack, though it would seem unlikely right now. The former second-rounder has been unable to get his career into full swing since entering the league.
In roughly 15 minutes per game over three seasons with the Pacers, Price posted six points and two assists a night. He shot just 38 percent from the field and worse from long range.
What Price offers Washington seems minimal at best. With countless other quality point guards roaming the NBA, the Wizards could have gone a more experienced route. It appears they are fine with John Wall developing on his own right now.
Keep Reading