New England Patriots: 5 Biggest Concerns Moving Forward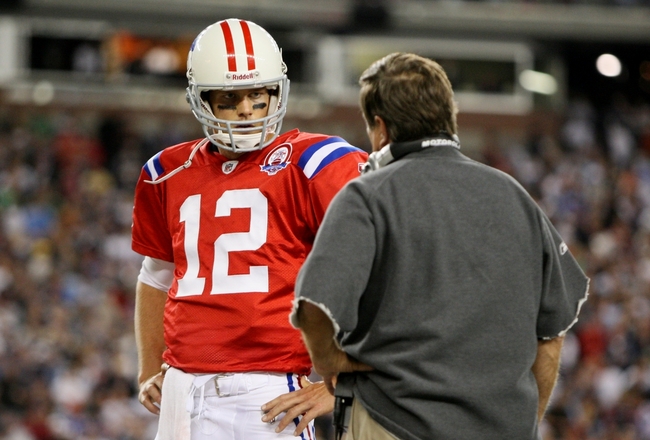 Jim Rogash/Getty Images
When a team makes it to the Super Bowl last season and improves significantly through free agency and the draft, you would think everything would be all roses going into this season.
While there are many things that suggest the New England Patriots are going to have a tremendously successful campaign this season, there are a few things that may hold them back a bit.
The Patriots like all teams are not without weakness, here are the five biggest concerns I have about the 2012-13 New England Patriots.
Kick Return Game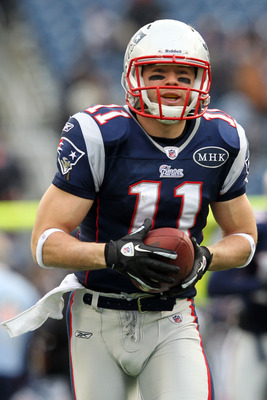 Jim Rogash/Getty Images
It may sound like a small part of the game especially with recent rule changes, but the kick return is still an important part of the game.
The easiest way to get a cheap 10-20 yards and get your offense into good field position is from the kickoff, but it is something that the Patriots didn't do last season.
Over the years Belichick has had specialists like Ellis Hobbs and Brandon Tate to take care of kick return duties. With those guys no longer around, the kick returner has been a mix of Danny Woodhead and Julian Edelman, two players who are suited to returning punts and not kicks.
New England finished 29th in the league in kick return average, meaning Tom Brady and the offense usually started drives deep in their own area. Teams like San Francisco, Baltimore and Pittsburgh all have top ten return units, which greatly aids their offense, especially in crunch time situations.
If the Patriots had a better option at kick returner it would give the offense much better field position and maybe even a cheap touchdown or two.
Safety Depth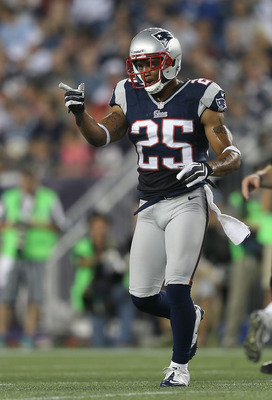 Jim Rogash/Getty Images
Safety was the Patriots' biggest positional weakness last season and Bill Belichick and Nick Caserio addressed that weakness through free agency and the draft.
In free agency they picked up veteran Steve Gregory and in the draft the Pats used a second round pick on Tavon Wilson. These two players are expected to link up with Patrick Chung and boost the safety play.
While the talent level of the safety position is much higher, the Patriots didn't do enough to bolster the depth at safety.
With Patrick Chung always an injury concern and Gregory missing time over the past two seasons with various injuries, there just isn't enough depth in my opinion. New England is just an injury or two away from starting a rookie like Tavon Wilson in a big game.
With other depth players like James Ihedigbo and Josh Barrett both with extensive injury histories, the safety position could go from promising to bleak in a blink of an eye.
Health of Sebastian Vollmer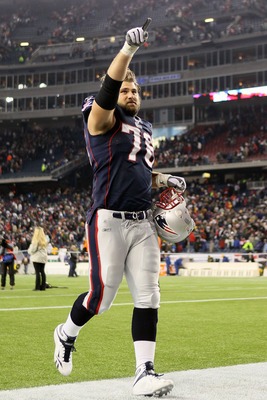 Elsa/Getty Images
This slide could arguably be about the whole offensive line, but I've decided to focus on ex All-Pro Sebastian Vollmer.
Vollmer when 100 percent healthy is a top ten offensive lineman in the NFL and he proved that in the 2010-11.
Able to play both tackle spots at an elite level, Vollmer settled into the right tackle spot after excelling at left tackle when ex-Patriot Matt Light was injured. Vollmer was so dominant that he was voted second team All-Pro despite not making the Pro Bowl roster.
A healthy Vollmer gives the Patriots flexibility and stability on the offensive line, two things that Belichick and offensive line coach Dante Scarnecchia value. Along with Nate Solder, Vollmer could give the Patriots' two elite tackles for the next decade.
Inexperience on Defense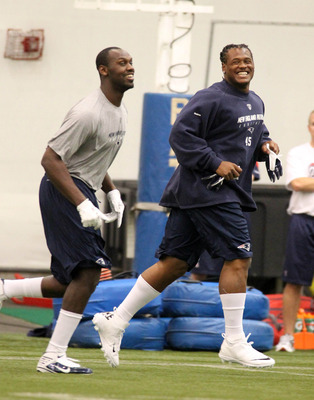 Stew Milne-US PRESSWIRE
With so much new talent on the defense acquired through the draft, the experience of the players will obviously be limited.
With rookies Chandler Jones and Dont'a Hightower both expected to start and Tavon Wilson and Jake Bequette expected to contribute, second year players Ras-I Dowling and Sterling Moore projected to either start or play heavy snaps and third year defenders Devin McCourty, Brandon Spikes and Kyle Love all returning starters, there really isn't much experience on the Pats defense.
Jerod Mayo and Patrick Chung are 26 and 24 respectively and are considered veterans in comparison to their other defensive teammates. Other contributors like Kyle Arrington, Jermaine Cunningham and Ron Brace are all under the age of 25.
As we've seen over the past few years, talent can only take you so far in the NFL and young players tend to make many mental errors. Whether it's overshooting a gap or taking a bad angle to the ball, you have to take the good and the bad with the younger players.
Bill Belichick has so often preferred veterans on his defenses, so he can run his complex read and react systems. However, long gone are the Tedy Bruschis, Mike Vrabels and Rodney Harrisons and in are the new guys.
There's no doubt New England has a lot of talent on its defense; getting them all to play together and consistently will be the challenge.
Questions at Running Back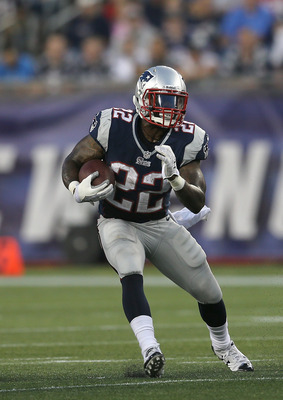 Jim Rogash/Getty Images
Much like the defense, there are similar questions surrounding the running back position. Most importantly, is there enough experience in the group?
With the departure of BenJarvus Green-Ellis to Cincinnati, the Patriots are projected to have one rookie in Brandon Bolden, two second year players in Shane Vereen and Stevan Ridley and Danny Woodhead in the backfield.
While this could be the most talented stable of running backs New England has had since the days of Corey Dillon, the four of them combined have five years of experience. And with the Patriots expected to play in some big games this season, can Pats fans trust any of these backs to deliver?
Can any of these backs get those two yards on a 3rd and 2? Do you trust Ridley even with his fumbling issues?
The reason why Green-Ellis lasted so long in New England despite his limited explosiveness was because Belichick likes his running backs to get the hard yards and hold onto the ball. Of the running backs on the roster, I don't know who that label could apply to.
Keep Reading

New England Patriots: Like this team?