The Ultimate Solution to College Football Realignment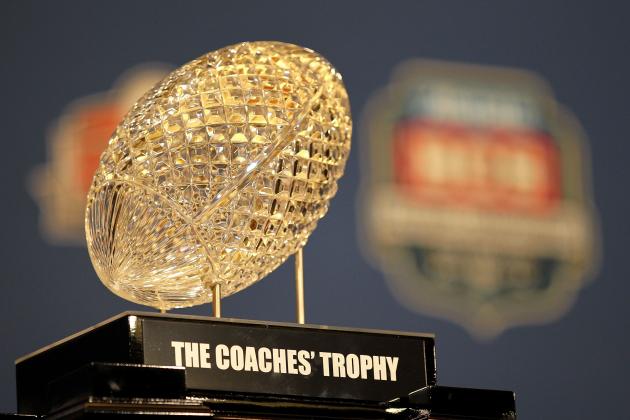 Andy Lyons/Getty Images
New Divisional Alignment and a Playoff Style to College Football
Does the idea of San Diego State, Boise State and Houston in the Big East just not sit right with you? How do you feel about 12 teams in the Big Ten and 10 teams in the Big 12? Any problem with a team in Louisiana being in the Western Athletic Conference?
Enough is enough.
You may look at what I am proposing and immediately say, "It will never happen," but the fact is that change is necessary. In this time of flux and conference jumping, it is time for the NCAA to step in and ensure regional rivalries.
In a nutshell, my proposal is to abolish all conferences. No more SEC. No more Big Ten. No more ACC.
Let it go.
Instead, we replace the conferences with NFL-style divisions of eight teams per division. There are 124 teams competing in FBS football this season, just four teams short of that magic number, which is divisible by 64, 32,16, eight, four, two and one.
Add four teams, and you could have 16 divisions with eight teams per division. Let's add Charlotte, who will join FBS in 2013, along with Georgia State. That leaves us just two schools short of our magic number. To simplify things, take the two most recent FCS Champions, Eastern Washington and North Dakota State. It makes me want to propose a whole system of relegation a la European soccer leagues, but we'll leave that for another column.
So, we have our 128 teams.
Each team will play seven conference games, with the top two teams advancing to the Divisional Championship. From the Divisional Championship games, teams will be seeded into a 16-team tournament. They would begin a week before Christmas with quarterfinals beginning the weekend just prior to Christmas, semifinals New Year's Day and the National Championship a week after New Year's Day.
In compiling the divisional formats, I have tried to retain old conference affiliations but kept regional consistency at the forefront. Take the tour of the perfect college football alignment.
Begin Slideshow

»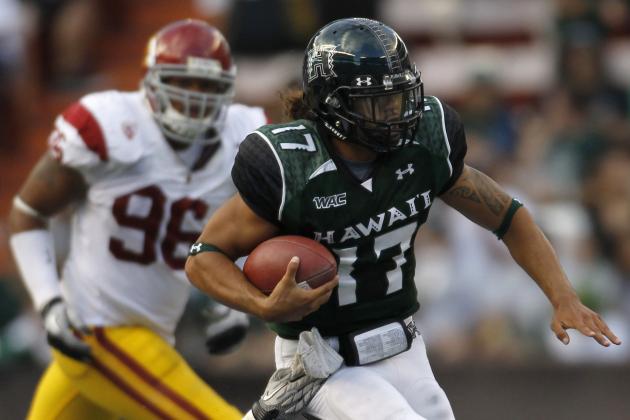 Kent Nishimura/Getty Images
USC and Hawaii will collide as divisional foes.
-Arizona
-Arizona State
-San Diego State
-UCLA
-USC
-California
-Stanford
-Hawaii
This pulls out the southern most Pac-12 schools and combines them with Hawaii and the other Southern California school, San Diego State.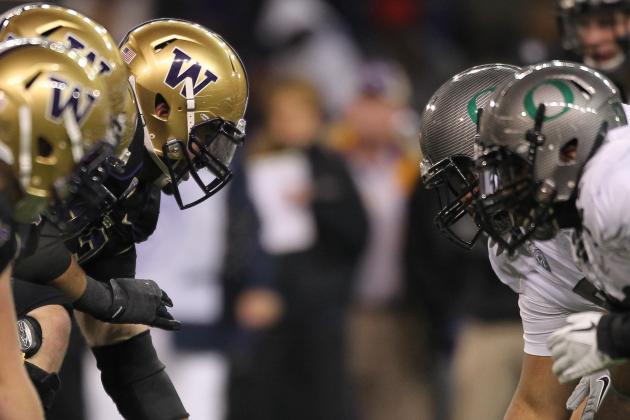 Otto Greule Jr/Getty Images
Old Pac-12 rivals remain in new division.
-Washington
-Washington State
-Eastern Washington
-Oregon
-Oregon State
-San Jose State
-Fresno State
-Boise State
Take the four northern most teams from the old Pac 10, and add in two Northern California teams, our promoted FCS team, Eastern Washington, as well as Boise State. I would love watching Boise go through this schedule each year.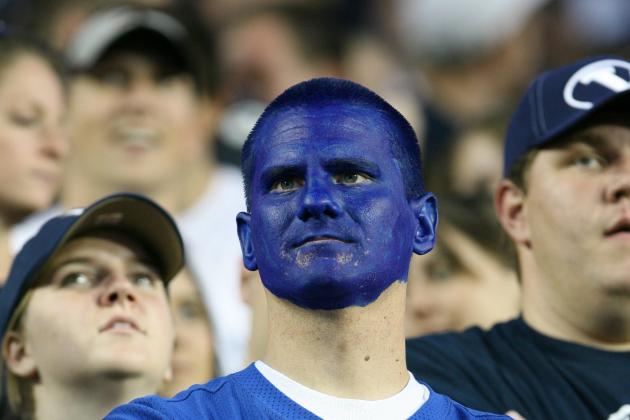 Melissa Majchrzak/Getty Images
BYU leaves the ranks of the independents.
-Nevada
-UNLV
-Utah
-Utah State
-BYU
-Air Force
-Colorado
-Colorado State
This division essentially takes the teams of Nevada, Utah, and Colorado and creates scores of classic rivalries to maintain an interest in the region and around the country.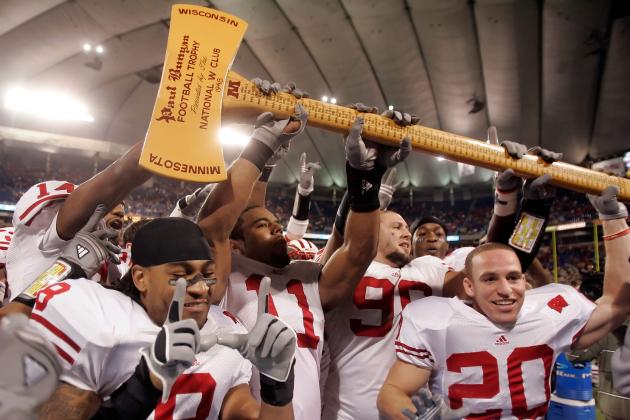 Jeff Gross/Getty Images
This is the most expansive division in the new alignment.
-Idaho
-Wyoming
-North Dakota State
-Minnesota
-Wisconsin
-Iowa
-Iowa State
-Nebraska
Four Big Ten schools combine with a few other teams from the north. Iowa State is an easy pairing here, while we stretch a bit for Wyoming and Idaho.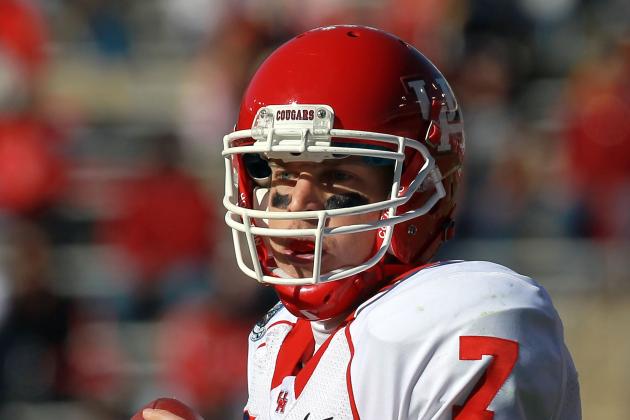 Ronald Martinez/Getty Images
The Southwest Division spans Albuquerque to Houston.
-New Mexico
-New Mexico State
-UTEP
-Texas Tech
-Texas State
-UTSA
-Houston
-Rice
At first glance, this would be one of the weaker divisions, with no real power. That could lead to great parity, allowing teams to scramble for dominance.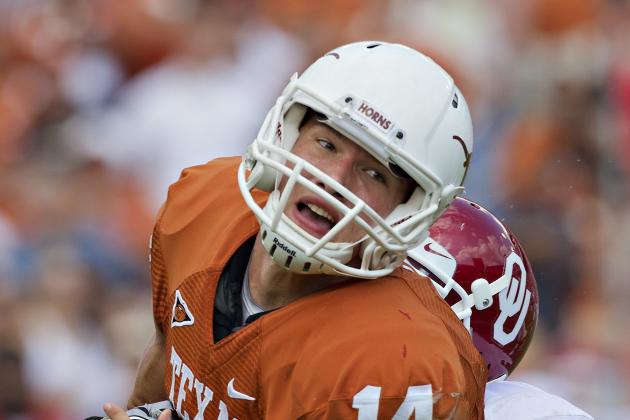 Wesley Hitt/Getty Images
Classic rivalries like Oklahoma vs. Texas would remain.
-Oklahoma
-Oklahoma State
-Baylor
-Texas A&M
-Texas
-TCU
-SMU
-North Texas
The Dallas area teams combine with Longhorns and the two former Big 12 members from the state of Oklahoma. This maintains the Red River Rivalry along with others that fans look forward to each season.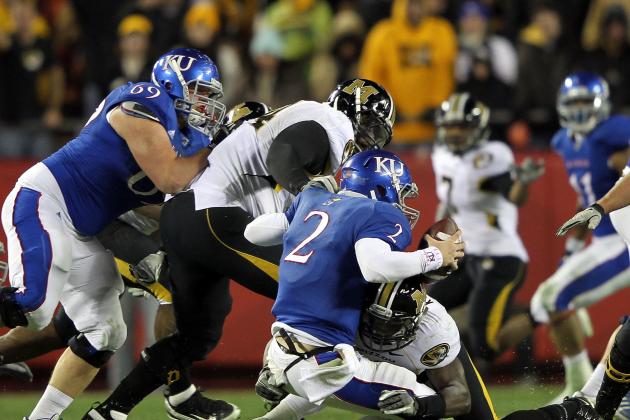 Jamie Squire/Getty Images
Kansas and Missouri would continue to play each season.
-Tulsa
-Kansas
-Kansas State
-Missouri
-Arkansas
-Arkansas State
-Memphis
-Louisiana Tech
Restoring the Missouri/Kansas rivalry is at the forefront here, but it may also open the door to Arkansas becoming a national power.
Ronald Martinez/Getty Images
Alabama and LSU would play each year, but never meet in the National Championship.
-Louisiana-Lafayette
-Louisiana-Monroe
-LSU
-Tulane
-Ole Miss
-Mississippi State
-Alabama
-Auburn
This is the behemoth of the new divisional alignment. Taking much of Louisiana along with the best of Mississippi and Alabama ensures that key regional rivalries are protected each season. We could also very likely see Alabama and LSU play each other twice a year with a regular season match-up and divisional championship.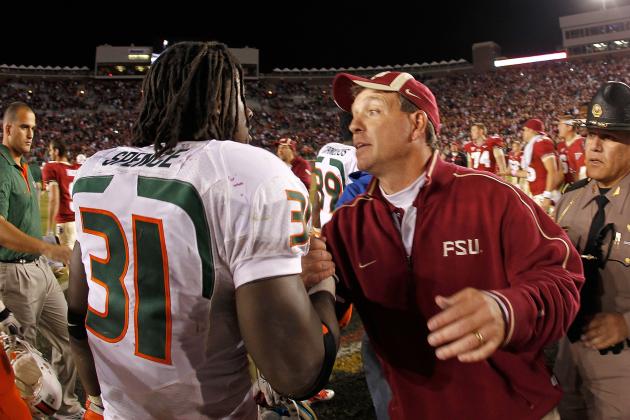 Mike Ehrmann/Getty Images
Miami and Florida State are the class of the Gulf Division.
-Southern Mississippi
-South Alabama
-Troy
-UAB
-Florida State
-Miami (FL)
-Florida International
-Florida Atlantic
The stage is set for Florida State and Miami to dominate this weaker division.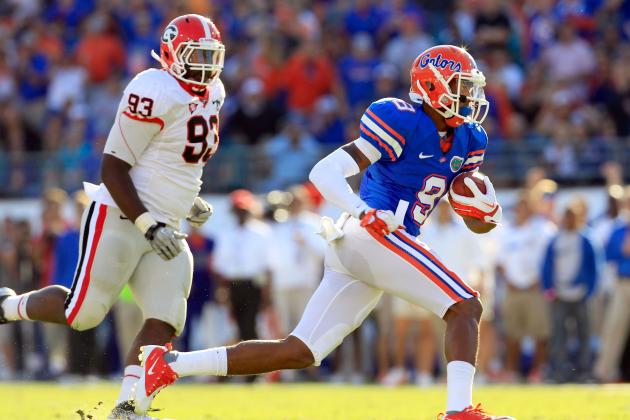 Sam Greenwood/Getty Images
Florida and Georgia can still meet "Between the Hedges" in this competitive division.
-South Florida
-Florida
-Central Florida
-Georgia
-Georgia Tech
-Georgia State
-South Carolina
-Clemson
Some of the best programs of the SEC East are combined with ACC teams to form this solid division.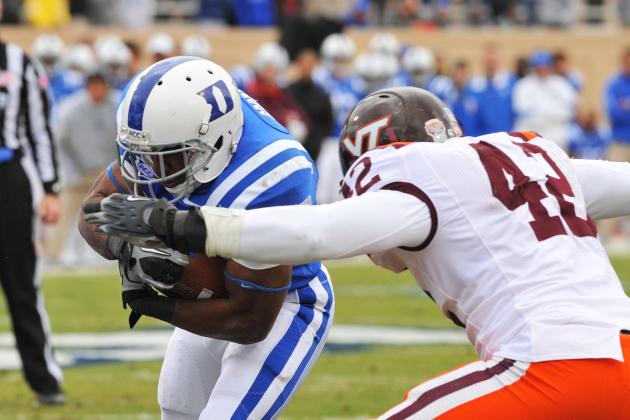 Al Messerschmidt/Getty Images
Many ACC teams remain in the Carolina Division.
-Duke
-North Carolina
-Wake Forest
-NC State
-East Carolina
-Charlotte
-Virginia
-Virginia Tech
The state of North Carolina and the state of Virginia do battle all season long. Think about what this does for student-athletes for a moment as every road trip is a short road trip.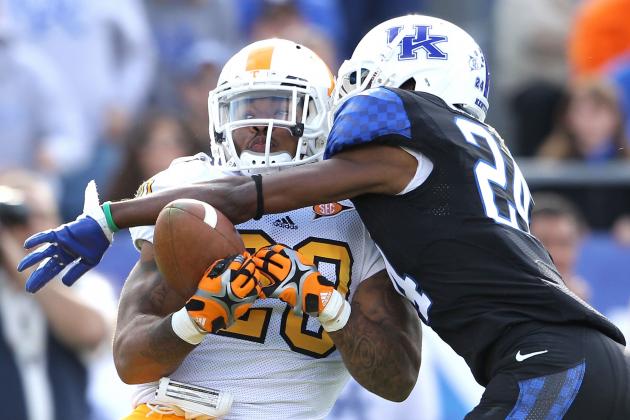 Andy Lyons/Getty Images
Teams like Tennessee, Kentucky and West Virginia would collide each week.
-Middle Tennessee State
-Tennessee
-Vanderbilt
-Kentucky
-Louisville
-Western Kentucky
-Marshall
-West Virginia
Kentucky and Louisville in the same division? Fans would love to make that rivalry just that much more critical. Add in the two teams in West Virginia and you have a strong division with interesting annual match-ups.
Jonathan Daniel/Getty Images
It's time for Notre Dame to join a conference, or division.
-Northwestern
-Illinois
-Northern Illinois
-Purdue
-Notre Dame
-Indiana
-Ball State
-Central Michigan
The teams of Illinois and Indiana play every year. CMU is a bit out of place here, and the case could be made to replace them with another school, and you wouldn't get an argument from me.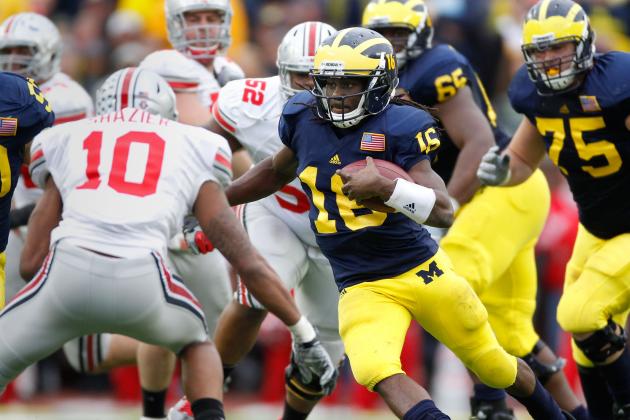 Gregory Shamus/Getty Images
Merging the MAC and Big Ten but still retaining the Big Game.
-Western Michigan
-Eastern Michigan
-Michigan State
-Michigan
-Ohio State
-Toledo
-Akron
-Kent State
The rivalry between the state of Michigan and the state of Ohio goes deeper than the Wolverines and Buckeyes. This divisional alignment allows football fans in each sate to trash talk all season long.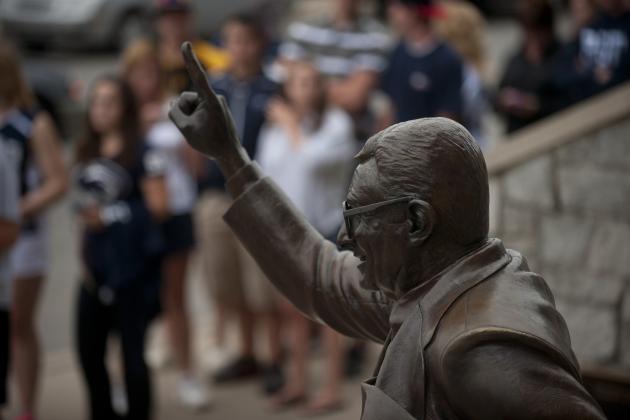 Jeff Swensen/Getty Images
Penn State rebuilds in a new division.
-Cincinnati
-Miami (OH)
-Ohio
-Pittsburgh
-Bowling Green
-Penn State
-Temple
-Buffalo
This arrangement would probably suit Penn State just fine as they begin to rebuild.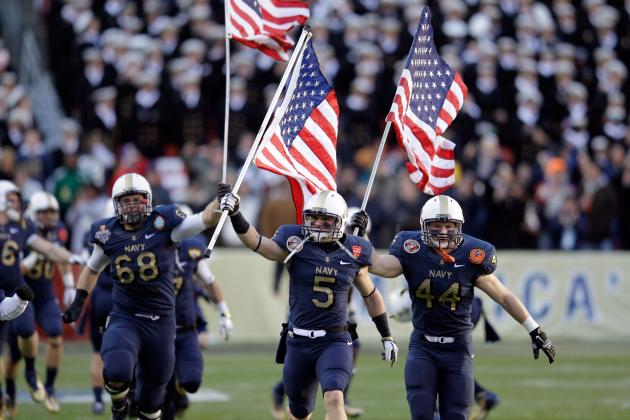 Rob Carr/Getty Images
The annual Army/Navy game becomes a divisional tilt.
-Syracuse
-Army
-UMass
-Boston College
-Connecticut
-Rutgers
-Maryland
-Navy
The remaining teams in the northeast would make for a close race each year.
Author Paul Swaney is the Founder of StadiumJourney.com, a website dedicated to providing fans with all they need to know to make the most out of their next live sporting event.