Browns vs Packers: Green Bay's Biggest Winners & Losers from Preseason Week 2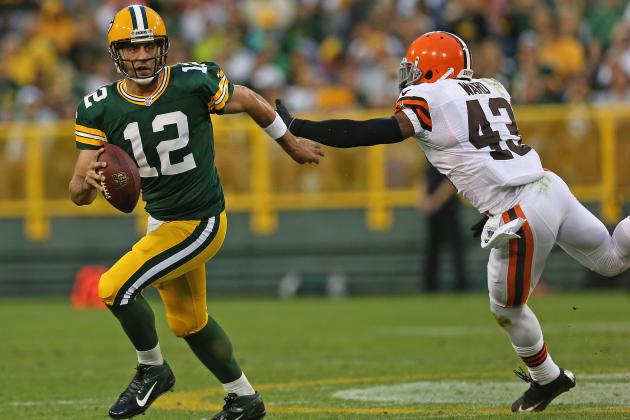 Jonathan Daniel/Getty Images

The Green Bay Packers lost 35-10 to the Cleveland Browns in the second preseason game of the season. It was a sloppy game all-around for the Packers as they turned the ball over four times.
Aaron Rodgers got the Packers off to a quick start with a 20-yard touchdown pass to Jordy Nelson, taking advantage of a short-field after a Browns' fumble. From that point on, as Packers' starters filed out of the lineup, it was all Browns as Brandon Weeden, Colt McCoy and Seneca Wallace all looked impressive.
With a steady attack of running and throwing the football efficiently, the Browns scored 32 straight points before a Mason Crosby field goal made the score 32-10 early in the fourth quarter.
It's a disappointing result for the Packers, but the highlight of the game is that there were no injuries. Like all preseason games, the most important thing going forward is the player evaluations.
The Packers travel to play the Cincinnati Bengals next Thursday night, August 23 at 6:00 p.m.
Begin Slideshow

»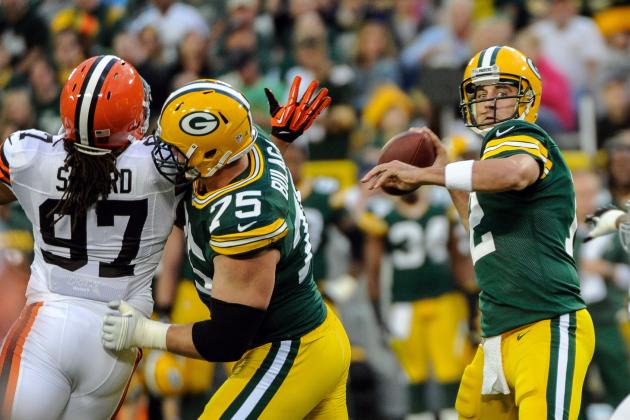 Benny Sieu-US PRESSWIRE

They didn't get a ton of playing time, but Aaron Rodgers and Jordy Nelson made it count with a beautiful connection for a 20-yard touchdown. After missing a wide open Nelson in the end zone just two plays earlier, Rodgers made up for his mistake with a beautifully placed pass to a well-defended Nelson.
Rodgers cooled off toward the end of his time, but finished the game completing six of his 11 passes for 59 yards. He finished with two rushing attempts for 24 yards. It wasn't a monster outing for Rodgers, but it was enough to settle the fans after an uncharacteristic performance last week.
Rodgers still has some work left to get into regular season form, but with three weeks before the opener, there is no reason to think he won't get to that point.
Nelson looks ready to build on the success he had last season. He was dangerous in his time on the field getting wide open on the missed would-be touchdown pass and came up with a brilliant catch two plays later. The longer Greg Jennings stays out with a concussion, the more responsibility falls onto Nelson's shoulders.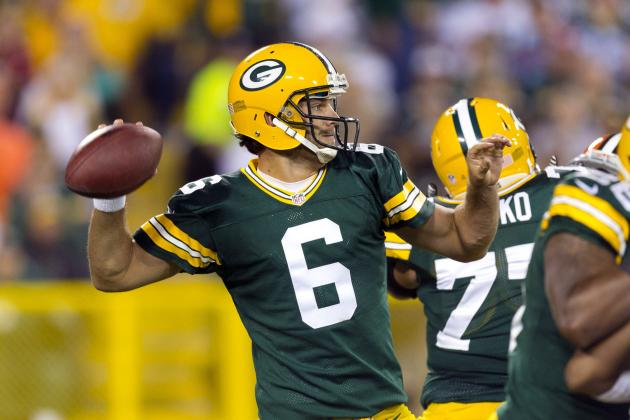 Jeff Hanisch-US PRESSWIRE

Graham Harrell was put in a tough spot more than times than not against the Browns, playing with a subpar offensive line and terrible field position. Harrell struggled mightily against the Browns outside of a very impressive third quarter drive that resulted in a field goal.
Through two preseason games, Harrell doesn't look like a second string quarterback. He looks like a great No. 3 guy who will develop over the next couple seasons. The Packers would be in desperate panic mode if Rodgers was injured and had to miss significant time.
While Harrell didn't look great, Browns' backup Colt McCoy looked very solid in his limited playing time. Since Matt Flynn left Green Bay for Seattle, McCoy-to-Green Bay has been a popular sentiment. The talk could actually make a lot of sense for the Packers and McCoy. Harrell could use another year to improve and McCoy would benefit from a year under McCarthy before looking to re-establish himself as a starter elsewhere.
It may not happen and the Packers may stick with Harrell. At this point, another option has to be worth at least considering.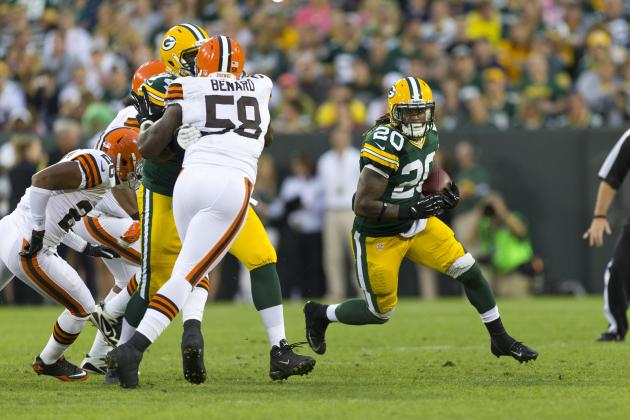 Jeff Hanisch-US PRESSWIRE

The running back position has been extremely problematic for the Packers. Injuries have decimated the unit, leaving the Packers with few healthy backs. With James Starks and Brandon Saine out with injuries and new-signing Cedric Benson not ready yet, Alex Green got an opportunity to work with the first unit.
Green looked good in his limited time on the field. He finished the game with four carries and 16 yards. Green also did well in pass protection, something it is a huge requirement to play running back in the Packers' pass-happy offense.
Green is now fighting with Starks and Benson for playing time. While the other two may have a better shot at getting first and second down carries, Green might be able to find some playing time as the third-down back. It will take continued improvement in pass protection to win the job, but Green did a good job against the Browns.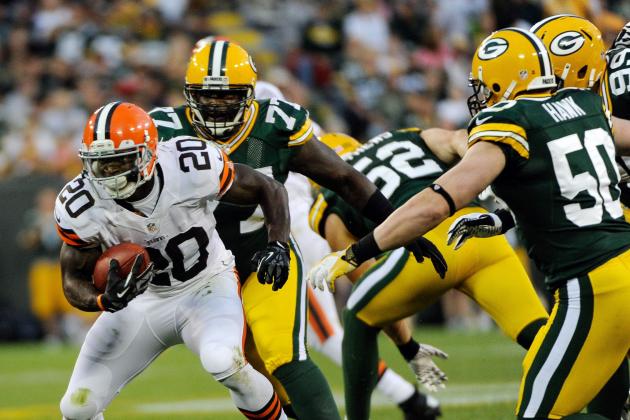 Benny Sieu-US PRESSWIRE

Against the Browns starters, the Packers' defense actually did a good job getting to the quarterback. While that was a big positive, the run defense was a big negative. The Browns ran all over the Packers in the first half using Montario Hardesty and former Packer Brandon Jackson.
The Browns carried the ball 44 times for 117 yards. It doesn't equate to a great average for the Browns, but the damage was done mostly early on. The inability to get stops helped the Browns dominate the game and the clock.
That's not a great sign for the Packers' defense that was seemingly decent against the run last season. The Packers need to be able to contain the run as well as get pressure on the quarterback in order to make a marked improvement over last season.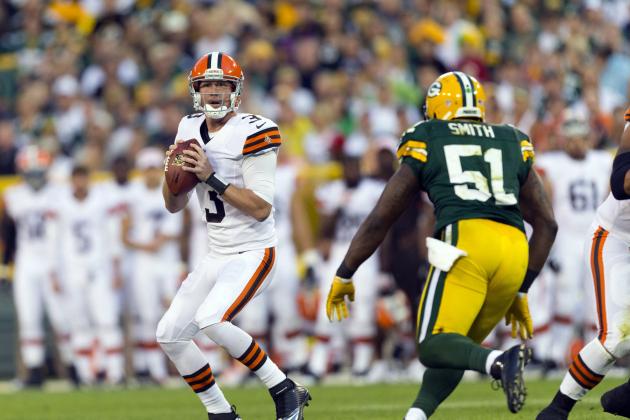 Jeff Hanisch-US PRESSWIRE

With last week's injury to Desmond Bishop, D.J. Smith becomes the starter at inside linebacker alongside A.J. Hawk. Smith was largely impressive during his time on the field with the starters and the second string defense.
Smith was a tackling machine, responsible for four solo tackles and two assisted tackles. He was solid in coverage and was able to get to the quarterback on occasion.
Smith also saw the field with the starters as the only linebacker in the Packers' dime set, over A.J. Hawk. Depending on the length of Bishop's absence, the Packers will be very reliant on Smith. If Smith can play well, he could replace A.J. Hawk when Bishop gets back in the lineup.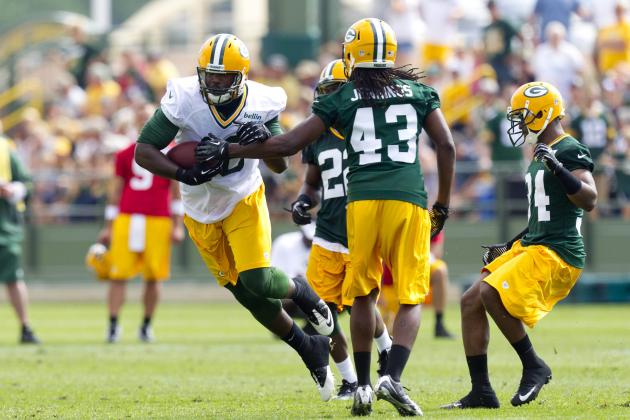 Jeff Hanisch-US PRESSWIRE

It wasn't a good night for M.D. Jennings. He played poorly in coverage and missed a few tackles, while his competitors at the safety position played well. Jerron McMillian was the big standout at safety and looks like he has a chance to make the jump over Jennings. Sean Richardon has made some nice strides in camp and looked decent against the Browns.
Jennings will need to string some strong practices together and play well against the Bengals next week in order to hold ground at the position. If not, Jennings will continue to lose that ground and eventually be replaced by McMillian.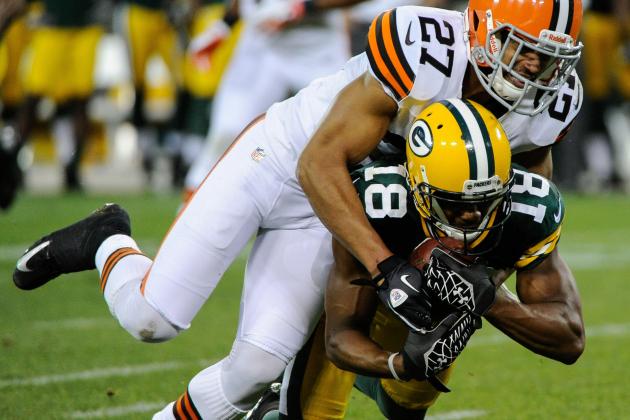 Benny Sieu-US PRESSWIRE

Randall Cobb has shown he is one of the most dangerous players on the team with the ball in his hands—for both the opposing defense and the Packers. Cobb has developed a little bit of a ball security problem; he fumbled after a reception from Rodgers and had a few drops.
With Cobb showing his ability to be a piece of the offense, he needs to eliminate the ball security issues. This team prides itself on being careful with the football and avoiding turnovers at all costs.
Cobb has incredible speed and talent. If he can figure out how to hang onto the football, Cobb will have an increasing role in the offense. It all depends on how comfortable Mike McCarthy feels putting the ball in Cobb's hands.
Benny Sieu-US PRESSWIRE

With the departure of Nick Collins, the Packers are relying on one of their young safeties to step up. M.D. Jennings has gotten time with the starting unit, but has looked largely unimpressive both in coverage and tackling. Jerron McMillian had a strong showing, especially in the second quarter.
McMillian was flying to the ball making strong tackles around the line of scrimmage. With the Packers' poor tackling last season, McMillian's impressive tackling display could earn him some playing time sooner rather than later.
If the Packers can count on McMillian to improve and put in more consistent performances, the Packers will have more flexibility with where they play Charles Woodson.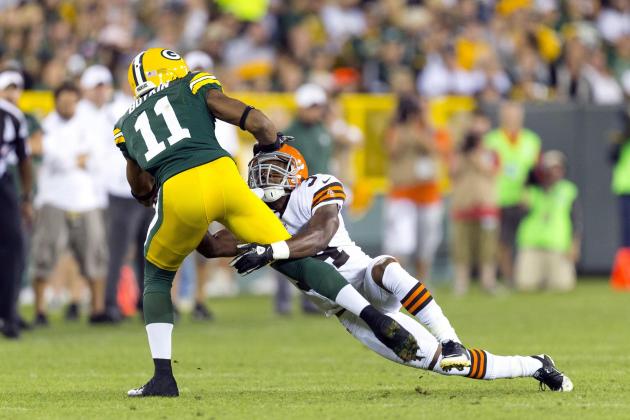 Jeff Hanisch-US PRESSWIRE

With a largely unimpressive passing attack for the Packers, Jarrett Boykin was a rare bright spot. Boykin lead both teams with five catches and 63 yards in the game. Most of Boykin's production game in the third quarter, on the only scoring drive led by Graham Harrell, catching back-to-back passes of 25 and 24 yards.
The Packers have a ton of talent at the wide receiver position and there has been plenty of discussion around how many receivers the team would carry into the season. Greg Jennings, Jordy Nelson, Randall Cobb, Donald Driver and James Jones are the definite first five. Anything after is up for grabs.
While Tori Gurley and Diondre Borel entered the camp as favorites, Boykin has done a solid job. It's been noted that Boykin isn't a speedster, but does a nice job running routes and getting open.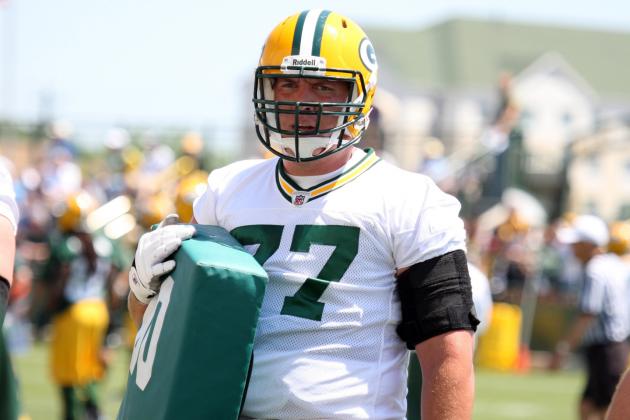 Mary Langenfeld-US PRESSWIRE

Of the second and third string offensive linemen, Andrew Datko's improvement was the most impressive. Datko struggled early on in camp, but has made a huge improvement over the last week. Datko successfully played at left tackle, but still left room for improvement.
While Datko was impressive, he was called for a holding penalty and got pushed back a few times. He is pretty weak and would benefit from putting on some more muscle. Datko still has plenty of work to do, but the improvement is a great sign.