Toronto Blue Jays: Will They Make a Big Run at Signing Josh Hamilton?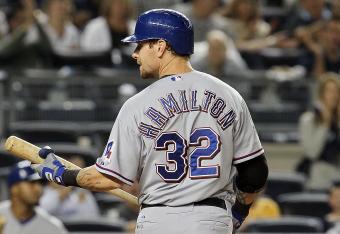 Jim McIsaac/Getty Images
Is it time for the Toronto Blue Jays to make their big move?
Is it possible that Jays management is finally ready to make some headlines and sign the biggest free agent in recent memory?
Are the Jays really a contender for Josh Hamilton?
Before we make any claims, let's break down some of the factors that will come into play should Toronto make an offer.
Is Hamilton worth a long-term, big-money deal? It's likely that he'll command somewhere in the region of Prince Fielder's deal with Detroit. $140 million over seven years wouldn't be out of the question. He's slightly older than Fielder and has less experience but he's much safer considering Prince's horizontal challenges.
And while other free agents who land big contracts like the one Hamilton will most certainly receive often don't deserve them, this 31-year-old outfielder is deserving. Since his first full year in MLB, Hamilton has averaged 36 HR, 128 RBI and a .308 batting average.
He's consistently in the mix for the MVP award and has established himself as one of the clear-cut stars of this generation of ballplayers. While there are question marks and historical hiccups with Hamilton, he's worth the investment.
But would Hamilton even want to play in Toronto?
Considering the Blue Jays aren't a franchise well known for attracting big-name free agents, the question is important. If the Rangers indeed let Hamilton test free agency, there will be an immense amount of league interest in him; he'll basically have his pick of which team he wants to play for.
Do the Jays Have Any Chance of Signing Josh Hamilton?
If the Jays have any chance of landing him, they'll need to present the most attractive offer: the one with the largest amount of money and likely the longest term as well. The reality is that franchises like the Blue Jays need to be the heaviest bidder in order to attract these types of players.
The good news is, they have the means to do so.
It's been frustrating in recent years to watch free agents who even seemed to have a slight interest in signing with Toronto be passed over by the Blue Jays management.
What's frustrating is that money was never an issue for the Jays.
When you boil it down, the richest franchise in MLB is the Toronto Blue Jays.
Rogers Communications, the owners of the Blue Jays, brought in $12.42 billion in revenue in 2011. For whatever reason, the Jays have been forced to field teams on a budget for the last decade.
Since Alex Anthopoulos took over the general managing duties in 2009, fans have hoped Rogers would be willing to commit more to the team's payroll. However, other than Jose Bautista's modest contract extension, the team hasn't exactly been throwing money around.
Josh Hamilton might be where they start.
Suffice to say they'll need the most expensive offer, but if management believes in the player, the pieces are in place.
It would be hugely surprising to say the least, but the team has the money so long as Hamilton and the Blue Jays are interested.
This article is
What is the duplicate article?
Why is this article offensive?
Where is this article plagiarized from?
Why is this article poorly edited?

Toronto Blue Jays: Like this team?