Should MLB Follow the Kirk Gibson Plan and Punish PED Users More Severely?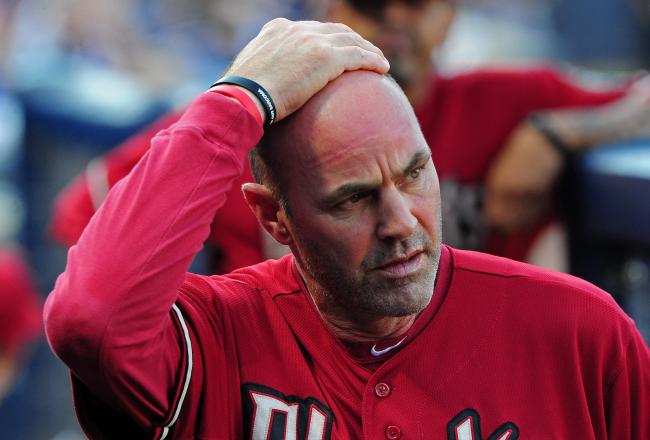 Players using performance-enhancing drugs makes Kirk Gibson lose his hair.
Scott Cunningham/Getty Images
Arizona Diamondbacks manager Kirk Gibson doesn't have much tolerance for nonsense.
We're talking about a guy who blew up when eye black was smeared inside his cap before a spring-training game in 1988 as a prank. Gibson was in his first year with the Los Angeles Dodgers and apparently wanted to set a tone.
As reported by the Los Angeles Times' Mike Downey at the time, Gibson took off the doctored cap to wipe sweat from his forehead and soon realized what had happened when teammates began laughing at him.
But instead of laughing along with the prank, Gibson charged off the field, went to manager Tommy Lasorda's office and threatened to beat up whoever did this to him.
So it's not difficult to imagine how Gibson would react upon learning that a player who regularly faced his D-Backs as an NL West rival had tested positive for performance-enhancing drugs.
According to MLB.com's Steve Gilbert, Gibson looked up Melky Cabrera's statistics against the D-Backs immediately upon learning of the San Francisco Giants outfielder's 50-game suspension. He apparently didn't like what he saw.
In 40 plate appearances against Arizona this season, Cabrera hit .462/.475/.692 with three doubles, two home runs and six RBI. The Diamondbacks are 5-4 against the Giants in 2012, which factors into Arizona being six games out of first place in the NL West as of Aug. 16.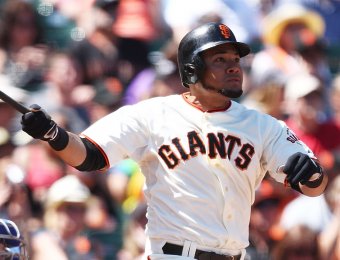 Melky Cabrera's 50-game suspension wasn't harsh enough, in Kirk Gibson's view.
Tony Medina/Getty Images
"He's had a huge impact against us," Gibson said to Gilbert.
"My understanding is he admitted to taking it and knew what he took and that's just not right. If you do something like that, in my mind, it should be much more severe."
If I'm reading Gibson's quote correctly here, he seems to be saying that Cabrera should have been penalized more severely because he copped to taking testosterone, took full responsibility for his actions and accepted his suspension.
What if Cabrera had done what busted players typically do? What if he claimed that he didn't know the workout supplement he was taking contained a banned substance? What if he argued that his urine sample was handled improperly or tampered with? Would a 50-game suspension be alright then?
Regardless of whether or not Cabrera and baseball's other drug-policy offenders should be punished more severely if they knew what they were doing, Gibson is correct in that the current system doesn't seem to be working.
Some would argue that MLB's drug program is working just fine, considering 17 players have drawn 50-game suspensions (with two of them getting additional 100-game penalties), according to Baseball Almanac. Cheaters are getting caught, offensive numbers are down, fewer home runs are being hit.
The flip side of that is that 50 games apparently isn't enough of a deterrent to taking performance-enhancing substances. Within the past 16 months, baseball has seen three pretty big names—Manny Ramirez, Ryan Braun and Cabrera—get nailed for using testosterone. (Braun's suspension, of course, was eventually revoked on a technicality.)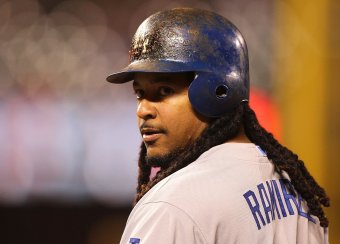 Was Manny Ramirez really that worried about getting caught for using PEDs?
Jed Jacobsohn/Getty Images
Either the risk is worth it to those players using PEDs, they're too arrogant to think they'll be caught, or they just don't care. The rewards—financial or otherwise—certainly outweigh the risks.
But if the penalty for first-time offenders was a one-year suspension, followed by a lifetime ban for a second positive test, offending players might be scared straight. Real money would be taken away from those players with a drug policy that had much sharper teeth.
By the way, the three names listed above might explain why Gibson feels so strongly about this matter. We already mentioned Cabrera's performance against Arizona this season, but how did the other two fare?
Ramirez was part of the 2008 Dodgers squad that won the NL West by two games over the D-Backs. Gibson was a bench coach for Arizona at the time. Ramirez had hit .512/.588/1.000 with six doubles, five homers and 12 RBI in 51 plate appearances against the D-Backs. The next season, he was suspended for using PEDs.
Braun and his Milwaukee Brewers faced Arizona in last year's NLDS. In 21 postseason plate appearances, he hit .500/.571/.889 with a home run and four RBI, helping the Brewers to a 3-2 series win.
That's the kind of stuff that would make any manager pull out his hair—if Gibson had any remaining to pull out. Can you imagine how Gibson would react if either of those three players smeared eye black inside his cap?
Follow @iancass on Twitter
This article is
What is the duplicate article?
Why is this article offensive?
Where is this article plagiarized from?
Why is this article poorly edited?