10 Most Underrated Announcers in Major League Baseball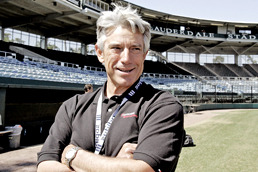 Toronto Blue Jays play-by-play man Buck Martinez. Photo courtesy cbc.ca
The art of announcing a Major League Baseball game is not the easiest task in the world.
Play-by-play men have to be well-versed in every aspect of the game, as well as having the ability to spout statistics on the quick.
In today's more advanced technological world, it's much easier for announcers to grab that information, such as David Ortiz's lifetime batting average against reliever Chris Perez, or Josh Hamilton's batting average with runners on third with less than two outs.
But not all announcers deliver that information in the same fashion.
Many casual fans watch the national broadcasts, and have become familiar with voices such as Joe Buck, Thom Brennaman, Dick Stockton, Jon Miller and Dan Shulman.
However, many regional baseball broadcasters aren't heard on a regular basis, except for those devout fans that have the MLB.TV package.
Here is a list of 10 regional baseball announcers who are outstanding broadcasters in their own right.
Begin Slideshow

»
New York Mets fans were already familiar with the voice of Gary Cohen in 2005, having been a part of the radio team since 1989.
But that year, Cohen took over as the play-by-play man for SportsNet New York (SNY), teaming with both Ron Darling and Keith Hernandez.
Cohen isn't just all about baseball, either—he has been the voice of both St. John's and Seton Hall basketball over the years, and has also filled in as a backup voice for the NHL New York Rangers radio broadcasts.
Attached is a terrific call by Cohen of a home run blast by former Mets catcher Mike Piazza back in 2005.
While the Pat and Ron Show may be missed, the dulcet tones of Pat Hughes calling a Cubs game lives on.
Hughes has been the radio voice of the Cubs since 1996, and for parts of 15 seasons called games with recent Hall of Fame inductee Ron Santo by his side.
The two had an incredible back-and-forth banter that North Siders came to love, and although Santo passed away in 2010, Hughes carries on.
Hughes cut his teeth in MLB broadcasting by working with legendary Milwaukee Brewers play-by-play man Bob Uecker for 12 years.
Attached are typical exchanges between Hughes and Santo that Cubs fans adored hearing so much.
Boston Red Sox television play-by-play man Don Orsillo got his job in a similar way that ballplayers make their way to the majors—he was called up.
Orsillo had been the radio voice of Boston's Triple-A affiliate Pawtucket for five years before being named the Red Sox broadcaster by regional cable station NESN in 2001.
Orsillo has teamed with former Red Sox second baseman Jerry Remy for that entire time, and the two have developed a back-and-forth banter that at times borders on the hilarious.
Orsillo has also covered postseason games for TBS since 2007 as well.
The attached clip features Orsillo and Remy launching into a "hair brush battle" during a Red Sox game against the Los Angeles Angels.
For the past 23 seasons, fans of the Cleveland Indians have listened on the radio to the man affectionately known as Hammy.
Tom Hamilton began alongside Herb Score in 1990, taking over as the play-by-play man after Score retired in 1997.
While radio guys don't get nearly as much attention these days with the explosion of cable and the Internet, Hamilton's style has endeared him to the city of Cleveland, and is in fact known simply as the "voice of the Tribe."
Here is Hamilton's call of a walk-off home run by designated hitter Travis Hafner in 2011.
Just about everyone who follows baseball is familiar with the voice of Jon Miller, the man behind the microphone for ESPN's Sunday Night Baseball for 20 seasons.
Miller has also been the voice for the San Francisco Giants for the past 15 years as well, but his sidekick isn't nearly as well-known—Dave Flemming.
Flemming has been calling Giants' games since 2004, teaming with Miller, Duane Kuiper and Mike Krukow as well as broadcasting games for Stanford Cardinal football.
Dan Dickerson was lucky enough to have worked with legendary Detroit Tigers broadcaster Ernie Harwell for three years before taking over after Harwell retired in 2002.
Those are some pretty tough shoes to fill, but Dickerson has settled in nicely.
Here is Dickerson's legendary call of Magglio Ordonez's walk-off home run in the 2006 ALCS, sending the Tigers to the World Series.
See...you...later!
That is the home-run call often heard from Washington Nationals broadcaster Bob Carpenter, known to Nats fans since 2006, but a man who has also broadcast for the St. Louis Cardinals, New York Mets, Minnesota Twins and Texas Rangers.
Carpenter has always had a breezy style of delivery but can deliver that extra oomph for those special plays, such as rookie Bryce Harper's first home run in the majors.
Broadcaster Greg Brown has been known to fans of the Pittsburgh Pirates for 18 years, and his signature call, "Raise the Jolly Roger," has become his signature.
Pirates' newcomer Drew Sutton caused Brown to use his signature call in a very excited and animated way on July 3 of this year.
At times, we can at times hear an analyst make a prediction for a particular at-bat, but rarely from a play-by-play man.
However, in 2011, Minnesota Twins announcer Dick Bremer did just that prior to a home run by Michael Cudder. Even the great Bert Blyleven was impressed.
Bremer may not be well-known outside the Twin Cities area, but for Twins fans, they have listened to Bremer's calls for 29 years.
Many ballplayers move into the radio booth after their careers have ended, usually in an analyst's role. However, for Buck Martinez, he graduated from the ball field to color and then to play-by-play.
Martinez handled color commentary for many years with ESPN before becoming the manager of the Toronto Blue Jays in 2001.
After being dismissed as Blue Jays' manager in 2002, Martinez returned to the booth with the Baltimore Orioles, working with Gary Thorne for seven seasons.
Martinez returned to Toronto in 2010, this time as the play-by-play man for Rogers SportsNet.
Here is a comparison clip, first of Martinez calling a three-run home run by catcher J.P. Arencibia. The second clip is Blue Jays radio man Jerry Howarth.
I'll take Martinez over Howarth any day of the week.
Doug Mead is a featured columnist with Bleacher Report. His work has been featured on the Seattle Post-Intelligencer, SF Gate, CBS Sports, the Los Angeles Times and the Houston Chronicle.