Cleveland Browns vs. Green Bay Packers: Preseason Week 2 Live Blog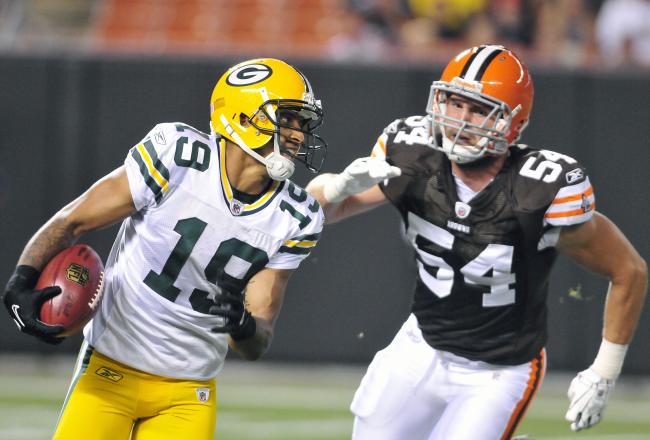 Jason Miller/Getty Images
The Browns bump their preseason record to a pristine 2-0 while rookie quarterback Brandon Weeden looks to be progressing at a quick pace. With a Trent Richardson return imminent, things are looking up in Cleveland.
Conversely, the Packers now fall to 0-2 in preseason play. Aaron Rodgers was in rare form as always, but the real story is the much-improved defense. Jerel Worthy was a disruptive force on the defensive line, which allowed players to wreak havoc around him. Another great season is in store for the Packers.
Brandon Weeden had an excellent night for a rookie QB: 12 of 20 for 118, and showed improvement play after play. Packers may need McCoy.

— Andrea Hangst (@FBALL_Andrea) August 17, 2012
Final!
Browns win big, 35-10.
Interception!
Emanuel Davis intercepts B.J. Coleman with ease and returns it up the field. Horrible read by Coleman, and an even worse decision. Intended target was Dale Moss.
Field goal Browns!
Jeff Wolfert splits the uprights to add to the Browns' total.
35-10 Browns.
Hard to not be extremely happy if you are a Browns fan. Sure, it's just the preseason, but the team looked dominant in all areas—and that's without rookie running back Trent Richardson.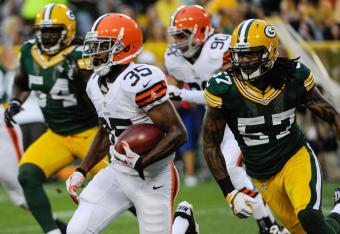 Browns simply trying to kill the rest of the clock here. Giving rookie running back Adonis Thomas a lot of opportunities to impress here.
Seneca Wallace connect with Owen Spencer for a 27-yard gain. Great play all-around, but especially great accuracy from the veteran Wallace.
It seems as if Graham Harrell is done for the night as rookie B.J. Coleman out of Tennessee-Chattanooga is warming up on the sidelines.
Field goal Packers!
After a few jaw-dropping throws from Graham Harrell, the drive finally stalled. Mason Crosby managed to sneak the ball through the uprights from 42 yards out, but this game is still out of reach at this point.
32-10 Browns.
Jarrett Boykin is having himself quite a game and turning some heads with five catches for 63 yards so far.
Another beautiful throw from Graham Harrell to Jarrett Boykin yet again. Outstanding accuracy in the seam as the Packers advance to the 28-yard line.
Perfect throw by Graham Harrell for a 25-yard gain to Jarrett Boykin. Packers finally putting together a nice drive here.
Harrell: 8 possessions, 44 yards for the offense, three first downs and nine points for Cleveland. #Packers
— Packer Report (@PackerReport) August 17, 2012
With Seneca Wallace now under center, the Browns make it a quick three-and-out after committing a holding penalty.
After review, the safety stands.
Browns up, 32-7.
SAFETY!
Graham Harell gets hit by two defenders and throws the ball into the dirt. He was in the endzone while flagged for intentional grounding, which is an automatic safety.
But will it stand?
Per the new rules, it will be reviewed because it is a scoring play.
Green Bay also has literally had no running game tonight. Both leading rushers are quarterbacks so far.
Third quarter comes to an end in the midst of another uneventful Packers' drive. Graham Harrell had a nice pass as he stepped up in the pocket, but it was nullified by yet another penalty against Green Bay's offensive line.
Have to give a lot of credit to Colt McCoy. He came in for Brandon Weeden and immediately orchestrated a scoring drive. Teams around the league in need of a backup are paying attention. Impressive.
Touchdown Browns!
Brandon Jackson rumbles into the endzone to extend the Browns' lead. Jackson has looked great tonight, albeit the bulk of his carries have come against the Packers' second unit.
Browns lead 30-7.
Browns advance to the four-yard line!
Colt McCoy rolls out and completes a pass to Dan Gronkowski (yes, brother of Rob in New England) and allows Cleveland to get closer to putting this game out of reach.
Colt McCoy has a much better feel for the rush than Harrell. Spun out of trouble naturally on that play before throwing an incompletion.

— Tyler Dunne (@TyDunne) August 17, 2012
Browns convert on 4th down!
Colt McCoy completes a dump-off to Brad Smelly who takes it up the field for the conversion.
Josh Gordon sighting.
Gordon catches a pass from Colt McCoy to pick up the first down.
This article is
What is the duplicate article?
Why is this article offensive?
Where is this article plagiarized from?
Why is this article poorly edited?

Cleveland Browns: Like this team?