The Truth About Oregon Football's Running Back Situation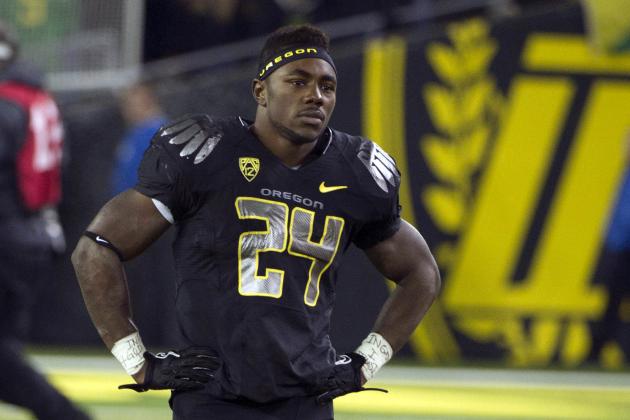 Jim Z. Rider-US PRESSWIRE

Ladies and gentlemen, the truth about the Oregon Ducks' running back situation this upcoming season is that they are thin at the position.
Not thin on talent—they are HUGE on talent—but thin on depth. As in, what if Kenjon Barner and/or De'Anthony Thomas get hurt?
It's been a while since we've seen an actual game, so let me remind you that the sport is violent. And that there is a slim possibility that Oregon's Pac-12 opponents might be slightly interested in knocking the Ducks off their three-peat championship post.
Who usually gets hit the most? Bingo.
Let's analyze the situation.
Begin Slideshow

»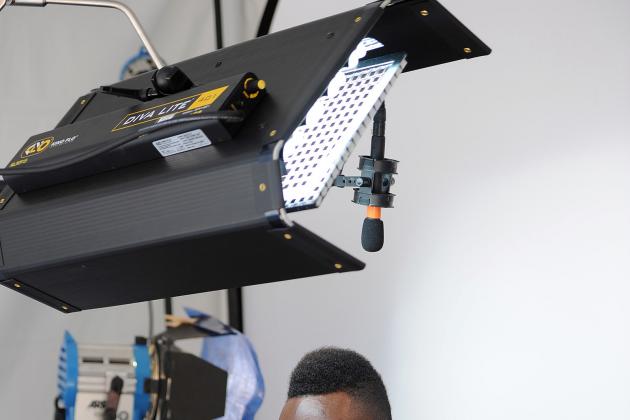 Jayne Kamin-Oncea-US PRESSWIRE

If only being a major college football star was as easy as posing for photos and being interviewed.
The reality of Kenjon Barner's life this fall will be drastically different. Barner, who suffered a concussion after a particularly violent hit two years ago, proved he can take it when he bounced back in a relatively short period of time.
But this season, he's The Guy, and everyone will be trying to make mincemeat out of him. There is almost no chance that Barner will get through the season without some dings. If they are minor, no problem. But if he takes a nasty...that sentence is better left unfinished.
Barner appears to be in great physical condition and ready for his close-up. Let's go with that.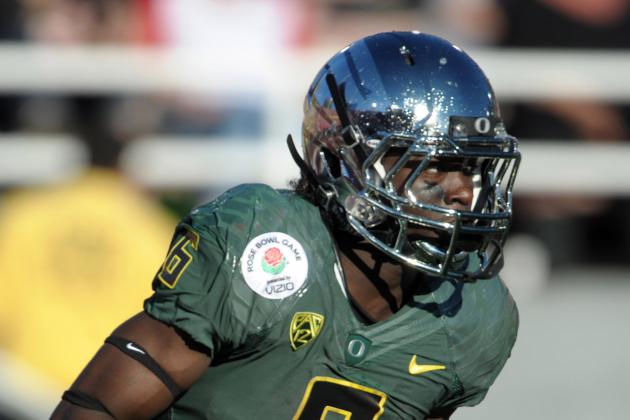 Kirby Lee-US PRESSWIRE

We all expect De'Anthony Thomas to take more snaps at RB this year. He is, however, potentially even more fragile size-wise than Barner.
Of course, they have to catch him first. That has proved difficult for all of Oregon's opponents. If DAT can keep outrunning defenders, he may be more durable than people expect.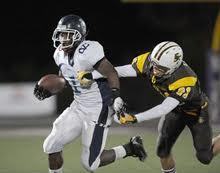 Maxpreps.com
Why is true freshman Byron Marshall listed third on this analysis?
According to Aaron Fentress of The Oregonian, Marshall is making a strong impression on his coaches and teammates, and at this time, he is considered the No. 3 running back. Running backs coach Gary Campbell told Fentress that he was surprised at how much Marshall knew and how comfortable he looks in the backfield.
Obviously, a freshman who is attending his first college camp will have much to learn. Everything is new to Marshall: playbook, teammates, coaches, system, stadium. Not to mention new town and new house.
But all that might not be so important when you have the speed that the Ducks look for at the RB position.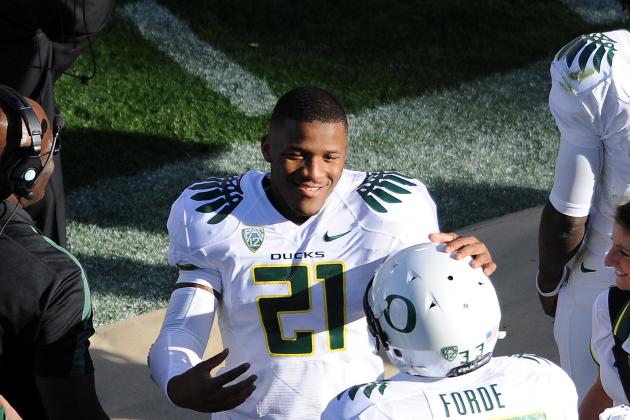 Ron Chenoy-US PRESSWIRE

Although sophomore Ayele Forde is receiving the blessing from "The King" in this photo from last season, he is still a walk-on with no scholarship.
Forde had his moments last year in relief of LaMichael James and Kenjon Barner, and he took advantage, rushing for 176 yards and two touchdowns. And he had a good spring game while on Marcus Mariota's winning team, going 80 yards on 16 rushes with one touchdown. Forde also received two of Mariota's passes for 13 yards.
It's too soon to say who will earn the No. 3 RB position, but Forde will play.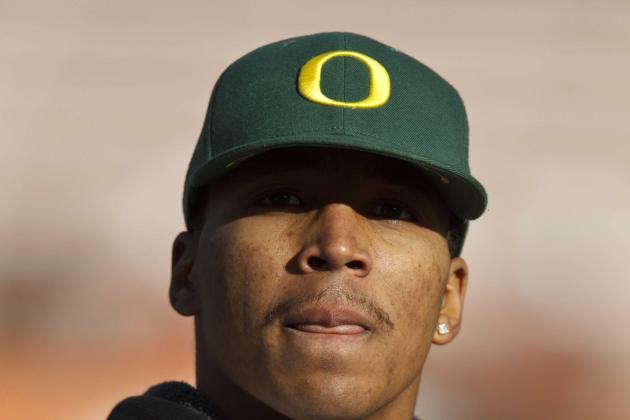 Jason O. Watson-US PRESSWIRE

Kenny Bassett, also a sophomore and a walk-on returner like Forde, has been out with a knee injury for most of his time at Oregon.
Bassett did play in the spring game, in which he had nine rushes for 30 yards and one touchdown on Bryan Bennett's losing team. He also caught two passes for 18 yards.
I'm not sure we saw the best of what Bassett can do that day, because Bennett couldn't get anything going (Note to Chip: Bennett couldn't get anything going).
If Bassett is 100 percent healthy this year, he might challenge for the No. 3 role.
The recent additions of freshman walk-on Lane Roseberry and junior college transfer Bill Chimphalee round out Oregon's running back picture for 2012.
We will know more about these sixth and seventh running backs once they get settled into the program.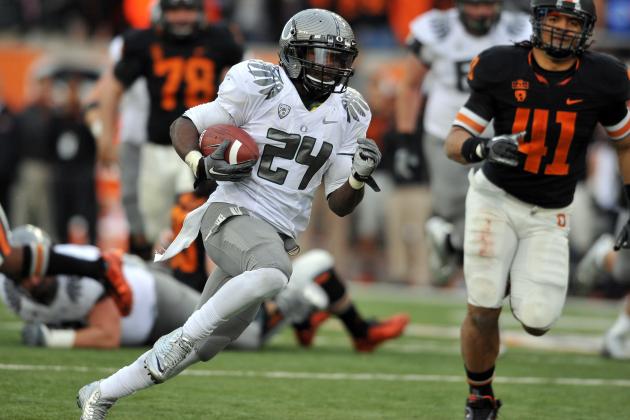 Steve Dykes/Getty Images

Kenjon Barner and De'Anthony Thomas will be the duo with the mostest, and hopefully they will make us start to forget LaMike.
But after that, it may drop off precipitously. The truth is, Byron Marshall, Ayele Forde, Kenny Bassett and the new guys are untested. They may all turn out to be the next James, but we don't know that now.
If Forde and Bassett have greatness in them, why haven't they been offered scholarships? They may be very good, competent RBs, but to play running back at Oregon, you must be great.
All we know for sure right now is that Barner and Thomas are great. Let's hope the Ducks don't have to go any further down the list in 2012.