WWE: 5 Reasons the Miz Will Be WWE Champion Again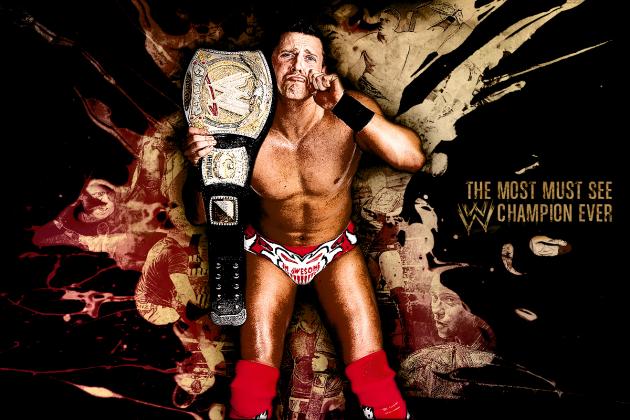 fanpop.com |wwe
The Miz is a great wrestler.
He is a great character and I believe he will become WWE Champion once again.
The problem is, I do not think that the WWE universe is convinced yet.
I see something in the Miz that makes me believe that he has the potential to become as legendary as Randy Orton, John Cena or Chris Jericho.
A lot of people don't like The Miz and are probably annoyed and confused as to why he is the current Intercontinental Champion.
However, should the WWE build him properly from here, he could make it to the top again and stay there this time.
Longevity should not be a problem for somebody as charismatic as The Miz, and I believe that any future reign as WWE champion would benefit the WWE greatly.
I have listed five reasons in this slideshow as to why The Miz will be the WWE champion once again.
Begin Slideshow

»
The Miz has the right look to make it as a top superstar in the company.
This may seem like quite a superficial reason to put forward as to why he will be the WWE champion again, yet it is a valid one.
A superstar must have the right image, a catchy theme tune and attire that suits his or her personality to be successful in the WWE.
Since the Miz has changed his cropped shorts and his silly hat, he has become a lot more successful.
His music is extremely catchy, not annoying and good to sing along to, which is another important aspect of character success.
His gimmick, though understated, is actually quite clever as he has combined the show-off, the cocky youngster and the confident star to create a hybrid that works for him.
Though I do think that his character must change at some point for him to develop and earn the legendary status that the superstars crave, and though I do not think that he can ride this gimmick forever, it is working at the moment, and it is apparent that he is gaining more and more fans every week.
Despite Chris Jericho's claim that The Miz has stolen his slow talking routine, it worked for The Miz at the time, and in all fairness, it was not exactly the same.
He has the ability to change his character whenever he wants, and I believe he has proven this with the excellent promos he has cut since he has been back.
His catchphrase is also very clever because it is so simple, but yet so effective.
It's a catchphrase that everyone will join in with, should he turn face in the future—people even join in with it when he is a heel.
In the past, I have often compared The Miz to The Rock, in terms of his charisma when on the microphone and his ability to make people listen.
He may not be everybody's cup of tea but I don't believe that people ignore him when he has something to say—he commands the attention of the audience and the viewer, and that is an extremely hard skill to master and maintain.
Though he does have a lot of room for improvement, he is definitely better than most of the others on the roster, and I'd love to see an exchange between him and The Rock.
The Miz has played a heel for as long as I can remember, so you're probably wondering how I could possibly come to the conclusion that he can play a face as well as he can play a heel.
When The Miz returned at Money in the Bank, he actually got an amazing pop and people were happy to see him. I completely marked out because I have always liked him.
He had a rare smile on his face and only kicked back to his heel persona toward the end of the promo, so we did actually see a glimpse of what it would be like, should The Miz turn face.
I know it is not a lot to go on, so I would like to draw on another example. When Sheamus debuted, he was a heel for the very beginning of his WWE career and people just plain did not like him.
I did not follow the crowd and loved him from when he debuted. This situation is rather similar to that of the Miz's—it's just that Sheamus has progressed a little faster.
Now Sheamus is the World Heavyweight champion and the WWE universe can't get enough of him. He is currently acting as a face and is set to have a very long career at the top.
I believe that the same will happen to The Miz.
The Miz is a nine-time champion in the WWE.
He has won the World Tag Team Championships two times and the WWE Tag Team Championships three times, which proves that he can work with other superstars and make it work.
One of his best reigns was with the Big Show (they were known as ShowMiz). His reign with John Morrison was also a highlight of his career.
His two reigns as United States champion were a big part of his development, as he also held the Money in the Bank contract and Tag Team Championship title at the same time.
This just shows The Miz's amazing potential. He is the current Intercontinental Champion—he won the title cleanly, and he defended it cleanly a few days after against Christian.
Clean wins in the WWE mean that the superstar has had some faith placed in him, and if this assumption is correct, then it is an excellent decision on the WWE's part.
Let us not forget the most important part of Miz's career—he is a former WWE champion.
I will admit that The Miz was probably pushed a little too early, but it could also be argued that when John Cena did not lose cleanly to the man, it did not help The Miz's case either.
Being booked as a cowardly champion did nothing for the Miz.
However, should he become champion again, I think that he will be a fighting champion, much like Punk and Sheamus.
The previous tactic only works for characters such as Daniel Bryan.
There may well be a few people who disagree with this, but to me, The Miz is constantly improving in the ring, and I believe that he is an extremely accomplished wrestler.
He can tell a story with his body, and I genuinely get excited when he wrestles.
He has a multitude of moves in his repertoire, and though he could do with a new finisher, he certainly has the skills to make it look like he can wear an opponent down.
I have also been concentrating on his ability to sell moves over the last couple of weeks, and though he obviously is not as good as Ziggler, who could sell a chocolate fireplace, he is very believable, and I find his matches thoroughly enjoyable.
He could still improve and has a bit of a way to go before he becomes a ring general, but it is clear that he is committed to improving, and it is more than possible that he will get there one day.
He certainly wrestles well enough to be the WWE champion again.