Bengals vs. Falcons: Cincinnati's Winners and Losers from Preseason Week 2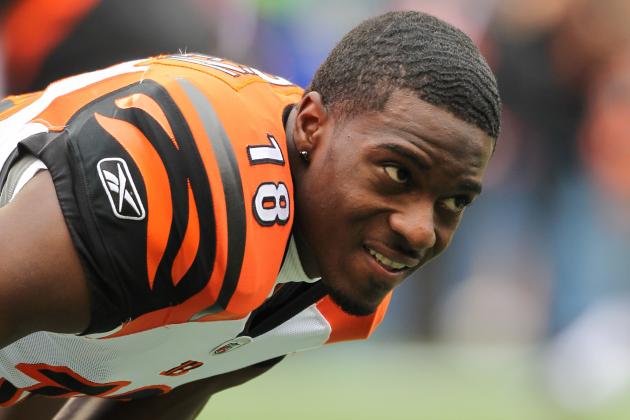 Otto Greule Jr/Getty Images

The Cincinnati Bengals faced a number of questions on Thursday night in Atlanta.
Following a rusty and injury-riddled first outing against the Jets, they needed to take a step forward in the Georgia Dome.
The contest proved to be a mixed bag. While the injury bug reared its head once more, there were also a number of breakthroughs on both sides of the ball.
With two weeks of preseason action now in the books, lets take a look at the Cincinnati Bengals' biggest winners and losers from Week 2.
Begin Slideshow

»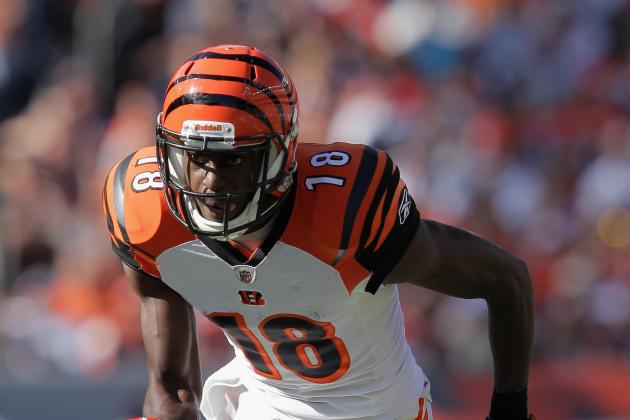 Doug Pensinger/Getty Images

A.J. Green and Andy Dalton answered their critics on Thursday with the TD we've all been waiting for.
Dalton silenced questions about his arm strength by letting it fly on a number of occasions on Thursday night. However, the real concern was his accuracy on the deep ball.
He struggled in the early going, missing targets long and short, but his placement evened out in the second quarter.
The highlight came on a 50-yard TD bomb that dropped into Green's hands after the Pro Bowl WR beat Asante Samuel with a stutter step.
Both Dalton and Green seemed rusty in Week 1, but just one week later things seem to be clicking into place for the Pro Bowl duo.
Dalton made some savvy plays in the early going, further cementing him as one of the best young decision-makers in the league.
Dalton finished the night 8-of-14 for 125 yards and one TD.
It's also worth noting that while A.J. Green will make the highlight reels, rookie WR Mo Sanu quietly made a case for playing time with a classy 12-yard TD grab courtesy of a great pass from Bruce Gradkowski.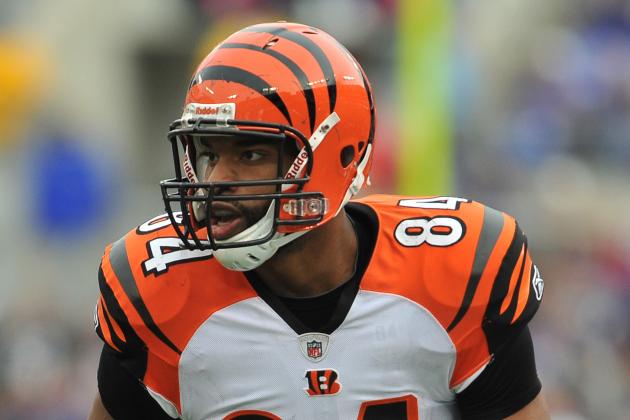 Larry French/Getty Images

Jermaine Gresham has been frequently touted as the second-best weapon on the Bengals offense after A.J. Green.
He didn't do much to back that up on Thursday night in Atlanta.
In Week 1, Gresham had only one reception for 19 yards.
This week he once again had only a single reception, this time on a catch-and-run for 26 yards.
Gresham's night was cut short on the play with an injury to his right knee that doesn't appear to be serious.
While his run after the catch showcased his size, speed and natural ability, Gresham's lack of field time with Andy Dalton could start to affect the offense if it continues in Week 3.
It's the second frustrating night in a row for Gresham, a player whom Jay Gruden is hoping will play a large role in his offense this year.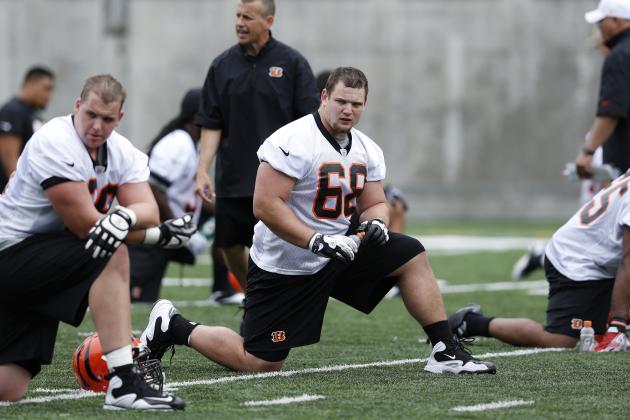 Joe Robbins/Getty Images

In a game that saw John Abraham have his way with Andrew Whitworth, Clint Boling's and Kevin Zeitler's performances came as a pleasant surprise.
Boling and Zeitler put on a stoic display in the guard positions and did well to open up lanes for Brian Leonard early on.
It is interesting to note that the plays that saw Andy Dalton forced out of the pocket were largely due to Andre Smith struggling to maintain his blocks and John Abraham manhandling Whit.
While it was by no means a sexy performance, Boling and Zeitler proved one thing: they are competent.
That is all the Bengals want from them at this juncture, and they delivered.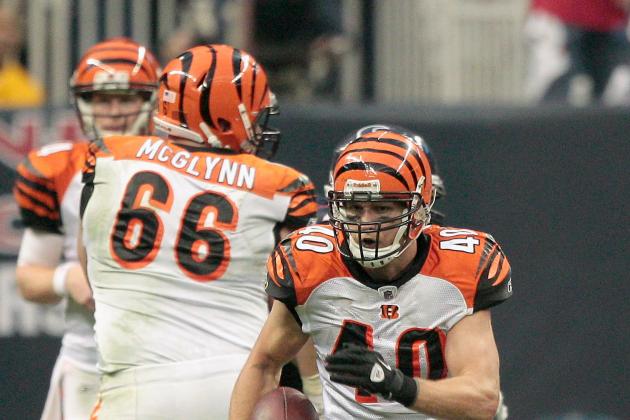 Bob Levey/Getty Images

It wasn't a great night for the Bengals' running corps.
Given that BenJarvus Green-Ellis is renowned for his ability to protect the football after having never fumbled in his time in the NFL, his loose-fingered understudies aren't making much of a push to challenge for playing time.
Both Brian Leonard and Cedric Peerman were stripped of the football whilst on the run on Thursday night; Leonard's resulted in a turnover whilst Peerman's bobbled out of bounds.
After disposing of the increasingly fumble-prone Cedric Benson in the offseason, the Bengals will not have been pleased to see their backups following in his footsteps.
BenJarvus Green-Ellis is not an every-down back and after the lacklustre performances his backups produced against Atlanta, the competition to see who gets some snaps alongside him just became wide open.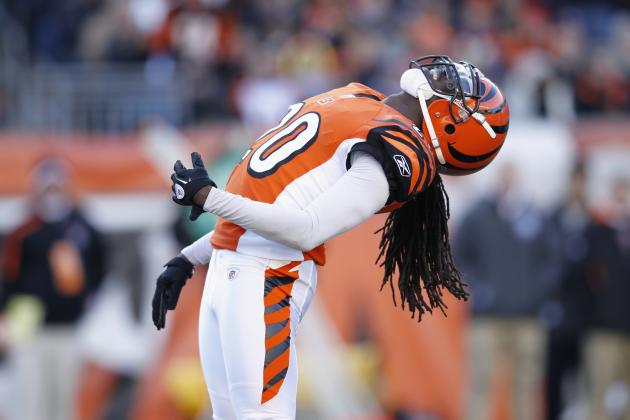 Joe Robbins/Getty Images

Reggie Nelson showed some of the flair that got him selected in the first round in 2007, leading the team in tackles at the break.
Nelson clocked seven total tackles, four solo and one for a one-yard loss.
The veteran FS put on a clinic in the first half, moving to the ball in effortless fashion and getting involved in almost every pile-up.
While his counterpart Taylor Mays moves with all the grace of a freight train, Nelson has the speed and the fluidity to fly around the backfield and make the tackle.
He could also teach his teammates a thing or two about wrapping up tackles rather than just hitting them.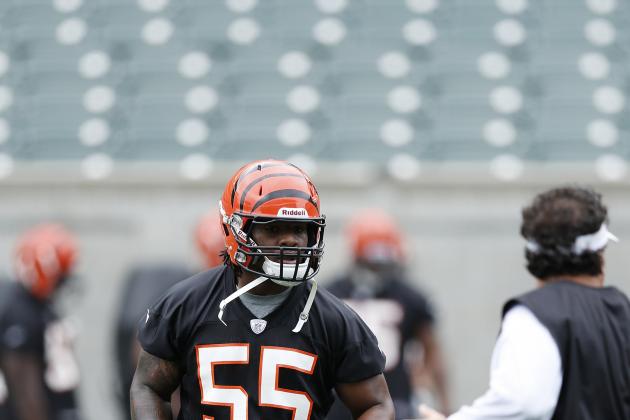 Joe Robbins/Getty Images

Midway through the second quarter, Taylor Mays and Vontaze Burfict joined forces for a blockbuster of a hit.
Unfortunately that hit came in the form of Taylor Mays' shoulder colliding with Burfict's head.
The hit ended the former UDFA's night and robbed him of what is crucial playing time in his ongoing campaign to make the 53-man roster for Week 1.
The hit also highlighted concerns about Mays, who should be commended for effort but that's about it at this point.
Mays was present in just about every big defensive stand early on, but appeared reckless and raw in his tackling.
Concerns that Mays knows how to lay the wood and not much else have reared their head once again.