5 Things to Watch When Not Watching RG3 During Bears' Game Against the Redskins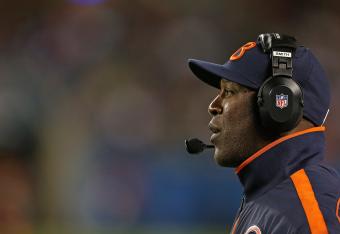 Even Lovie can't stop watching RG3—when you guys do, here are some things to watch.
Jonathan Daniel/Getty Images
Admit it Bears fans—it's going to be hard to take your eyes of Robert Griffin III.
It's fine—he appears to be a heck of a quarterback.
When you can rip your eyes away from his glory, even on the sideline, there are plenty of things to watch on the Bears' side of the field this Saturday.
Here are five examples of what to watch when you aren't looking to see what kind of socks RG3 is wearing.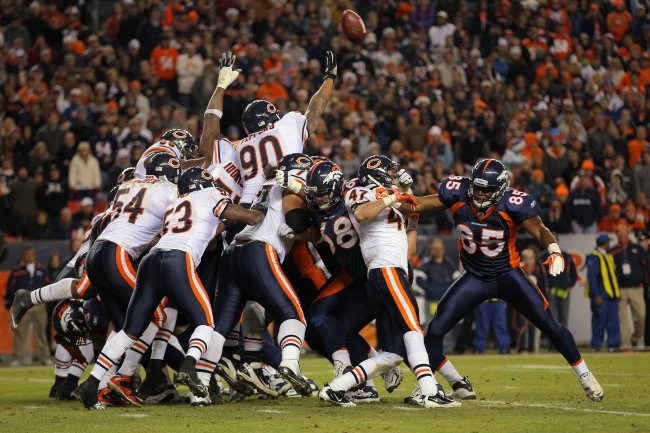 Doug Pensinger/Getty Images
Offensive Line
The offensive line wasn't good last week. Paint it up however you like, it just wasn't.
And it has to be. The team cannot go into the season with the line in this shape. I'm not even talking about the bad J'Marcus Webb performance which was so bad that Chris Williams is back in the mix at left tackle.
No, I'm talking about continued poor play by Lance Louis as well at right guard. Something has to be done; some changes need to be made, or some improvement shown Saturday night.
I'm hoping it starts coming together in some visible way because so far, not so good.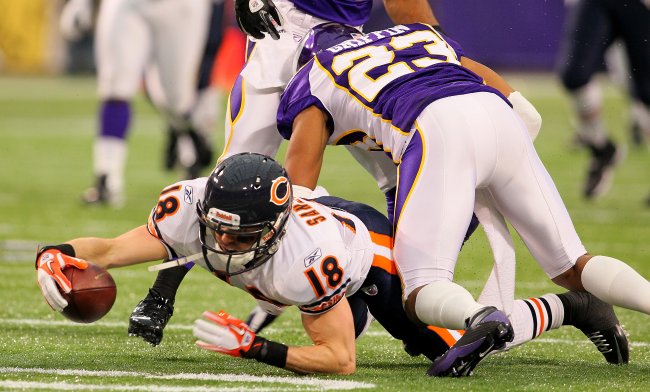 Adam Bettcher/Getty Images
Dane Sanzenbacher
Things have aligned nicely for Sanzenbacher the last few weeks with the retirement of Devin Thomas and a good game last week, building on a fair camp and a good 2011.
It's a crowded group of wide receivers with Brandon Marshall, Alshon Jeffery, Earl Bennett and even Devin Hester ahead of him. If Sanzenbacher wants to make the team, much less get playing time, he needs to stand out more.
He's not, by any means, a 'special' receiver, but he is a solid player with pretty good hands who can make an impact here and there.
Could he find the space to do more?
Well, as most readers know, I am not Hester's biggest fan. I can totally see a role for Sanzenbacher not far down the road either in place of Hester or possibly Bennett, though Bennett is probably here to stay, which is fine.
If he wants the chance, Sanzenbacher needs to do the most he can with his opportunities because as the season approaches, they will become few and far between.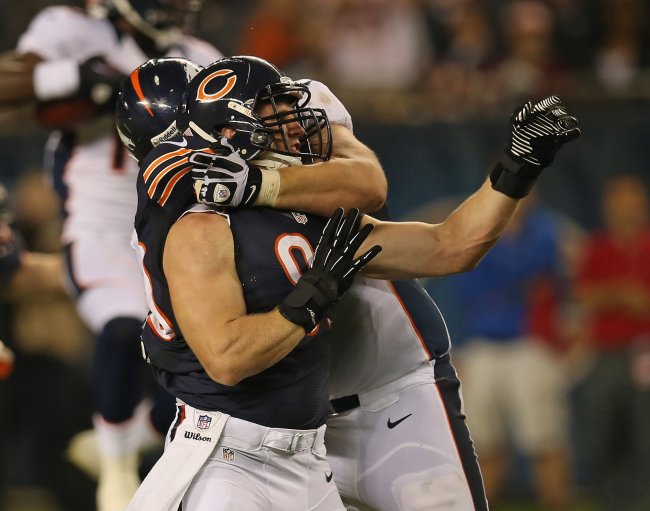 Jonathan Daniel/Getty Images
Shea McClellin
After a lot of hand wringing about his 'meh' camp, McClellin looked pretty solid last week. To completely allay those concerns he needs to keep it up.
The Redskins' line isn't dominating by any stretch, but can play well and Griffin poses a unique threat with his feet. So, McClellin faces a tricksy foe in the Redskins this week.
Even if his stats don't stand out, I want to see continued progress, good technique and solid play. Do that and I'll be satisfied things are going in the right direction.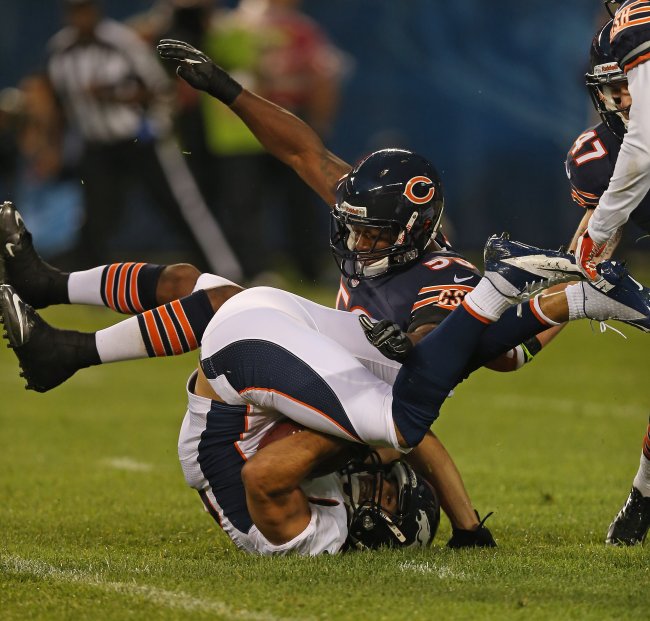 Jonathan Daniel/Getty Images
Nick Roach
With Brian Urlacher out until anywhere from the first week of the season to—well, a long time—the Bears are shifting Nick Roach into his spot.
Roach is a solid player, but it's a lot to move to the middle linebacker spot in a Tampa-2 style defense, and I expect a few bumps in the road.
Still, he's a better prospect right now then Dom DeCicco, who is still a bit raw, and may spend some more time at strong-side linebacker with Geno Hayes.
Even if Roach is great from the jump, he won't replace Urlacher's numbers, at least not easily. It's a lot to ask. However, there is a ton of talent in the front seven, so even if he can't replicate Urlacher, he should be able to make a good impact.
It will be vital he doesn't completely fall apart, though.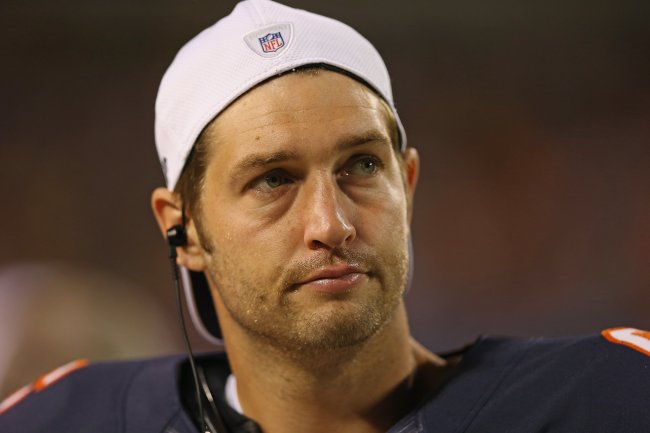 Jonathan Daniel/Getty Images
Passing Offense
We didn't see Jay Cutler and Brandon Marshall last week, though we are supposed to see them some this week. If the offensive line crumbles again, Cutler will get the fast hook though.
Hopefully we get a good look at some of what the Bears have planned for the passing offense and what roles the rest of the receivers fit in when Cutler and Marshall aren't making beautiful passing music together.
How much will Alshon Jeffery see? Where are they putting Earl Bennett? How about Devin Hester?
I'd like to see a few solid drives here. It'd be ideal if we saw a quarter. Sure, we'll see a longer amount of time next week, but it'd be useful to see where the offense is at now and expect next week to be pretty vanilla anyway.
I'm impatient, what can I say?
I'd like to see what is in store for us this season.
Check out the B/R NFC North Facebook page—like us and keep up with everything NFC North on Bleacher Report! Follow me on Twitter at @andrew_garda.
This article is
What is the duplicate article?
Why is this article offensive?
Where is this article plagiarized from?
Why is this article poorly edited?