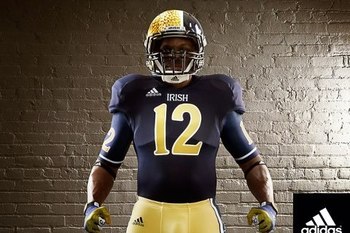 Photo Credit: http://www.facebook.com/NDFootball
On October 6, Notre Dame will play the Miami Hurricanes at Soldier Field, which will bring back so many memories of the heated rivalry that took place between these two teams just a few years ago. But while everyone will be talking about the game on the field, the Irish have decided to switch their uniforms up for the special event.
Adidas and the Fighting Irish have worked together once again in anticipation of the big game, and the new look has everyone going nuts for many different reasons. Like every new uniform, some love it and the rest hate it, as there really isn't an in-between with things like this.
Although the game doesn't take place for a couple more months, let's break down Notre Dame's TECHFIT outfit for the 2012 Shamrock Series.
Jersey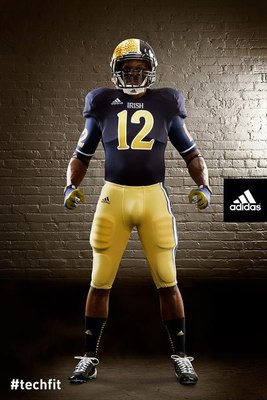 Photo Credit: http://www.facebook.com/NDFootball
The jersey is a modern blue that will feature gold metallic numbers, with "IRISH" in a Celtic font above the number.
There certainly isn't much to complain about when it comes to the jersey, as large numbers on the front is a much better look than what many other schools have been going with recently.
Seriously, it could have been much worse for you Irish fans.
Grade: B
Gloves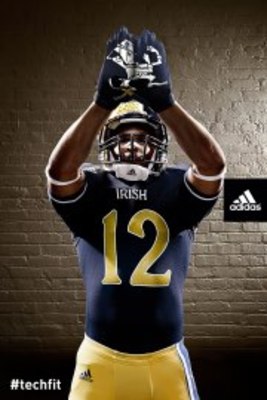 Photo Credit: http://www.facebook.com/NDFootball
With every recent uniform change, the gloves usually have an interlacing logo when the players put their hands together. And this look of the Notre Dame Leprechaun is obviously no different.
Although this is likely one of the last times you will actually get a chance to see the inside of the glove, you can't go wrong with one of the most iconic symbols in college football on the inside of your hand.

Grade: A
Helmet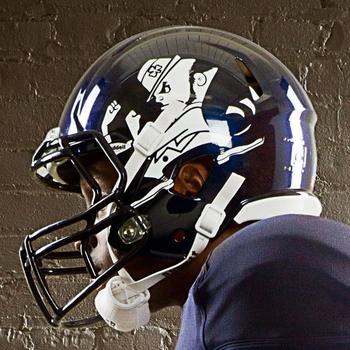 Photo Credit: http://www.facebook.com/NDFootball
I assume that there was so much backlash from the helmets Notre Dame wore last season that things had to change a little bit.
This time, instead of going all gold, the helmet is split in half (more like a 60/40 split), with one side remaining with the same look from last season, and the other side featuring the leprechaun on a blue surface.
Just when you thought the helmet couldn't get any worse, this happens.
Grade: F
Tradition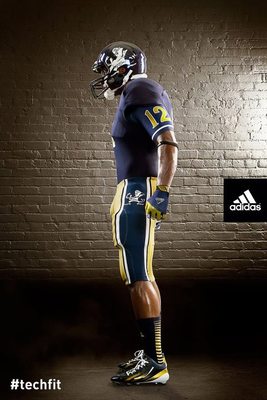 Photo Credit: http://www.facebook.com/NDFootball
There is no other team in college football that has as much tradition as Notre Dame, so something like this can really ruffle a few feathers.
But other than the helmet, you really can't complain that this uniform came out of left field. The colors are the same with the blue and gold, and the logo has been added throughout the new look.
Grade: C
Overall
I can't really complain about the overall look of the uniform, as the pants and jersey are nicely done. But I seriously can't stress the helmets enough. Seriously?
Adidas should switch the helmet at the last second and just go with what the Irish wore last season. Sure, they were shiny enough to blind everyone in the stadium, but anything is better than these new prototypes.
Via Brian Hamilton of the Chicago Tribune:
#NotreDame LB Manti Te'o, modeling Shamrock Series uni: "I love them. Look good, you feel good. You feel good, you play good. It's true."

— Brian Hamilton (@ChiTribHamilton) August 16, 2012
You have to agree, but I'm not so sure Te'o has seen a picture of what he will be wearing on his head just yet.
Grade: B
Keep Reading

Notre Dame Football: Like this team?
Load More Stories