Green Bay Packers vs. Cleveland Browns: 5 Reasons to Watch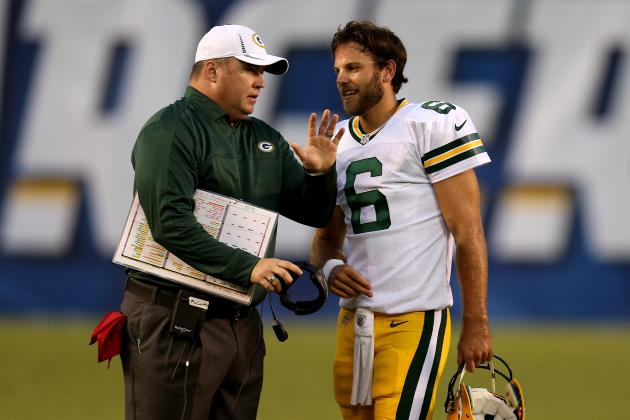 Stephen Dunn/Getty Images
Mike McCarthy will be looking for a better showing against the Browns after his team laid an egg in San Diego.
When it comes to preseason games in the National Football League, it is always hard to discern how much they really mean. Tonight at Lambeau Field, the Green Bay Packers will take on the Cleveland Browns in a game that does have meaning for certain players, if not for the teams collectively.
The reality is that no team cares about winning or losing preseason games. They never have and they never will. However, there are still important things that each team would like to accomplish and for players attempting to earn a starting job or a roster spot, preseason games are essential.
The NFL has cut down so much on padded practices that preseason games are one of the few opportunities young players get to showcase their skills in live-game action. So while the outcome of the game does not matter one bit, there is plenty on the line for the Green Bay Packers and here are five things you need to watch out for in tonight's game.
Begin Slideshow

»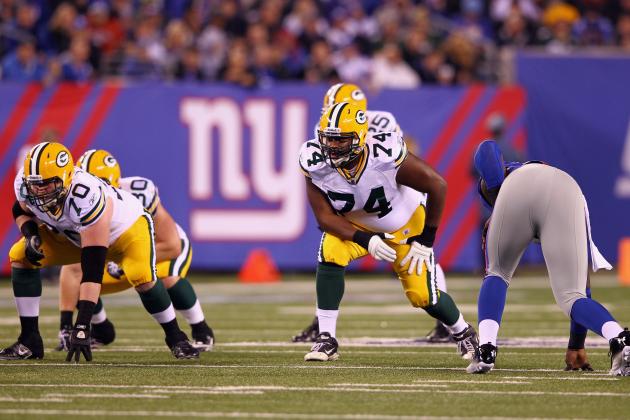 Al Bello/Getty Images
Newhouse needs to show that he has raised him game entering the 2012 season.
Green Bay Packer fans probably never thought they would be clamoring for Marshall Newhouse to get back on the field at the left tackle position, but after fans got a look at reserve tackles Herb Taylor and Andrew Datko last week against the Chargers, that is exactly what happened.
Taylor looked totally out of place at the left tackle spot and I honestly feared for Aaron Rodgers' safety every single time the Packers decided to have their MVP quarterback drop back to pass.
Taylor was repeatedly made to look foolish by rookie defender Melvin Ingram, a first-round pick in the 2012 NFL Draft out of South Carolina and it wasn't when Datko was on the field.
But Newhouse is back from the concussion that caused him to miss the Chargers game and will start tonight against the Browns. Hopefully, the nightmare of having Taylor or Datko protect Rodgers' blindside will not be relived.
Beyond that, it is an important game for Newhouse.
Throughout the offseason, head coach Mike McCarthy and the rest of the Packers coaching staff have expressed nothing but confidence in Newhouse and claim he has taken his game to the next level. Well, tonight will be his first chance to prove in live action that he has the left tackle spot on lockdown.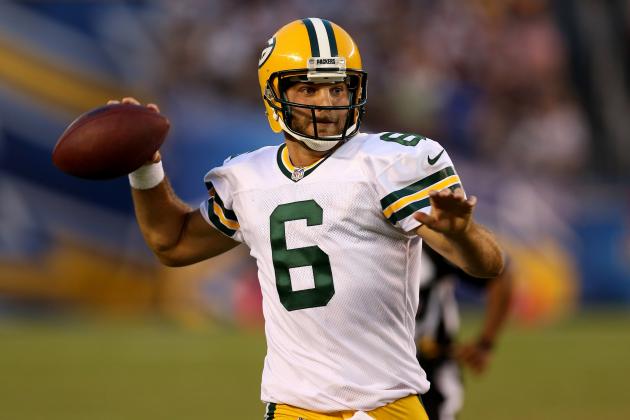 Stephen Dunn/Getty Images
Harrell was ok against the Chargers but has plenty of room to improve.
One of the biggest questions facing the Packers this offseason is whether or not Graham Harrell could handle being the backup quarterback. At this point, it is a question that remains unanswered.
Harrell was satisfactory last week to open the preseason against the Chargers, completing 15-of-27 passes for 135 yards and one touchdown. Yet, he averaged only five yards per passing attempt and did not do a great job of pushing the ball down the field.
If, god forbid, Harrell ever had to play in a regular season game, he will need to do a much better job of pushing the ball down the field because that is how the Packers play offense; they take shots down the field.
Now, he was not throwing to Greg Jennings and Jordy Nelson last week but good quarterbacks make their their receivers better. Last time I checked, the Packers have plenty of young, talented wide receivers capable of making big plays.
So tonight will be another big test for Harrell as the Packers try to determine whether he is capable of stepping in for Rodgers when it matters most.
Harry How/Getty Images
The Packers ground game was routinely stuffed in San Diego.
There is no nice way to describe the Packers running game last week against San Diego. As a team, the Packers managed to gain just 51 yards on 22 carries, which equates to a paltry 2.3 yards per carry average. Simply put, it was atrocious.
The poor performance was concerning enough to Green Bay, that the organization went out and signed veteran running Cedric Benson to add some life to a running game that can truthfully be described as a concern.
Unfortunately, Packers fans will not get a look at Benson tonight because he has not practiced enough to be ready for game action. Projected starter James Starks will also not be in uniform, so it will be a golden opportunity for youngsters such as Alex Green and Marc Tyler to make an impression on the coaching staff.
Green came to the Packers with plenty of promise after being selected by the team in the third round of the 2011 Draft, yet a knee injury cost him the majority of his rookie season. Last week in his much anticipated return to the field, he was utterly pedestrian, gaining three yards on three carries.
Due to injuries, the Packers will have just three running backs in uniform. Tonight is Green's chance to show why he deserves to be on the field when the regular season rolls around.
Tyler on the other hand, is a rookie free agent out of USC and has his work cut out for him just to make the 53-man roster. Last week, he gained 32 yards on 13 carries, not exactly an eye-popping performance. So if he hopes to make the team, he needs a big performance tonight against Cleveland.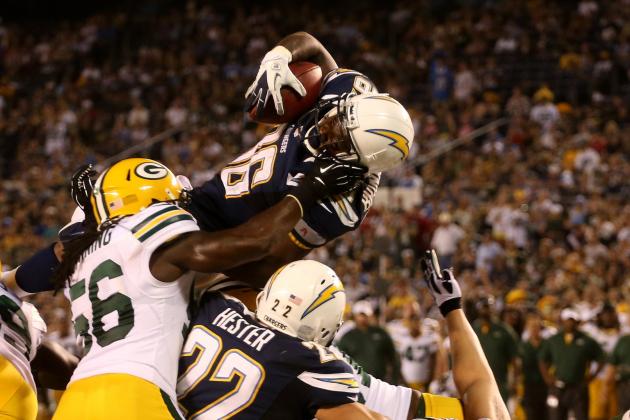 Stephen Dunn/Getty Images
Tonights game is huge for young linebackers like Terrell Manning
The most important thing to NFL teams when it comes to the preseason is getting out of the games with the health of their players intact.
Unfortunately, the Packers did not escape San Diego without some key injuries. The most notable was suffered by starting linebacker Desmond Bishop, who has a calf injury that could potentially sideline him for the entire 2012 season.
Yet, injuries are just part of the game in the NFL and the Packers, as much as any team in the league, have learned to live with a next-man-up mentality.
With Bishop out, the Packers will turn to second-year pro D.J. Smith, who the Packers selected in the sixth round out of draft out of Appalachian State in 2011. Others, such as rookie fifth-rounder Terrell Manning and second-year pro Jamari Lattimore, should also see increased playing time with a chance to show that they are more than just special teamers.
As a rookie, Smith did see some extensive playing due to injury and performed admirably. He notched 43 tackles last season to go along with one interception. But now, he must shoulder the weight of potentially being a full-time starter for the entire 2012 season and tonight will be his first chance to prove he belongs.
Manning on the other hand, was a player that came to the Packers with high expectations but has yet to stand out in training camp and was nearly invisible against the Chargers last week.
Lattimore has made more of an impression in training camp but has yet to prove he can be an every-down player and with the line-backing depth chart up in the air, this is a great chance for both to prove they can contribute on defense in 2012.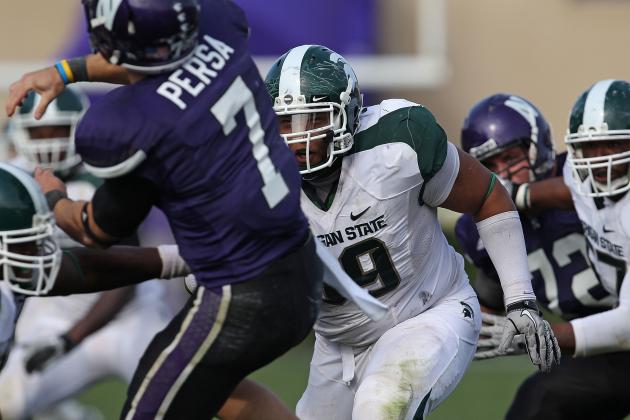 Jonathan Daniel/Getty Images
The Packers are hoping to see Worthy wreak havoc in the backfield.
One of the key areas that the Packers defense needs to improve upon in 2012 is the pass rush as the team notched just 29 sacks in 2012.
During the offseason, general manager Ted Thompson invested considerable resources to upgrade the porous pass rush. He used a first-round pick on USC outside linebacker Nick Perry, a second-rounder on Michigan State defensive tackle Jerel Worthy and a fourth-rounder on Iowa defensive lineman Mike Daniels to add life to a defense that gave up more passing yards than any other in NFL history.
Last week, the Packers got their first glimpse of Perry in action and saw immediate results as he posted a sack and three tackles in his first NFL game.
However, upgrading the pass rush is about much more than just one player. If the Packers are really going to do a better job of pressuring the quarterback, Worthy and Daniels will need to contribute.
Last week, Daniels was unable to take the field due to injury and Worthy made no impact in limited action against the Chargers. But both players are set to see extensive playing time against the Browns as they look to add some juice to an interior pass rush in desperate need.
Tonight will be the first time the Packers have all three rookies on the field at the same time, giving fans and coaches the first opportunity to see if the pass rush can truly take a step forward in 2012 as the team hopes to make a run at a second Super Bowl championship in three years.