NBA Power Rankings: Grading Each NBA All-Star Duo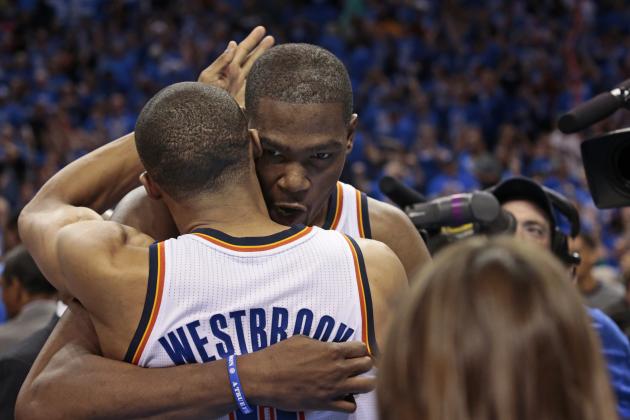 Brett Deering/Getty Images

An NBA All-Star team is comprised of the 12 best players from the entire conference. Being an All-Star is a very prestigious honor, and they not only prove themselves to their coaches but to sportswriters, fans and everyone in between.
It is an honor for a team to have their best player represent them in the All-Star festivities. It is even a more prestigious honor to have multiple players represent your franchise on the All-Star team.
In this day and age in the NBA, players are pairing up in order to have a shot at winning the title. Loyalty seems to be a thing of the past as more players are on the move, creating more teams with multiple All-Stars. As the offseason is winding down, let's take a look at where each All-Star duo ranks among one other.
(Just for clarification, for the teams that have three All-Stars I selected the best duo out of the three possibilities. Also, the grades are relative: for instance, D-Rose and Deng aren't actually a C-, but compared to Wade and LeBron, they are.)
Begin Slideshow

»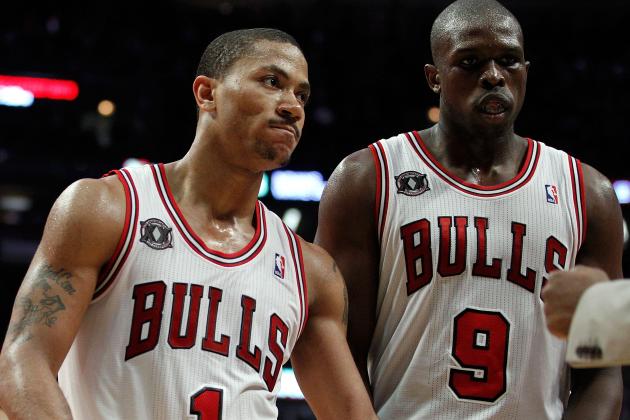 Gregory Shamus/Getty Images

Deng and Rose became the first pair of Bulls teammates since Jordan and Pippen in 1997 to make the All-Star team. However, with Derrick Rose starting off the season on the bench, and Luol Deng being the least talented 2012 All-Star, this pair doesn't seem too deadly.
Compared to the other duos on this list, these two are very far in terms of talent. Instead of Batman and Robin, it's more like Batman and Alfred. When Rose is healthy, he is an MVP, while Deng on the other hand barely made the All-Star team.
The 6'8'' forward is a decent scorer but nothing extraordinary. Deng averaged about 16 points a game last year while he helped support the Rose-less Bulls maintain their position atop the standings in the East. When Rose went down with his torn ACL, the Bulls were dismissed by the eighth-seeded Philadelphia 76ers. Not a good sign of things to come in Chicago.
The Bulls lost C.J. Watson, Omer Asik and Ronnie Brewer over the offseason, propelling them in the wrong direction. Deng will have to have another career year if the Bulls want to remain title contenders.
Grade: C-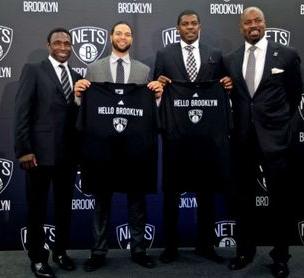 Deron Williams finally got his wish of getting someone to play alongside him for the Nets. Had Johnson not made his way to Brooklyn, it was very likely that Williams would've packed up his bags to make his way out.
Luckily for Nets fans, both are in Brooklyn, looking to do some damage.
Joe Johnson has the skills of a point guard in a small forward's body. He has incredible ball-handling skills and passing ability in addition to an exceptional shooting stroke from mid-range and threes. Compared to other elite scorers, Johnson has a slow first step that causes him to mostly rely on his jumper, but he is what the Nets have even craving for in a shooting guard. Someone who can put the ball in the basket and be very physical on defense.
Deron Williams is trying to make a statement as the best point guard in the league. While Chris Paul and Rajon Rondo may have a small leg up on him, an extraordinary year can certainly put Williams in the discussion, as he is both an exceptional passer and scorer.
We have yet to see these two play a game together, but it'll be interesting to see how they mesh. But there is little doubt that these two will be fun to watch.
Grade: B-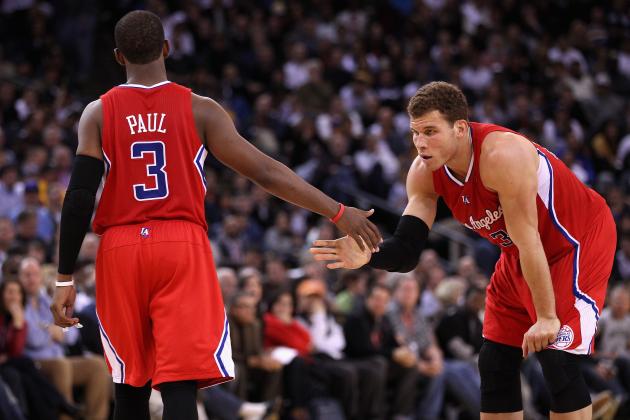 Ezra Shaw/Getty Images

The Clippers had an incredible 2011 offseason. They signed Caron Butler, Chauncey Billups and by some divine power they were able to land Chris Paul.
"Lob City" was born, as the media exploded with the thought of the nation's best passer (Chris Paul) being paired with one of the league's most prolific dunkers (Blake Griffin).
The Clippers lived up to the height as they took down many NBA powerhouses (Lakers, Heat, Mavs and Thunder) early in the season. They were able to fend off Chauncey Billups' season-ending injury as they sealed up the fifth seed in the West.
Paul and Griffin consistently landed spots on SportsCenter's Top 10 plays with crazy alley-oops. The two do have a chemistry that is very successful. They can win games, but they still do not seem to be title contenders.
Grade: B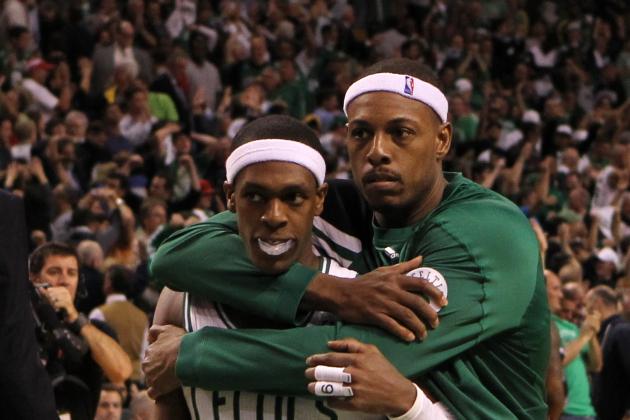 Jim Rogash/Getty Images

Though Paul Pierce is getting older, he has failed to show any signs of slowing down. He averaged more than 19 points per game last year along with 4.5 assists and five rebounds. He can score from almost anywhere on the court and is also a solid defender.
If you watched any game of the Eastern Conference finals, then I don't need to tell you how good Rajon Rondo is. He propelled the Celtics to seven games against the eventual champion Miami Heat.
Now with a deeper lineup, these two are looking to maintain the level of success they've had the past four years.
Grade: A-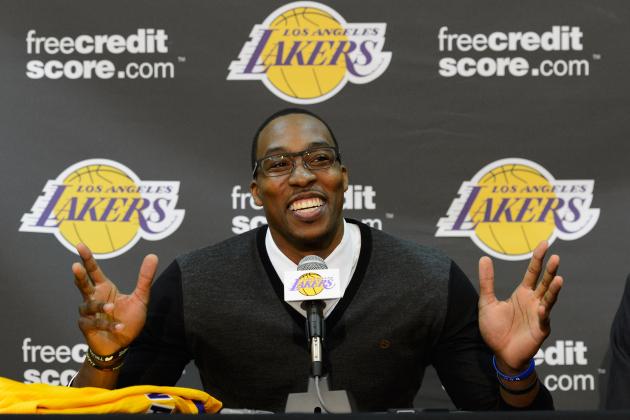 Kevork Djansezian/Getty Images

We all know how good Kobe Bryant can play regardless of who's on his team. He's won championships with Shaquille O'Neal, Pau Gasol, Andrew Bynum and, of course, Big Shot Rob, thus leaving us to believe there's no reason he can't win with Dwight Howard and Steve Nash.
But what we don't know is, how well can Dwight and Nash play together? Both of them have yet to win the a title despite 24 combined seasons. Nash is perhaps one of the greatest passers the NBA has ever seen, as he finished second in assists per agme last year at the age of 38. Despite his immaturity, Dwight Howard is the most physical center in the league. The two combined are going to be a deadly force.
This Lakers team has so many options. Whether it's working the pick-and-roll with Nash and Dwight or letting Kobe be Kobe, the Lakers are loaded and looking to fire.
Grade: A+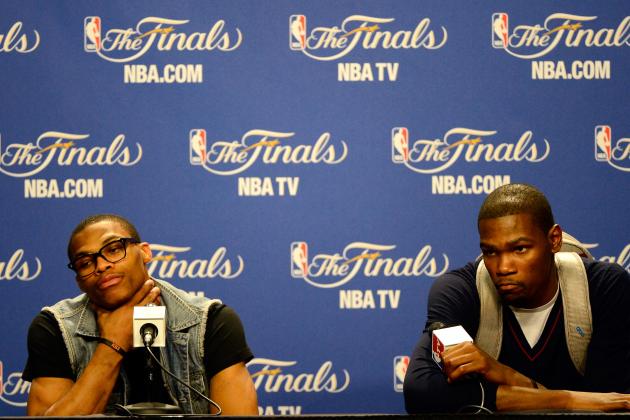 Ronald Martinez/Getty Images

While Westbrook and Durant's run together seems to have just started, plenty has already happened.
Together these two All-Stars have transformed the tanking Seattle SuperSonics into the flourishing Oklahoma City Thunder. They have created a winning atmosphere by reaching back-to-back Western Conference finals and, of course, a finals appearance last year.
Some call Westbrook's point guard play "untraditional," as he takes shots away from Kevin Durant. But what people fail to realize is that the strategy works. The Thunder play an uptempo type of game, and these All-Stars are flourishing in transition. They play a dangerous offense that requires not one but two elite defenders to shut them down, and they can both hit mid-range jumpers, making them impossible to guard.
There are plenty of other dangerous opponents in the West that can block their hopes at an NBA title, but these two are more than capable of handing Oklahoma City its first O'Brien Trophy.
Grade: A+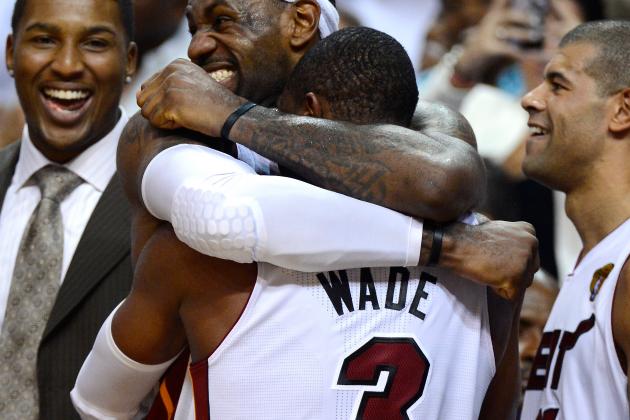 Ronald Martinez/Getty Images

People can blame LeBron all they want for the way he went about announcing his decision to leave for Miami, but there is no way anyone can fault the actual choice. If I were to give you the option to play on a team with no supporting talent and no hope at winning a title as opposed to playing on a team with two All-Stars—one of whom has already won a ring—in a lively city that will praise you, which would you choose?
Pairing up with Dwyane Wade in itself is a luxury before you even throw Chris Bosh in the mix. The two players form a duo that can't even be reckoned with.
The first season that the "Big Three" played together didn't seem to be too deadly as all the hype suggested. But as they got to used to playing each other they got better and better. After a crushing defeat to the Mavericks in the 2010 NBA Finals, they exploded out of the gates to start the 2012 season.
Highlights on SportsCenter would show Wade throwing down football passes to be flushed down on the other end of the court by LeBron. Play after play, LeBron and Wade continue to show how dominant the Heat can be.
The two players are so unbelievably athletic that it is a treat to watch them. They captured their first ring together this past June, and they look to extend their glory.
Grade: A++